After failing to break in their first match vs. Truck this season, Sockeye poured it on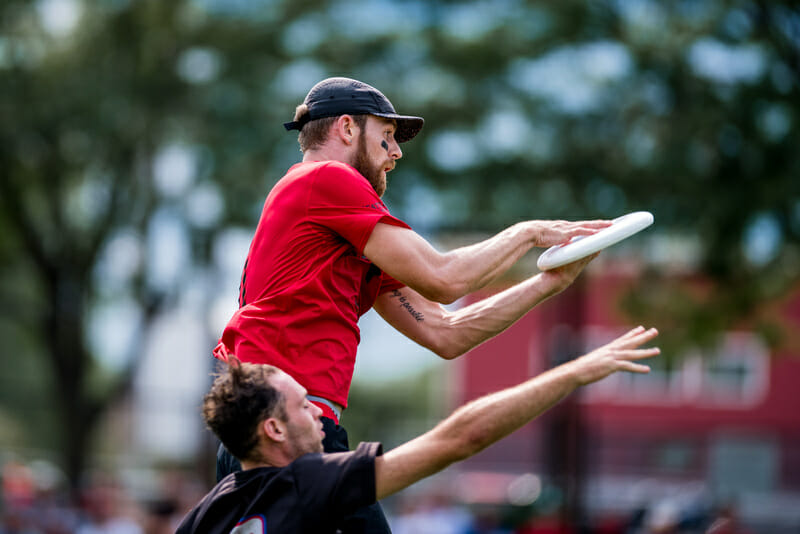 Ultiworld's reporting on the Men's Division of the 2017 US Open is presented by Universe Point cleats. All opinions are those of the author. Please support the brands that make Ultiworld possible and shop at Universe Point!
BLAINE, Minn. — A polished Seattle Sockeye team dispatched Washington D.C. Truck Stop 15-10 in the semifinals to earn a rematch against Revolver in the U.S. Open final.
The clash was a rematch of an earlier meeting from the Pro-Elite challenge, where Truck Stop earned a 13-11 victory over Seattle. In that match, Truck Stop earned the game's only break (and started on offense) to notch the close win. Sockeye's defense forced a respectable eight turnovers on DC but could never punch in a break.
The first half of Saturday's semifinal looked to be an extension of the previous meeting. Though there were a few hiccups, both teams held serve until 6-6. Through the first eight points of the game, there was just a single turn — a Sockeye miscue that Matt Rehder earned back for his O-line with a big layout block. Early on in the game, it was apparent that Sockeye had slightly tightened their rotation from earlier in the day; young stars Dylan Freechild and Rehder logged a significant amount of D-points for Seattle, with a few of their second-line defenders seeing reduced minutes
Despite the crossover of a couple of Sockeye's stars, Truck Stop's offense was relatively pristine. Objectively, DC had their moments of luck; the Sockeye downfield defense was remarkably tight and smart with their switches, forcing Washington into a number of high-stall situations. Despite all that, Truck continued to hold their offensive points, often on the strength of long upline cuts from their handlers. Alan Kolick and Markham Shofner did great work to catch upline passes to gain 15-20 yards, consequently putting downfield defenders well out of position, and sitting hucks into space for receivers to run on to.
Sockeye's O-line was able to hold in a more convincing fashion. In contrast to what we saw in their round-one game against Sub Zero—where Seattle often played dominant offense, only to fall victim to a poor-decision turnover—Sockeye stayed extremely disciplined in their semi. Over and over again, Seattle dissected the Truck defense by exhibiting patience and then executing their horizontal-motion attack.
Seattle offense hinged on a classic concept that hinged on the nuanced reads and timing of their players: the dump swing. Sockeye would often work their set play to get the disc in the hands of a strong thrower on a break side in-cut. From there, that thrower (often Dylan Freechild) would have the read of either hitting a big breakside continue gainer, or dishing back to the open side and making an upline cut for power position; the thrower could either hit that or return to the break side. Lather, rinse, repeat.
Sockeye rode that simple motif to success, augmented by their elite throwing talent. The disciplined Sockeye offense held all seven of the first half O-points, with the D finally able to punch in a late break to take half up 8-7.
Sockeye's Matt Rehder stood out, even in the context of their disciplined system, as a vital cog in the Seattle offense. Truck Stop coach Darryl Stanley noted before the game that containing Rehder (and handler Simon Montague) would be a key to victory for his DC squad, and his analysis provided to be prescient. Rehder was indeed a driving force for Seattle, exploiting the deep cushion given to him by defenders to scoop up easy gainers and the corresponding change in field position to feed his teammates deep. In the case that he wasn't gifted an easy under, Rehder confidently crushed his matchup in the deep space, coming up with a handful of deep receptions, giving the Sockeye offense an even more dynamic edge.
While the first half of the game seemed to essentially be an extension of the trends on display at PEC, the second half was different picture.
Sockeye opened up the half with a hold before punching in a pair of breaks. The Truck offense, which had been fairly reliant on its handler cuts and deep game to generate holds, started to wither in the face of tough one-through-seven defense from Sockeye. On the turn, Seattle exhibited a much higher degree of efficiency than in matchups past, effectively punching in their breaks. Both Sockeye captain Trent Dillon and Truck Stop handler Markham Shofner pointed to increased Seattle D-line efficiency as a marked difference between the teams' first and second meetings.
In terms of actually generating turns, the two had differing perspectives.
Dillon said that the increased familiarity and chemistry on the Sockeye D-line, as well as their ability to more dynamically make adjustments, helped them earn blocks1. Shoftner, among other points, said that in their Colorado Cup meeting, due to the flight of the disc in the thinner air at altitude, Truck was able to attack deep from effectively anywhere on the field, forcing constant respect from defenders. In contrast, in the more typical conditions of Blaine, Sockeye's defenders were able to further commit to stopping under cuts (and forcing contested dump sets) with less fear of a deep shot. The trickle down effect of this adjustment was more freedom for handler guards to adjust their defensive positioning to more freely allow backfield resets (and deny up line cuts).
Despite an unfortunate injury to Matt Rehder in the middle of the second half when he landed awkwardly on a stiff left leg after skying for a break and hurting his knee, Sockeye continued to roll with their disciplined offense and apply pressure to Truck's discombobulated stack (often earning high stall turns). Seattle seized control of the game and extended their lead to four breaks, eventually trading out for a final count of 15-10.
While Truck showed their ability to hang with a top four team for one half, the depth and high-ceiling of a disciplined Sockeye were on full display in the game's latter period.
Sockeye consistently dictated the pace and flow of the game and looked assertive on both sides of the disc until the end. With their victory, Seattle will advance to tomorrow's final to face Revolver, the tournament's #1 seed (to whom Sockeye handed their first loss of the season with a 17-15 pool play win on Friday).
The teams are strikingly similar in terms of their athletic, intelligent defense, but have an interesting stylistic difference on offense (Revolver favors isolation cutting vs. the dynamic horizontal of Seattle). It promises to be marquee matchup for both teams, as well as spectators, pitting two of the tournament's most athletic and talented squads against each other in the latest iteration of a storied rivalry.
---
though it's worth noting he was also unsatisfied with the conversion efficiency ↩