Chesapeake is always a key stop on the calendar.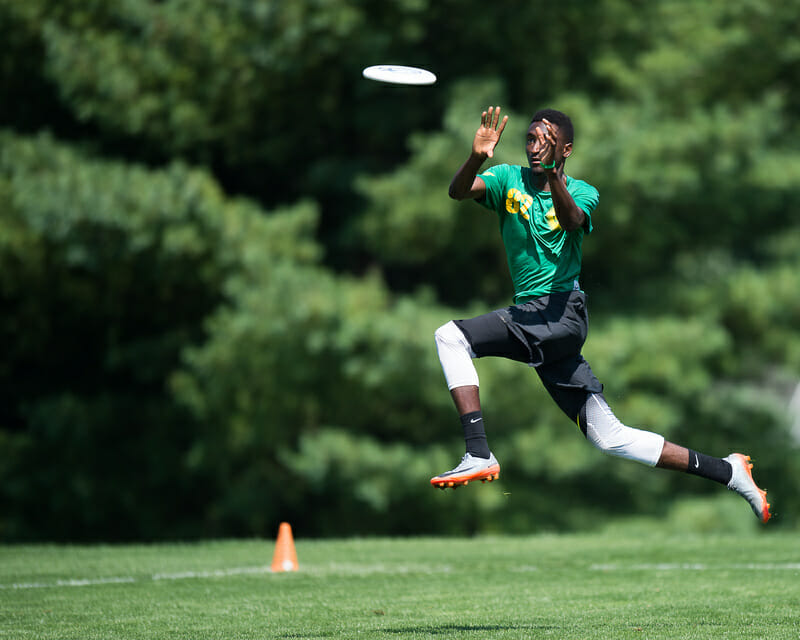 During this 2017 summer and fall season, we will publish a bite-sized weekly recap of the action across the Club Division. This will serve as a supplement to our standard tournament reporting and will offer a high-level look at the latest happenings and the biggest stories of the week.
Want your tournament listed here? Submit a recap of what happened right here.
Men's Division
Garden State Ekes Out Chesapeake Open Win
New Jersey Garden State Ultimate capped off an undefeated weekend at the Chesapeake Open by surviving back-to-back double game point finishes in their semifinal and final matchups. After sweeping their pool, Garden State advanced to quarters where they overcame Philadelphia CITYWIDE Special and then vanquished Triangle Cash Crop 15-14 to set up a rematch with Durham Turbine. While GSU had taken the first encounter 12-8 in pool play, the final was far more climactic, ending with a double game point victory for Garden State, 14-13. The tournament title will be nice, but close margins all weekend prevent Garden State from seriously getting into the mix to earn a strength bid.
#25 Richmond Floodwall, new to Ultiworld's Power Rankings last week, were bumped out of contention at Chesapeake in the semifinals by Turbine.
Quick Hits
Mixed Division
Toro Overcomes Early Loss To Capture Chesapeake Title
After falling to Westchester Dub Club on double game point in their second game of the weekend, #19 Durham Toro beat the #2 and #3 seeds — New York XIST and Charlotte Storm — at the Chesapeake Open to earn a rematch against Dub Club in the final; this time, Toro would take the game and the tournament, 13-7. Showing resilience and stamina to earn their way through the bracket, Toro displayed the grit they'll need in a crowded Southeast field.
Elsewhere around the field complex, it was an exciting weekend with 24 teams competing in Boyds, MD, this past weekend. Both Dub Club and Lancaster Distelfink broke seed and claimed semis spots with impressive wins in the quarterfinal round.
Quick Hits
Women's Division
Scandal Dominant In Hometown Victory
Coming into the Chesapeake Open as the number one seed, Washington D.C. Scandal did not disappoint, rolling to victory over an assorted field of Nationals qualifiers, Nationals hopefuls, and lower level teams in Boyds, MD. Scandal had impressive wins over Toronto 6ixers, Boston Siege, New York BENT, and Cleveland Notorious C.L.E. The tournament played out mostly to seed with BENT and Siege losing in the semis and thus tying for third and Pittsburgh Hot Metal beating Grit in the 5th place game. In the finals, Scandal held Toronto at arm's reach for most of the game and took the match 14-8.
Looking Ahead
With the rankings beginning to take shape, there is only about a month left in the regular season for teams to leave their mark before bids are officially allocated. Next weekend will feature the second to last TCT Regular Season event: the Elite-Select Challenge in Appleton, WI. With this tournament falling later in the season this year, expect high drama as every point matters to the unforgiving algorithm and to these teams as the ramp up to the post-season begins.
The Women's side will feature many of the quarters level teams who may be able to play more freely knowing the big four of the Women's division aren't lurking for them in bracket play. Coming in as the three seed, #9 Madison Heist looks to be the favorite with Sarah Anciaux and Georgia Bosscher taking the field after missing games earlier this season.
In the Men's division, it will be a dog fight from the first pull as the likes of #23 Madison Club, #18 Chain Lightning, and #17 Furious George will need to win games to earn extra bids for their regions. #6 Michigan High Five and #8 Austin Doublewide come in as the favorites.
Like the other two divisions, this tournament will both decide bids for the Mixed Division and give us a preview of who might be potential quarterfinalists at Nationals. A big question going into this weekend: how strong are #3 Seattle BFG and #5 Boston Wild Card? Both had impressive starts to their seasons but have been quiet since those early tournaments: we should learn a lot more about each of the teams this weekend.
Elsewhere:
Cooler Classic 29 will feature teams from all three divisions from around the midwest in Hartland, WI.
With just a Men's (four teams) and Mixed (three teams) Division, Florida Warm Up Club will be a small round robin tournament for Southeast teams.
Both Chowdafest and Ski Town Classic are listed on Score Reporter, but neither have any team info at this point.