Has Nemesis completed their rebuild?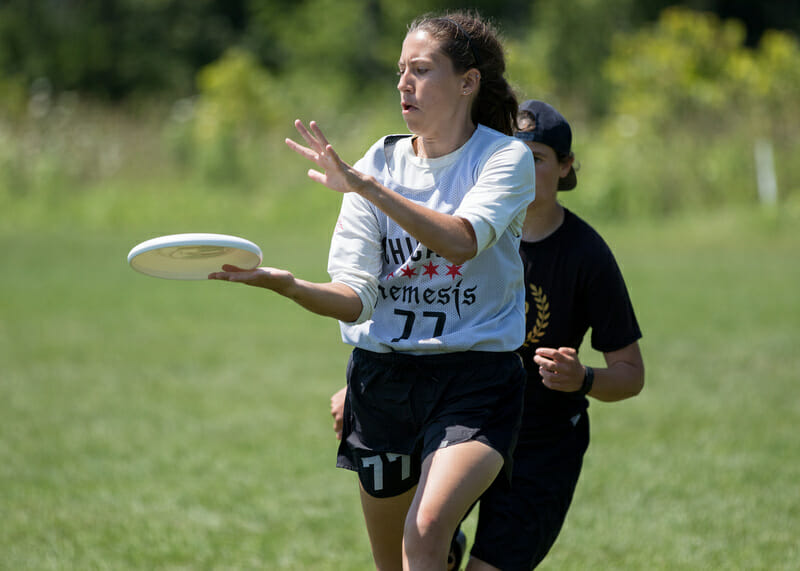 Ultiworld's reporting on the Women's division of the 2017 Elite-Select Challenge is presented by VC Ultimate as part of their year-long support of our women's coverage. All opinions are those of the authors. Please support the brands that make Ultiworld possible and shop at VC Ultimate!
APPLETON, Wisc. — With the division's heavyweights on the sidelines this weekend, it opened the door for some new storylines to emerge. With tons of close games and a tight clustering of similarly talented teams, there was tons of action this weekend. Here's a look at the top stories.
Nemesis Accelerates To Undefeated Weekend
When Chicago Nemesis came up short against their in-region Rival from Columbus 13-9 in the Select Flight Invite final, it felt like we could be seeing a repeat of 2016. Nemesis wasn't in strength bid territory. The Great Lakes was staring at one bid again. Rival was the clear favorite.
What a different picture just a few weeks later.
Nemesis topped Rival for the first time in two years during pool play, won the pool, and then blew by the competition on a windy Sunday in the bracket.
With a decisive 13-9 win over Seattle Underground in the final, Nemesis put a bow on a great weekend that vaulted them into a second bid for the Great Lakes and put the team back on the map as a challenger at Nationals.
"[At the Select Flight Invite], we put the foot on the gas pedal a little bit, and now it's like we're getting on the highway," said captain Emily Hadel on Sunday afternoon.
Nemesis was particularly effective in the wind on Sunday during semis and finals — "We are from Chicago," said Hadel — which is perhaps a positive omen for their chances to do damage in Sarasota in October.
Against Underground, Nemesis played well against Underground's junk and zone looks, firing break throws into the wind with confidence. After Underground opened with a hold, Nemesis went on a 4-0 run to seize control. They led 7-3 at half and only yielded two breaks, each time answering with an upwind hold and then a break of their own.
Nemesis' zone gave Underground a lot of trouble, and Seattle threw it away numerous times.
"With the wind, a couple of throws popped up a lot," said Underground coach Frank Nam. "A couple of unforced errors."
Monica Matsumoto was effective both on defense and after the turn for Chicago, scoring twice in their early run. On offense, Nemesis' handlers did the bulk of the heavy lifting, led by Jenny Corcoran and Dorothe Franklin.
Perhaps bigger than the tournament victory was the 11-10 win over Rival in pool play on Saturday. "Mentally, now, it's all downhill," said Hadel. "There's no monkey on our back. There's nothing to be worried about."
That's a huge shift for Nemesis after being dominated by the Columbus team last season, ultimately losing to them in the game-to-go at Regionals.
Is the multi-year rebuild now fully completed? Hadel hopes so. "We're definitely ready," she said. "The sky's the limit."
Underground Plays Up & Down But Reaches Final
A 5-2 weekend for Seattle Underground came on the back of a solid all-around performance this weekend. Their highs were high, like when they surged late to beat a more experienced Showdown team in the wind in semis. But they also had some real trouble executing throws and catches against Nemesis in the final and Wildfire during pool play.
The Underground coaches said that Saturday was definitely a day of working through some kinks. "It was a big learning tournament for us," said coach Caitlin Cordell.
The final got away from Seattle quickly, as Nemesis ripped off three quick breaks at the outset. Chicago had a boisterous crowd cheering for them, as many Machine players congregated on the bleachers and were so raucous that they earned a warning from the game's observing crew.
That was a teachable moment. "Energetically, how do we step up to a team that's bringing a lot of energy and has a lot of sideline support?" said head coach Frank Nam.
Nemesis seemed to be fueled by the crowd and played with confidence. They were not afraid to fire deep and trust their cutters to make a play. More often than not, they were coming down with the disc.
Nam and Cordell said that being more aggressive in the air is clearly something Underground needs to work on. "We're Seattleites," said Cordell. "No, you. No, you. No, you. No, you."
Still, any sense that Underground underperformed is a testament to the high expectations they've built for themselves: at the Pro-Elite Challenge, their only losses came against top six ranked teams. And you certainly have to take their performance with a grain of salt: they were missing some top players, including Katy Craley, Hannah Kreilkamp, and Emma Kahle.
Those absences meant additional reps for everyone else on the roster — that's something that could make the difference in October.
Showdown Takes Third In Good Follow-Up To US Open
Even though Texas Showdown was quite competitive at the US Open earlier this month, it surely must have felt good to invert the win-loss columns and finish 5-2 at the Elite-Select Challenge with their losses coming only to the two finalists.
Veterans (and EuroStars) Katey and Bex Forth looked sharp alongside young talents like Julia Schmaltz. The team looked dead even with Nemesis throughout their entire opening contest; Showdown ended up losing on double game point in a great game (soon available for Ultiworld Full and Plus subscribers).
They were also in a tight game with Underground in semis before Seattle pulled away with a 4-0 run to close out the game.
Showdown's defense was the stronger of the two lines and generally able to claw out a few breaks a game led by strong play from Julie Malecek. Offensive inconsistencies let some games slip away against their stronger opponents, fleshing out a pattern we saw earlier at the US Open.
But it's been steady growth for the team since the Pro-Elite Challenge — they'll feel good about their trajectory heading into the Series.
Quick Hits
San Diego Wildfire had a huge rebound after a winless Pro-Elite, going 4-2 with losses only to Nemesis and Showdown en route to a fourth place finish. They jumped up five spots in this week's Power Rankings thanks in part to good wins over Underground and Bent.
Minneapolis Pop lost in quarters to Nemesis but closed out Sunday with two big wins over Bent (13-4) and Heist (10-5). They also jumped five spots in the Power Rankings.
Madison Heist's ceiling is still TBD. They were without some key players this weekend, including Team USA representative Georgia Bosscher.
The new team out of Arizona, Phoenix Uprising, may have gone winless, but they made sweet stickers for their opponents:
https://twitter.com/HeistUltimate/status/898974140551618560