Little action from any divisions last weekend as the 2017 regular season gears up for the finale.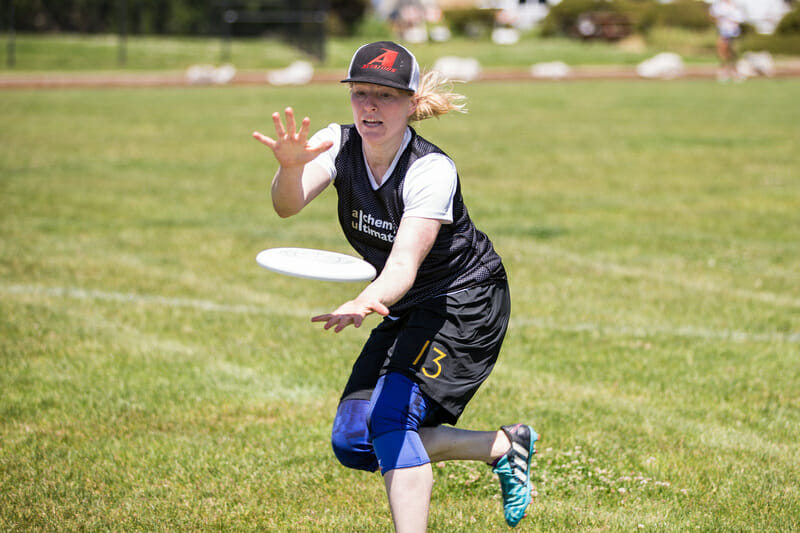 During this 2017 summer and fall season, we will publish a bite-sized weekly recap of the action across the Club Division. This will serve as a supplement to our standard tournament reporting and will offer a high-level look at the latest happenings and the biggest stories of the week.
Want your tournament listed here? Submit a recap of what happened right here.
Mixed Division
Chicago-Indianapolis Tequila Mockingbird, San Francisco Alchemy, and Columbia Free Ride Claim Victories
Chicago-apolis Tequila Mockingbird went 7-0 on the weekend and took the Indy Invite crown with a double game point victory over Houston tHUMP in the final. Both pools went to seed except for fourth overall seed Chicago ELevate losing to Chalice and Los Heros and falling to fourth in their pool.
The finals of Sanctionals in Fremont, CA saw a showdown of the two top seeds who both entered the game undefeated. There, San Francisco Alchemy took down Chico Platypi 12-8. Feral Cows and AC Bandits both broke seed to take second in their respective pools.
Kansas City Blitzkrieg took the three team pool at KC Mashup but then fell to Free Ride in the first place game. Interestingly, the Score Reporter page lists Free Ride as winning, after losing both of their pool play games and then winning avenging both of those loses in bracket play.
Women's Division
Indy Rogue Win Only Women's Action
At the Indy Invite Club, hometown Indy Rogue took the round robin defeating Cincinnati Sureshot 10-8 and rolling Ann Arbor Autonomous 13-4.
Men's Division
Eugene Dark Star Takes CBR Memorial, Indianapolis Brickyard Wins At Home
Seattle Voodoo and Eugene Dark Star emerged unscathed from pool play and met in the finals of CBR Memorial. A newly reloaded Dark Star downed Voodoo 15-12 after taking down Rip City Ultimate 15-10 in the semifinals.
Indianapolis Brickyard defeated Lombard Black Market 14-10 to cap off an undefeated weekend at Indy Invite Club. Black Market also took their pool with a 4-0 record and had a big win in the semifinals over Kentucky Flying Circus 15-6.
Looking Ahead
Two major tournaments on either side of the country this weekend are all that remain of the 2017 regular season. Twenty six of the nation's top teams will head to Burlington, WA for the newly renamed Pro Championships while many of the East Coast men's powerhouse programs clash at the NY Invite.
In the Women's division at the Pro Championships, we'll get another round of the battle of the 'Big Four' we've seen so far this year. Boston Brute Squad is looking to rebound after a disappointing US Open while Denver Molly Brown is preparing to unleash their newest weapon: Manuela Cardenas. While already perhaps the favorite, adding one of the best players in the world may be what it takes to push Denver over the top.
Washington DC Scandal, Madison Heist, and Vancouver Traffic have secure spots in the rankings and will be playing with nothing to lose and gunning for the top teams. How they approach those games will be interesting to see. Will they play to gain experience against the prohibitive top four without giving too much away or will they be gunning to snatch a favorable quarterfinals and build confidence as a giant killer?
The Men's side has less of the depth of the Women's side but will still showcase three semis favorites for this season in San Francisco Revolver, Seattle Sockeye, and Denver Johnny Bravo. For the next tier of teams, it's a rare opportunity to get games against the top of the division at the end of the season and most of the rankings decided.
San Francisco Guerilla could potentially put up some wins and earn a third bid for the Southwest with a good finish. While Chicago Machine needs to be careful to not get blown out in any games because they are currently sitting at the #16 spot.
With seven of the eight mixed teams in attendance currently holding bids, this weekend could see many teams going full force to gain momentum heading into the Series and gain a better seeding at Regionals and Nationals.
Seattle leads the way with the two top teams Mixtape and BFG who seem to be on a collision course for the finals after not having met since the first game of the season. San Francisco Mischief and Minneapolis Drag'n Thrust seem the most likely to take a win from the Seattle juggernauts as they try to solidify their credentials as potential Nationals pool top-seeds. Further down, Connecticut Metro North and Iowa Chad Larsen Experience will be looking to hang on to the bids they are currently earning while San Francisco Blackbird will be fighting to earn one of their own. Given the chaos that has traditionally been a calling card of the division, it wouldn't be surprising to see any of the eight teams in attendance make a run this weekend.
Developed as an alternative to the Pro Championships for men's teams on the East Coast, the NY Invite looks like it will have the most impact on the bid distribution. With the top four teams from the Northeast and the Atlantic Coast (along with Raleigh Ring of Fire and Madison Club) and both regions duking it out for four bids, this tournament will be intense from the first pull on. Baltimore Medicine Men and Pittsburgh Temper both sit just outside of the bid cutoff and will be gunning in every game (especially those against Toronto GOAT and NY PoNY) to make up that ground. Ring and other top seeds Washington DC Truck Stop, Boston Dig, and Boston Ironside are looking to test themselves and get wins against some of the east coast's best before Regionals.