Mini-Nationals is here.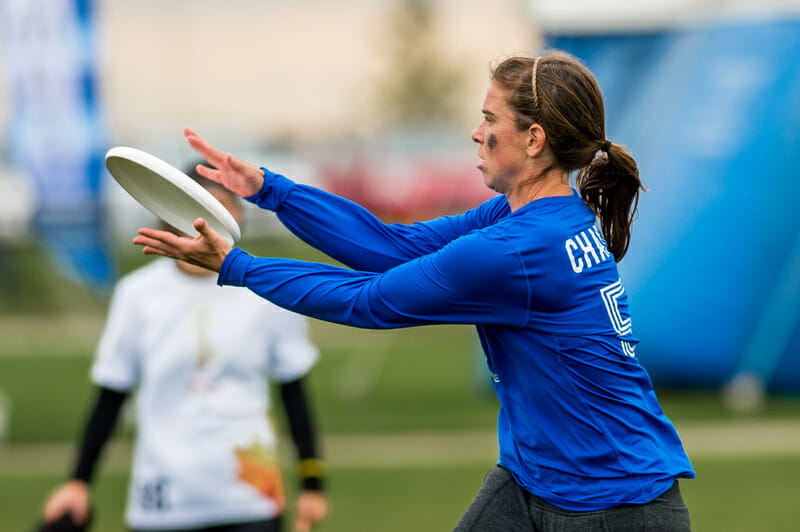 Ultiworld's reporting on the Women's division of the 2017 Pro Championships is presented by VC Ultimate as part of their year-long support of our women's coverage. All opinions are those of the authors. Please support the brands that make Ultiworld possible and shop at VC Ultimate!
The Pro Championships1 brings together ten of the top women's teams in the country to battle it out on the final weekend of the regular season. The women's side is the only division where USA Ultimate got the tournament it envisioned: all eight of the Pro Flight teams2 and the top two Elite teams from the Pro-Elite Challenge (San Francisco Nightlock and Seattle Underground) all accepted the bids — no waitlist needed.
The teams are separated into two pools of five, with the top team from each advancing directly to the semifinals and the second/third finishers crossing over in "pre-semis." The women's division has been quite stratified this year, with no team threatening the 'Big 4' of 2016 semifinalists that is Boston Brute Squad, Seattle Riot, Denver Molly Brown, and San Francisco Fury3. Moreover, seven of the Pro Flight teams remain this year's top eight — the exception being #15 Madison Heist — highlighting a clear second tier of teams.
The tournament itself feels destined to pit the top-4 against each other in semis in what should be quite the showdown, but there are smaller storylines entering the tournament for each team that add to the intrigue of the weekend. In a star-studded lineup, the spotlight may shine brightest on Heist this weekend as they look to maintain their spot in the top 16 and keep their strength bid for the North Central away from prying Southwest bubble teams LOL and Wildfire (both idle this weekend). To get you up to speed, we'll go over both pools and the storylines the collection of teams bring with them to Burlington.
Tournament Profile
Date: September 2-4
Location: Burlington, WA
Weather: Sunny, upper 70's, winds 5-10 mph
Top 25 Teams: 10
Score Reporter
Pool A (Brute Squad, Fury, Traffic, Ozone, Nightlock)
The last time we saw the tournament top-seed and USAU #1 Boston Brute Squad was at the U.S. Open, where they did not show the quality we've come to expect from the back-to-back national champions. Brute took a close loss to Molly Brown, were beaten 14-11 by Revolution, and escaped another upset with at 14-13 win over Showdown. However, it would be fair to say that Brute wasn't treating the tournament with particular emphasis. They wanted to win, but they knew that the results were essentially inconsequential.
Brute's speedy and assertive defense acquitted itself well at the U.S. Open, but their offense showed a great deal of timidity and nerves in the face of slightly gusty conditions and high-pressure defense. Given the turnover of throwing talent from last year this wasn't an enormous surprise, but it left questions hanging over the defending champs. This weekend will be telling as to whether the U.S. Open was a glimpse at a work in progress or the first signs of a chink in their armor. That said, don't judge too finally, as they will be without the services of throwers Emily Baecher and Jojo Emerson this weekend.
The two seed in the pool, San Francisco Fury, is coming off of a semifinals appearance at the US Open where they were eliminated by Molly Brown. Though their dominant run of seven championships ended in 2012, Fury has remaining a perennial semis team and is capable of beating any squad in the field. At the US Open, coach Idris Nolan was urging his team to be aggressive on both sides of the disc by laying out for blocks on defense and fearlessly attacking vertically with deep shots. In their 15-13 loss to Riot, there were signs of the plan being executed, but Fury looked more comfortable and effective working their break side attack through Anna Nazarov and Alex Snyder's breaks and handler motion.
Perhaps the biggest storyline for Fury this weekend–besides how they will fare against their fellow top-seeded teams–will be the role of Octavia "Opi" Payne. Opi, a World Games alternate, was arguably the biggest "free agent" acquisition of the offseason but has played a quiet role thus far for the Bay Area squad. There are flashes of her extraordinary ability, but Fury is clearly still figuring out how to best use her.
Vancouver Traffic enters the tournament after being upset 15-13 in the Canadian Ultimate Championships by Toronto 6ixers two weeks ago. They haven't seen much American competition this season: their only tournament has been the US Open, where they went 1-3 against USAU competition, with their lone win coming over Showdown (who they also lost to). Don't sleep on them, though; they played Molly Brown to 15-13 and have some top tier talent in Catherine Hui, Laura Mason, and Rachel Moens.
Hui was particularly impressive at CUC in all facets on offense, but particularly in the deep space. It's also worth noting that with only four games on their USAU rankings ledger, Traffic has to avoid imploding this weekend in order to hold on to their NW strength bid. They'll be missing UBC star Vic McCann this weekend, but should be in good shape to hold on.
Atlanta Ozone is the fourth seed in the pool, making the long trek west to compete in their third tournament of the season, but their first since the Pro-Elite Challenge in early July. As it is with many players and cross-country tournaments, a few Ozones will unfortunately not make the trip with the their team this weekend, including Marissa Hicks, Allison Snow, Paula Seville, Meg Harris, Shanye Crawford, and Marie Perivier. While that might impact performance, it's important to note that Ozone's Nationals hopes won't hang in the balance this weekend. As the lone Southeast representative in the top 16 (and with no other SE team realistically in the hunt for a bid), even if Ozone were to collapse, they would retain the single SE autobid.
Rounding out the pool is San Francisco Nightlock. This isn't the Nightlock team of years past, but their young talent has stepped up to fill the shoes of departed mainstays. They had a rough performance with a short roster at the Elite-Select Challenge two weeks ago, but will look to rebound as they bring a much deeper team up the coast to Washington (but still without handlers Abby VanMuijen and Alina Kagan). Though Nightlock is the lowest non-Heist team in the field at #12, their bid looks to be safe with 21 games on the books. That said, they'll surely be keeping their eyes on Heist this weekend and hoping for LOL or Wildfire to win a third SW bid.
Pool B (Molly Brown, Seattle Riot, Scandal, Underground, Heist)
Denver Molly Brown is the top seed in Pool B, fresh off of an appearance in the US Open final. They went undefeated against USAU competition at the tournament, handing losses to both Fury and Brute Squad. On the strength of that performance, plus the addition of the electric Manuela Cardenas (Medellin Revolution, not in attendance this weekend), some are saying Molly Brown is the new title favorite.
Unfortunately, missing players may throw a wrench into things. The Denver women have suffered a rash of injuries, losing the offensive contributions of Megan Ives and Megan Cousins, as well as the stellar defensive prowess of Hannah Leathers and Becca Miller (a void Cardenas may fill at Nationals). But don't let that list fool you–Molly has plenty of talent. Everybody knows the big names like Claire Chastain, Jesse Shofner, Liza Minor, and Lisa Pitcaithley, but one you may not hear as often is Paige Applegate.
Applegate was a huge part of the team's US Open success, notching 18 assists on the weekend (second only to Chastain's 19). They also get Nhi Nguyen back from injury for the offense. While the stakes are low for MB this weekend, their inevitable showdown against one of their rivals in the bracket will serve as a tone-setter for their Nationals run.
Pool B's second seed is hometown team Seattle Riot, who, like Molly Brown, have been idle since the US Open, where they lost in the semifinals to Revolution. Given their local presence, Riot will bring a complete team to the tournament– including Hana Kawai (a longtime Riot who was previously announced as a practice player). Lest we forget, that team is quite the assembly of talent. Riot has been good enough to win a title for about twelve years but has never quite broken through. This year's team might be the most talented one they've had since their last championship in 2005. For the Seattle team, it's all mental: if they are finally going to go the distance this year, the mindset that takes them there will start this weekend. Tactically, Riot is at their best when they are attacking horizontally and working their dump-swings. Look for Paige Soper to continue to take a bigger role in their offense, driving them forward from the handler space.
Washington D.C. Scandal is the third team from Pool B and is always the team I feel guilty for excluding when I mention the "big 4." Scandal is an elite team but is, performance and ranking-wise, a small cut below last year's semifinalists. This may not be the weekend that they make a statement for inclusion, as the cross-country trip has caused some roster attrition. Most of their big talent — Jenny Fey, Sarah Itoh, Sandy Jorgensen, Lisa Kowalski — will make the trip but they will be missing Colleen Giglia, Amel Awadelkarim, Adilina Malave, and Hannah Boone.
While the competition level will be higher, the stakes for Scandal certainly will not be. They have a high rating and a great deal of inertia from 18 logged games, so they are virtually safe. That said, they're still worth keep your eyes on, if only to see how YCC star Ella Juengst fares against the best in the world.
Another hometown team, Seattle Underground, takes the fourth spot in Pool B. Despite an up and down performance at the Elite-Select Challenge, a shorthanded Underground found itself in the final against Chicago Nemesis. Though they lost, they left the tournament in strong position to lock up a strength bid for the NW. They have 21 games on the ledger and a reasonable ranking, so if they can keep it together this weekend, their path to Nationals would remain. But Underground will be looking to do more than just settle; with a filled out roster the Seattle ladies will look to make a statement against Pro Flight competition.
Rounding out the tournament is Madison Heist, a Pro Flight team that sits precariously at #15 in the USAU rankings, just a spot above the cutoff. Heist's primary goal for the weekend will be to hang on to their spot and their strength bid, but given their shorthanded travel roster — just 18 players — they may have their work cut out for them. Their last performance at the Elite-Select Challenge, where they took costly losses to Pop and Showdown, raised the stakes for this weekend's games. However, their shaky ESC results came without captain (and world games player) Georgia Bosscher on the field. She's at least rostered for PFF, which is a big check in Heist's favor.
All the drama may be for naught, though: Heist is at 1775 for their rankings and the cutoff appears to be 1700. A bit over ⅓ of their ranking is this tournament, so they can afford to average ~1550. Molly Brown and Riot are rated too high to get that low a result, so they're safe there, especially if they don't get blown out. Against Scandal, they could keep pace with a 13-8/15-9 loss, and as long as they kept it to 13-10/15-12 against Underground, they'd be ok. It's not impossible for Heist to fall out of the top 16, but they'd need to tank.
---
previously known as the Pro Flight Finale ↩

the top eight finishers at 2016 Nationals ↩

well, no domestic team– I see you Medellin Revolution ↩