P A R I T Y
BURLINGTON, Wash. — Pool play has wrapped up for the Mixed Division at the 2017 Pro Championships, and the quarterfinal matchups are set. Here's a look at the bracket for tomorrow: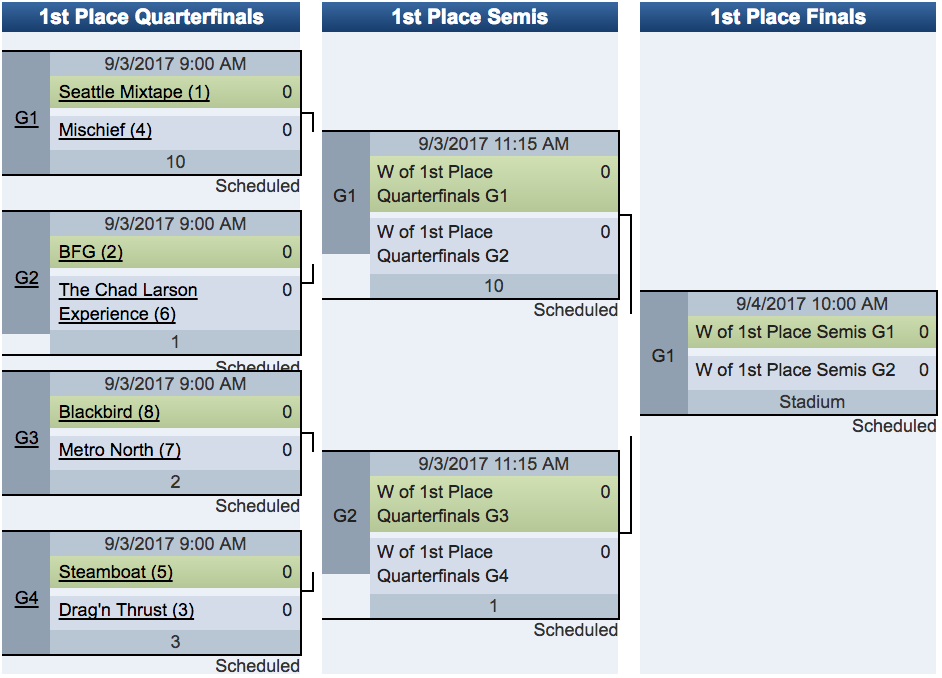 Here are some quick hits about the action on Saturday:
Seattle Mixtape

 perfectly played its trademark high-speed, high-intensity game. None of the other mixed teams seemed even close to their pace of play, and their athleticism earned a number of blocks that initially looked just out of reach. A dominant performance against CLX set the tone for the day, and an ability to ramp up at just the right time helped them overcome a halftime deficit vs. Blackbird. Mixtape was also one of the few mixed teams willing to play with four women on a regular basis, using their team's depth to run their opponents ragged.

Seattle BFG

started their day with an unusually sloppy first game against Steamboat. Drops and miscues plagued the first round, and the team was unable to generate any momentum in the first half against a tight Steamboat zone set. BFG got on track against Metro North before a sloppy 16-15 win over Mischief to close out the day, thanks to a huge Andrea Coleman foot block on double game point. It was a very up-and-down day overall, and Kieran Kelly's injury could hamper their offense for the rest of the tournament.

Minneapolis Drag'N Thrust

also had a tough first day, dropping games to both Mixtape and CLX after escaping with a double game point win against Blackbird. Brian Schoenrock's injury has sapped the team's size downfield. While their defense is as speedy as ever (particularly Kat Ritzmann), teams with strong aerial ability were able to take Drag'N Thrust deep regularly.

Parity was absolutely the theme of the day, where it seemed like every team had a shot at beating anyone else. Mixtape was able to put together enough stretches of strong play to go 3-0 on the day, but with 7 of 12 games decided by two points or fewer, no team really separated themselves from the rest. Many of the teams are treating this tournament as a tune-up for Regionals, trying different offenses and defenses. Steamboat, in particular, was relentless in working their junk set, even at the beginning of the day when the wind was lightest, with an eye on the postseason.

While we need to see how the rankings play out to be certain,

San Francisco Blackbird

looked ready to fight for a second Southwest mixed bid to Nationals. Running a methodical side stack offense, they isolated VY Chow early and often to get easy yards downfield. Tim Gilligan looks like a strong pickup for their handler set, and the team was able to use its depth throughout the day to win the matchups when they needed to.