Eight of the country's best squads head to Burlington.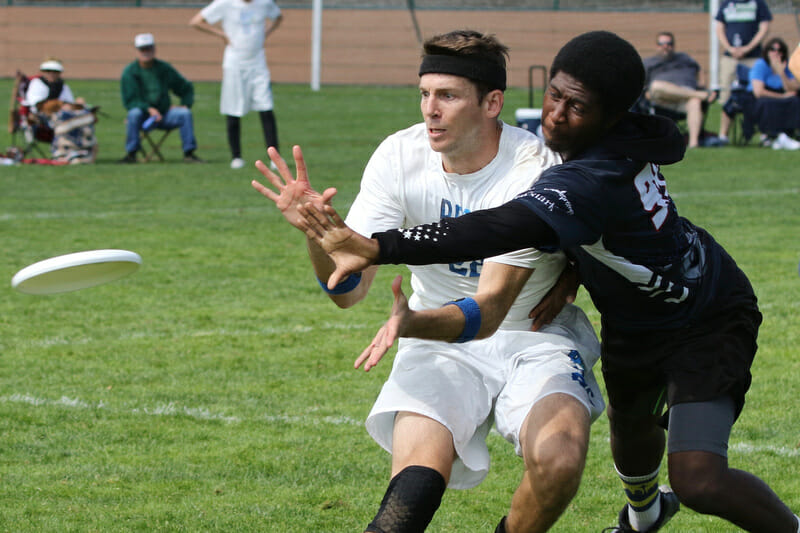 While several of the big name East Coast squads will not be making the trip to Burlington, every team that will be at the Pro Championships current occupy a spot within the top 15 of Ultiworld's Power Rankings. Several regions have bids to Nationals at stake this weekend, which should produce plenty of urgency and drama rather than simply being a tune-up for the Series.
Here are some of the storylines to watch heading into this weekend:
Tournament Profile
Date: September 2-4
Location: Burlington, WA
Weather: Sunny, upper 70's, winds 5-10 mph
Top 25 Teams: 8
Score Reporter
Who Is The Top Mixed Team In Seattle?
Last year, up until Regionals, there was no doubt that Seattle Mixtape was at the head of the class in the Northwest. Nationals finalists for two consecutive years, Mixtape went through the 2016 season without too much of a challenge from other mixed teams around the Northwest until they met Seattle BFG in the final of Regionals — a game-to-go with only a single bid available. Mixtape emerged victorious, but only just, winning 12-11 on double game point after a thrilling back-and-forth battle.
This season, BFG followed up on the promise showed last year by winning both TCT tournaments they have entered, taking some losses but turning it on when it mattered. At the Pro-Elite Challenge, they finished third in their pool before barnstorming through the bracket and defeating last year's national champion Boston Slow White in the final. At the Elite-Select Challenge, BFG came back from a 6-1 deficit to win over Fort Collins shame. Having clearly earned their #2 overall seed for the Pro Championships, no one should be underestimating their potential any longer.
Mixtape, for their part, once again entered the season as a favorite not just in the Northwest but in the entire country. They bounced back from a fifth-place finish at the Pro-Elite Challenge to win the US Open, notching strong wins over Minneapolis and Philadelphia AMP, along with a close win over San Francisco Mischief. Those results have boosted them to #1 in the USAU Rankings and the Ultiworld Power Rankings, earning them the top seed this weekend in Burlington.
The Seattle rivals are a contrast in styles. Mixtape plays with an energy that is nearly impossible to match, thriving on highlight reel plays on offense and defense, and the confidence that the team is never out of a game thanks to its athleticism and chemistry from playing together for years. Meanwhile, BFG plays smart, mistake-free offense based around strong fundamentals, punctuated by opportunistic defense that looks to jump open throwing lanes.
Mixtape took the first meeting between the two teams this year at the Pro-Elite Challenge, winning in pool play 13-10. With both teams comfortably secure in their bids and BFG needing to play Sectionals next weekend, it's tough to say whether we will truly discover who the top mixed team in Seattle at the Pro Championships. Even if they do meet this weekend, it would be a shock if either team unveiled any new strategies with an inevitable clash at Regionals looming.
Who Has The Most To Gain? Who Has The Most To Lose?
#14 San Francisco Blackbird come into the tournament on the outside looking in, as the Southwest currently holds only a single bid to Nationals. With pool play matchups against #1 Seattle Mixtape, #4 Minneapolis Drag'N Thrust, and #15 Iowa Chad Larson Experience, Blackbird needs wins — or, at very least, strong performances — to help their region pull in a second bid.
In the latest USAU Rankings, Blackbird sits 9 points behind #16 Pittsburgh Alloy. While a one-bid Southwest would make for an exciting Regionals for outside viewers, loads of Nationals hopefuls in the region will be watching this weekend from afar hoping that Blackbird can do enough to push past Alloy and steal a strength bid from the Mid-Atlantic. With every team making the bracket this weekend, Blackbird will certainly have opportunities to earn enough points to secure that bid while Pittsburgh sit idle.
Coming into the Pro Championships having last played at Revolution in mid-July, Blackbird has had the longest tournament layoff of any team headed to Burlington. We will see if that break translates into on-field success for a rested veteran squad or if the lack of in-game sharpness hurts their cause. A chance to avenge a Pro-Elite Challenge pool play loss to Drag'N Thrust could be just what Blackbird needs to jumpstart their tournament — they will have their chance in the first round on Saturday.
On the other end of the spectrum are two teams currently on the inside of the bid picture and trying to hang on. Chad Larson Experience have to this point earned a third bid for the North Central, but are only 50 points ahead of poolmates Blackbird. A rough performance from the Iowa team coupled with a strong showing from San Francisco would throw the Nationals bid picture into flux. Blackbird notched a narrow win against CLX back at the Pro-Elite Challenge with a small roster, and the opportunity to reinforce that win should make for an exciting end to the day on Saturday.
Similarly, #7 Connecticut Metro North hold a third bid for the Northeast and need to avoid any bad losses this weekend to hang on. With a pair of 12-10 wins over poolmate #8 Cincinnati Steamboat to their name from the US Open, Metro North ought to feel confident in their ability to hold on to a third Northeast bid, but with such an even field, nothing can be taken for granted. The Connecticut crew are making the farthest journey of any team this weekend and will need to be switched on right away when they face Mischief in the first round on Saturday; long flights can sap a team of energy in the first game of a tournament, but expect Metro North to be ready to play.
What's The Motivation For The Rest Of The Field?
One of the big themes in mixed this year has been parity at the upper reaches of the division. No team has truly separated itself from the competition as a clear favorite and most of the squads near the top have wins over each other. Multiple losses dot the resumes of every team and everyone has suffered at least one blowout loss to another title contender. Individual matchups seem to matter more than ever.
While the teams fighting for bids have obvious motivation, it's unclear how important this event is to those comfortably in the top 16. The two Seattle squads have proven their title credentials by earning a Triple Crown Tour tournament title in 2017, but no other team in the field can say the same. With other supposed title contenders in the mix in Burlington, will any of the top teams go all out to try to win and assert themselves as THE favorite heading into the postseason?
For Minneapolis Drag'n Thrust, winning regular season tournaments has never been a priority. Even during their three year reign as national champions, Drag'n weren't crushing teams at TCT events to assert their dominance. Instead, they focused on getting as prepared as possible for the games that mattered in the Series. They appear to be on a similar track this year and their arrow is pointing up. After being dumped out of the Pro Elite Challenge in the quarterfinals by BFG, they looked much stronger and put in a much better performance at the US Open to make the final. As coach Jake Henderson continues to emphasize growth and process, Minneapolis may be rounding into the form that saw them win three consecutive titles.
While not at a TCT main event, #9 San Francisco Mischief has won a tournament already this year, knocking off a string of regional competitors at Revolution. Last year's semifinalists look like the top team in the ever volatile Bay Area hierarchy and may view this weekend as a prime opportunity to prove that point. Mischief are coming off a disappointing US Open, where they managed just a single win over an American foe. In their last chance to see other title contenders before Nationals, surely they will be motivated to prove they belong in that conversation.
Initially predicted to continue their rise and be among the division's elite this season, #8 Cincinnati Steamboat has also flattered to deceive in 2017. After a sixth place finish at the Pro Elite Challange, Steamboat also only managed one domestic victory at the US Open — over Mischief. If they are to emerge as a true semifinalist contender, this is their last opportunity to gain the types of wins that suggest they are more than quarterfinal fodder for the nation's best squads. As always, they will lean on their outstanding play-making women to succeed in Burlington.
Regardless, barring some shocking results throughout the weekend, massive changes in the hierarchy seem unlikely. Expect most teams to think of this tournament more as a chance to iron out any final kinks in their offenses, possibly experiment with some defenses to unveil at Regionals, and focus on what they need to do to keep their bids to Nationals intact.