Breaking down every region and all your contenders.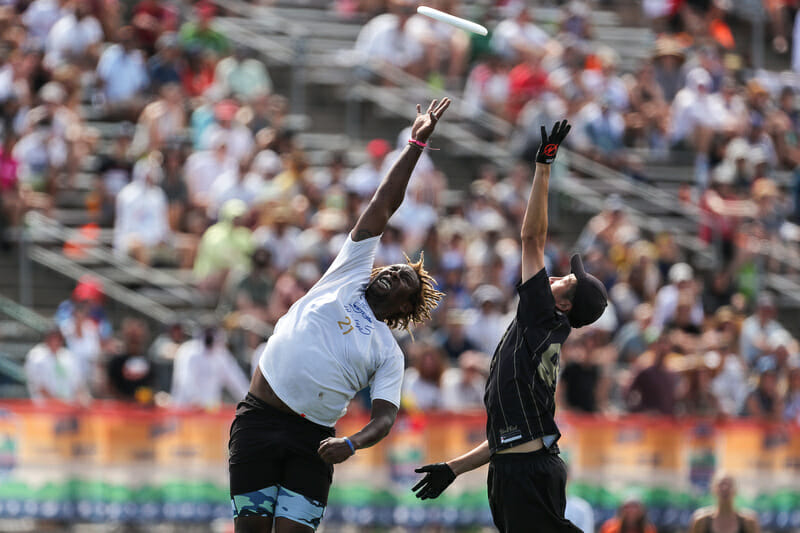 Ultiworld's 2022 coverage of the club division is presented by Spin Ultimate; all opinions are those of the author(s). Find out how Spin can get you, and your team, looking your best this season.
Summer is slowly on its way out, and with it has gone the regular season and Sectionals, too, putting us firmly in the middle of the postseason. This is where the rubber hits the road. With so many rosters only rounding into form towards the end of the regular season, we're finally getting a glimpse of the final form of the teams with Nationals aspirations. There are only 16 bids available, though, so plenty of teams heading into Regionals are underdogs, not favorites. We'll take a look at these underdogs, favorites, and everything in between to help give an idea on what we expect to see in each region.
Great Lakes
Competition Schedule
Dates: October 1-2
Location: Zeeland, MI
Number of Bids: 1
Excitement Level: 🔥🔥
During the 2021 season, no region was hit harder by the predetermined bid allocation than Great Lakes Mixed. Impressive regular season performances from a sudden glut of quality teams in Ann Arbor Hybrid, Columbus Cocktails, and Cleveland Crocs would typically have been enough to earn the region three bids to Nationals, but instead were stuck grappling for just one. Despite the fierce competition, the ascending Michiganders definitively claimed the crown and went on to finish second in San Diego. Plenty of critics argued that they had an easy path to the national final and they didn't have to beat any of the top teams in order to win their silver medals in their Nationals debut, but they beat every team they faced but one, and earned their prize. Thanks to that success, as well as a subtle shifting of relative strength of some would-be challengers, Hybrid head to Regionals much more of a clear-cut favorite for the lone bid this season.
Coming into 2022, expectations were understandably lofty, and #5 Ann Arbor Hybrid decided to start the year off by trying to set a roster size record.1 Jokes aside, they added a ton of talent – Axel Agami, Tracey Lo, and Raymond Lu headline the additions that make this year's team even more talented on paper than last year's. Hybrid looked strong at Pro-Elite Challenge, posting solid wins over ranked opposition in Arizona Lawless, Fort Collins shame., and San Francisco Polar Bears, and losing only in the final to reigning national champs Seattle BFG by one goal. They stumbled a bit at WUCC with a quarterfinal exit against Melbourne Lunch Box and then again at Pro Champs, losing the final to Minneapolis Drag'n Thrust after having significant leads in both games. The offense hasn't always looked smooth without 2021 Offensive Player of the Year Connor Lukas at the helm, and the effort to distribute responsibility around to some of the new faces on the team hasn't quite gotten them to where they would like to be. But the defense is still top notch and gives every opponent fits with both on-field talent and dynamic tactics.
Make no mistake, this team is still a serious threat to be playing in the national final again. To get there, they'll need to figure out a way to cure what ails them on offense – whether that's something mental contributing to the losses after having a big lead, or something tactical in how they design the offense. Regionals should be an opportunity for Hybrid to work out some of those kinks, though with just the single bid on offer once again, they cannot afford to take any games at Regionals for granted.
If there's any chance that Hybrid wouldn't take the lone bid, #21 Cleveland Crocs is the most likely candidate to steal the berth. In addition to a full season of contributions from Libby Lehman and Iris Javersak, Crocs also picked up several players that had previously played with Buckeye State rivals Cocktails, like Sion Agami, Eliot Alexander, and Riley Dickson. Crocs had a decent regular season with a pair of local tournament victories and a fifth-place finish at SFI East, but it wasn't enough to earn a bid. They certainly have the skill to compete with Hybrid and played close enough at Sectionals that they could see ways to make some adjustments and find the edge they need. Hybrid has shown that they can be vulnerable to comebacks, and Crocs will be the top team hunting for a chance to go to San Diego.
Despite the seeming vulnerability of the top seed, you'd have to squint pretty hard to see a realistic chance for any other teams to depart with a Nationals ticket in hand. Columbus Chaos is a rebranded effort to maintain a competitive club team in Ohio's capital city after Cocktails didn't return for 2022; many of the same names and faces, like David Valentine-Elam and Mallory Griffith, have contributed to Chaos remaining a regional contender but that may be their ceiling this year. Another bygone Ohio Nationals attendee, Cincinnati Steamboat, still have Ryan Gorman and exciting young talent Lula Dutille on the roster, but probably don't have the firepower or the depth to keep up, as evidenced by a pair of lopsided losses to the Crocs at Sectionals. Perhaps Chicago is most likely to produce a worthy challenger. A pair of new Windy City programs, Parlay and RAMP, played to double game point in the de facto Central Plains final; both have rosters dotted with names with previous Nationals experience, though neither has the kind of signature win on their resume from the regular season that portends a true contender in waiting. The enigmatic and veteran-laden U54 Ultimate were also undefeated at Sectionals in their first action of the year before a weather reschedule caused them to skip out on seeding games and will likely begin Regionals dangerously underseeded.
For now, this bid is Hybrid's for the taking. Their offense is running out of time to work out the bugs before the big stage, but they should be just fine at Regionals, as the defense is able to stifle other offenses and carry them back to Nationals.
Mid-Atlantic
Competition Schedule
Dates: September 24-25
Location: Frederica, DE
Number of Bids: 1
Excitement Level: 🔥
After a US Open win and a third-place finish at Pro Champs, #4 Philadelphia AMP is cruising its way into Regionals without anything to prove and with their sights set on the bracket in San Diego. Integrating the experienced core of Raha Mozaffari, Sean Mott, Liz Hart, and Linda Morse with high-impact newcomers like Thomas Nye, Layne Dodge, and Will Helenski — not to mention All-American Henry Ing if he's healthy enough to play — AMP has the firepower to win a national championship this season and should have no problem taking home another regional crown to extend their 15-year Nationals streak as one of the division's true bluebloods. The talent and experience up and down the roster are enough to comfortably pencil in AMP to a pool top seed at the Club Championships.
That said, though their overall dominance suggests lofty ambitions, AMP is good for one strange result per tournament: losing to XIST back in June, losing to Public Enemy at US Open, giving up two 3-0 runs to open and close a semifinal game against Drag'n Thrust at Pro Champs, and nearly losing to Jughandle at Sectionals stand out and raise eyebrows. That kind of habit can spell doom in a one-bid region and Philadelphia will surely be focused on avoiding any such slipup that would put their qualification at risk. But habits can be tricky things to break, no matter what your intentions.
If anybody is going to challenge AMP, #22 Washington DC Rally is a good bet. Rally finished just outside of bid-earning range after only playing two sanctioned tournaments this season: a third-place finish at SFI East that saw the team earn quality wins over mid-level competition, and a ninth-place finish at the US Open that included wins over San Francisco Mischief, Arizona Lawless, and Dallas Public Enemy. Rolling through Capital Sectionals without allowing an opponent within four goals, Rally should be riding a wave of confidence, but will need to put on their best performance of the season to have even a chance of taking down AMP. As impressive as their wins are, this team has also lost to Charlotte Storm, Ames Chad Larson Experience, and Denver Love Tractor. Rally just hasn't played with the kind of consistency expected of a surefire nationals team, and that shows with their 18th place ranking-just two spots below the strength bid cutoff. Anthony McLean, Graham Turner, and Lily Eisner have a solid command of the offense, and Xavier Maxstadt can be a 'x' factor on the counterattack with his dynamic attributes and ability to manufacture offense with a single backbreaking throw. Margot Nissen is coming off of an impressive summer playing for the French U20 team to add a bit of overachieving spark to a team that will make use of any tiny advantage it can find.
With its runner-up finish at Founders Sectionals, including a universe point loss to AMP, New Jersey Jughandle will have a chance to prove it deserves more than little sibling status. Ryan Lee and Mason Compton form a capable pair in the offensive backfield, and Emma Ignaszewski's initiation cuts get the Jughandle offense moving smoothly. With Rebecca Halleran running down her fair share of hucks, Jughandle could make a bit of noise if it peaks at the right time. Solid wins over Columbus Chaos, Raleigh Malice in Wonderland, and West Chester Loco show that Jughandle can dispatch good teams. They just haven't yet broken through to take down a team with Nationals aspirations, and that kind of breakthrough is unlikely to happen at Regionals against locked-in opposition.
It's a similar story for the other fringe contenders, West Chester Loco and Baltimore Fleet. Both have played close to elite competition this season — Loco have been within two points up upsetting all of AMP, 'Shine, and XIST while Fleet was a late collapse away from knocking off Boston Sprocket at Pro Champs a few weeks ago — but 'almost' won't cut it at Regionals. They will need to hope they are on a steep growth trajectory to challenge AMP for the lone bid, but Sectionals losses to Jughandle and Richmond Revival respectively are tough to square with that ambition.
North Central
Competition Schedule
Dates: September 24-25
Location: Hartland, WI
Number of Bids: 3
Excitement Level: 🔥🔥🔥
Fresh off of their Pro Champs victory, #3 Minneapolis Drag'N Thrust could comfortably have already purchased their plane tickets to San Diego. A major roster turnover that includes the losses of key players Sarah Meckstroth and Kat Ritzmann has allowed opportunities for more players to shine, including Danielle Byers, Jane Koch, and Bryan Vohnoutka. At Sectionals, Drag'N soared above their competition, including a 15-10 victory over NOISE (their closest game of the weekend).
The second Nationals bid is likely to end up in the hands of #9 Madison NOISE, who has had quite the roller coaster of a season. The season for the Wisconsinites started in Cincinnati at Worlds, placing sixth with an 8-2 record. They followed that up with a second-place finish at the US Open and a disappointing ninth-place finish at Pro Champs. With the help of players whom we have already mentioned a lot this season, such as Robyn Fennig, Dylan DeClerck, and Jack Kelly, they will be thinking more about their chance to win the region than about whether or not they will qualify.
For the first time since 2017, the North Central region has earned a third bid to Nationals, thanks to the performance of #13 Kansas City United during this club season. In their second year as an established team, KCU has had quite the season, with a second-place finish at Colorado Summer Solstice, an appearance at Pro-Elite Challenge highlighted by a win over Seattle BFG, and a second-place finish at Elite-Select Challenge. It's no surprise that they showed up to win West Plains Sectionals. But early success last season didn't yield a trip to Nationals. Can they make it this year as a bid earner?
Several teams are well prepared to step up to bat and challenge KCU. Ames Chad Larson Experience is no stranger to the Nationals front, though there are vanishingly few holdovers from their glory days still on the roster. As has been the case for the past half decade, the Iowa outfit struggled against top competition at the US Open and Pro-Elite Challenge; even if they do eke out a game-to-go win, their ceiling this season is a bit low. Wichita Impact may also be vying for the third Nationals bid. They were the only team to give KCU a challenge at Sectionals, losing 15-12 (KCU's closest game), and proved that they can at least hang with most higher-level teams at Summer Solstice and Elite-Select Challenge. On the Northwest Plains side of the region, a few other teams are hoping for a mistake from the top dogs. Depending on the weather, Minneapolis No Touching! may be looking to shake things up yet again. As semifinalists at the US Open, they proved that they can still win when it counts, but they were surprisingly knocked off the bracket in quarterfinals at Sectionals, though they blew past the rest of their competition. Or perhaps Milwaukee Northern Comfort will rise above the ranks, as they too proved strong against most other teams in the region, however still showed that they can't hold a candle to teams like Drag'N, losing 15-5 to them in the semifinal.
While all of these options seem viable, it's a pretty safe bet to say that the most likely outcome from North Central Regionals will result in Drag'n Thrust, NOISE, and Kansas City United all snatching bids to Nationals this season.
Northeast
Competition Schedule
Dates: September 24-25
Location: Devens, MA
Number of Bids: 2
Excitement Level: 🔥🔥🔥🔥🔥
It's an annual tradition at this point: the Northeast region has one more Nationals-quality team than it has bids to Nationals. The hallowed grounds of Fort Devens are once again host to what is sure to be an exciting, and for one team gut-wrenching, Regionals. After winning their respective Sectionals championships, #12 New York XIST and #15 Boston Slow are on a collision course to meet in the final in the double-elimination championship bracket. Both will expect to advance to Nationals, and no matter what, one team will need to win just four games to advance to Nationals. Looming in the third spot is #16 Boston Sprocket, the team that finished just one spot outside of bid-earning range. Though they have just four losses on the season, two of them – ill-timed defeats to San Francisco Classy and Dallas Public Enemy at the TCT Pro Championships – dropped Sprocket's ranking just enough to pull the team down to the nationals bubble.
Sprocket took down Slow in an early season game at Mixed Easterns in June. Slow avenged the loss in the much more meaningful sectional championship game. With Amber Sinicrope, Lexi Zalk, and Olivia Hampton around, Slow has some serious firepower. Add in Peter Prial, Alex Trahey, and Ryan Cardinal, and the veteran team stands out in sharp contrast to Sprocket, whose youthful energy is a joy to be around but sometimes leaves the team vulnerable to mental mistakes. Sprocket's Tannor Johnson will be the best player on the field in just about every game he plays.
So far this season, Sprocket has stuck to playing relatively even lines and developing the entire team together. If they want a shot to return to Nationals, they'll need to be playing their best players: Johnson, Brett Tan, Caitlin Go, and Hazel Ostrowski a lot more than once every three points.
While Sprocket and Slow will likely get their rubber match to decide which is the best team in the Boston area, New York XIST enters Regionals as the top-seeded favorite. With wins already over both Boston-area contenders as well as Philadelphia AMP (though that was back in June), XIST has the looks of a Nationals team. Cara Sieber and Matt Lemar bring a calming offensive presence while Josue Alorro and both Drost brothers Mike and Ryan are as imposing a defensive trio as one can find. Add in solid contributions from Abby Cheng, Luisa Neves, and Emily Barrett, and it's looking like a pretty safe bet that XIST will not just make it back to Nationals but improve on its last-place finish from 2021.
With so much attention concentrated in the top three, it's easy to overlook the glut of other contenders itching at the chance to play spoiler. Boston Wild Card has not-too-distant nationals experience and has mostly won the games it's supposed to (save for an exciting loss to Boston Practice Squad at Sectionals — more on them in a bit). With Ian Engler, Connor Fortin, Connor Kline, and Tamar Austin as the headliners, the floor for this team is high. Though Wild Card has played close games with XIST, Slow, and Sprocket this season, it hasn't yet pulled off the key wins needed to be in that contenders tier.
Mansfield Darkwing does have a win over Slow, from back at the Boston Invite, but other lackluster results (losses to teams like Montreal LAB, Boston Obscure, and Charlotte Storm) push Darkwing into the spoilers tier. It'll take their best effort and then some to repeat that upset of Slow. With experience from Pro Champs playing against many of the top teams in the country, Darkwing has the potential for an upset and can certainly be relied upon to give its competitors a tough game.
Lastly, many fans around the nation are rooting for Boston Practice Squad: a team of players who had been cut from or were playing as practice players on other teams within the region during the regular season. After notching an upset win over Wild Card at Sectionals despite not having played a game together before the Series, it's certainly plausible that Practice Squad could end another team's season early — or at least make their path to Nationals that much harder. Featuring a few players with nationals experience themselves (former Slow players Scott Gatto and Misha Herscu, former Sprocket cutter Tess Johnson, and 2016 Harvard Red Line standout David Reshef to name a few), Practice Squad knows the kind of effort it takes to score wins against top teams. With as much of the 'I told you so' motivation as they can muster, look for Practice Squad to continue their Cinderella story and prove to the world (and to the team who cut them) their true ultimate-related worth.
Northwest
Competition Schedule
Dates: September 24-25
Location: Lacey, WA
Number of Bids: 3
Excitement Level: 🔥🔥🔥🔥
Ah yes, the Northwest Mixed region. Three bid earners, three clear favorites to keep their bids. Seems straightforward enough. But hold on, who is that charging in from stage left? Bah gawd, it's worlds runner-ups #6 Vancouver Red Flag! Welcome back to the high heat index, Northwest: at least one top-16 team is bound to miss out on a trip south to sunny San Diego, and it should make for quite the fireworks show in Lacey this weekend.
The Northwest Mixed region this season includes not only the world runner-ups in Red Flag but also the world champions in #2 Seattle Mixtape — yet neither of those teams come into Regionals as the top-seeded team. Instead it's reigning US club champions #1 Seattle BFG, running it back with much of the same squad that won them gold in 2021. Seemingly ageless 2021 Player of the Year Mario O'Brien returns to the BFG backfield joined by 2021 Breakout POTY Cheryl Hsu, and those two will direct a still-potent Seattle offensive line. New additions Jack Verzuh and Corbin Atack inject an element of relative youth to BFG's men-matching lineup, while Jennifer Ricaurte and Alexa Kirkland lead BFG's cohort of WUL champions from Seattle Tempest. Despite a subpar performance at Worlds, BFG's record in the USAU regular season carries just a single blemish from a loss to Kansas City United in their first game of the season, and as reigning club champions, BFG will expect to firmly hold onto their bid to Nationals this weekend.
World champions Mixtape come into Regionals on a rising tide, bouncing back from a disappointing performance at Pro-Elite Challenge to win WUCC over regional rivals Red Flag. As they were missing a number of key players out in Colorado, Seattle's showings at Worlds, Fruit Bowl, and Sectionals align better with the expectations for these near-perennial semifinalists. Indeed, post-Pro-Elite Mixtape has lost just one game, to their cross-town competitors BFG in the Fruit Bowl final. Along with the worlds win, Mixtape also picked up a second win over Red Flag in the sectional semifinal before the final, which would have been another Seattle showdown, was canceled due to air quality concerns. Led by World Games selection Khalif El-Salaam, Mixtape are replete with returning veteran talent, including Bert Cherry, Ari Lozano, and Cam Bailey, all of whom will undoubtedly help the world champs return to San Diego to attempt the fabled double peak, to pair their Worlds win with another national title.
For a team that has only really played two tournaments this season in Worlds and Sectionals, Red Flag has had the misfortune of running into new nemeses Mixtape at both. Outside of those two games, though, the Canadians have looked the part of bid-stealing interlopers, in particular during that World Championships run that saw them take down 2021 club semifinalists Madison NOISE. Vancouver's roster pulls talent from the exceptional UBC Thunderbirds teams, including Ellen Au-Yeung and Mika Kurahashi, as well as Furious George with the particularly notable pickup of William Vu. As demonstrated by their WUCC performance, Red Flag can absolutely play at a championship level; now it's simply a matter of doing so again at Regionals to earn themselves a trip south to warmer climes for Nationals.
With a solid if unspectacular season, #19 Montana MOONDOG worked hard to hang onto the final regional strength bid to Nationals, which the 2019 fan favorites were hoping would be their tickets back to San Diego after a season away. Now, with Red Flag in the picture, the Big Sky champions' position as the third Northwest bid-claimers feels as tenuous as ever. MOONDOG remains a good team, of course, with Genesea Meha and Kyla Crisp representing the WUL's Utah Wild on this Montana roster, while Sam Hines and Andrew Shanafelt lead the way for MOONDOG's men-matching players. However, their primary challenge at Regionals will, in all likelihood, be to fend off Red Flag, which may make it an uphill climb for the Montana underdogs to keep a hold of their spot.
South Central
Competition Schedule
Dates: September 24-25
Location: Tulsa, OK
Number of Bids: 2
Excitement Level: 🔥🔥🔥
This region's forecast may seem like a tale as old as (recent) time but, with the rollercoaster of a season the top teams have had thus far, the results from this weekend are by no means written in the stars. Depending on how the performances of the hot-and-cold top contenders align during Regionals, we may see a shake up in the rankings and potentially a new team looking to leverage the chaos of the region to earn a spot in San Diego.
After #14 Dallas Public Enemy finished the regular season strong at Pro Champs and squeaked in another bid to Nationals for the region, the stage was set for the 6th(ish) annual "which team will join #10 Fort Collins Shame at Nationals this year" show. But Shame is not heading to Tulsa riding the same wave of domination they have for the past few seasons. The former underdogs may be returning to their roots – Fort Collins came close to losing Sectionals to Denver Love Tractor but were able to come from behind to win on universe 12-11 (compare this to their 15-7 win over Denver just last year).
With a rocky start to the season and lackluster showing at Pro Champs in Raleigh, Shame has yet to hit their stride this year. The odds of them losing the top spot in the region is slim, and even less likely would be them getting shut out of Nationals entirely. But the odds of Shame being dethroned are not zero. This talented team has to smooth out the peaks and valleys of their chemistry and reach their potential if they want to fend off fierce competitors looking to prey on their weaknesses at Regionals – and if they want a real shot at redemption in San Diego after their disappointing 14th place finish in 2021.
Predicting who else gets to make (or keep) reservations in San Diego is a harder task. Based on the results of the season thus far, the easiest answer would be that Dallas keep up their end-of-season momentum and prevent would-be bid stealers from the Rocky Mountain section from achieving another upset. Their ability to stay mentally strong and play their game, rather than playing into the chaos their opponents will likely look to cause to unseat them, will decide whether or not they hold on to the bid they fought for this year.
Who are the would-be bid stealers, you ask? #20 Denver Love Tractor likely has the best shot. Unlike last year, though, Love Tractor does not have a win against Public Enemy under their belt, but this does not rule out the possibility that history repeats itself and they snag a spot in San Diego. Love Tractor did almost manage to upset Shame at sectionals, after all. They will certainly be heading to Tulsa hungrier than ever having had a glimpse of how they can not only get back to San Diego but return to being the top of the region.
Love Tractor, nor any of the top contenders for that matter, should not lose sight of a longshot but up-and-coming Nationals hopeful Denver Mile High Trash. Depending on how the schedule shakes out, Trash may look for a second chance at beating Tractor, who they lost to on universe at Sectionals. Although their performance at Fruit Bowl was (forgive me) garbage, Trash showed a glimpse of the talent that anyone familiar with the depth of skill on their roster expected them to be capable of. If they maintain and build upon their momentum, Trash could cause some chaos to shake up the status quo in South Central.
Other contenders to watch include: #24 Austin Waterloo, who do have one win over Dallas under their belt, and Denver Flight Club, who have some eye-catching wins over high-caliber teams across the season, including Seattle Mixtape and Durham Toro at Colorado Cup. Most likely scenario: Love Tractor, Trash, Flight Club, and Waterloo battle for who's the top non-Nationals qualifying team. But don't assume any results in the South Central!
Southeast
Competition Schedule
Dates: September 24-25
Location: Decatur, AL
Number of Bids: 3
Excitement Level: 🔥🔥🔥🔥🔥
Just as everyone expected at the start of the year, the Southeast region heads toward the fall in possession of its customary lone bid to Nationals, and there are a couple of teams who have a shot at taking ho—
Wait. What? The Southeast is a THREE BID REGION in 2022??
This is highly irregular. Probably a typo in the algorithm. We had better alert the brass in Colorado Springs about the mix-up… No mix-up, you say? Three of the top 10 teams in the end-of-season rankings and nine of the top-40. It's an honest-to-goodness strong region this year?
Okay, then. This is going to be fun.
With the unprecedented number of bids comes an unprecedented number of teams who think (within reason!) that they could start shopping for flights to San Diego soon. First up are the names you know: the 2019 and 2021 bid-earners, #8 Durham Toro and #11 Nashville 'shine. Toro beat Mixtape in July and played within a point of AMP at Pro Champs earlier this month and have generally looked the part of a contender. Heather Zimmerman and Brian Clark make plays like they invented playmaking; veterans Kiron Allen and Christine Bookhout still chew up yards like weedwhackers. 'Shine boasts perhaps the region's best player in Jesse Shofner, who takes over points the way she did in her college days. With Eli Motycka, Rachel Kramer, and Jordan Hill alongside, 'Shine has a deeper roster and a more promising regular season to lean on this year than they did during their first Nationals trip last October.
The third bid-earner are a less-decorated outfit, #17 Huntsville Space Force, the latest in a long line of solid north Alabama teams. The difference is that Space Force might be much more than solid. What they lack in national recognition, they also lack in losses: they are unbeaten in 2022. Their sterling 26-0 tour to date has seen major contributions from Mac McClellan and Elijah Jaime, among many others. They haven't exactly faced a murderer's row of opponents, but they have soundly beaten several of the teams seeded behind them at this tournament, and they could be heading to California soon.
As many as all three of the bid-earning teams could earn the trip to Nationals… or, conceivably, as few as one of them. The list of genuine upset threats includes Atlanta Dirty Bird, new home of Atlanta stars Caroline Taylor, Austin Taylor, Katherine Yost, Jin-Mi Matsunaga, and Matt Smith – as well as, out of the blue, recent SoCal Condor standout Paul Lally. For all their talent, their undoing could be a lack of practice and team cohesion; they could possibly have earned the region a fourth bid if they had played the required minimum number of games. Elsewhere in Georgia, #25 Athens Murmur are having the strongest season in their eight-year history. In three tournaments this year, they have one title and two runner-up finishes, including a very tight loss in the East Coast Sectional final against 'Shine. Martha Wilber, Victor Pria, Jake Powell, and Katharine Suarez are a few of the names to know for a team who are trying to find out just how high they can push this new peak.
From the North Carolina contingent, Charlotte Storm could be in position to steal some glory from the Triangle. Connie Cui, Rick Hennighausen, Jamie Bryson, and company earned some valuable elite reps as a surprise inclusion at Pro Champs. They made the most of their opportunity, blitzing 2021 national runners-up Hybrid to 10-10 before losing on universe point. Neck-and-neck with Storm are Orange County Wingdings – truly neck-and-neck, as the two teams split a pair of universe point games at Sectionals. Wingdings are a brand-new concoction of UNC Darkside and Pleiades players like Andrew Li, Sydney Rehder, Josh Singleton, and Theresa Yu. They aren't bursting at the seams with club experience, but they certainly have talent to spare. Could they be the 2022 mixed version of Boulder Lotus?
That doesn't even exhaust the list. Atlanta Crown Peach, Rome Roma, Gainesville B-Unit, Florida Weird, and Auburn HeyDay will all be ready to capitalize on the sudden glut of bids. Statistical aberration? Sign of the times? Whatever this year ultimately says about the direction of the region, this year's Southeast tournament is going to be bonkers.
Southwest
Competition Schedule
Dates: September 24-25
Location: Tucson, AZ
Number of Bids: 1
Excitement Level: 🔥🔥🔥🔥🔥
For the first time since the region's inception a decade ago, the Southwest mixed division has a singular bid to Nationals. That's right, a region that had a whopping five bids to Nationals back in 2014 has just one, currently held by the #7 San Francisco Polar Bears. Not 2021 Nationals qualifiers Arizona Lawless, not 2019 national finalists San Francisco Mischief, and certainly not 2011 and 2012 national champions San Francisco Blackbird, who folded as a team after 2019. Yes, it's unusual but it means that Southwest Regionals is bound to put on a show like nothing's ever changed.
It's been quite the impressive season for a Polar Bears team that, before this year, hadn't claimed top billing in the Southwest heading into Regionals since the aforementioned 2014 season. Polar Bears' only losses have come to last year's national semifinalists — they've held off closest rivals Mischief on universe at both US Open and NorCal Sectionals and have beaten the likes of Seattle Mixtape, Minneapolis Drag'n Thrust, and Boston Slow over the course of the season. Mac Taylor, an elite Bay Area ultimate fixture for the last decade plus, has come up huge, literally and figuratively, for Polar Bears this season, including a foot-block to huck assist combo that won San Francisco's game against Mischief, his former team, at Sectionals. This is Taylor's first year with Polar Bears, and he's helped supplement what was an already outstanding roster, including Margot Stert, Margo Donahue, and Ziyue Chen who lead SF's potent women-matching lineup. With just the lone bid to Nationals and Mischief likely to be hot on their tail as has been the case all season, it's certainly not going to be easy for Polar Bears to hold onto their spot. However, with the best roster on paper in the region and the results to back it up, Polar Bears have to be the favorites heading into the weekend.
How things have changed for the once mighty #18 San Francisco Mischief. The 2019 national finalists failed to make the return trip to Nationals in 2021, and this year their roster has turned over considerably from just last season. Gone are Mischief stalwarts Han Chen, Cody Kirkland, and Gina Schumacher. Here is an injection of youth with recent college standouts Jaclyn Wataoka, Chris Lung, and McKinley McQuaide playing big roles in their first years with San Francisco. There of course remain some carry-overs from that 2019 peak, with Andrew Berry continuing to show off his coaching chops as one of the best in the division, and Matthew Crawford and Lily Steponaitis providing veteran leadership and continuity, along with Vivian Chu, a castoff from the Blackbird collapse. Still, it has been an uneven season, certainly by Mischief's standards, with wins over MOONDOG and Lawless being paired with losses to Rally and No Touching, along with those universe-point defeats to Polar Bears.
Given just the one bid, Mischief certainly can't be counted out, and they would love to turn around those finest-margin losses to Polar Bears exactly when it matters most. With the talent they have on paper, that's more than possible, but it's going to come down to whether Mischief's lack of consistency comes back to bite them and causes them to miss out on Nationals for the second year running.
After making a decisive return to the top of the SoCal section, #23 Arizona Lawless now have their sights set on making their second straight Nationals in their second-ever season. Before Sectionals, though, it hadn't been the best season for Arizona — and that may be generous given their 4-9 record across showings at Pro-Elite and the US Open. Yes, Lawless were largely facing off against probable Nationals contenders at those tournaments, but blowout losses to Slow, Hybrid, and AMP don't reflect particularly favorably in any light. With their full roster seeming to click just as the Series is winding up, though, it feels short-sighted to count Arizona out ahead of Regionals. Kody Lippincott, Lindsey Doyle, and Cynthia Thomas lead Lawless' contingent of WUL Arizona Sidewinders players, while Marshall Crawford, Travis Dunn, and Nate Bridges have been some of Arizona's primary assist throwers this season. Lawless' only crossover with their NorCal competition this year was an early season 10-6 loss to Mischief, which doesn't bode well for their chances of knocking off both San Francisco giants to steal the region's bid. Despite that, if there was ever a time that Lawless might be able to parlay their Sectionals success into a Regionals upset, it would be at home in Arizona, and that's where it'll all go down this weekend in the Southwest.
Given the historic volatility of Southwest Mixed Regionals, we'd be remiss not to go past the top three contenders even in this rare one-bid year. Indeed, fifth seeds San Francisco Classy come into Regionals with a Pro Championships semifinal berth to their names, while first-year team Sacramento Tower Ultimate took third in the NorCal section behind Polar Bears and Mischief. While both teams have taken losses to lower seeded in-section competition this season, all it may take is a single upset to put them in position to be in the game-to-go where it feels like anything could very well happen. That same situation seems like it could play out for almost any one of the contending teams out in Arizona, since between the connectivity that the Southwest region always seems to have and the dangerously tantalizing lone bid to Nationals, it really could be the Wild West out in Tucson in just a few days time.
---
Rest assured, Philadelphia AMP's comically large 39-person 2007 roster record remains intact. ↩