Clear your calendar at work!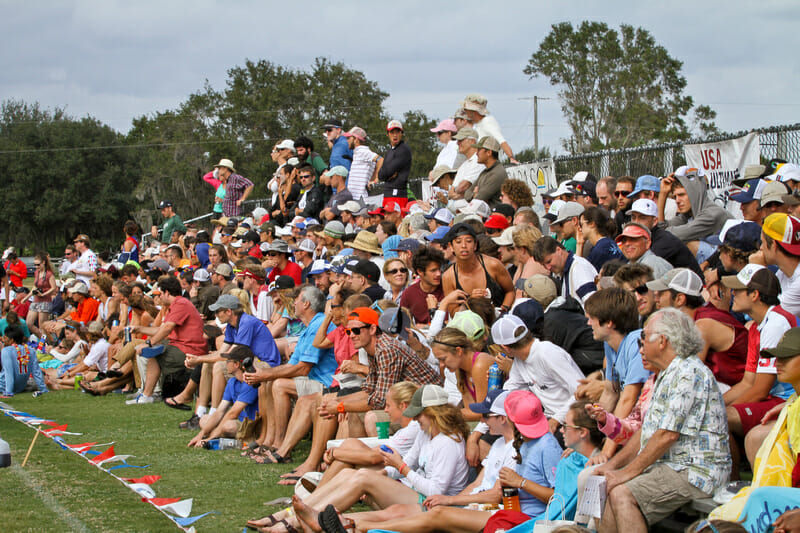 Ultiworld is thrilled to announce that, in partnership with USA Ultimate, we will be streaming six games LIVE from the 2017 National Championships in Sarasota, FL, on Thursday, Oct. 19th and Friday, Oct. 20th. In addition, we will be filming one Men's and one Women's semifinal game for tape-delayed release as ESPN3 takes over coverage on Saturday. We will also film all three of the third place games that could decide bids to the 2018 World Club Championships in Cincinnati.
Here is the livestreaming schedule. All games will be available for free on our YouTube channel and easily accessed on our Live page alongside our extensive reporting from the tournament. Archived access to the games (and the tape-delayed semifinals and third place games) will be available to Ultiworld video subscribers.
In addition, USA Ultimate and Fulcrum Media will be streaming eight additional Women's and Mixed Division games on USAU's Facebook page.
All times Eastern.
Thursday, Oct. 19th
11:15 AM: Denver Johnny Bravo v. Boston Dig (Men's Pool Play)
1:30 PM: Seattle Mixtape v. San Francisco Mischief (Mixed Pool Play)
3:45 PM: San Francisco Fury v. Washington DC Scandal (Women's Pool Play)
Friday, Oct. 20th
9:00 AM: Prequarter (TBD) | Ultiworld Full and Plus subscribers will have the chance to vote on which game we film this round!
11:45 AM: Quarterfinal (TBD)
2:00 PM: Quarterfinal (TBD)
Saturday, Oct. 21st
12:30 PM: Women's Semifinal (Tape Delay only)
3:00 PM: Men's Semifinal (Tape Delay only)
6:45 PM: Women's 3rd Place (Tape Delay only)
Sunday, Oct. 22nd
9:30 AM: Men's 3rd Place (Tape Delay only)
12:00 PM: Mixed 3rd Place (Tape Delay only)