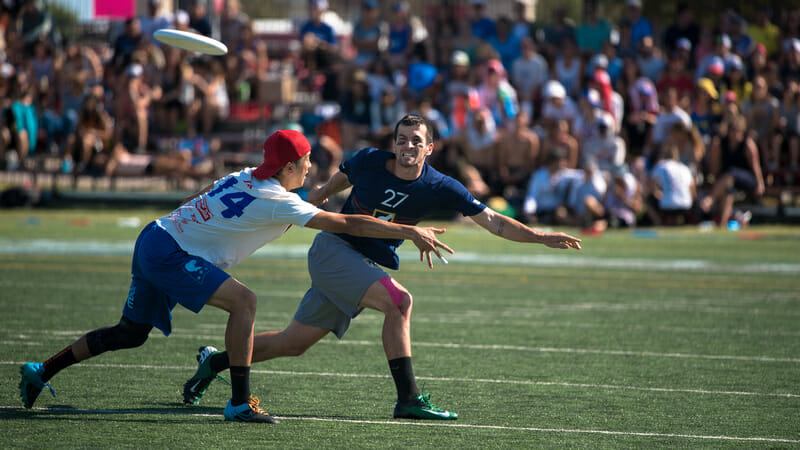 The original title of this piece was going to be IHD or: How I Learned to Stop Worrying and Realized Revolver Would Win Nationals but that didn't lend itself to a headline. The message it conveys still stands, though: the reports of Revolver 2017 as being a bust or somehow not the title favorite have been greatly exaggerated (insert #fakenews joke here).
The issues or potential concerns shown by San Francisco thus far in the season are, in my opinion, extremely correctable. They have ample time in the run up to Nationals, an experienced coach in Mike Payne, and the confidence that they will execute the necessary changes. I tend to agree, and so I write the following not to be a Revolver Apologist but to give people the context from which I view their sneaky-strong regular season and bright outlook for Sarasota.
Let's get this acknowledgment out of the way– Revolver's roster comprises arguably the most talent of any club team, ever. Since we've seen multiple club teams go through a club season with just a single loss (Revolver 2011, Ironside 2012) it wasn't unreasonable to think that San Francisco would run the table this year. What strikes one as unreasonable, though, is to somehow write off the accomplishments of a team that finished the year #1 in the USAU rankings, won the Pro Flight Championship, and compiled a 21-3 record.
Since the bar is astronomically high, the focus will obviously be on the three losses (17-15 and 15-10 to Sockeye pool play and finals of the US Open and 15-12 to Machine in Pro Flight pool play). It's tempting to point to those three data points and call it an indication of things to come. I'm here to explain to you why they're more of a red herring than a dark harbinger.
R-E-L-A-X: Revolver's Offense Is On The Rise is only available to Ultiworld Subscribers
Already have a subscription? Log in
Whether you visit Ultiworld for our reporting, our podcasts, or our video coverage, you can help us continue to provide high quality content with a subscription. By becoming a subscriber, not only do you receive benefits like exclusive articles and full article RSS feeds, you also help fund all of Ultiworld's coverage in general. We appreciate your support!