A look at the teams that could win a title.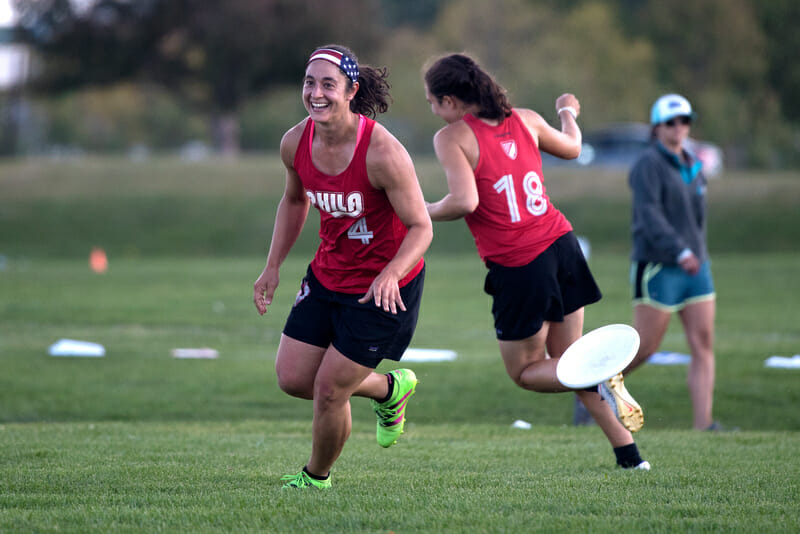 Ultiworld's coverage of the 2017 Club Championships is presented by Tokay Ultimate; all opinions are those of the authors. Please support the brands that make Ultiworld possible and shop at Tokay Ultimate!
A year after a dominant Slow White claimed two of the three legs of the Triple Crown, we have another mixed juggernaut whose bid to become the first in the division's history to claim that achievement is still alive entering the year's final weekend. But to expect that Nationals will be simply a celebratory victory lap for Seattle Mixtape is to underestimate a host of worthy challengers nipping at their heels. And this year's mixed field may be deeper than any we've seen before — there are no easy victories looming anywhere. So which teams can stand tall and win when it counts?
Here we make the case for why each contender will win the 2017 Club Championships — and under what circumstances they will come up short.
Seattle Mixtape
Why They Will: Straight-up talent.
This is still the Mixtape we know: flashy, fun, and talented. Very talented. From Mark Burton to Abbie Abramovich to Jesse Bolton to Drew Johnson to Evan Klein, seemingly half the roster has been a go-to playmaker at some point this season — that's near impossible for even the best teams to overcome in big games. Even scarier is that their traditional flash and athleticism is now matched by a calm consistency and maturity; almost everyone in the squad has been on the doorstep of a title before and with a teamwide focus on flexibility in their offensive sets, this team is more versatile than ever. To this point, they have played all season with the conviction that they are the best team in the country, as they should. The effort has been rewarded with a spot as the number one seed at the tournament, on the doorstep of winning a triple crown. Let there be no doubt; Mixtape is a really big team, hunting for really big rings.
Why They Won't: Because they never come through at Nationals.
Mixtape is a team with a history and that history has not been kind to Mixtape at Nationals. They're playing for a championship that could have been theirs three times by now and in 2017 the title is almost theirs to lose as much as it is theirs to win. While Mixtape has shown a great deal of focus and consistency in big games at the US Open and Pro Championships, they've also been prone to fall back on the old high-risk, high-reward style of play that has spelled doom in seasons past. Always a high variance team, Mixtape has had slow starts to games throughout the regular season, particularly in early games. Multiple times this season Mixtape has fallen behind by several breaks, before ramping up their intensity and clawing their way back. While they won't have to worry too much about early starts if they lock up a bye to quarters, Mixtape cannot afford to be complacent this weekend with so many elite, experienced programs lurking in their path to a championship. If they are, that propensity to give up early breaks could prove to be the team's downfall.
Philadelphia AMP
Why They Will: Depth.
After finishing in the bottom half of Nationals in 2014 and 2015, last season marked the start of a new era for AMP. Philadelphia dominated for stretches of the 2016 regular season — like the Pro Flight Finale, where they won every game by three or more — and entered Nationals as the top seed. In 2017, although AMP didn't win any TCT tournaments, they have arguably had an even better season, earning wins over every other top-5-ranked team and avoiding losses to anyone outside that group. The tide has been steadily rising for Philadelphia, and there's no evidence to suggest it's about to fall. Philadelphia returned almost all major role players from last season, but also managed to secure some new key contributors. AMP's young talent is undeniable, sporting three U24 National Team members and a Donovan Award finalist to complement stalwart veterans like Raha Mozaffari, Ben Pelleg, and Matt Zumbrum. AMP always emphasizes physical fitness and with nearly every player at full health, they will use their depth to run opponents into the ground at every opportunity in Sarasota.
Why They Won't: Sarasota wind and inexperience in big games.
It's been said before, but historically speaking, AMP's kryptonite is wind. Whether it's team strategy or individual errors, Philly always seems more affected by wind than other top teams. There's no doubt AMP invested some time in making strides in this area after struggling in Rockford's gusty conditions, but they will likely remain at a disadvantage in a big, breezy game. But even if conditions remain calm and AMP find their way to the bracket with a favorable matchup, it's been ten years since Philadelphia played in a national semifinal, with only one player remaining from that 2007 roster. It's cliche, of course, but their biggest threat will be themselves. Can they perform when it matters most, or will they succumb to stage fright?
Minneapolis Drag'n Thrust:
Why They Will: Defense, pure and simple.
Drag'n Thrust's smart and physical matchup defense is still a daunting challenge, even for teams at the top end of the tournament. A typical defensive point starts by pinning their opponent at the back of the endzone off of a deep pull by Jeff Trosvig or Jay Drescher. Minneapolis forces teams to work the length of the field and then pressure EVERY. SINGLE. THROW. to hound the disc out of the hands of their opponents. Sarah Meckstroth [crossing over from offense], Alicia Carr, and Jessica Haller have all come up with big blocks throughout the season and smart defensive pressure in the backfield, coupled with tricky poaches into lanes, change typical angles of attack. Drag'n uses their defensive tenacity to put runs on the best teams in the country, showcasing a level of team-wide quickness that few can match. Many of their losses this season came with Brian Schoenrock, one of the key Drag'n deep threats, on the sidelines. If he is healthy, Minneapolis gets an immediate boost to their aerial ability, and that could be enough to again push them to the top of the podium.
Why They Won't: They can't keep up with the young guns.
Few can dispute that Drag'n owns the mantle as the best mixed program in history. But Minneapolis has played like an old wounded boxer all season, still capable of throwing a dangerous punch, but not always able to land a knockout blow against the younger, faster upstarts. That isn't to say Drag'n is an old team, but it does feel like they're trying desperately to hold down the lid on the other elite squads hungrily clamoring for a shot at a national championship. So far this season, they haven't been successful. Drag'n has yet to prove they can beat their West coast rival, Mixtape, in a big game this season, nor has their defense been enough to fuel a win over Philadelphia — two teams that they'll likely have to face in the bracket. Part of that failure comes from depth of talent — Mixtape and AMP field some incredibly talented young players entering their prime — but part of that also comes from inconsistencies on Drag'n's offensive line. They've been [somewhat ironically] vulnerable against matchup defense throwing poaches into the lanes. When Meckstroth isn't on the field, Drag'n looks out of sync in the lanes. AMP successfully mitigated the impact of Drag'n's elite women at the US Open and Drag'n's defense has also had a hard time stopping Mixtape and AMP's deep games.
Boston Slow White:
Why They Will: They appear to be Mixtape's kryptonite.
Slow White enters Nationals in a different position than they did last year when they were just about favorites, but they do have two factors going for them in Sarasota. First, they've already won Nationals and know what it takes to get there. The last two mixed champs before Boston repeated at least once, so there is clearly something to be said for the experience of winning. Second, Mixtape can't seem to beat them. Seattle has breezed past teams all season and are clearly the title favorites, except for the looming spectre of the reigning champs. If Mixtape is the team to beat this Nationals, Slow White is at an advantage over every other contender.
Why They Won't: They've lost too much depth and experience.
Much like Ironside, Slow White's 2016 win came with a very different team. While they have retained a strong contingent of their 2016 squad and their top-end talent has proven that they can still match just about any other line in the nation, the back-end of their roster has never been to Nationals with the returning champions. Slow White could try to run very tight rotations in Sarasota, but that's not the same strategy that won them a title last year.
Seattle BFG:
Why They Will: Regular season brilliance.
BFG figured out their chemistry early in the club season and have been consistent ever since. Apart from an outlier loss against Ambiguous Grey, all their losses have come at the hands of Nationals caliber squads, and each time it has been within a point or two. BFG is also the only mixed team apart from their crosstown rivals to have won multiple TCT events in 2017, which cannot be overlooked. Most importantly, they've had regular season wins over every team in the top four, excluding Mixtape. They should be confident of their chances heading to Sarasota.
Why They Won't: They're too evenly matched with the top seeded teams.
BFG has wins over Drag'n Thrust, Slow White, and AMP, but the problem is — with the exception of Slow White, who never got a second shot — they have also suffered losses to these teams. BFG seems well matched with the teams in the top four and their chances against these opponents is probably 50/50, which is not the resolute assurance a team would hope for when hunting a title. Apart from Sectionals, there is not a single tournament where they have avoided taking a loss. Worse yet, they have lost to Mixtape every time that the teams have played — BFG just seems unable to steal a victory from their hometown rivals. This could be an issue if they win their way to semis, as it potentially places them squarely against the one team they have not defeated. Mixtape will enter any match against BFG with a mental edge, and in a game with so much at stake, that may be all that is necessary.
San Francisco Blackbird:
Why They Will: They have all the pieces.
Blackbird's performance has fluctuated throughout the season but their roster is packed with talent. Barrs Lang has a field vision for mixed that few other players can match and Mac Taylor hasn't lost a step, so long as he is healthy. Their most impressive victory this year, a 15-10 win over Drag'n Thrust, happened late in the season and they seem to be peaking at the right time. They're also the team that has probably played the largest quantity of high-level ultimate in the past month, between Pro Champs, NorCal Sectionals (a bloodbath of above-average mixed teams), and Southwest Regionals; San Francisco played competitive ultimate for three weekends in September alone. If they can consolidate some chemistry issues and unlock their full potential, Blackbird could be scary good.
Why They Won't: Chemistry issues.
Whether through injuries or simply absences, Blackbird hasn't had a ton of opportunities to play together with their full roster leading into Nationals and they still looked scrappy at Regionals. For a team with such obvious talent throughout the roster, Blackbird relies heavily on two or three players to make their big plays and open up the field. Blackbird's handlers have a tendency to overshoot their cutters, an issue that should have been resolved through repetition during the regular season. Most importantly, apart from their victory over Drag'n Thrust at the Pro Championships, they have very few statement wins. At Nationals, their turnovers will be punished far more efficiently than during the regular season. In a pool with Metro North as a fourth seed, Blackbird better hope they can iron out their mistakes quickly.