Can anyone in Pool A challenge Mixtape?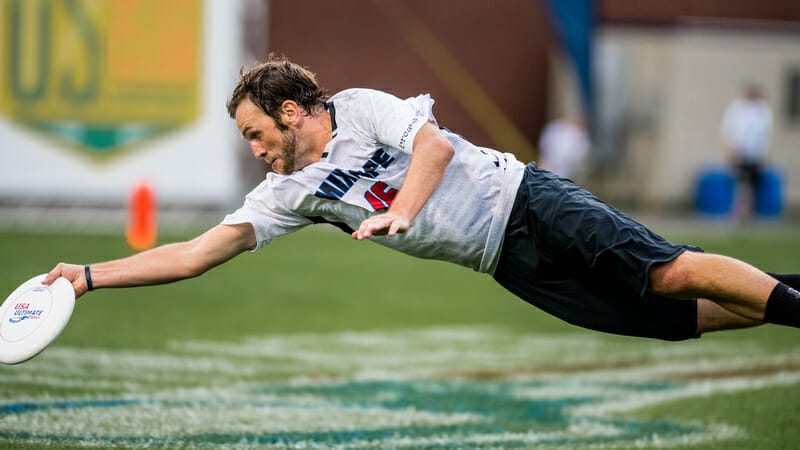 Ultiworld's coverage of the 2017 Club Championships is presented by Tokay Ultimate; all opinions are those of the authors. Please support the brands that make Ultiworld possible and shop at Tokay Ultimate!
While Pool A generally feels like one that lacks drama, given the wide gulf between the top two seeds (#1 and #8 overall), don't forget that just last year top-seeded Philadelphia AMP lost to Metro North in pool play. This year, though, it could revert to the usual cruise for the #1 seed: Seattle Mixtape looks to be a class above the other competitors. But after Mixtape, any of the three remaining teams have a legitimate shot at a prequarters berth. San Francisco Mischief, Madison NOISE, and Dallas Public Enemy all have the potential to beat the other two and push into the bracket. Here's what to watch for.
Seattle Mixtape [Pool #1, Overall #1]
Seattle Mixtape turned in a dominant regular season, riding victories at the U.S. Open and the TCT Pro Championships to the top overall seed at the tournament. Already one of the deepest teams in the mixed division, Mixtape's first year of open tryouts brought in excellent additions to their offense in Abbie Abramovich and Paige Kercher, players who made an immediate impact and make Mixtape that much more difficult to plan for. Combined with the consistent excellence of Mark Burton and the breakout performances of Jesse Bolton this season, the Mixtape O-line looks as dangerous as ever. Spending the Pro Championships focusing on different offensive sets makes the team more versatile, and with the D-line's athleticism, they should make it through pool play relatively unscathed.
Sporting an undefeated record against the other three teams in Pool A, the key for Mixtape will be to come out with high energy and strong execution. The team found themselves down a few breaks in multiple games at the Pro Championships, needing early timeouts to refocus and get themselves in the right mental space. Once they settled in, Mixtape ran off several breaks of their own and took control. The ever-present Sarasota wind could also pose problems, as playing conditions in the Northwest tend to be calm. If they can avoid early deficits, take advantage of their increased versatility on offense, and ride out the wind, the team should emerge at the top of the pool and secure a first round bye on Friday. The key game will be their matchup with San Francisco Mischief on Thursday afternoon, likely for the top spot in the pool. Mixtape has beaten Mischief twice this year, most recently at the Pro Championships, but Mischief is finally looking healthy, which could make for a fun game to watch on the Ultiworld livestream.
After a somewhat disappointing sixth place finish at Nationals last year, Mixtape comes into this tournament riding a winning streak which started during the U.S. Open. This is the deepest iteration of the team yet, and this looks like the year where the Seattle team finally comes out on top.
Likely Ceiling: National Championship
Likely Floor: Semifinals
San Francisco Mischief [Pool #2, Overall #8]
San Francisco Mischief had an up-and-down season, fighting through injuries at every turn in the run-up to Regionals. Mischief followed up an undefeated weekend at Revolution with a rough weekend at the U.S. Open, with their only ranked win over poolmate Madison NOISE. The TCT Pro Championships was another inconsistent tournament, though two of their losses on the weekend came on double game point. After a DGP loss to San Francisco Blackbird in the final of Southwest Regionals, Mischief raced out to an 8-2 lead against San Francisco Polar Bears in the game-to-go, before withstanding a furious comeback to win 12-9 and book their trip to Sarasota.
Gina Schumacher is a goal-scoring machine, consistently finding the endzone for the Mischief offense, and with dangerous throwers like Cody Kirkland and Kevin Smith distributing the disc to a strong group of cutters, Mischief has the skill and experience to challenge for the top spot in the pool. Manisha Daryani has been excellent all year long, making possession-saving catches look routine and keeping the Mischief offense moving, and Audrey Wei defensive speed and cutting on the turn anchors the Mischief D-line. However, as a team that has been fighting the injury bug all year, they run the risk of introducing too many new pieces at once in Sarasota, and that opens the door for Madison NOISE and Dallas Public Enemy to hunt for an upset and drop Mischief out of contention.
A team that has been on the Nationals scene for over a decade, Mischief saw quite a bit of turnover from the 2016 team, and brought in several exciting young players this year, notably Kirkland. If Mischief can put together a complete tournament and get all the pieces meshed together, they have an excellent shot to push Mixtape for the top seed in the pool. If not, they could miss the bracket entirely.
Likely Ceiling: Quarterfinals
Likely Floor: Done on Day One
Madison NOISE [Pool #3, Overall #12]
Madison NOISE comes into Sarasota off of a busy regular season with appearances at the Pro-Elite Challenge, the U.S. Open, and the Elite-Select Challenge. Along the way, they notched a double game point victory over regional rival Minneapolis Drag'N Thrust and a big win over Fort Collins shame. Despite a disappointing U.S. Open where their only wins came against international opponents, NOISE recovered nicely at ESC, emerging from the weekend with a third place finish over Dallas Public Enemy. Despite a surprising double game point loss in pool play at North Central Regionals, NOISE kept control in the rest of their matchups to book a spot in the semifinals, defeating Ames Chad Larson Experience 13-8 to book their trip to Sarasota, and render the final versus Drag'N Thrust a battle for seeding at Nationals.
Led by the dynamic cutting of Dayu Liu and Emily Dayton, and backed up by the handling skill of Ari Davidson, NOISE has a strong offensive core which can cause matchup problems for any opponent. Michael Swain and Sam Loveland are disruptive defenders, and when everything clicks, this can be a dangerous team. The schedule for Pool A may work in their favor, starting with a matchup against Mixtape before meeting Mischief and Public Enemy in rounds two and three. If NOISE can start strong and keep improving throughout the day, they have a good chance at holding off Public Enemy for the final prequarters berth from the pool, and potentially surprise Mischief.
Likely Ceiling: Prequarters
Likely Floor: Done on Day One
Dallas Public Enemy [Pool #4, Overall #13]
As one of the more hyped mixed teams coming into the season, thanks in part to the addition of 2016 Offensive Player of the Year and noted non-farmer Chris Mazur, it took time for the team to hit its stride. Going winless at the Pro-Elite Challenge was an inauspicious start to the year, but the team played far better at the Elite-Select Challenge a month later, losing to Madison NOISE in the third place game and eventually taking fourth. Under the guidance of coach Rob Doyle, Public Enemy has steadily improved throughout the season, going undefeated at South Central Regionals and locking up their bid to Nationals with wins over both Denver Love Tractor and Fort Collins shame. Despite an 0-2 record against Pool A teams Seattle Mixtape and NOISE, improved defense was the hallmark of their Elite-Select Challenge performance, and they will look to keep that going in Sarasota.
Mazur is a constant threat with the disc, and the multifaceted skillset provided by Danielle Runzo gives Public Enemy two standout players in a crowded division. Combined with the strong cutting ability of Jenna Bigbie, Public Enemy's offense can certainly put up points. Their third round game against NOISE has a good chance to determine who goes to prequarters and who is out of contention, but be ready for the team to throw something unorthodox to try and surprise San Francisco Mischief in the first round.
In their third year as a team, Public Enemy may have hit their stride at the right time coming into Sarasota, and is certainly in contention for a prequarters berth. Mischief and NOISE will have their work cut out for them.
Likely Ceiling: Prequarters
Likely Floor: Done on Day One