Recognizing a season of superlative efforts from around the Mixed Division.
Ultiworld's 2016 Club Awards are presented by BE Ultimate; all opinions are those of the authors. Please support the brands that make Ultiworld possible and shop at BE Ultimate!
With Nationals over and the winners crowned, it is time to take a moment to recognize the top performers in the Mixed Division this season. While the talent of the division reaches far beyond short lists, the Club Awards are meant to honor those players who put together what we believe to be the best seasons in the Mixed game this year.
While we consider both regular season and postseason performance, because of the nature of the club division, we weight success in the Series and at Nationals above all else. The Club Awards are voted on by Ultiworld reporters, contributors, and editors.
Offensive Player Of The Year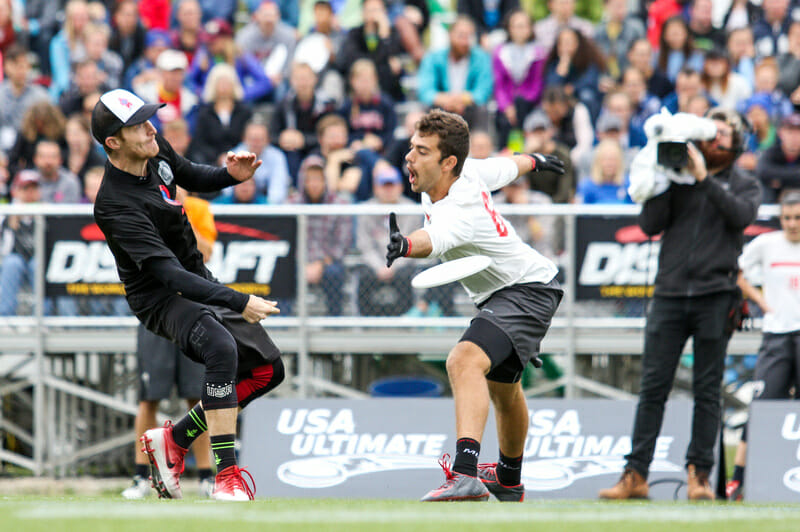 Chris Mazur (Connecticut Metro North)
When Chris Mazur decided at the beginning of the year to move on from PoNY and rejoin the mixed division with several of his former District 5 teammates, the news traveled fast and set the division and ultimate media abuzz. The rumors circulated at early season New England regional tournaments, opponents recognizing they were competing against a Metro North squad that was nowhere near what they'd be when their new star took the field. Not even present at the US Open as he recovered from a grueling spring of preparing for Worlds with Team USA, Mazur's name was still a major topic of conversation on Metro North's livestreamed games.
Once he did start playing, both the expectations and his exploits continued to dumbfound. Eventually, trying to recount the details of Mazur's on-field heroics turned you into the obnoxious amateur angler whose tales about the haul from his last fishing trip grew more out-sized with each retelling. "Do you remember that time when Mazur…" you start, as eyes roll and attention drifts elsewhere.
"…when in the finals of the Pro Elite Challenge, Mazur either threw or caught half of Metro North's ten goals?"
"…when at Regionals, he spent all of Saturday throwing up in the hotel from food poisoning before staggering out to fields and throwing six assists in the final, single-handedly beating the national champs?"
"…when in pool play in Rockford, he was throwing teammates open by launching 60-yard bombs straight into a 35 mile an hour wind, even as opponents physically assaulted him on the mark to try to stop it?"
"…when during the semifinals of Nationals, he was running 30-yard sprints back and forth across the field to collect every other pass all the way up the field, scoring two goals, throwing five assists, recording four blocks, and creating a Callahan for his team with monster pulls?"
I'm here to tell you it's true. All of it's true.
After a disappointing finals loss in which he simply could not one-up his previous performances, Mazur pleaded with Ultiworld to stop building up the legend any further to where he couldn't live up to it.
"Please, don't ever write anything about me again," he whispered half-jokingly, aware of how the coverage had pushed expectations beyond any reasonable measure of reality.
Sorry, Mazur. When you play as well as you did this season, the legend-making is unavoidable. You'll just have to deal with the expectations that come along with being our 2016 Offensive Player of the Year.
Runners-Up: Drew Johnson (Seattle Mixtape), Emily Shields (Philadelphia AMP)
Defensive Player Of The Year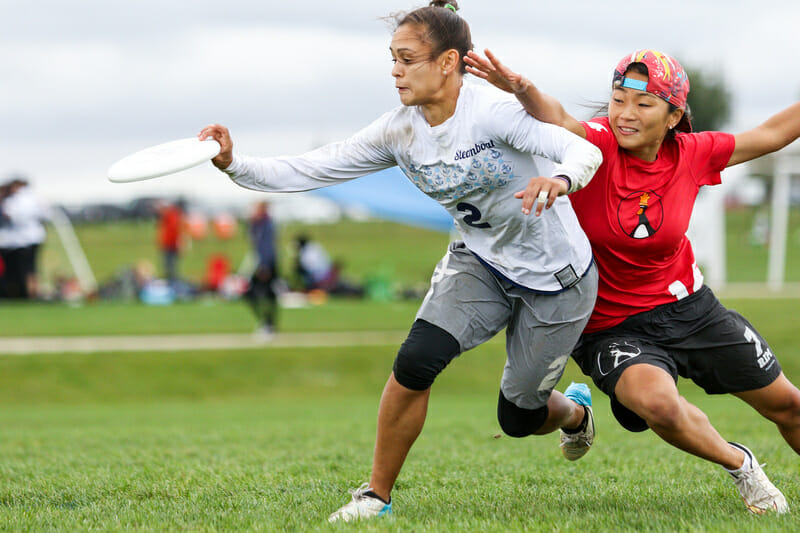 Nancy Haskell (Cincinnati Steamboat)
Having bubbled up in a community and region not traditionally known as a bastion of strong mixed play, it was perhaps surprising to see Cincinnati Steamboat heading into Nationals with the best overall record in the division. The Great Lakes champ had cruised to a one-loss regular season, knocking off several more established programs en route to multiple tournament victories. Still with plenty to prove to doubters, Steamboat continued their impressive run at the Club Championships, dominating some of the best teams in the division — three of their Nationals wins were by six or more points — and losing only to the joint third-place finishers, Minneapolis Drag'n Thrust and San Francisco Mischief. All season long, this was a team whose success was fueled by their D-line's ability to string together breaks. While there's no shortage of athleticism and talent on that line, one player established herself time and time again as the anchor: Nancy Haskell.
Haskell's game walks the line perfectly between youthful vigor and veteran poise, playing lockdown defense on her mark while aggressively poaching at every opportunity. She always seems to be facing the disc and will fearlessly attack any throw in her vicinity as soon as it goes up. Her matchup rarely gets an easy touch on the disc and is always at risk of being blown up on an in-cut as Haskell lays out around them.
Steamboat is known for frequently throwing zone defense, even in calmer conditions, as they did in their fifth place win over Philadelphia AMP at Nationals — a game that took place on Saturday, when the wind had lessened significantly. Haskell always runs chase in their cup, constantly moving to disrupt angles the offense looks to take, yet simultaneously aware of and ready to collapse on crashers. She doesn't hesitate a beat to throw her body around to get the block.
Haskell also has mind-boggling stamina. After playing a nine-minute point to start Steamboat's game against 7 Figures at the Pro-Elite Challenge, not only did she get bookends to earn the break, but she went right back out to play another D point. Opposing O lines better get used to her presence because she rarely takes a D point off.
Runners-up: Evan Klein (Seattle Mixtape), Sarah Meckstroth (Minneapolis Drag'n Thrust)
Breakout Player Of The Year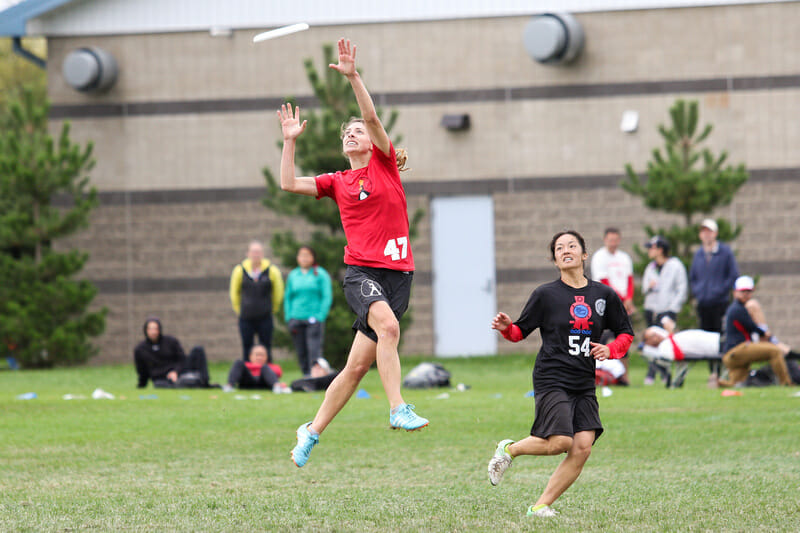 Gina Schumacher (San Francisco Mischief)
Most of the playmakers in the big games in Rockford had been there before. But one player helped to bring a team who missed out on Nationals last year all the way to the semifinals, all in her first year with the team.
Gina Schumacher, the 26-year old lefty for San Francisco Mischief, finished Nationals with seven goals (good for second on the team) and two assists. She scored three times in their Thursday upset over pool top seed Mixtape. In Mischief's semi-finals loss, Schumacher was nearly unguardable, tallying two goals and this layout block to end a Metro North red zone possession.
The 5'7" Schumacher commanded the cutting lanes for San Francisco's offense, for which a basic principle is to keep cutters spread out to create big spaces for them to utilize. And that's exactly what Schumacher excels at. Her quick first step gives her separation and her speed keeps it. If a defender does manage to stay with her, she'll have to get way out in front of Schumacher's long reach if she ever wants to sniff a block.
Runners-Up: Ben Katz (Boston Slow White), Luke Ryan (Philadelphia AMP)
Coach Of The Year

Marshall Goff (Boston Slow White)
At halftime of the mixed national final in Rockford, Slow White found themselves trailing at the break for the first time all tournament. After rolling through their competition with overpowering talent for the first three days of the Club Championships, they had finally been punched in the mouth — by a team that knew their roster inside out and had beaten the Boston juggernauts in a Regional final three weeks earlier. In the rear view mirror, a decade of disappointment, a team history that frequently had the talent but never the mental fortitude to get over the hump and win a national title. For a team whose success is often tied to their energy and positivity, lumps were beginning to well up in throats.
At this point, many coaches would be looking for the tactical shifts that would change the pace and tone of the game. Many coaches would be preaching focus and intensity to get a team dialed in. Yet Marshall Goff was encouraging Slow White to start up a quick game of in-and-out box — then playing along with them, until he was called away by ESPN.
When Evan Lepler asked Goff about what halftime adjustments he was going to make, Goff very matter-of-factly told the viewing audience exactly what he was doing to get his team prepared for the biggest second half the program had faced in a decade: "Well, we let them play 'reindeer games', because we need to get loose. Right now, I'm not so sure it's about tactical changes as [it is about] not pressing… going back to the way we play, trying to put the pressure back on them."
Slow White operates best when the pressure they feel is about who can show off the best dance moves on the line or who get the biggest laugh in a huddle. For a team as self-proclaimed 'weird' as Boston, a coach cannot succeed simply by mastering the X's and O's or making the appropriate play calls. Sure, that's an important element of winning big games, but only a team that has done the hard work in advance of that moment has the luxury of playing 'reindeer games' at halftime of a national final. Having spent the season driving the team to that level of preparation, Goff's challenge now was about understanding how to manipulate attitudes, how to draw out the positive energy that would get his players back to having fun and letting the pressure of the occasion melt away as unimportant.
Goff knows how to do this better than anyone. He knows how to cultivate it, both over the course of a season and during the flow of a tense game. Many coaches wouldn't be willing to indulge this kind of seeming complacency in the season's biggest moments, but it's why many coaches didn't win a 2016 mixed national title and why Goff's team lifted a trophy in Rockford.
Runners-Up: Patrick Sherlock (Philadelphia AMP), Ben Feng (Washington DC Ambiguous Grey)