Which team will emerge from the top-heavy Pool D?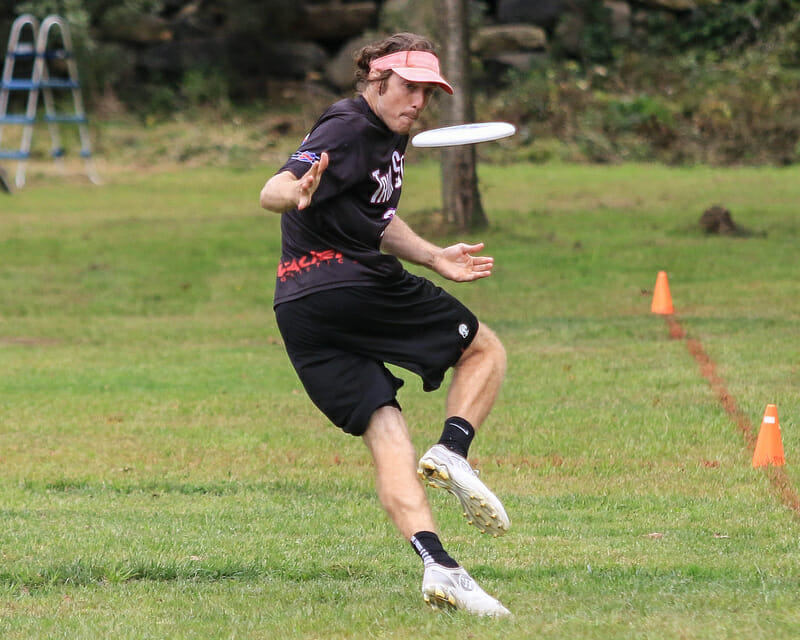 Ultiworld's coverage of the Men's Division at the 2017 Club Championships is presented by Spin Ultimate; all opinions are those of the authors. Please support the brands that make Ultiworld possible and shop at Spin Ultimate!
Pool D at any Nationals is going to draw eyeballs just by nature of the format. Having the fourth, fifth, and ninth seeds all in the same pool guarantees some big name players and matchups that seem somehow too juicy for pool play. This year is no different, and here it even adds a bottom seeded team that has proven themselves to be a handful for even the best teams in the country.
Washington DC Truck Stop [Pool #1, Overall #4]
Consistency has been the name of the game for Washington D.C. Truck Stop this season. By and large, they've beaten the teams they should beat and lost to the teams they shouldn't, going 2-4 against the top five seeds at Nationals and 7-1 against all other Nationals teams, including three wins over Ironside. In fact, Truck Stop have been tremendously consistent over the past several seasons, making it to the quarterfinals but no further three years in a row.
So will it be more of the same from Truck Stop this year, or can they do something to rock the boat? The team lost some explosive offensive talent from their cutting core in the offseason but have made up for it with cohesion and a deep bench. The signs point to another quarters appearance, as Truck have looked like a high floor, low ceiling team all season long.
That ceiling likely got a little lower, however, when star handler Alan Kolick blew out his knee at NY Invite. While it's unambiguously a bad thing for Truck to lose such a great player, it may not be as debilitating for them as it would be for one of their rivals. Truck Stop were never going to out-talent the Revolvers, Sockeyes, or even Johnny Bravos of the world. Their chemistry, tactical discipline, and experience were their biggest strengths, and as a result the team has been greater than the sum of its parts. Those things don't necessarily go away with Kolick's injury.
"Obviously some particulars change when you swap personnel, but it's pretty much been next man up when it comes to the big offensive picture," said Truck captain Jonathan Neeley. "[Coach] Darryl [Stanley] has worked pretty hard to make our O dynamic and the plan was always to add pieces up until Nationals. The only real difference is that those things get added without Alan rather than with him."
In addition to Kolick, DC will also be missing David Bloodgood, who broke his collarbone and rib at Regionals and may be without the service of D-Line sparkplug Brad Scott who has been nursing a knee injury all season.
These absences will hurt, but Truck is well equipped to make up for them with a deep young core. Rowan McDonnell has made the leap this season as an elite all-around player, able to anchor either the defense or offense. The hot name to watch for Truck's offense is Tyler Monroe, who has ably filled the shoes of the departing Peter Prial, thriving as a dual threat cutter. Monroe has been on a revenge tour this season after getting snubbed for the U24 roster, and he has asserted himself as one of the premier offensive weapons in the Mid Atlantic region. On top of everything else, Truck still has Markham Shofner and Nicky Spiva, who are unafraid to go throw for throw with any team in a shootout.
Despite the big injury to Kolick, Truck Stop are still going to be a hard out in the bracket. They don't have the sheer firepower to overwhelm teams that they had in recent years, but with plenty of size and athleticism on defense, industrious yard churners on offense, and some cagey veteran leadership, it would be a mistake to write DC off.
Likely Ceiling: Semifinals
Likely Floor: Quarters
Denver Johnny Bravo [Pool #2, Overall #5]
Another year, another date with Pool D for Denver Johnny Bravo. This makes five straight Nationals now that Denver has been either the 4th or 5th seed and been required to tangle with the wrinkles that the 4/5/9/16 format presents.
Despite the consistent seeding, the results have been all over the map for Bravo, with two semifinal appearances and a National title mixed in with a puzzling pre-quarters loss and a 12th place finish. So while Denver have been comfortably within the "contender" tier every year over the past half-decade, their seeding has rarely indicated exactly how they'll finish.
It's not just the past that make Johnny Bravo a bit of a head scratcher; their present is a bit hazy as well. They've looked great at times the season and then proceeded to drop the ball. At every regular season tournament this year, they lost to a team they had already beaten that weekend. It's the kind of high variance track record that is usually emblematic of a team that relies on their top players to do a lot of heavy lifting.
If you buy that narrative, then the bomb that Bravo dropped on the ultimate world at the series roster deadline, acquiring the services of Mark Lloyd, is really significant. Subtler but still notable is Nick Lance's return to the team after taking a year off. The former Callahan winner was a top 10 player in the world in 2014 and 2015 and has been getting his sea legs back over the course of the season. If he, Lloyd, and reigning Player of the Year Jimmy Mickle are all clicking in top gear, that's arguable the best top three of any squad at Nationals.
Of course, the other side of the coin is easy to see as well. Lloyd's body breaks down over a grueling weekend, Lance still lacks a little bit of sharpness and has a couple lapses or bad turnovers, and Mickle tries to do too much and ends up throwing the team out of winnable games. Unlike the top seed Truck Stop, Denver seems to have a high ceiling, but a low floor.
Working to prevent some of that potential for whiplash is coach Jim Schoettler's vert stack. Imported from his days at the helm of Mamabird, it provides a steady supply of resets and ample space in the break lanes for Lance and Mickle to abuse their marks. But the real goal of Bravo's offense isn't creating opportunities for their stars to make big plays, it's to allow players to focus on just needing to do that one thing they really excel at.
The system calls for less continuation movement and more emphasis on moving the whole structure of the stack down the field at once. The best throw to make in the offense is often the easiest, as lateral movement from the front of the stack keeps the defense shifting without the offense needing to make spectacular throws or focus on isolation cuts in the force side lane to move the disc.
This allows players to maximize their talent, by focusing on being perfect at their role, the thing that makes them a cog in the offense. A guy like Mark Rauls, who isn't necessarily the greatest all around threat, is able just use his quickness and innovative release points to cause havoc from the front of the stack. Ben Lohre gets to just be an animal downfield, scoring heaps of goals and not needing to do anything he's not comfortable with.
Of course, the system needs a straw to stir the drink, and that straw is clearly Jimmy Mickle. The space near the front of the stack is exploitable because the defense is trying to keep the disc out of Mickle's hands with poaches and switches. Easy yards are gained on in cuts whenever Mickle rumbles downfield and the entire defense reacts. The gravity of Mickle creates the space the offense runs through.
The big question for Bravo will be how they balance the system with their stars. If something goes wrong, does the team react by doubling down on grinding through the whole team, or by telling Jimmy to put the team on his back? Getting that question right will likely determine how successful Denver will be in Sarasota
Likely Ceiling: National Title
Likely Floor: Prequarters
Boston Dig [Pool #3, Overall #9]
One of the most exciting teams taking the fields at Nationals, Dig stands out because of their potential – not just on the field – but in what they mean to the landscape of club ultimate. After a surprising first season that saw them come within a wild double game point of the quarterfinals, they were able to avoid the talent vacuum of Ironside that has handicapped so many "second teams" before them. A successful run this weekend could permanently shift the balance of power in Boston and the Northeast.
It's not just the narrative to appreciate here; Dig plays a flat out entertaining brand of ultimate. Led by a host of young hungry players looking to show the old titans of the club division a thing or two about the new generation of ultimate players, Dig isn't afraid to get into a barnburner. They want push the pace and force teams to play their type of pedal to the metal game. "We are stoked. We live of this type of play," said Dig captain Ben Sadok. "Teams may be more conservative against us because they probably think they can beat us without the big hucks. We welcome teams that want to huck it."
We've seen teams come into Nationals full of vim and vigor, teams that play with a real swashbuckling style, only to flame out when their exuberant play is put to the test by the pragmatism of Nationals. The team that occupied the 9th seed last season, Houston H.I.P., rode a freewheeling style to regular season success but were hit with a chilly reality when push came to shove. But while Dig isn't afraid to play loose, they aren't as undisciplined as some of their predecessors have been, and the experience of Nationals last season has left an impression on the returning players.
The team is definitely young but is also extremely talented, with lots of experience in big games at the college level. The roster boasts four players that just made the U24 National team in Tim Schoch, Sadok, Eli Motycka, and Dylan Best, as well as familiar faces from college Nationals in Pittsburgh's Thomas Edmonds, UMass's Chris Bartoli, and Brett Gramann, Michigan's Noah Backer, and UNC Wilmington's Willie Stewart.
Sometimes having so many players from different college programs can spell trouble at the club level, where having a unified and coherent system is so important. Sadok doesn't see this as a weakness, but as a strength that Dig has played into all season. "Everyone has their unique play, and we don't want to suppress that," said the Boston captain. "Some teams get serious and want to put players into very specific roles but we want everyone to try everything and have fun while doing so. To Dig, culture is more important than winning and we have found that when we focus on how we want to develop our culture, the winning just seems to find us."
How much winning Dig will do, in such a tough pool, it still up for debate. The team's bright potential has outshone their results this season to a certain extent, and while they have an early season win over Ironside and a convincing victory against Ring of Fire from NY Invite, they were thoroughly beaten by Hive Five in August and failed to get a single break on Ironside at Northeast Regionals. Maybe their youth still has some learning to do, and we still need to see how they will reintegrate roster deadline pickup Jeff Babbitt back into the team before we can call them genuine contenders. But the potential is there, and that is exciting.
Likely Ceiling: Quarterfinals
Likely Floor: Done on Day one
SoCal Condors [Pool #4, Overall #16]
The Condors may be the lowest seeded team at Nationals, but their talent belies that distinction. Recently pronounced by none other than Charlie Eisenhood as the best four seed at the tournament, the Condors have shown this season that they belong on the same field as the best teams in the country. Nice wins over GOAT, Temper, and Sub Zero in the regular season buttressed an impressive performance at Regionals where they took half on Revolver in the championships game and convincingly bear Guerrilla twice in order to swipe the Southwest's second bid.
What stood out most in the Revolver game was the complete lack of fear that the team showed, and in a spot where many teams may have thrown the game to save legs for the game-to-go, the Condors believed they could win and played like it. "We're confident as hell," said Dom Leggio. "Show up, ball out, get Ws."
That confidence shows up on the field, as the team has a roster full of athletic players that make big plays out of semingly nothing. 2017 College Defensive Player of the Year Cameron Wariner, along with crazy athletes like Jeff Silverman and Sean Ham, make the Condors an imposing physical matchup for most opponents. Even title contenders won't be able to take the Condors for granted, and if any of the teams above them slip, the SoCal squad is more than ready to take advantage.
If the Condors are able to pull a big upset and get into the bracket, it's going to be on the back of their D-line. Showing the capability to play shutdown person and stifling zone so far this season, nothing will come easy for their opponents. "Aggressive defense for us is more like a constant pressure," said captain Will Griffin. "The goal is to keep the offense uncomfortable and force tough shots that we have a chance to get."
Making their opponents uncomfortable is something the Condors have succeeded at all season. Whether they can do more and actually unseat them will be answered this weekend.
Likely Ceiling: Prequarters
Likely Floor: Done on Day One