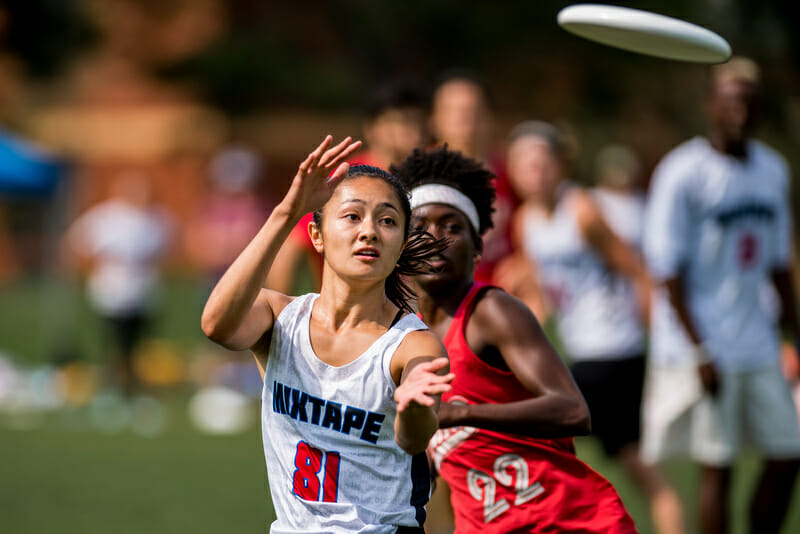 Ultiworld's coverage of the Mixed Division at the 2017 Club Championships is presented by Tokay Ultimate; all opinions are those of the authors. Please support the brands that make Ultiworld possible and shop at Tokay Ultimate!
Looking back at our initial predictions, we saw six standout contenders for the mixed championship: Seattle Mixtape, Philadelphia AMP, Minneapolis Drag'n Thrust, Boston Slow White, Seattle BFG, and San Francisco Blackbird. As day one wraps up here in Sarasota, we are revising and ranking the list to reflect how the day has unfolded:
Seattle Mixtape
Philadelphia AMP
Boston Slow White
Dallas Public Enemy
Seattle BFG
Minneapolis Drag'n Thrust
That's pretty consistent with our initial predictions, but there is one big exception: Dallas Public Enemy is finally coming good on their preseason promise.
Seattle Mixtape is still the favorite, though not quite as prohibitively as before. Their newfound structure helped them dig out of an early hole against Madison NOISE, where a dropped pull on their first offensive point threatened to derail the day before it had really started. Instead of getting in their own heads or losing faith in their offense, Seattle called a quick timeout, refocused, and won a quick hold with their offense before earning the break back, and then some.
Trust in systems dug them out of dangerous spots as the wind picked up throughout the day, and despite a scare from the resurgent Dallas team, made quick work of Pool A. One of the few teams (Philadelphia AMP being the other) to play with four women with any regularity, Mixtape's depth, new systems, and ever-present athleticism is a rare combination. It's still tough to see them missing the final, and wind is the great equalizer, dulling athletic edges. But with Mark Burton piling up assists, Jesse Bolton continuing his breakout season, Paige Kercher's steadying presence in the handler set, and Abbie Abramovich's deep cutting, Mixtape is at the top.
***
Philadelphia AMP is a close second to Mixtape on the list of teams with a legitimate shot at the title. Still one of the deepest teams in the division, AMP's ability to spread the scoring and defensive burden across their entire roster gives them an edge on the marathon points that have plagued the tournament thus far. With some of the best women in the division, the trio of Raha Mozaffari, Anna Thompson, and Linda Morse each had an excellent first day, and, backed by the creative handling of Calvin Trisolini, AMP has the depth to stay fresh in games where other teams, especially those reliant on a few key individuals, begin to wear down. AMP saw off a challenge from an increasingly desperate Connecticut Metro North squad before flashing that depth against a gassed San Francisco Blackbird team. Expect the depth to push them far into the bracket with a fresher set of legs to push than the rest of the field.
***
Rumors of the demise of Boston Slow White have been unfounded so far. While many (including your resident Ultiworld writers) feared the lack of depth that threatened to hurt the squad, there was scant evidence of that as an issue today. Moving Tannor Johnson to the D-line to shut down the toughest male cutting threats gives them the ability to grind a big-play focused offense to a halt.
Johnson was a constant threat to opposing deep cutters, effectively limiting primary options and forcing throws into tighter windows, giving teammates opportunities for blocks. Lexi Zalk was typically excellent, moving from primary end zone option to reset handler to initiating cutter without any hint of difficulty. Todd Herman had a field day in the air, cleaning up many floaty throws and being a consistent threat on both sides of the disc, and Jeff Smith has been a rock-solid handler despite tough throwing conditions. If anything, Slow White has been too reliant on their male players, not showing the all-around ability of the teams ahead of them, but counting out the defending champions is a foolish bet. However, with a potential quarterfinal matchup against Minneapolis Drag'n Thrust, they have a tougher road than some of the other competitors.
***
Dallas Public Enemy has defied their placement as the 13th seed, flashing a level of offensive consistency that few teams in the division could match today. While picking up Chris Mazur garnered the preseason headlines, Kevin Christian has stood out as one of the craftiest and most dangerous handlers in the mixed division. Repeatedly throwing around his mark with an unstoppable low release lefty flick, his throwing ability cut through opposing defenses geared at stopping Public Enemy's big play ability, and his ability to combine with Dani Runzo and Mazur kept the Dallas offense flowing at an elite level. The three patiently worked the disc laterally, probing for cracks in opposing defenses and attacking at the right times. Only losing to Seattle Mixtape on double game point, Dallas has great potential on offense that could push them far. A potential matchup with AMP could put a swift halt to their title case, but if their offense keeps clicking, they can push AMP to the limit.
***
Seattle BFG put on a show in their final round matchup against Boston Slow White, and the two teams played out one of the most entertaining and closely matched mixed games in recent memory. With the first break coming at 11-11, BFG showed they have the consistency to contend with the best the country has to offer. Jeff Pape is one of the most consistent handlers in the division, able to see gaps in defense many others cannot, and has an uncanny ability to know where his cutters will be. His handling work combined with Crystal Koo give BFG one of the best one-two handler combinations in the mixed game, each one bringing big throws and touch regardless of the wind conditions.
Tommy Li is still one of the top dual threats in the division, bringing fiery defense and calm offense to a team that can be a bit too reliant on individual moments of brilliance. While the Seattle team has a prequarters matchup with a shaky San Francisco Mischief team, they also have the most winnable potential quarterfinal matchups in the bracket against an overachieving Fort Collins shame. Look for BFG to lean on their depth more in prequarters to give a boost to their roster going into the quarterfinals, and their consistency throughout the year should carry them into the semifinals.
***
While Minneapolis Drag'n Thrust was inconsistent on Thursday, losing to Fort Collins shame. in their opening pool play game, the team recovered in typical Drag'n fashion, riding fast, physical defense in their games against Denver Love Tractor and Boston Wild Card to get the breaks they needed to pull ahead. In Sarah Meckstroth, they have arguably the best female player in the mixed division, and they relied on her to win matchups and generate goals almost single-handedly today. She also notched several key blocks throughout the day, and pushed Drag'n past a strong Wild Card team to keep the Minneapolis team in contention for the finals.
The team was prone to slow starts, which could cause problems in their prequarters matchup against a solid Durham Toro squad and a potential quarterfinal match against defending champions Boston Slow White. If Drag'n can get out to a faster start on day two, this team still has the experience and skill to make their way into the semifinals, and an incredible talent like Meckstroth can turn a game on its head in a second.
***
So, why did we drop San Francisco Blackbird from our shortlist of potential title contenders? After an impressive TCT Pro Championship appearance where the team earned a second Southwest bid to Nationals, the team has run into a lack of depth. Other teams may have played long points, but Blackbird had several marathons in each game, and by the end of the day, they had nothing left in the tank. A fitter, fresher Philadelphia AMP team ran out to a fast lead, and it took everything Blackbird had to even get close again. By the time halftime came around, though, AMP clearly had the upper hand, and it's tough to see the veteran San Francisco team recover in time to put away an athletic Boston Wild Card team, and our top contender in Seattle Mixtape, to make it to the semifinals.
Predictions
Looking at the potential quarterfinals matchups, I expect to see the following semifinals games Saturday evening: Seattle Mixtape vs. Boston Slow White, and Philadelphia AMP vs. Seattle BFG. But don't count out any of the contenders. The mixed division always has the potential to surprise, and day two should be a fun one.