Revolver v. Ring. Doublewide v. Truck Stop.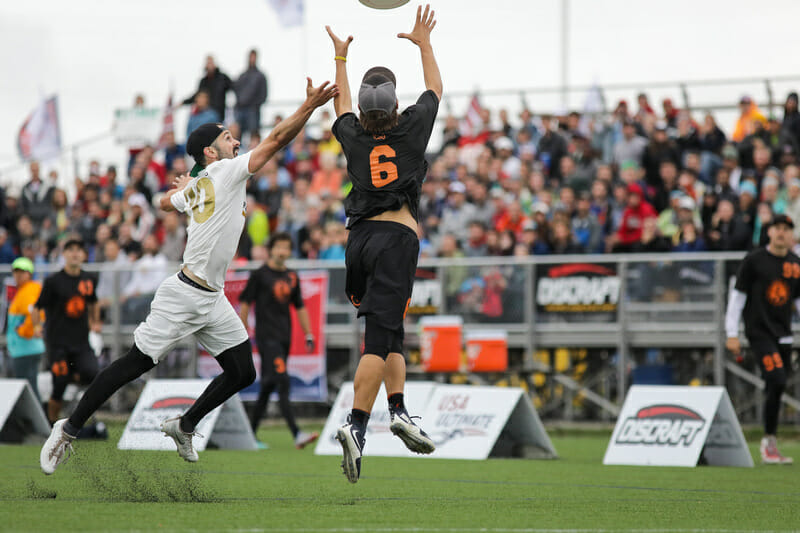 Ultiworld's coverage of the Men's Division at the 2017 Club Championships is presented by Spin Ultimate; all opinions are those of the authors. Please support the brands that make Ultiworld possible and shop at Spin Ultimate!
The semifinals are upon us! Here's a look at the two matchups in the Men's Division.
San Francisco Revolver vs. Raleigh Ring of Fire
Head to Head: Revolver won 15-11 in the first game of the US Open Championships.
How They Got Here:
– Revolver 3-0 in Pool A (45-30), d. PoNY in quarterfinals (15-4)
– Ring 2-1 in Pool C (40-32), d. Machine in prequarters (15-7), d. Dig in quarters (11-9)
Spread: Revolver -1.5
Game Time: Saturday, Oct. 21 at 11:30 AM Eastern
How To Watch: ESPN3
In a rematch of last year's semifinal, Ring of Fire and Revolver will battle for a spot in the National Championship. The rosters have some notable changes since Revolver's double game point win last October. Nick Stuart and Justin Lim (formerly Sockeye) joined Revolver. Jonathan "Goose" Helton, Brett Matzuka, and Bob Liu (formerly Machine) joined Ring. Revolver has yet to be tested this week, while Ring has still been finding their form in the first few games. An instant classic could be on the horizon.
A fiery young Ring defense will need to find a way to slow down one of the best offenses in recent memory. Who covers the likes of Beau Kittredge, Cassidy Rasmussen, Ashlin Joye, Grant Lindsley, George Stubbs, Lucas Dallmann, and Joel Schlachet? Ring has seen good performances from Tim McAllister and Justin Allen, but younger players will need to step up if they want to generate break chances. Look for Noah Saul and Jon Nethercutt to play both ways for a majority of points.
Revolver has been clicking all week, but Ring of Fire is extremely athletic and the team most capable of taking them down. As always, the San Francisco defense won't give their opponent much breathing room. They'll have different looks to limit the big throwers of Ring. Watch for their force-middle defense to limit the Raleigh deep game.
This game will be a battle on every level. Two of the division's strongest coaches (Revolver's Mike Payne and Ring's Mike DeNardis), two of the strongest defenses, and individual stars that can seize the moment.
-Preston Thompson
Austin Doublewide vs. Washington DC Truck Stop
Head to Head: N/A
How They Got Here:
– Doublewide: 2-1 in Pool A (39-35), d. Bravo in PreQ (15-9), d. Florida United in quarters (13-11)
– Truck Stop: 2-1 in Pool D (40-37), d. High Five in PreQ (14-10), d. Ironside in quarters (14-10)
Spread: Truck Stop -2
Game Time: Sat. Oct 21 at 3:00 PM Eastern
How To Watch: Ultiworld Subscription (Tape Delay)
Doublewide and Truck Stop will meet in a semifinal that brings together two pool runners-up.
Truck Stop, after twelve trips to Nationals (out of thirteen years of existence), will play in their first ever national semifinal. Though they entered the tournament as the No. 4 seed, many had written them off as a result of a knee injury to star handler Alan Kolick (WUGC Men's). Though they took a loss to Boston Dig to open the tournament, Truck is undefeated since. They've gotten particularly strong performances from a dynamic cutting corps of Nicky Spiva (3G/11A), Tyler Monroe (8G/9A), and Rowan McDonnell (7G/10A), who have kept the offense dynamic even in the face of tight defense.
On the other side, Nate Castine (4D) and Markham Shofner (5D) have been instrumental for both generating turns and cashing in breaks.
Doublewide's talented roster has shown significant growth throughout the tournament. The fusion of last year's quarterfinalist team with stars from Houston HIP and Kansas City Prairie Fire has truly come into their own. The young offensive line is led by the Dalton Smith and Abe Coffin in the backfield and the explosive Jay Froude (7G/9A) and Kai Marshall (4G/7A) downfield.
Austin has loads of talent, and it seems to be coming together at the right time. They survived a slog of a game against Florida United, speaking to their mental fortitude, and look poised to continue fulfilling their enormous potential. On defense, Doublewide has showcased a variety of junk and zone looks, in additional to athletic 1v1 sets, to keep their opponents guessing. Matt Bennett often runs the D-line's offense, confidently hucking to athletes like Dan Emmons. Bennett's pulls have also been a big weapon.
Doublewide certainly likes their deep game and, in order to have a chance at reaching the final, will have to have a good day with their hucks. Potential keys to the game include how well Truck Stop's cutters— highly effective against person—handle junk sets from Austin, as well as how effectively the young Doublewide roster handles the pressure of a semifinal under the lights.
-Cody Mills