The third time was the charm.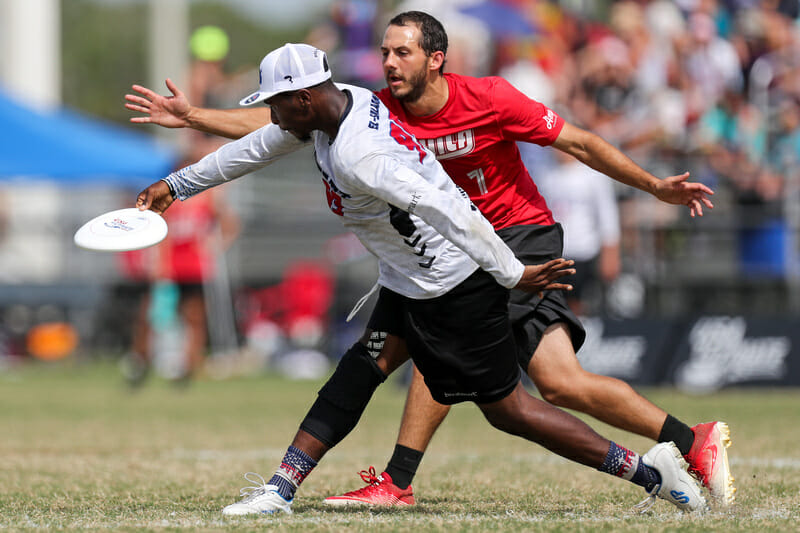 Ultiworld's coverage of the Mixed Division at the 2017 Club Championships is presented by Tokay Ultimate; all opinions are those of the authors. Please support the brands that make Ultiworld possible and shop at Tokay Ultimate!
In the most exciting Mixed game at Nationals, Seattle Mixtape overcame a 9-7 deficit, breaking on double championship point to defeat Philadelphia AMP 13-12.
Mixtape rode the offensive skills of Brad Houser (5 goals, 2 assists), Mark Burton (4A, 1G), and Jesse Bolton (3A, 2G), plus the defensive presences of Jen Cogburn, (1G, 1B) Lexi Garrity (2B), and Khalif El-Salaam (1A, 1B) en route to the title.
Seattle jumped out to a quick 3-0 lead after earning a quick hold followed by two breaks. Evan Klein had a big sky block to save a score. The AMP offense looked jittery, committing four unforced turnovers on their first two offensive possessions.
Philly got their bearings to hold and began a run of their own, scoring four of the next five points to take a 5-4 lead. Carolyn Normile, Steve Rosso, Danielle Walsh and Michael Ing each earned a block as the AMP defense looked in control of the field.
AMP's O-line was led by Anna Thompson (4A, 2B), Calvin Trisolini (3A, 1G), and Nico Lake (3G) while Normile (2A, 1B) anchored the D line.
The teams traded holds through half. On offense, AMP mostly played their typical 4-women offense to capitalize on key matchups.  Philadelphia's D line used poaches and active marks to force Mixtape to keep the disc on the downwind side of the field, which earned them multiple opportunities to break, but Seattle's athleticism got the disc back each time. Both teams were throwing confidently despite frequent gusts of wind disrupting throws occasionally. AMP took half 8-7 on an Emily Shields deep look to a wide open Linda Morse.
Up two breaks, AMP held out of half and had an opportunity to break after Ing earned his second block of the game, but a turfed throw gave Mixtape a short field to hold. El-Salaam then did what he does, getting a poach sky block on an AMP huck to Raha Mozaffari followed by an 85 yard pinpoint huck to Evan Klein for the break.
The Philly offense looked visibly shaken and again committed a turnover on the ensuing O point, but were able to get it back. Trisolini hit Lake for the hold and the 10-9 lead.
After an AMP miscommunication left Paige Kercher wide open in the end zone, Abbie Abramovich launched a mammoth backhand for the quick hold to tie the game. Philly answered right back with another woman-to-woman huck, Thompson to Mozaffari. The soft cap had gone off during that point, making it 11-10 AMP, game to 13.
AMP's defense smothered the Mixtape defenders on the ensuing point, leading to a second huck turnover from Burton. Normile picked it up and hit Steve Ng on an upline cut, and again the Seattle athleticism shone through as Jesse Bolton emphatically kick blocked Ng on a huck attempt. Burton fed the disc to Houser who found Bolton for the bookends hold, 11-11.
A nine minute slugfest followed, with both teams getting hands on scoring opportunities. Cogburn and Cam Bailey had clutch blocks for Mixtape and Mozaffari added her own for AMP. Thompson eventually got it to Lake for the hold, setting up AMP with an opportunity to break for the win.
Philly came close to giving themselves a break opportunity when Allysha Dixon laid out to get a hand on a throw intended for Lani Nguyen, but a foul call by Nguyen was not contested and Mixtape retained possession. Bolton fired an inside backhand through the middle of the stack, seemingly missing its intended target as multiple AMP defenders came close to a block, but Houser reeled it in to set up double championship point.
Coming out again with four women, AMP centered to Trisolini who broke to Mozaffari and took off deep.  The disc got to Lake who sent up a huck a half second too early, landing several meters in front of Trisolini.
The Philly defense allowed Seattle to move the disc to the downwind side of the field and Thompson got what looked like a game-winning layout block on an under cut, giving AMP a short field for the win. With the stall count rising and the break space crowded, Trisolini led Ing across the field into the end zone, but a last second gust bounced the disc off of Ing's hands.
AMP again forced Mixtape to work the downwind sideline but could not replicate their earlier success disrupting the open side space. El-Salaam went every other throw down the sideline before calling timeout with 10 yards to go. Despite a Philly defender setting up in the open side lane, El-Salaam was able to dish it to Houser who hit Bert Abbott for Mixtape's championship.
This was Mixtape's third finals appearance and their first title. Having won the US Open and Pro Championships during the regular season, they are the first team in the Mixed Division to win the Triple Crown.