Quite the weekend for the Triangle Tourists.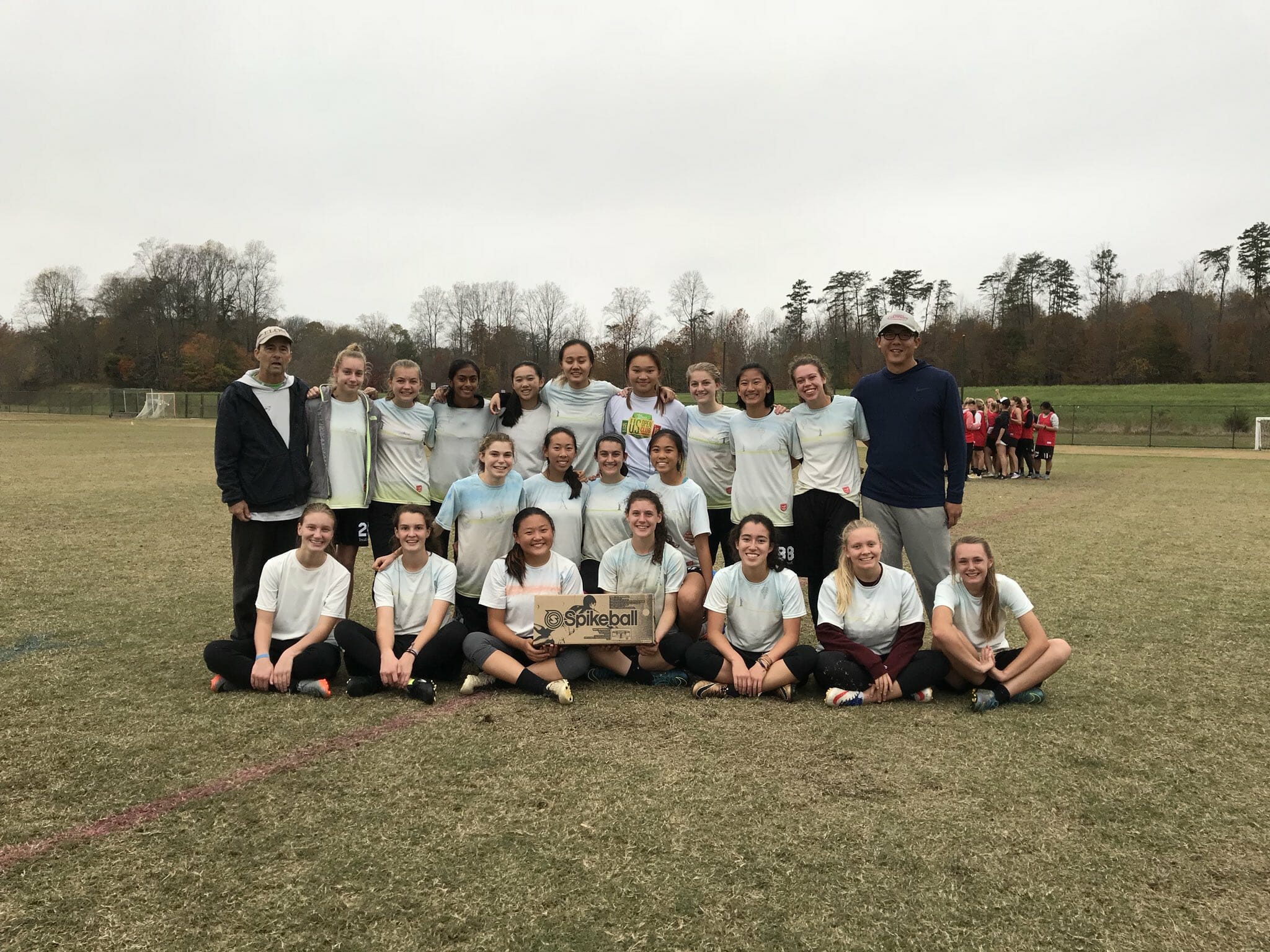 Blue Ridge Finale offered a good look at several top Women's programs before the end of the college preseason. While several team were missing key pieces, there were some excellent games throughout the weekend between the top squads in the Ohio Valley and Atlantic Coast regions.
By far the biggest surprise of the tournament was the Triangle Tourists: a high school club team combining U17 and championship U20 players from around the state. The Tourists put up a spectacular run on Sunday, beating West Chester, UNC, and Ohio State to take the tournament crown. They delivered a strong performance, highlighted by big plays like this huge layout catch by Clil Phillips against OSU in the final.
The Tourists employed excellent person and junk sets to force teams to work hard in the handler space. Excellent pulls by Elizabeth Manturuk and others set up the Tourists defense very well to challenge college squads the full length of the field. Against West Chester, the tallest team at the tournament, it was this kind of smart defensive pressure alongside a very patient offense that won the day for the Tourists.
Ohio Valley Squads Look Sharp
Beyond the surprising high schoolers, it was a good weekend for teams out of the Ohio Valley.
Ohio State performed well throughout the weekend, advancing all the way to the final in a promising performance for their first tournament of 2017-18. The Saturday matchup between Ohio State Fever and UNC Pleiades was one of the weekend's best games. OSU was comfortable running open lines all weekend and playing matchup defense exclusively. Captain Sadie Jezierski had a standout weekend, rotating in on both O- and D-lines. Against UNC, she was more active behind the disc as UNC attempted to limit her quick backhand huck and keep her upfield. Jezierski ultimately pulled down the game winning goal for Fever in traffic on double game point. Junior Annelise Peters also thrived for OSU this weekend, anchoring Fever's backfield and commanding the disc when needed. Cara Sieber thrived downfield and performed well with the disc in her hands.
"We've got some solid returners but they're stepping into new roles," said coach Stevie Miller. "There was a lot of trial and error this weekend but I think we've developed a great baseline for what to work on into the spring."
While they may not have made the semifinals, West Chester quietly dominated throughout the weekend, with their only loss coming in quarterfinals against the Tourists on double game point. In pool play, they crushed inter-region rivals Ohio State and Pittsburgh 13-6 in both games. West Chester was particularly effective at using their height and the throwing prowess of players like Danielle Byers to own the deep space. West Chester also threw highly effective zones, utilizing their height in the cup and pressuring throws down the sideline on the trap side. West Chester head coach Marc Stachowski was very pleased with his team's performance in Axton, especially given the level of competition West Chester faced.
"We don't have a lot of resources to play with so we've normally just concentrated on going to local tournaments," he said. "I think last year's upset of Pitt at [Conferences] kind of announced that we were getting close to being able to compete with some of the top teams."
With so much potential for building an elite program in 2018, West Chester's performance this weekend could be a sign of things to come. Their DGP loss to Tourists came after an impressive second half comeback after being down 8-5 at half.
"So far this fall season we have gone undefeated which creates a sometimes complacent attitude among our players when we're not being challenged," said captain Lindsay McKenna."This tournament gave us the opportunity to play high level teams that stumped some of our ideals, forcing us to work with each other and hone in on our game."
Losing to Tourists in quarterfinals left West Chester hungry for more. They will be looking to attend Queen City in the spring and continue to play the best programs on the east coast.
Of the three top Ohio Valley squads, Pittsburgh Danger came off the worst. A semis appearance against OSU demonstrated the promise that Danger has despite some inconsistency early in the weekend. Pittsburgh had a tough time in crossover matchups against UNC and Florida and lacks the kind of star power that OSU and West Chester currently possess. That said, Danger got a very solid performance from sophomore Jessie Sun in the backfield, who crossed over from offense to defense frequently. With several returners studying abroad this fall, the door was open for Pittsburgh to get its rookies major minutes in big games on Sunday. Getting to face OSU early this season in the semis of a preseason tournament gave Pittsburgh a taste of what they can expect from Fever's personnel this year.
"We know we haven't seen everything out of them yet. Their strategy continually shifts," said coach Annie Koch.
Atlantic Coast Teams Have Mixed Results
UNC's weekend was promising for the program. With Jenny Wei at the U24 practice weekend and Elizabeth Parker recovering from a broken metacarpal, Blue Ridge gave UNC an opportunity to get its entire roster on the field. Despite losing on DGP to OSU, UNC held a 7-5 lead during the first half in arguably their best game of the tournament. In quarterfinals they dominated regional rival UVA Hydra, at one point going on an 8-1 run. In the semis and 3rd place game against Pittsburgh, UNC ran out of gas as execution errors slowly mounted and the team was forced to dig deep to make runs.
Bridget Mizener and Mary-Catherine Adams had a excellent weekends powering the UNC offensive line alongside veteran captains Bridget Johnson and Anne Worth. UNC's performance, while missing key players like Jenny Wei, bodes well for the team's depth come the spring. Nonetheless, UNC is still walking a very narrow tightrope with two seniors studying abroad in the spring. Nothing is guaranteed for Pleiades this year, which makes the ability to open up lines over the course of a tournament that much more important.
"The best thing you can ask for in the fall is high pressure game situations where everyone on the team learns what those 'game on the line' moments feel like," said head coach Jessi Jones after the tournament. "We had plenty of those this weekend."
For Virginia, though, it was a tough weekend in Axton, with blowout losses to all of the top teams in pool B and a 15-6 loss to UNC in quarterfinals. From a results standpoint, that should be concerning, but both Hydra coaches Janie Mockrish and Brandi Skanes expressed confidence in Hydra's ability to grow and bounce back in the spring.
"It's the same for us every single year," said Skanes.
The Hydra coaching staff was confident in their ability to integrate a large rookie class (10 new players) this year.
It's difficult to assess UVA at this point in the year. It's worth noting that long-time head coach David Allison will not be returning for Hydra this year. His decision to help with UNC Darkside in 2018 was no surprise to anyone at UVA, and his transition away from the program opens the door for Mockrish and Skanes to continue building the UVA program. While Hydra is no stranger to facing adversity after turning over a large part of their roster, they have their work cut out for them if they hope to remain on top of the Atlantic Coast and also have a realistic shot of returning to Nationals.