Carleton dominant; LSU surges to final.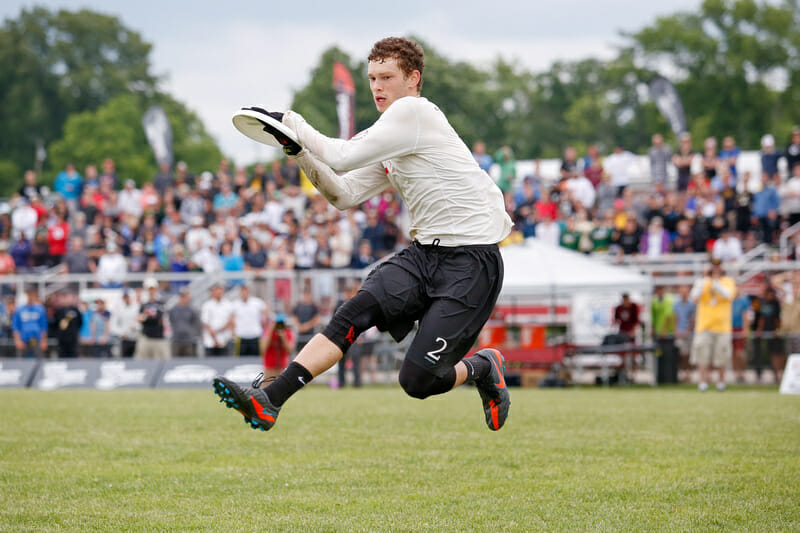 Ultiworld's coverage of Missouri Loves Company is presented by Spin Ultimate; all opinions are those of the authors. Please support the brands that make Ultiworld possible and shop at Spin Ultimate!
COLUMBIA, Mo. — Sometimes the journey is more interesting than the destination.
That was the case for the men's side of the Missouri Loves Company final, a 13-3 win for Carleton College over LSU. A Sunday that dawned pleasant and warm grew overcast by mid-morning, and rain fell softly during the semifinals as the wind gradually picked up. By the time the final started, wind was gusting around 25 miles per hour, and LSU simply did not have the throws against the wind and CUT's defensive pressure to convert holds or breaks. Carleton defended their MLC title with ease.
But the path for the two teams through the bracket was much more compelling.
CUT came to MLC a known entity: the defending D-I National Champions featuring a roster loaded with players who had been in Sarasota at Club Nationals two weekends prior (and also defending champs of MLC a year ago). Entering as the overall No. 1 seed, CUT was challenged but never really tested in pool play.
That was not the story in Sunday bracket play, as the University of Chicago took half in pre-quarters before Carleton surged in the second half to win 12-10. Iowa came out gunning for their regional opponent and after two quick breaks found themselves up 3-0. IHUC calmly handled CUT's defensive intensity in the first half and took it into the break 7-5 after a 15-minute point. The second half was completely different.
Carleton held and broke to open the second half and ran Iowa into the ground, outscoring Iowa 5-1 in the second half to win 10-8 in cap. That level of fitness and intensity is something CUT coach Phil Bowen said the team knew was an advantage coming to MLC.
During the Chicago game, Sol Yanuck and an Chicago player debated a goal for several minutes before Bowen told him from the sideline, essentially 'the longer we argue, the more time they have to recover. This discussion is only benefiting them.'
"It's not a knock on other teams, it's just something that we want to make sure that when we're thinking about ourselves," Bowen said. "We're confident that if we keep applying the pressure, other teams eventually are going to either make mistakes, or we're going to take the disc away, and be able to let those breaks pile up. If not early, then we've got a chance to get them late."
Carleton rolled through Minnesota in the semifinals, opening with a 4-1 lead and finishing with consecutive breaks over Grey Duck to win 13-8.
Their opponent there would not be Wisconsin, Case Western, Texas A&M, or Colorado, each teams that have made Men's College Nationals in recent years, but one of the unknown entities in attendance: LSU. Purple Haze won their non-power pool and worked their way through the bracket to surprise everyone in attendance but themselves.
There are aspects of their 11-9 prequarters win over Wisconsin that LSU would probably like to have back. Ahead 10-8, an LSU defender bid into the legs of a Hodag cutter well after the throw was caught. Thankfully, there were no injuries on the play, but away from the foul, a verbal confrontation arose between an LSU player and a Wisconsin player that nearly turned physical. That animosity was not resolved before LSU won in hard cap, and some of it was present in the high five line and words exchanged after the game.
LSU was a huck-happy team all weekend and used turnovers as fast-break longball opportunities to great effect all weekend, especially against Case Western in quarters. The Gobies broke first but didn't get an offensive hold until LSU had four breaks of their own: LSU took half 7-2 and won 11-6.
"I don't think we ever for a second doubted ourselves, which has kind of been untrue in the past," LSU coach Kyle Breen said, "where we may have gotten down and let that get into our heads."
Breen said there were freshmen on LSU who remembered seeing teams at MLC at College Nationals year in and year out and were both excited and somewhat intimidated by getting a chance to play them.
That intimidation factor went away as soon as LSU saw it could trade punches with nationals-caliber teams, and their semifinal matchup against Colorado demonstrated that perfectly. Mamabird was broken first, and other than two very long rules discussions, the game went off smoothly and LSU held into half to keep the game on serve.
Colorado was broken out of half and then again right before hard cap. Down 10-7 and playing only for themselves, a Mamabird player dropped the pull and LSU scored quickly to win 11-7 and advance to the final, where they ran up against a juggernaut.
"Carleton is a phenomenal team," Breen said. "Fundamentally sound in all aspects of the game. But being able to come out and play not just Carleton, but come out of a bracket with Wisconsin, Colorado and Case Western, and then finishing with CUT — it's great to see. After pool play yesterday and facing teams today that we were unfamiliar with, and playing these high-level, nationals-caliber teams and doing well against them, it's really really exciting and gives us something to look forward to."
Tom Echols, playing in his fifth year of college eligibility, was still clearly the on-field leader for LSU. Dylan Reviere and Matt Freeburgh, both freshmen that helped lead Baton Rouge Catholic to a High School National Invite title earlier this year, and Kody Kempff all made significant contributions on the weekend as well.
Carleton, despite the convincing weekend, wasn't even at full strength in Columbia. Yanuck, Ethan Bloodworth, Stan Birdsong and Henry Fisher were there, but CUT was missing Alex Olson, Joe White, Tim Schoch, and Eric Taylor to a U24 Team USA practice weekend in Atlanta. Carleton showed that their depth on offense and defense is hard to match at this point in the season as every player in attendance was involved.
"I think this was a great example of a fall tournament and getting a lot of contributions across the entire roster, which is fun when that gets the rookies bought in," said Bowen. "Everyone had a lot of fun, so certainly a bonus when we can play well and we want to play well, we want to win, but not at the expense of making sure that the new players are getting a lot of touches."