While the fall staple was cut short, some teams cut their teeth, and we've got a few takeaways.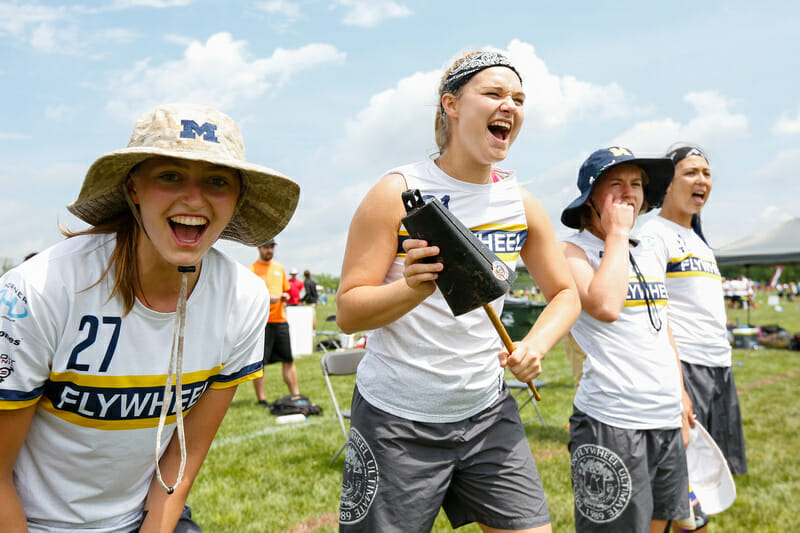 Ultiworld's coverage of the Classic City Classic is presented by Spin Ultimate; all opinions are those of the authors. Please support the brands that make Ultiworld possible and shop at Spin Ultimate!
ATLANTA — Classic City Classic is a staple of the fall college calendar and, per usual, was a good launching point for many seasons in the Southeast and for a few visiting teams traveling into town. Unfortunately, consistent rain on Sunday cut the 2017 edition short, depriving teams of a chance to be the champion, and leaving us with more questions than answers.
Of the twelve teams that gathered in Athens, GA at the Intramural Fields, Michigan, Auburn, Georgia, and Kennesaw State were the best performers, reaching the terminal semifinal round. It was chilly for both days, but Sunday's constant precipitation dulled the mood and enhanced the cold. It's also worth noting that the quarterfinal rounds were played with knowledge there may not be further rounds of play.
With that backdrop in mind, what follows are a collection of observations from the six rounds of play that took place.
New Threats in the Southeast
We may have some new faces atop the Southeast region's unofficial power rankings, fresh favorites to look at going into this spring. The region has been the domain of Georgia, Florida, Florida State, and Central Florida for most of its modern existence. But this weekend's showings from Kennesaw State and Auburn are evidence that some unfamiliar teams could break in. Each has a star helming the team in their final season – Samantha Daugherty for KSU and Kristine Fedorenko for Auburn – and some quality pieces around those key players. It'll be a question of depth and strategy for these teams. KSU's only loss was to Michigan, coming amidst wins over Central Florida, and Georgia Tech. Auburn went undefeated at the tournament, the only team to earn that distinction, with some big blowouts victories along the way.
Neither of these programs has much experience in pole position. Neither has been to Nationals, or even come close of claiming a spot there. In fact, KSU is only a few years young, and while Auburn has more history, it's merely dotted with up seasons of regional notoriety. The region's reigning champ and likely favorite, Florida, was not in attendance, and Georgia played well. The 2018 regional title looks it could be claimed by any of these teams.
Michigan and Notre Dame Adapting to New Roles
It was clear both of the out of region teams in attendance are still figuring out how to adjust to being without disc-dominant stars. Hannah Henkin and Tracey Lo had been the most productive players on Michigan for a couple of years, and the team enters this season without about 75% of their assists from 2017. The same is true of Notre Dame, who lost Julia Butterfield, MK Andersen, and most of their experienced scorers.
Michigan turned the keys over to Brittany Wright and Phoebe Hopp, and the results were solid. Flywheel defeated KSU 13-8 and took down Notre Dame 10-5, with their only loss coming to UCF, whose zone stifled Michigan in the second half, forcing them a bit on their heels, tripping over all the red flags of early season play. Things are obviously a work in progress for the Michigan, although they displayed the most balanced and established fundamentals of any team at the tournament, attacking the break side and moving the disc with pace.
Notre Dame WOMB, the weekend was inconsistent, as they tried out some newer players in central roles. Sarah Lipscomb is still a firecracker downfield, but so much of the team is new, and it'll be interesting to see if Notre Dame can keep her cutting. They stumbled during pool play, finishing 3rd in Pool B after losing to Auburn and Georgia. In their final game, they fell to Michigan pretty handily.
A Mixed Bag for the Rest of Southeast
Even without Florida, CCC does give a clearer picture of what the region looks like. Georgia and Central Florida will be in the mix. Gayeon Ko, Alex Fairley, KT Truszczynski, and Brett Pollock led the way for Athena1, who came very close to knocking off Auburn and thumped a short-handed Central Florida unit. Meanwhile, UCF's combo of Mia Griner and Chloe Baldino handled most of the offensive work while their small rotation trotted out their traditional zone. Griner's built a colorful palette of throws to create offense for UCF, but Baldino missed time with injury and their offense struggled after that.
The rest of the region seems a step behind. Georgia Tech graduated a lot of talent and experience, but flashed some potential at CCC. Emory looked improved from last year. Both added developmental teams to their programs this season, which could to have added benefits come late spring and in the future. Florida State remains very athletic, but missed the key throwers they graduated last year. It seems unlikely that the Southeast will have more than one bid and there's a layer of teams at the top that look to separate this group from getting close to that grail.
---
Georgia rebranded from Dawgma, I believe a victim of bureaucracy. ↩