Establish your goals, lead by example, and know your cheeses.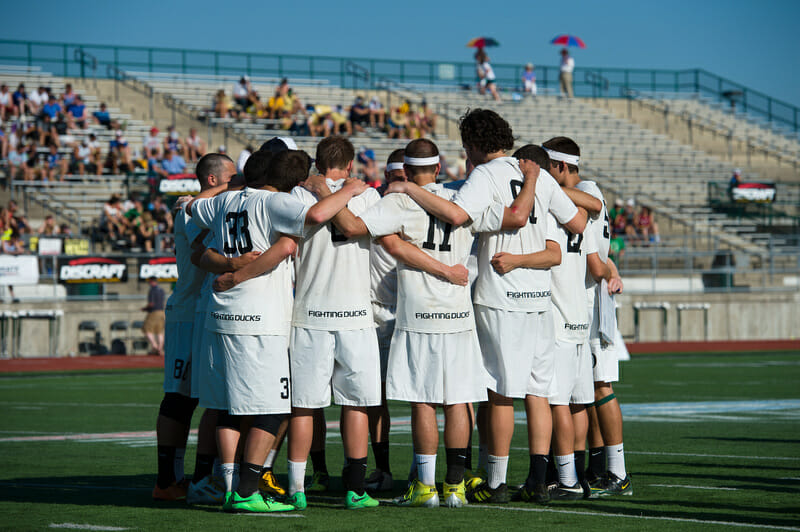 This article is presented by Spin Ultimate; all opinions are those of the author. Please support the brands that make Ultiworld possible and shop at Spin Ultimate! 
The fall series is underway and the college regular season is right around the corner, meaning some of you are bringing your teams to your warmup tournaments, while others are smoothing out rosters. This is a time when captains start to step into their roles and their leadership gets defined.
At its easiest, managing a college team is a handful. Besides trying to wrangle twenty-odd adolescents, you'll have a full range of responsibilities depending on the depth of your leadership team.
Here are the top five things you can prioritize as a captain to successfully move into the spring:
1. Establish A Goal Together
Early on, sit down with your leadership crew and decide what your goals are. Does the team want to go to Nationals? Play out ten sanctioned games? Have a B-team?
Whatever goals the team identifies, make sure they are attainable and that you have a plan to achieve them. If it's a competitive goal that involves winning a tournament or earning a bid, set a focused tone early on so that there are no surprises down the line. If it's a culture goal, commit to your messaging early and often. Remind players of what they agreed to.
There are so many teams across the division that make up a wide spectrum of possible goals. While programs that have been on the circuit for years may expect to play the postseason, newer ones may take some more coaxing for that idea to become normal. If it isn't communicated from the start, you can't expect people to automatically commit until March. Once the leadership has decided on a goal, prioritize communicating it with the whole team, along with designing a structured strategy of how you will get there.
2. Be Dependable & Humble
One of the most important things in leadership is making sure that you are dependable. Your teammates should look up to you as a player. They should feel like they can come to you for help and that you are accessible. Be clear about the expectations you have for the whole team and lead by example. If you ask your teammates to be on time to practice, be early.
Know that being a captain is a big responsibility, and keep in mind that sometimes that responsibility will come with challenges. You won't always be perfect, so be ready to take mistakes in stride and own them.
You can demonstrate dependability and humility with a few other key actions:
Delegate to your other captains and senior players according to strengths (ie. logistics, strength and conditioning, fundraising, etc), when you need help.
Absorb feedback from players, coaches, and alumni.
Be the ringleader for extra workouts, throwing sessions, and team hangs. Show that being a frisbee nerd is totally cool.
3. Build A Team, Build A Program
Think of this as establishing a legacy. A captain's first priority has to be player retention and the biggest part of that is creating an environment that people want to be a part of. Team vibes are key to what makes a team identity.
Setting a one-year team identity is the foundation for a program. When it works, it will stick. Maybe your team's thing is being super straight-edge serious; maybe it's being goofy. Most of it will happen naturally, but it should be your priority to help things along and be a guide.
There will be obstacles. Sometimes you'll have a great player who just doesn't fit into your team identity. It can create a divide between the rest of your team. The hard work is deciding the value of whether that player contributes enough on the field levied by the damage they do as well.
4. Play The Long Game
This is all about cultivating young players. As a captain, you have to respect the brevity of the college cycle and know that sometimes you'll have to take two steps back to take a step forward. The long game is all about development for the future–more often than not it's easy to focus on depending on your best players, but they're not going to be around forever. You're not always going to be around either. Finding ways to challenge your developing players at practices and tournaments will help your program in the long run.
As a captain, it's important to make your players feel wanted and to connect with them. Even if they're not currently one of your starters, find ways to help them feel like they're a key member on the team. Foster their inspiration, and push them to be the best they can be. You might find that they'll be the ones inspiring you to be better yourself. A sense of belonging contributes to long-term success.
5. Know Your Cheese
I've gotten in the habit of describing people as cheeses. All cheeses are good (in my opinion), but all cheeses are different. It's mostly a lame metaphor for describing how people flourish under different types of coaching.
People learn differently, so they react to coaching differently as well. Any athlete knows that coachability is a huge part of being an integral teammate, but they also can't change how they naturally react to feedback. If you feel like one of your teammate's isn't responding to coaching, maybe it's time to re-evaluate their cheese.
Here are my cheese flavor profiles.
The Hard Cheese
With these players, yelling, in-game feedback, and coaching in front of other players are acceptable techniques. A classic hard cheese can take the criticism, but sometimes you need to be extra persistent to get through to them. Reinforcing instinctive feedback that you give during a practice or a game with a planned email is a good way to go. A hard cheese needs straightforward and concrete information to help them implement the skills.
The Soft Cheese
These players are often malleable and supple. A soft cheese needs a little more caution and a lot more delicacy before you put them on the spot. Instead of calling them out in front of their teammates, pull them aside for a conversation or set up a phone call after practice or at the end of a tournament weekend. Often, if you over-criticize a soft cheese they can end up shutting down, deflecting, or just getting really upset. It's a lot more beneficial to both parties if the delivery is in a controlled environment and they don't feel attacked.
One of the toughest tasks that captains undertake is being hard on people. When there's a problem, sometimes you'll have to be the front line to address things. If you're aiming towards being competitive, set the precedent early on that there are consequences for attitude, laziness, or not showing up.
***
Captains get to build so many skills and moments in a season. From establishing team goals to creating a program legacy, you have the opportunity to do something meaningful and change lives with your leadership. Think about how you'd like your team to remember your time in leadership.
Although it might feel thankless at times, you can be drive the environment that makes a student's time at university memorable. Whether you have a leadership contingent with captains and coaches, or if you're on your own, adapt a list of your own priorities to being successful and true to your program.
Okay, one more bonus priority.
6. Social Media Visibility
Consider setting some boundaries with your team about what goes on to social media. Nowadays, it's pretty common for teams to have handles on Facebook, Twitter, and Instagram, but it also means that your visibility goes way up to your school's governing bodies. Especially with the rise of ultimate's popularity, programs are more frequently followed, monitored, and celebrated by their college. This media boost has been instrumental for the growth of our sport. Be sure that you and your team know what the limits are for online sharing. Stick to scores, fun culture posts, and skip the videos about partying.