The college fall rises to a crescendo this weekend!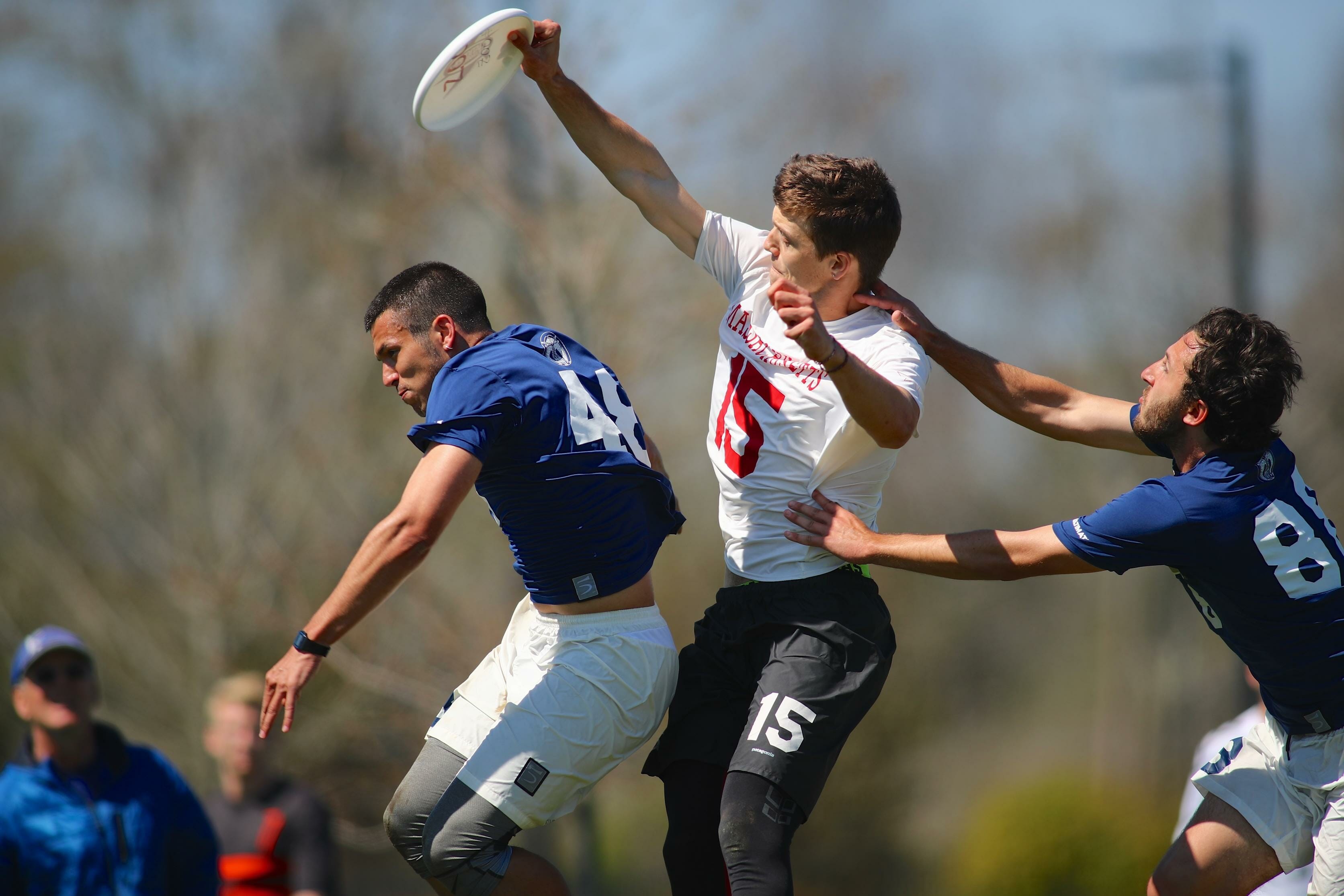 This article is presented by Spin Ultimate; all opinions are those of the author. Please support the brands that make Ultiworld possible and shop at Spin Ultimate! 
Despite taking place a month later than normal this year, the Classic City Classic — set on the historic University of Georgia campus — remains the capstone tournament of the fall season in the Men's College Division. It's our first chance to take stock of many of the best teams from the East Coast. We break down the tournament piece by piece below.
Tournament Profile
Date: December 2-3
Location: Athens, GA
Weather: Highs in the mid 60s, lows in the mid 40s, little chance of rain or wind
2017 Nationals Qualifiers: 6
Format
With a 24 team field and four pools of six, CCC features lots of games and short rounds during pool play on Saturday. The top two teams from each pool advance to the quarterfinals; there are no prequarters. With rounds only lasting 85 minutes, getting a fast start is paramount.
Rounds on Sunday are a full two hours and allow for the first "Nationals-like" competition most teams face during their season.
History
You don't have to reach far back to see that success at CCC typically portends for a strong Spring season. Last year, UNC Wilmington took home the crown at CCC and ended up in the National final in May. Six of the eight quarterfinalists made Nationals. The year prior, UMass won it and then dominated the regular season. In 2015, Pittsburgh won CCC and had a tremendous regular season with their potent offense led by Max Thorne and Pat Earles. In 2014, a Jon Nethercutt-led UNC easily won CCC and eventually lost to a Jimmy Mickle-led Colorado in the National final.
One commonality of the CCC champions the past few seasons: they've all had great years, but none has won a National Championship.
This Year's Contenders
The best team at this tournament is North Carolina. Let us not forget that UNC smashed the eventual 2017 champions, Carleton, during pool play at Nationals and were in firm control of their semifinal game against intrastate rival UNC Wilmington before Jack Williams pressed the turbo button. It does feel like UNC choked away a good chance at a Championship last season. Lucky for them, they get a re-do, much like they did in 2015 after they came up short to Colorado the year prior.
Pretty much everybody is back for UNC, including Norman Archer, Nick MacLeod, Walker Matthews, and key handler Matt Gouchoe-Hanas. 2017 Rookie of the Year Kai Marcus should continue to be a big part of the team's success, and fellow sophomores Anders Juengst and Tommy Williams provide additional talented depth.
Oh, and I forgot to mention: UNC is picking up the best high school recruit in the nation, and one of the best male players to come out of high school in years1: Liam Searles-Bohs.
I still remember watching Carolina Friends School playing in the High School Division at the Queen City Tune Up many years ago and chatting with some North Carolina folks. They said, 'Check out that guy — he's a freshman and might be their best player.'
Searles-Bohs has already achieved a lot: three YCC titles, superlative success at the high school level, and a selection to the 2016 USA U-20 National Team. He got meaningful minutes at the handler spot for the Raleigh Flyers this past AUDL season. He enters college with the UNC coaching staff already planning for him starting on the offensive line.
Unfortunately, he, along with some other top UNC players like Gouchoe-Hanas and Elijah Long, is dealing with some lingering injuries that could limit playing time in Athens. We'll see if they can play through it and take home their first CCC crown since 2014.
***
Massachusetts, coming off of a semifinals appearance at the College Championships, is ready to get back in the mix with a strong group of returners. They will be without 2017 College Player of the Year Ben Sadok, who graduated in the spring, but bring back Tannor Johnson, Brett Gramann, Chris Bartoli, Pat Barron, and a host of others.
UMass will feature one of the best O-line cutting corps in the country this year, headlined by Johnson, who is coming off of a tremendous club season with Boston Slow White and an Offensive Player of the Year (and 1st Team All-Club) selection in the Mixed Division. Pat Barron was an explosive deep threat for ZooDisc last season and figures to continue to grow in that role.
Gramann, the 2015 Rookie of the Year, seems poised to take over duties at the center handler position after Sadok's departure. While Gramann may not feature the same creativity as Sadok, he has long been an extremely reliable reset and excellent decision maker. He is joining Johnson in Perth, Australia, as they compete together for the Under-24 USA Mixed National Team next month.
Sophomore Jake Radack was a starting O-line handler last year and one of the best rookies in the country. Expect to see him in the backfield as well this season.
UMass' biggest challenge this year will be to reconfigure their offense to allow the cutters to do more. Sadok was a singular talent that could feature as the centerpiece of an offense, both as a thrower and a surprisingly effective deep cutter; now the reins need to be handed over to Johnson, who will have few equals downfield this season.
UMass will be splitting their squad internally at CCC with an X and a Y team that will switch back and forth between playing offense and defense each game. Subbing will be open on Saturday. The team may tighten the lines for Sunday, and we may see more of the likely starting offensive and defensive lines if they advance to the bracket.
***
The other primary contender this weekend is Pittsburgh. The Brotherhood proved without a doubt that they have developed one of the strongest programs in college ultimate with a quarterfinals finish at Nationals last year despite graduating Callahan winner Trent Dillon, Max Thorne, and Pat Earles the year prior.
While the team loses some firepower again this season (Sam VanDusen, Carl Morgenstern, and Jack Slevin depart, among others), there are plenty of reasons to be optimistic. The team is very deep and shouldn't have a problem filling holes on their O and D-lines. The team again got a great recruiting class. And three current Pitt players made the U24 National Team: Mike Ing, Dylan Best, and Jonah Wisch.
Ing, now a junior, is one of the most exciting players in the country. He earned 2nd Team All-Club honors this season playing for National finalists Philadelphia AMP and was arguably Pitt's most effective player at Nationals last May. Ing mostly played defense for Pittsburgh last year, but it wouldn't be a surprise to see him playing more offense this year, given his versatility and effectiveness as a cutter.
Wisch will likely continue as the team's centerpiece handler. The team has some shoes to fill with Slevin and Thomas Edmonds departing the backfield, but Wisch will provide good continuity for the O-line.
Best and Dylan Tranquillo, along with Wisch, are also back for a fifth year; a strong senior class — featuring Andrew Lehmberg and Kyle Hartley — will also bring lots of experience to the table.
Teams To Watch
Every year, some teams announce themselves as Nationals contenders with a big performance at CCC. While this is not an exhaustive list, these are some teams to keep an eye on this weekend:
Brown: With Mac Hecht and Eli Motycka back for another season, Brown's been getting some deserved buzz. They pick up five star recruit John Randolph (Seattle, WA) and bring back big cutter Charlie Holtz for a fifth year. Last year, their offense was top tier, but their D-line was abysmal. If they can build some offensive consistency on that side of the disc, they will be a Nationals contender. But let's start small: Brown has a very winnable pool at CCC.2.
NC State: A superb rookie class (including Conor Chickos, Sean Murray, and Austin Von Alten) is a year older, and the team had its best season in years this past Spring before coming up short at Regionals. Davis Mossman is gone, which leaves some big shoes to fill, but the future is bright for the Wolfpack. Can they maintain their trajectory this season, or are they still a year or two away?
Michigan: The perennial qualifier out of the Great Lakes loses big-time playmaker Noah Backer, but Jake Steslicki is back and should be one of the best players in the region.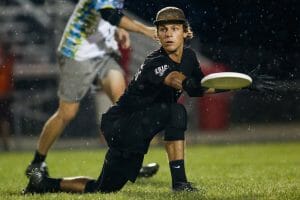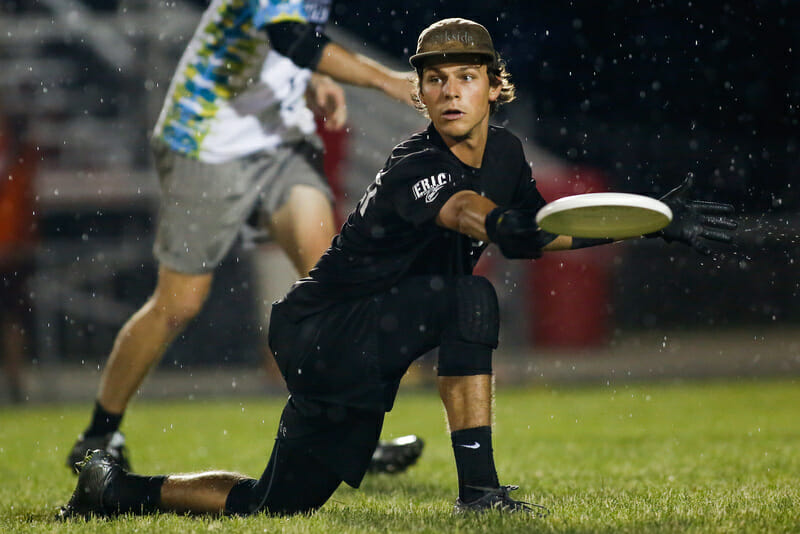 Georgia: Let's get this out of the way: Parker Bray is gone. While losing one of the most exciting offensive playmakers in the country can't be spun as a good thing, it's clear that UGA needs a more sustainable game plan than 'let our best guy do everything.' That's what they're looking to develop this year. They're gonna need it to, since Nathan Haskell isn't returning to the team this year. John Langstaff is back for a fifth year, Sam Batson is back, and the team could be back in the driver's seat in a thin Southeast region. Oh, by the way, I asked Batson about what he thought of Matt Gouchoe-Hanas' hat: "I mean, it's aight." Shots fired.
Emory: Easily the buzziest team in the Southeast, Emory flirted with a breakout season in 2017 but never fully delivered. This year, the Atlanta-based team could make the leap into the top echelon of the region. Anders Olsen and Daniel Sperling are key playmakers, and Mike Bartell, a former U-20 selection, is their primary handler. They've got a great chance to make the bracket and will have a big test in round one against Pittsburgh.
Final Thoughts
Outside of the top three teams, there are plenty of unknowns heading into this year's CCC. The most-represented region — the Southeast — is wide open this year; I didn't even mention the Florida teams above! It should be a great weekend of ultimate with mild weather and almost no wind. Follow along with the action on @Ultiworldlive and right here on Ultiworld.
---
Jaclyn Verzuh graduated high school in 2015, y'all ↩

Randolph will unfortunately be out this weekend as he recovers from a broken toe ↩