An emerging picture of the upcoming season.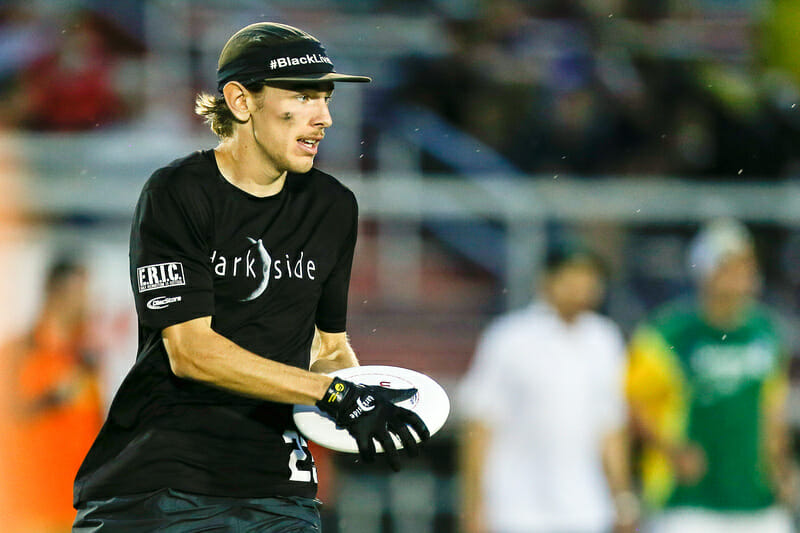 This article is presented by Spin Ultimate; all opinions are those of the author. Please support the brands that make Ultiworld possible and shop at Spin Ultimate! 
ATHENS, Ga. — Not much went according to expectations at the 2017 Classic City Classic, laying the foundation for an exciting 2018 college season. Aside from a strong title-winning performance from the favorite, North Carolina, many of the results defied earlier prognostication.
One thing is certain: success continues to beget success. The top five finishers all competed at the 2017 College Championships; the only Nationals qualifier not to reach at least the quarterfinals was Pittsburgh.
We break down the action from an exciting weekend in Athens in our tournament recap.
UNC Takes Down Michigan To Win First CCC Title Since 2013
After some close calls along the way, North Carolina Darkside emerged as the 2017 Classic City Classic champion with a 15-13 win over Michigan MagnUM.
UNC held a slim advantage throughout the final, fighting off a potential late comeback for Michigan. North Carolina's offense was simply too skilled and consistent to give Michigan's defense many chances to break, a hallmark of Darkside's program over their past few seasons.
Perhaps even more impressive, UNC was executing without some of their most critical players. Captain and handler Matt Gouchoe-Hanas was sidelined, taking up the coaching mantle, with no other coaching staff on hand. Star freshman Liam Searles-Bohs was also out with an injury.
That led to more time for role players like Thomas Williams and Andrew Mouw. Walker Matthews, Kai Marcus, and Andrew Cohen were the most involved offensive elements, with Cohen tallying an impressive five assists and two goals in the final. Elijah Long marshalled the defense, sometimes with the assistance of Matthews, and Long tossed in three of North Carolina's four breaks and caught the other.
The first of those breaks came on the third point of the game, Darkside's second defensive point. Michigan's power handler, Jake Steslicki, missed Wes Chen on a deep forehand, and North Carolina waltzed up the open side, hitting unders until Long sighted an away shot for the goal. They added a second break on a Matthews to Long connection that made it 5-3, after Matthews out-jumped Steslicki for an interception on a huck.
Michigan stayed in the game thanks to an aggressive deep game and smart defense after the turn. They continued to strike deep in the first half, including to get their first break, when Daniel Lee skied Marc Rovner on both defense and offense to set up a short break throw to Raymond Choi to tie the game at 5-5. Steslicki and sophomore transfer Nathan Shapiro were the primary gunners for MagnUM, with Daniel Lee, Parker Howard, and Chen, a speedster who had a great weekend, often being targeted by their big throwers.
"We're a team that plays with fire and joy. We're great at embracing the momentum of games," said Steslicki following the loss. "We sometimes live and die by the long ball, and we like to make big plays and take chances."
While Michigan's ability to win in the air was their biggest advantage, it wasn't enough to overcome the disciplined UNC offensive machine. When North Carolina got away from their clean resets, fast disc movement, and well-timed isolations upfield, Michigan was able to capitalize. They gobbled up Darkside hucks to mismatches on defense. But their switch-heavy defense gave lots of room for UNC unders, and once North Carolina was isolating Michigan defenders with smart spacing in the second half and hitting the break side, the opportunities to switch became fewer and fewer. Michigan did get one late break, a lefty hammer from Ian Crowley that brought Michigan within one, that came after an uncharacteristic red zone turnover from UNC, but the game was mostly in North Carolina's grip. They closed with a pair of one-possession holds that exemplified their offensive strengths.
"It's a good benchmark of where we're at, relative to other teams," said Gouchoe-Hanas after the final. "But we can never be content with this. The team that's won CCC the past couple of years hasn't won Nationals. Any team's goal should be win Nationals, right? [CCC is] not enough."
Impressive Teams
Michigan: Few teams can claim the programmatic background that Michigan can and still be perennially overlooked. But with a big showing at CCC, including a final appearance with wins over UMass, Auburn, and NC State, Michigan will be firmly on the radar going into the spring. After back to back bracket appearances at Nationals, MagnUM has earned some respect.
"MagnUM, this is our 21st year, and we're really close with our alumni. There's a lot of tradition that we're proud to have," said Steslicki. "In these recent years, since Tyler Kinley has come on as a full time coach, we've made Nationals. We're just trying to keep building up."
Even without Noah Backer, Alex Russomanno, and a pretty solid list of contributors, Michigan looks poised for a strong year. Part of that is the development of Jake Steslicki, Wes Chen, Daniel Lee, and role players like Parker Howard and Sam Vetromile. Part of that is adding in a talented young transfer student: Nathan Shapiro (PoNY '17), who brings the dynamic throwing ability that this 2018 roster needs. But a lot of it will be its smart, switchy defense; athletic offense; and an intelligence about how to optimize the team's strengths.
Auburn: I'll admit that I wasn't tracking Auburn going into the Classic City Classic, but it took only a point or so of seeing who they had on the line to make me aware of their ceiling. Aetos returns a healthy chunk of their key contributors: Martin Newman, Eric Sjostrom, and Michael Strobel are the headliners. The Smith twins, Luke and Sam, both Georgia All-State selections as high school seniors in 2017, were tall and talented, immediately slotting into the team's top end. And they still have the energetic sideline, led by Hank Womble, that is the core of their identity. They are the clear favorite to win the Southeast again this season.
Cincinnati: Cincinnati zinged me lightly on Twitter for not mentioning them in the CCC preview, and, you know what, that's totally fair. They were clearly among the better teams at the tournament, led by the impressive play of U24 Men's team member Keegan North. While the team won't be running three lines deep this year, they have enough top-end talent to threaten for a Nationals berth.
"Our offense [is our strength]," said North. "We're not a deep team. We thrive off a core group of guys. We're trying to get experience for these games through these games, because we're not used to playing top teams like this." Considering that the team played without Jacob Turner, their D-line leader, this weekend, you have to like their chances to make a splash in the Spring.
Disappointing Teams
Florida: With Billy O'Bryan back this season, some Southeast onlookers said that Florida was the team to beat in the region in 2018. That is clearly not the case. After barely surviving Kennesaw State in the first round of pool play, the Gators lost to UMass and UConn, made the ninth place bracket, and then proceeded to go winless on Sunday with losses to William & Mary, Brown, and Emory. It's felt like a steady decline for UF over the last few years, with the 'heavy rotation of star players' strategy proving less effective each season.
Emory: Perhaps the preseason hype was too great, but there's no getting around the fact that Emory did not deliver as a promising team out of the Southeast at CCC. After beating Pittsburgh in round one, they took losses to UCF and NC State in pool play and missed the Championship bracket. Honestly, that's not too bad. Both of their losses came to teams that looked good this weekend. But then came Sunday, where they lost to Ohio State and Tulane before beating Florida in the 15th place game. While Emory features some top talent, they are very inconsistent and have a lot of work to do — both in execution and mentality — to challenge for a Nationals bid in 2018.
Pittsburgh: A 3-0 Sunday made for a nice bounceback for Pitt, but 11-8 losses to both Emory and NC State in pool play raised some eyebrows around the tournament complex in Athens. Pittsburgh was the only 2017 Nationals qualifier at the tournament not to make the Championship bracket. While Mike Ing was as good as advertised, it's clear that heavy losses to the primary D-line from last season (Sam VanDusen, Carl Morgenstern) as well as two stalwart offensive handlers (Jack Slevin, Thomas Edmonds) have left Pitt with a lot of work to do. While they're starting from a weaker position than in previous seasons, don't doubt them: they'll be back at Nationals and challenging for the bracket as always.
Brown: Another team that may be on this list more due to high expectations than the actual wins and losses, Brown looked undisciplined en route to a 13th place finish. While they will surely improve from here (for one, their star recruit, John Randolph, did not play), they have a lot of work to do to be competitive with top teams, as they relied heavily on a few key players like Mac Hecht and didn't show off a sustainable offensive system. A number of their losses (Michigan, Auburn, Pitt) are understandable, but dropping a pool play game to South Carolina shows the kind of inconsistency that has plagued the team for a few seasons. Closing out the tournament with wins over Florida and Tulane is encouraging, though.
Regional Implications
Atlantic Coast: As we discussed during our surprise livestream of the final, there's a legitimate chance the AC is the strongest region in the country. Heck, they might have been last year, producing a pair of semifinalists and claiming three bids to Nationals. North Carolina will be a title contender in 2018. NC State made the bracket at CCC and beat Cincinnati in consolation play. While not at CCC, UNC-Wilmington returns plenty of admittedly-not-Jack-Williams talent and Virginia Tech brings back Joe Freund. Only the North Central looks like a challenger to the AC's claim.
New England: While UMass still looks like the cream of the crop and easily made semis at CCC, their big loss to Michigan leaves a lot of questions. First and foremost: how do they find their way on offense in the absence of Ben Sadok? "The challenge certainly is that Ben can keep a offense alive on his own," said coach Russell Wallack. "But with a player like that, an offense can drift away from its fundamentals. There's almost a little too much gravity on that player. It's created an opportunity for us to have a much more balanced offense." UMass' O-line was stymied by Michigan's switchy defense in the semis and they never found a rhythm. Luckily for them, they are still head and shoulders above the rest of the region. Brown's got promise but still lacks depth and consistency. We await seeing more teams, like Tufts and Harvard, this spring.
Metro East: Sure, UConn was the only team at the tournament from the Metro East. But what else do you need to know? UConn remains the cream of the crop in the region, led by Wally Esker's midair play, and should easily return to Nationals. Their fifth place finish — their only losses came to UMass and UNC — and senior-heavy team show that they will again be competitive at any tournament in which they compete.
Ohio Valley: The jury is still out on Pittsburgh's outlook, but they still have the talent and leadership to remain the favorite in the OV. But they may have to look over their shoulder at Cincinnati, one of the most impressive teams in the CCC field. Teams like Case Western could play wild card, but watching the performance of these two squads and the region as a whole will be one of the storylines of the spring.
Southeast: As noted above, Auburn will be the clear favorite. Everything else is a pretty large question mark. Central Florida had the best results of the remaining teams in the region, beating NC State and Emory, with an asterisked loss to Pittsburgh where UCF had already clinched their position in the pool. Adam Vinson drove the offense for them, and that was basically enough. Florida, Georgia, Georgia Tech, and Emory all failed to impress. There's plenty of reason to doubt that any of these teams, beyond Auburn, can scrounge up the rankings points necessary to pull in a second bid for the region, though there are enough good teams to make sure Regionals is as wild as ever. Will the region pin its hopes to a talented, but historically unreliable, LSU team? They may have to.
All-Tournament Line
Keegan North (Cincinnati)
Martin Newman (Auburn)
Walker Matthews (UNC)
Jake Steslicki (Michigan)
Mike Ing (Pittsburgh)
Adam Vinson (Central Florida)
Daniel Lee (Michigan)
Notes & Quotes
– For every college team that has a Nick Kaczmarek or Tiina Booth roaming the sideline, there is a team that still competes without a full-time coach, relying on captains to call lines and draw up strategies. But it's getting hard to watch really talented teams like Cincinnati and Auburn miss out on the benefits of dedicated coaching. Obviously both teams played well this weekend, but it seems that they're leaving a lot on the table. Auburn, for example, gave up the same isolation side stack pull play to UCF on almost every single point of their quarterfinal game. Yes, Auburn won, but where are the adjustments? That team could be a serious contender at Nationals — think FSU with Chris LaRocque and coached by Pete van de Burgt — but they will need to have more strategic guidance. They do not, however, need any help motivating their sideline. Hank Womble's got that on lock.
– Michigan's Jake Steslicki on the team's deep ball identity: "That's just part of how we are. At Michigan, we don't have a strong YCC team, so we don't have the talent coming in of a UNC or UMass. We just get a lot of raw athletes that played other sports in high school. So we can't small ball with UNC, but maybe we can beat them in the air."
– UNC's Matt Gouchoe-Hanas on having experience and what that means for their fall process: "We've got plenty of returners and a lot of familiar faces for sure, but every team is a new team in a new year, and just having returners doesn't inherently make us good or successful as a unit. We're out here taking steps towards being the best team we can be. I wouldn't even use the term 'fine-tuning' — we're building."
– The weather was fantastic for early December: highs in the mid to upper 60s. It was also a great weekend to be in Athens: the Georgia Bulldogs won the SEC for the first time since 2005, clinching a berth in the College Football Playoff.
– The dab is out. 'Dilly dilly' is in. Please no.