The 2018 college women's season officially gets underway, starting in Apopka, FL, with plenty to prove in the season opener!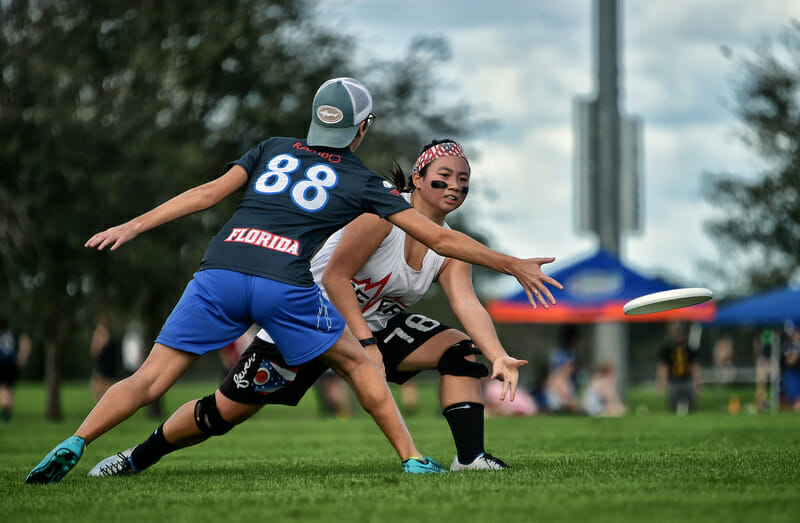 Ultiworld's reporting on Florida Winter Classic 2018 is presented by VC Ultimate. All opinions are those of the author. Please support the brands that make Ultiworld possible and shop at VC Ultimate!
Tournament Profile
Date: January 13-14
Location: Apopka, FL
Weather: Temperatures from low 40s to high 50s, with 6-12 mph winds
Top 25 Teams: 4
It's that time of year once again: the start of a new college ultimate season. Florida Winter Classic is the unofficial herald of the spring, and until the first discs start flying in Apopka on Saturday, everything is possible for every team in the division. The truth is, no one knows exactly what will happen this year, and FWC will give us our first ideas of what may lie ahead.
This year the tournament features a top tier of six teams, and a lower tier of nine. That bottom tier could provide some clarity on a very murky picture in the Southeast, with Florida State, Georgia, and Central Florida all present. But the top tier is where the potential Nationals qualifiers lie.
Three Nationals teams from a year ago (Michigan, Ohio State, and Florida) will be present. So too will a couple of rebuilding programs in Kansas, and North Carolina-Wilmington. While West Chester, an intriguing unknown, and potential dark horse, will round out the top group.
The Known Commodotties
#20 Michigan Flywheel is the tournament No. 1 seed, but come into the tournament with question marks just like any of their opponents. Michigan loses program pillars Hannah Henkin and Tracey Lo, and it remains to be seen how the team is able to cope without those two.
Head coach Ben Murphy says this team is deeper than any Michigan team he's coached, and that should help soften the Henkin and Lo departures.1 "One of the awesome things about this group is that so many of our players can do some things amazingly well, and those players with multiple years of experience are a great example of the variety of skills and talent that this team brings to the field."
Flywheel has a strong number of players who have been in the program for a few years –including captains Brittany Wright and Nina Jancic who both played for Rival during the club season — and, though they aren't yet household names like Henkin and Lo were, Murphy believes they soon will be.
"I could give you names of players, but if you come watch a game, there will be somebody doing something awesome that I didn't name. One of the best things about coming to FWC is to see how players start to step up into those spaces and increase their role on the team," he says. "We're not a faceless army, either – every player has a vibrant and dynamic personality that shows itself on and off the field, and is part of how they add value to the team. It's awesome."
Murphy also touts last year's rookie class, as well as the additions of a few grad students who should contribute. So while Michigan may seem like a new crop to those who look for the known superstars, they still boast plenty of experience and talent. They'll be as formidable as any team at FWC.
#12 Ohio State Fever is in a similar place to Michigan as far as roster turnover. Stevie Miller graduated to a coaching roll, while Alaine Wetli and Mary Turner both depart the roster as well. But Ohio State still has one of the most exciting players in the division to lead the lines in Sadie Jezierski. She'll be supported by a fair few with plenty of experience at this level as well. Corinn Pruitt will be a top target for Jezierski, while Cara Sieber, Stephany Stumphauzer, and Aloria Rieff help make up a strong supporting cast. Assistant coach Miller even described Sieber as potentially a "dominant cutter."
Fever doesn't have as much obvious depth as Michigan does, though, so they'll need new players to help round out the bottom of the roster. The process of finding those players and growing them into those roles will begin this weekend, but it will have to happen without Ohio State's head coach DeAnna Ball, as she's currently coaching the U24 women's team in Perth. That leaves Miller at the helm for the team's first tournament of the season, so the weekend should be a learning process across the board for Fever.
"We are a team that has been successful because of the ability of our 5-6-7 players winning matchups on the field," said Miller, "and this year is no exception."
Of the three teams that made Nationals in 2017, #16 Florida FUEL has the most gaps to fill. Just eight players return from the team that went 1-4 in Cincinnati last year, capping off a 34-14 season. Courtney Testa, Lucy Berman, and Gabby Krajniak will provide the star power; Testa and Berman as athletic handlers and defenders, and Krajniak as a cutter with a knack for scoring.
But Florida, the tournament hosts, will need fresh faces to provide the depth that won them the region a season ago. Due to the relative weakness of the region this year, Florida still has a solid chance of making Nationals this season, so they shouldn't be dismissed simply because of the amount of new faces. Testa, Berman, and Krajniak will be three of the top players in the region, and the other players that return are not completely without experience.
"To be honest, I don't see it as much as stepping up but more as getting a chance to spread their wings and see the field more to prove what talent I know they have," said a confident Testa of her teammates.
Still though, this weekend will likely be more developmental than either Michigan's or Ohio State's. While it was surprising to see them make a run to the final at this tournament a year ago, it would be even more so to see them repeat that feat here with so many new players to get up to speed.
"[Florida Winter Classic] is always used to work out the start of the season kinks, check out some other competition, and use the depth of the team," said Testa. "We have had some pretty rough blows already with injuries and absences, so we will definitely be working through some of that."
The Unknown Quantities
UNC Wilmington Seaweed and Kansas Betty are both in similar states. Wilmington is bringing a small roster to the tournament and no longer have Klara Calderon-Guthe, a three time All-Region player in the Atlantic Coast. Kansas loses star Clare Frantz, as well as their two U24 tryout attendees Grace Roth and Kelsey Akin. Both teams finished well outside of Nationals qualification in their respective regions a season ago, but are now even more firmly in rebuilding phases. Neither squad will likely push for a National berth in 2018, but teams are formed over a number of years, and that process should begin fresh this weekend for these two programs.
#23 West Chester, on the other hand, is a veteran-laden group and has goals of reaching Nationals for the first time this year. They broke onto the scene at the end of last season when they won the Pennsylvania Conference Championships by defeating Pittsburgh 11-8. They then played Ohio State to double game point in pool play at Ohio Valley Regionals, compiling a 25-7 record for the season.
During the fall they fully confirmed their status as a team to watch by blowing out Pittsburgh, Ohio State, and Virginia twice at Blue Ridge Finale. Now they have an opportunity to prove themselves when it really counts as they travel to their biggest tournament in program history.2 They'll break that record again in a month when they head to Queen City Tune-Up.
"I expect [West Chester] to be one of the toughest teams not only this weekend but as a top regional competitor come time for the series," said Ohio State's Miller. "They have some great athletes who are becoming more refined year after year."
More than any other team attending this weekend, West Chester enters as an unknown. And tournaments like this are an unknown to them as well. But they are still heading down to Florida with plenty of confidence. Team captains Nayah Cruz and Lindsay McKenna think they're part of a team ready to make Nationals.
"After the fall season we have had I think that anything is possible for us. We have made a name for ourselves and proved we can hang with the high level big name schools and I believe this year is the year everyone will see West Chester's first Nationals appearance," says Cruz. "After being so close to receiving a bid to Nationals last year we have put in the extra time and effort to make sure we are ready when the time comes to reach our goal. As a program I don't think we have ever been stronger."
There's little doubt that West Chester has its strongest team ever this year. This is certainly the most they've been on the preseason radar, anyway. This weekend will provide a first glimpse for many on what kind of team they are, and would be the first step towards a run at Nationals.
Regional Jockeying
The rest of the teams at the tournament at likely looking to develop for the season with eyes on surprising at Regionals. This is particularly true of the Southeast teams, but each squad will be looking to cut their teeth and size up their season.
For the Southeast teams, No. 7 seed Florida State Seminole Ladies and No. 8 seed Georgia Athena are atop the two pools. FSU, who finished second in the Southeast last year, struggled while shorthanded at Classic City Classic this fall and lost some key talent that they'll need to replace. They're athleticism, however, will keep them in many contests. Courtney Read and Hayley Plants will be key cogs for a large team with a lot of fresh faces. Meanwhile, Georgia is a bit more experienced, benefiting from the presences of Gayeon Ko and a strong veteran class. There's real potential for Georgia to rear up in a wide open Southeast region, and this weekend could be the jumping off point.
Central Florida Sirens also cannot be ignored. They will rely heavily on Mia Griner and Chloe Baldino, although with their small rotation, each and every set of legs is fairly vital. But with their signature zone defense and their handlers' lovely throws, they have the potential to score upsets and frustrate opponents, especially if the wind picks up.
Valuing every set of legs will also hold true for Iowa Saucy Nancy, if their USAU roster is to be believed, sporting just 11 players for their trip to down south. While eight of those players are returners, including Brooke O'Hollearn, the team will have to adjust to playing without Liz Gronnert, Nicole Havel, and other contributors from last season.
---
Lo will be helping Murphy as an assistant coach this season, but won't be Apopka due to National team duties in Perth. ↩

In fact, it's also the furthest they've traveled for a tournament in program history, geographically speaking. ↩