Five teams in Ultiworld's Top 25 Power Rankings gathered for Bellingham Invite to check their progress. We've got the takeaways from one of the best preseason events of the college season.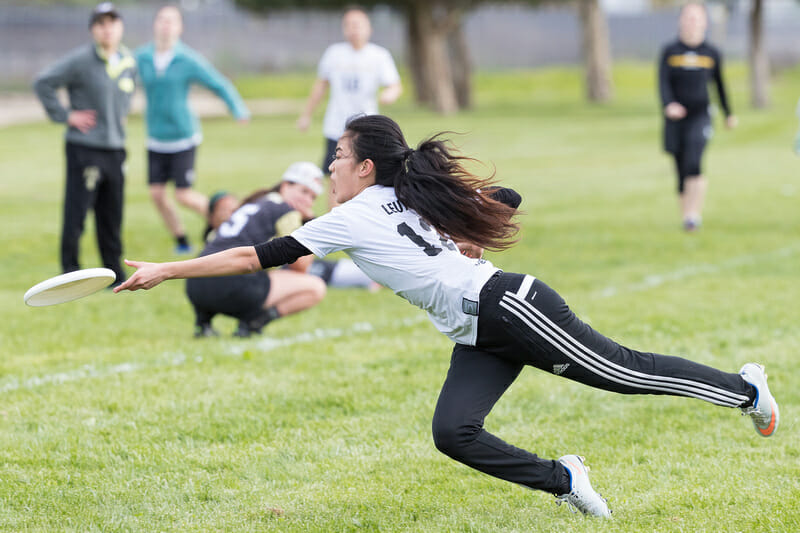 This article is presented by VC Ultimate as part of their season-long support of our women's coverage. All opinions are those of the author. Please support the brands that make Ultiworld possible and shop at VC Ultimate!
BELLINGHAM, WA — The top five Northwest women's teams spent a cold, windy Saturday playing an unsanctioned round robin at Bellingham Invite. The tournament is perfectly suited for rookie and roster development, and the gusting wind gave teams long points and plenty of practice. Yet in spite of the weather and open lines, UBC and Oregon still played a cut above the rest throughout the weekend.
Note: Most of the region's U24 players didn't play this weekend: Ella Hansen (Oregon) and Alissa Soo (Whitman) chose to rest their legs, while Maddie Gilbert (WWU) was sidelined with injury. UBC's Naomi Morcilla stayed in Australia to travel, and the team will likely miss her until the series. Janelle Siwa and Denise Su played the full day for UBC.
British Columbia Thunderbirds
The #2 UBC Thunderbirds won the round robin after beating the rest of the field handily and then holding a surging Oregon at bay in the final round of the day, winning 11-8. Judith Yeo, Janelle Siwa, and rookie Brianne Wager executed beautiful throws in the strong wind, while senior captain Ellen Au-Yeung dominated the lanes, catching anything in her orbit. Au-Yeung continues to be one of the best players in the division, and every year she somehow gets better. The Thunderbirds don't seem to have missed a beat since their semifinal showing last season, and they're the Regional favorite, even in January.
Oregon Fugue
#8 Oregon Fugue also had a strong showing, winning all their games by healthy margins outside their loss to UBC. They only added three new players to their roster this year, all of whom have previous experience. Each of these three women — Amy Turner (St. Olaf), Zarina Rogers, and Rachel Hess (DC Rogue) — looked comfortable already in Oregon's offensive system.
Their fifth-year players spent most of the day in the backfield where they could command traffic and urge the disc into the wind. Returning players such as Kaiyana Petrus, Maddy Boyle, and Jaydra Rotolante are stepping into bigger roles and making bigger plays for Oregon as well. Overall, their roster is small but promising.
University of Washington Element
#18 UW Element ended the day with a 1-2-1 record. They beat Western Washington in a long game, but ended their game against Whitman in a tie 7-7 as cap passed them. Washington struggled in the wind and with their efficiency, and they share the title with Whitman for playing the tournament's longest points. Like most teams, they played open lines, but the inclement conditions fundamentally clashed with their play style.
The wind stymied their quick give-and-go handler movement—the "bump"—and many of their away shots tailed hard. Nicole Cramer, Alexa Yadama, and Sophia Johansen looked particularly polished with the disc. Washington's pieces looked rougher around the edges than the rest of the small field, but the season is young yet.
Western Washington Chaos
#14 Western Washington Chaos returned to debut a new offense on Saturday, which included a side stack and three isolated players who ran dominator by themselves to advance the disc. When Samiya Ismail, Ruby Cassidy, or TianQing Yen was behind the disc, the movements worked much better, and sophomores Eleanor Joselyn and Eleanor Heberlein were effective in the lanes. It will be interesting to see how this offense develops this season in stiller skies and against stiffer competition.
Chaos impressed defensively: their full roster played the type of close, in-your-pocket person defense that it takes experienced players years to learn to trust. Their pressure on teams' handlers generated opportunities, but in the wind they couldn't always capitalize.
Whitman Sweets
The Sweets were nearly winless on Saturday beyond their 7-7 tie. This Sweets roster has a long road to earning a bid for the Northwest region, but they still showed early signs of promising chemistry. With one Soo sister out and Kaileah Akker sidelined with injury, the #19 Whitman Sweets' junior class stepped into bigger roles this Saturday: Hannah Filley and Mackenzie Timbel were often behind the disc, and Liv Amorosi offered much-needed consistency downfield. Sophomore Akane Kleinkopf handles with the poise and confidence of a much more veteran player—she's a joy to watch.
Whitman's offensive flow wasn't always graceful, and they played some of the day's longest points. That's typical of early season play, and they'll benefit from another season under the tutelage of Rohre Titcomb and Gwen Ambler, both of whom were present on Saturday.