This week's Friday Five takes on BYU, stale spikes, and tuna fish. Who's hungry?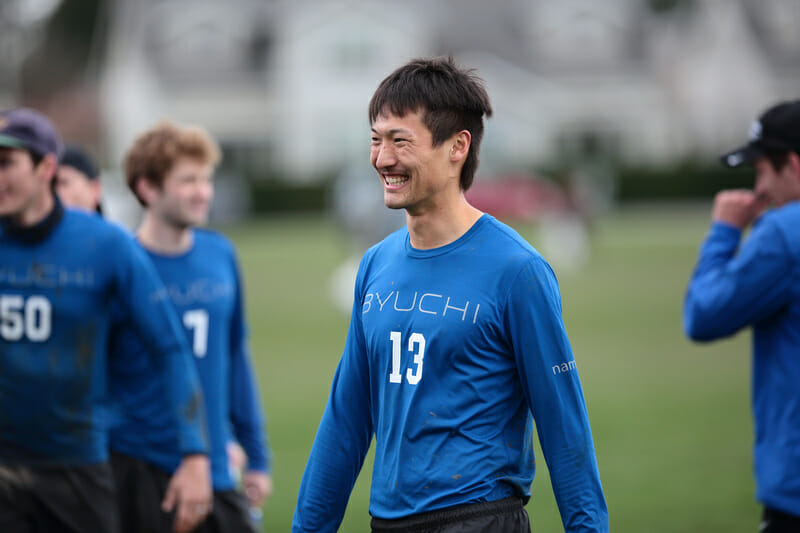 This season, we're trying something a bit different. Every Friday, our team will look at the exciting stories, teams, players, events, quirks, and all the inbetweens, and highlight five that have them hyped for the weekend of ultimate to come. Check out what's caught our eye and let us know what you're looking forward to in the comments.
This Week's Roster
Simon Pollock, Managing Editor
Sam Echevarria, D-III Women's Editor
Mike Ball, D-III Men's Editor
Keith Raynor, College Content Manager
Katie Raynolds, D-I Women's Editor
The Five
Simon: How Should We Talk About BYU CHI?
As Charlie and I embark on a late afternoon drive from LA to Santa Barbara1, I plan to pick his brain about #14  BYU CHI. If this feels like an old topic, well, maybe it is.
It's also unresolved.
Coach Bryce Merrill will have his men in blue raring to go this weekend, beginning with their customary game under the lights on Friday night. Even though CHI graduated an astonishing 13 players from last year's Top 10-worthy crew, this team has plenty of firepower to keep themselves in Top 25 conversation. That means they'll keep getting top pool seeds and that holding seed will effectively act as a pass-through to the bracket for who ever takes second place in the pool. It also affects the battle for third.
CHI deserves the top seeds they get from tournament directors for playing well. And as long as we elect to do (mostly) nothing about accommodating them, they'll keep showing up to tournaments, being one of the best teams on the field, heading out Saturday night, and allowing the next team up to move through. Some team is going to try to take advantage of this soon. So how do we talk about it?
Sam: Someone Give Us The USAU Website We Deserve Want
I occasionally like to read the entirety of the Weekly Update from the fine folks over at USA Ultimate, and something this week caught my eye: a job posting for a "Manager of Online Technology / Web Application Developer" that calls for a hero among us (or at least tangentially aware of our community) to rise up and assist in helping "enhance and maintain all aspects of existing custom-designed web applications hosted at play.usaultimate.org as well as usaultimate.org."
This, of course, sets me off daydreaming –especially as a writer is constantly looking at historical and in-progress scores and stats when analyzing D-III Women's– about a website that makes it easier to actually find teams, their useful historical details2 and something a little more substantial than their twitter handles that have changed four times in three seasons. Could we get a website that is functional and beautiful to behold for the player, coach, fan and Ultiworld reporter alike, before I become Grand Master's eligible?
Gentle kidding aside, if you've got the necessary skills and want to relocate to Colorado among other things, check it out and maybe drop USAU a line. Or even better, apply to volunteer as their first D-III Women's College Coordinator (and give me all the inside scoops).
Mike: First Look at Davidson
In what's a relatively quiet weekend for D-III men's ultimate, my eyes will be on Joint Summit XXXIII, where #5 Davidson DUFF will be making their Spring debut.
One of the things that makes Davidson unique is that they choose to play every fall tournament as a split squad. A lot of schools do this in early fall tournaments, before narrowing things down to their one roster by the end of the fall, but DUFF doesn't compete together as one unit until the spring. This can lead to early season struggles; last spring, Davidson opened their spring season by losing every game at Queen City Tune Up.
Entering Joint Summit as the top seed, I'll be interested to see if DUFF can coalesce quickly and start their 2018 season on a better note than 2017.
Keith: The Death of the Kick Spike
I guess I'll take the baton from Charlie, who opined last week for a new celebration to sweep the nation. I too hope for creativity, for charisma, and for freshness to emerge from the void of banal, tired, and exhausted options. And this weekend, I'm looking forward to the rise of something new. But I'm also here to declare the death of the kick spike.
Wow, you closed the late gap to four on a throw that traveled five yards. Look at the passion! The grace! Look at the energy it instills in teammates! I'm changed, I get why we continue to treasure this phantom of swag.
C'mon, nobody was even guarding you! Is this really what we've become?
I'm not here to chastise spiking as an institution. Get excited, be overcome with passion, fire up your teammates, pump them up for the point to come. But pick your spots, too. And maybe try something they haven't seen 400 times before –mostly poorly executed– which is now mostly emotionless and robotic.
Just think: you could be the one who starts the next spiking trend.
Katie: In Search of Great Tuna
I know I should be excited about covering my first official tournament of the season, Santa Barbara Invite. I should be excited to see the Southwest's best teams battle each other as well as outsiders who travel from afar to compete.
But I'd be lying. I'm dying to find the restaurant where I ate the best tuna of my life last year. Before this same tournament a year ago, Charlie found a casual restaurant off the 101.3 We ordered some sort of tuna and avocado appetizer, and my life changed. I don't know what the place is called. I don't know if the road will even be open. Google has failed me. But this weekend, I will put everything into finding that tuna again, and I guess I'll watch some ultimate while I'm at it.
---
no mudslides please no mudslides please NO FIRE ↩

a column for height, really? Is this a way-too-early-precursor to trading cards? ↩

Editor's Note: An Ultiworld tradition. Charlie loves to find local joints on Yelp and the like. ↩