Can Stanford Bloodthirsty manage a three-peat? Or will Colorado State Hibida take the weekend's title?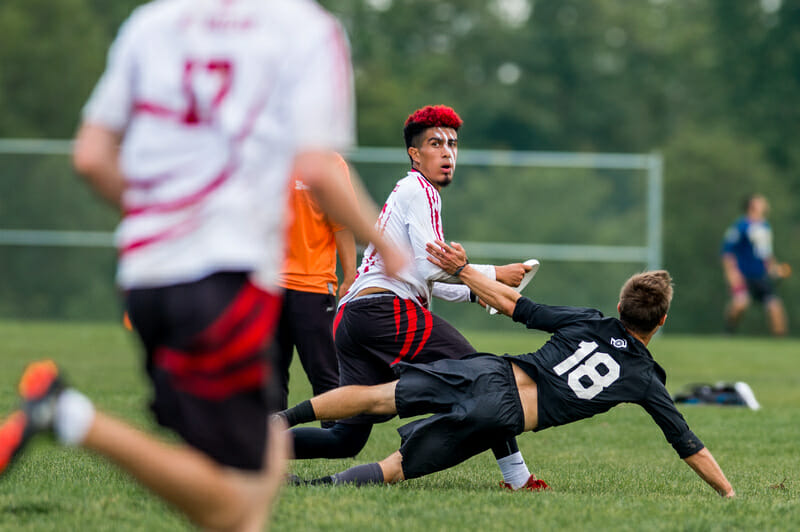 This article is presented by Spin Ultimate; all opinions are those of the author. Please support the brands that make Ultiworld possible and shop at Spin Ultimate!
2018 West Coast college ultimate kicks off on the campus of UC Santa Barbara this weekend. On the men's side, the Santa Barbara Invite hasn't produced a national semifinalist in recent years, but the stock of the west coast teams on hand has slowly been rising along with the general talent floor across college ultimate in recent years.
Washington enters as the de facto favorite with the overall No.1 seed, but it's No. 3 Stanford with the SBI titles in 2016 and 2017. Meanwhile, some of the real excitement will be saved for Colorado State and Cal Poly-SLO, two relatively new Nationals-level programs that are attracting talent and learning to hone it into postseason power.
Here are just some of the top storylines to follow heading into the weekend.
Tournament Profile
Date: January 26-28
Location: Santa Barbara, CA
Weather: Highs near 70, with 5-7 mph winds
Top 25 Teams: 5
The Pools
| Pool A | Pool B | Pool C | Pool D |
| --- | --- | --- | --- |
| Washington | BYU | Stanford | SLO |
| California | WWU | USC | CSU |
| UC Santa Barbara | UC Davis | Wash U | UTAH |
| Arizona State | UCSD | Victoria | Arizona |
| Kansas | Nevada | UCLA | San Diego State |
Who's Going To Take The SBI Crown Away From Stanford?
For two years running, the men's side of the Santa Barbara Invite has belonged to #13 Stanford Bloodthirsty. In both years, Stanford has brought the tightest team cohesion and showed the highest level of playbook fluency.
In past years, much of the cohesion was anchored by longtime handler1 Elliott Chartock and expert deep cutter Nolan Walsh. The two outgunned opposing defenses with their work out of Stanford's side stack. Neither return with the 2018 team, but Bloodthirsty's entire roster should get credit for the wins, too. Their diligent approach to offensive sets and confidence in systems always pays dividends when other teams are still finding their identities.
This year, it's up to 2017 Breakout Player of the Year and 2018 Callahan nominee Gabe Hernandez and Nick Hirning to lead the way back to a third SBI title. And they certainly already know how to do it.
Bloodthirsty will need more than just side stack and isolation space brilliance to hang on to their top seed in Pool C this weekend. Southern California is the No. 2 seed in the pool, and the Los Angeles-based competitors made hay at SBI last year with a suffocating zone that had early-season offenses throwing into the wall and falling for baited throws. If Lockdown's managed to carry over their 2017 defensive intensity, expect them to take a good shot at Bloodthirsty's top spot.
Other top competitors that might see Stanford in Sunday's bracket will need a plan to deal with Hirning's effortless marshaling of the backfield and sticky handler defense. Planning for Hernandez—whose talent fits just about any space on the field—will be harder. Last year's second place finishers Western Washington showed a practiced bracketing scheme to slow down Stanford's pull plays last year, and the two could potentially meet in a semifinal matchup. Anyone looking to beat Bloodthirsty needs a reliable way to take the team out of their practiced rhythms.
#8 Colorado State and #12 Cal Poly-SLO both have the depth, experience, and scouting to take the title away, but both competitors will need consistency throughout the weekend to earn the title. CSU has shown that kind of discipline before, and they have the veteran depth to throw at Stanford's top line and overpower Bloodthirsty's set plays. SLO—not a team to show a ton of consistency this early in the year—will have to deal with CSU in pool play first before they can worry about Stanford. More on both, further down the preview.
The Battle For Pool B Will Be Exciting, Even If It Doesn't Matter
#14 BYU CHI get the nod for the No. 1 spot in Pool B—a spot they deserve after an excellent performance through the 2017 regular season. Now, after losing 13 veterans, CHI has plenty of work to do slotting players into new roles, but they've more than overcome challenges of shifting roles before.
Turnover hasn't slowed down BYU much as they've risen to Top 25 prominence. The team runs a charging brand of offense in a variety of looks and always has plenty of competent marking and downfield defense stowed away on the bench to make the division's best earn their goals.
CHI's marquee matchup on Saturday is with last year's SBI finalists, Western Washington Dirt. Dirt's offensive steward Dennis Casio is back in his fifth year, surrounded by a host of veterans who can loyally execute one of the West Coast's prettier vertical stack offenses. Casio is a wizard off the reset and a pain to cover, so CHI will need the right stuff to stop him from slinging the disc into the break space to release Dirt's cutters. Count on Casio's co-captain Daniel Mah for great plays down field and for long, difficult-to-cover under cuts from the lanky Josh Kent.
WWU's D-line needs an answer for the size and speed that BYU always brings to the field. At early college tournaments, where turns are often more abundant in pool play, the relentlessness with which CHI can approach scoring a goal in long points wears out defenders mentally and physically. Think Harvard Red Line in the earlier part of this decade, but bigger and able to cover a lot of ground.
Looking over the matchup, there's still a nagging sense that, if they saw fit, Dirt could open their lines in the second-to-last round game on Saturday against CHI and bank on taking second in the pool. Since BYU is hitting the road Saturday evening, WWU would still walk away with the top spot in the pool and a bye to the quarterfinal round. It'd be a bad look, and no team wants the TD watching their game. Why waste such valuable early season experience against a good team, in favorable weather?
Here's to a spirited, close battle for the top spot in Pool B.
Colorado State's SBI Title Road Goes Through SLO
If a lackluster showing at Nationals had you swamped with buyer's remorse after purchasing at your first class ticket on the 2017 Colorado State Hibida hype train, it's time to shake off the guilt and get right back on. The 2018 whistle is sounding, and Hibida's about ready to leave the station.2
This veteran squad had a beautiful force middle ready to go at SBI in 2017. There were turns aplenty for the well-coached CSU team to convert and make their way to a quarterfinals appearance at this tournament last year; there's reason to expect them to go further this year. They've returned their Nationals-tested core and POTY shortlister Cody Spicer.
CSU lucks out with the No. 2 seed in Pool D, which should make for a delightful filmed game against Cal Poly-SLO at 3:00 PM on Saturday. Both of these teams feel like a No. 1 seed in their pool, and both have a leg up on Utah, Arizona, and San Diego State (the teams below them in Pool D), so expect this one to be the rightful matchup for a bye to quarters.
The SLO vs CSU matchup at SBI 2017 was a coinflip quarterfinal. SLO eked out the win, possibly riding nothing more than their Nationals experience from the year before. Not a whole lot separated these two teams then, and the advantage may have flipped now.3 If CSU's defense is clicking, they should be able to put the screws to the SLO reset pattern and force up some wild hucks.
For the narrative-inclined fans, there's more intrigue to be had in this matchup: former SLO head coach Peter Raines has joined CSU's Tim Kefalas, while Stanford alum and Ultiworld Rankings Whizkid Cody Mills took over SLO alongside Kristie Merkousko. Mills is an experienced Southwest coach (previously of Stanford) with a eye for tactics, a nice match for the analytical Kefalas and the charismatic Raines.
If they can put together a nice revenge win and take the Pool, CSU would draw a matchup with a two or three seed from Pools B or C in quarterfinals. Sleeping in does a body good, and taking the Pool would stave off a prospective meeting with Stanford until the final. Let's see what this veteran-heavy squad can do.
New Coach, New Players…New Look Washington?
The #21 Washington Sundodgers get the overall No. 1 seed in Santa Barbara this year, coming off their best performance at Nationals in recent years, but without most of the stars and veterans who made it possible. Mark Burton has stepped in to coach, fresh off a Club Mixed title win with Seattle Mixtape last October. He'll have longtime Sundodger and burgeoning Sockeye player DY Chen as another addition to the UW coaching sideline.
UW has big shoes to fill on the field, but they've started to build program-pedigree with two-straight Nationals appearances. Younger players may be more than ready to take over and steward the Sundodgers into a new era.
Regular season success for UW in 2016 and 2017 came in spurts, though. Injuries have always plagued this team, and their vertical stack has left them falling in love with open side unders early in the season to the point where handlers and cutters alike run out of space to work. As a whole though, their individual matchup defense was trending upwards. If the trend continues this weekend, the D-line could help stand up the offense while Steven Benaloh gets used to having the keys to the O-line all time.
Washington should be excited for the gritty company they've drawn in Pool A. Fighting the change of new roles and new coaching can breed inconsistency this early in the season, and for once, Pool A seems the least likely to go to seed.4 Southwest sources have had their eyes on Cal UGMO since the fall, and the ever-hungry host team, UCSB Black Tide, pride themselves on not quitting until the hard cap horn's gone off and the score isn't tied. Both of these teams could benefit nicely with a bye to quarters and a matchup against a weaker seed from one of the middle pools, and they'll be ready to do it.
Side note: watching Cal and UCSB play each other should be a lot of fun. Along with a strong USC, teams hunting for bids from outside the Southwest should be wary.
Teams From The East Have Learned Their Lesson
You won't find any teams from the East Coast on the men's side of SBI 2018. We wrote about New England's dismal record the last few years, and it seems like the word is finally out that flying from Boston, New York, Providence, or Manchester to Southern California in January isn't worth it. SBI doesn't always pull in the same number of Top 25 competitors in the men's division as it does in the women's, but the talent floor is high. 3,000 miles is a long way to go to get smacked in the mouth.
---