The west coast got the ball rolling with a Stanford victory, but it was an east coast team that shocked the tournament.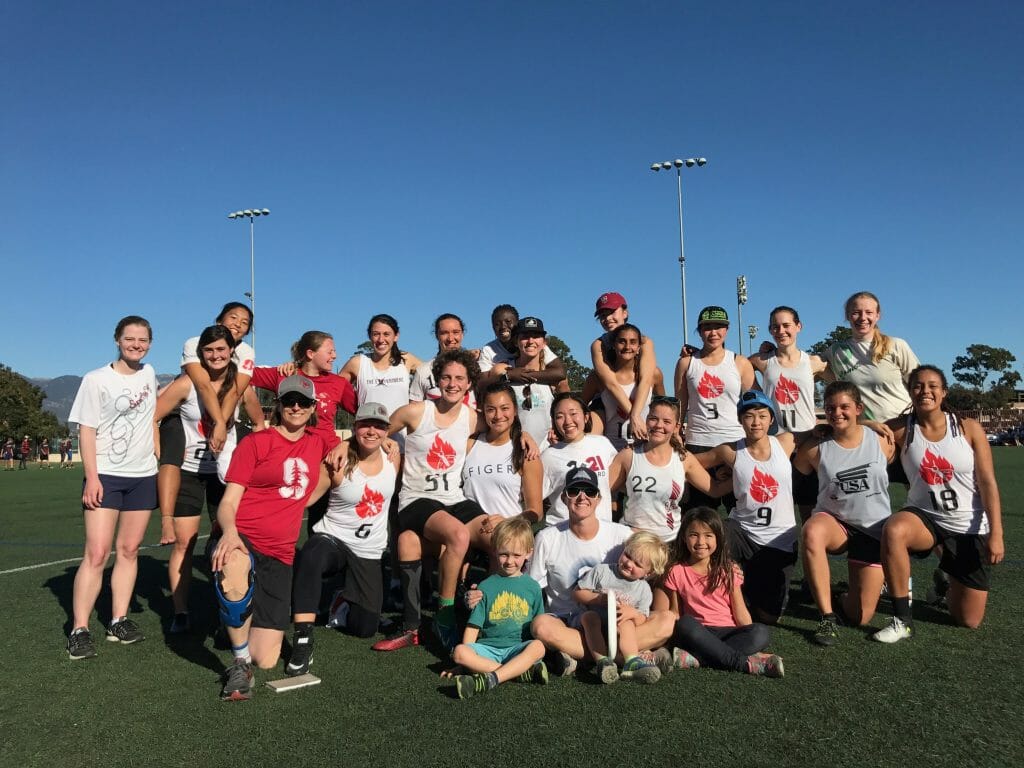 Coverage of the Women's Division at Santa Barbara Invite is presented by VC Ultimate as part of their season-long support of our women's coverage. All opinions are those of the authors. Please support the brands that make Ultiworld possible and shop at VC Ultimate!
Sometimes a tournament rife with upsets indicates an error made in the seeding, and sometimes more upsets happen because teams rise to and then above the occasion. This weekend, however, the seven upsets in Saturday's pool play felt more like a changing of the guard on the field.
A new cast of Southwest teams had their time in the sun, both Northwest teams attending qualified for the quarterfinals,1 and no. 7 seed Vermont fired their opening salvo for the season by reaching the final.
This year's Santa Barbara Invite could be a blip on the radar. Or it could the first chapter in the most interesting season for the women's division in years.
Stanford Defeats Vermont to Win Second Straight SBI Title
#3 Stanford Superfly handily won the Santa Barbara Invite for the second year in a row, beating Vermont 13-7 in the final with a healthy margin and plenty of flourish. Stanford's regimented defense and their raw offensive talent is enough to keep them in title contender conversations year after year, no matter who they graduate. This year, that raw offensive talent got turbo-charged by the equivalent of a Pulp Fiction shot of adrenaline: they got graduate student Julia Butterfield from Notre Dame.
Butterfield scored four goals, got two blocks, and threw an assist in the tournament final alone. Stanford didn't play her on every point, but every point she played, she made a noticeable difference. After the game, the Vermont coaches were dumbfounded by her play, comparing her to Scandal star Sandy Jorgensen.
"In our zone, we had to pull our net open to stop her," said Vermont coach Daron Byerly, "and one time she was so deep and they still put it to her. They didn't even care."
Stanford's weekend ended in the projected place, but their road to the final had a few surprises. They began against a dauntless BYU team that stayed level with Stanford until just before half. While Stanford's offense still looked crisp, they struggled to prevent CHI from marching down the field. Caitlin Go and Michelle McGhee kept Superfly from simply trading points, but it was a surprisingly muted performance from Butterfield. This would not last. Butterfield help rally Stanford in the second half and they closed out the game quickly.
Once they had worked out the flaws from the first game, Stanford cruised through their last two pool play games. Neither CSU nor UCSC had a response to Stanford's tight defense and clean offense off the turn. Throughout Saturday, Robin Knowler Davis, Jamie Nuwer, and Jennie Lummis were careful not to overplay any player on their roster, but that would never arise as an issue: there were only seven total points scored against Stanford in pool play after BYU's initial surge.
On Sunday, Stanford played Victoria in quarters. The Canadian team struggled against the Stanford zone, a theme common to all of Stanford's opponents. Stanford's defense doesn't seem to have dropped off at all since 2017; if anything, it's the cornerstone of this new squad. Their offense is still making early season mistakes, but no team this weekend found a consistent way around the pressure that Stanford displays when they throw their zone. Against most teams this weekend, Stanford's defensive prowess was enough to give them a comfortable lead that they would never relinquish.
Vermont Arrives Bid-Hungry and Leaves Victorious
Vermont's goal heading into the weekend was explicit: earn a third bid for the New England region. If only the rest of us could follow through on goals the way Ruckus did this weekend. Vermont edged out #19 UCLA (12-11), outplayed Colorado State (13-6), and surged past #7 California (11-8) on their way to the tournament final. Ruckus stuttered in their first half against a truly elite defense (Stanford took half 7-2), but they scored five to Stanford's six in the second half. Vermont's well-practiced 2-3-2 zone stymied many west coast teams, and on offense they set a deep side stack—the offense du jour—and trusted their cutters to create opportunity.
"We have really deep cutters and fast, strong throwers," said coach Byerly. "If we just give them the space, they can catch it, throw it, run it down, all of that. It's part of the reason we're creating space for them."
D-line cutter Madison Westfall was the player of the weekend for Vermont. Westfall was always ready to make the play, whether it was a cross-field hammer or a crucial layout to save the disc. Mariz Mangundayao and Kyle Weatherhogg were also key pieces of Vermont's success, and together Ruckus' defense generated turns from even the best teams in big moments.
It's early, but Vermont's wins this weekend could be enough to earn them the bid they went hunting for.
"It's big," agreed Byerly after their upset over California. "It's so tough because we want to enjoy playing against good teams, and we want to be in the moment, that's really important, but at the same time we know if we don't play well in the regular season, we are responsible for finding ourselves in a really uncomfortable situation in the Northeast. So every point matters when we're here."
If Ruckus keeps playing like they did this weekend, however, they have the potential to play past #12 Tufts for the second bid anyway. No matter what happens in the Series, this weekend was a statement for Vermont. They've spent years building this team, and now they get to prove what it can do.
UCSD Excels in All Games but One
Despite missing out on a chance to play in the final, #11 UC San Diego played like one of the best teams all weekend. The Psychos had a better point differential than Stanford in pool play (+24 v. +23). In a cruel twist of fate for UCSD, winning the pool put them on the same side of the bracket as Stanford
When UCSD and Stanford did face off in the semifinal, however, the Pyschos played like it was their own kind of final. The teams traded points for most of the first half, but UCSD's handlers got tired and made simple execution errors. Dena Elimelech, Leanne Go, and Kelli Iwamoto all played exceptionally well and connected with each other on the field for many points. The game against Stanford was UCSD's only loss on the weekend, and they walk away with convincing wins over Cal and UCSB, the 4th and 5th place finishers. The Psychos' experienced roster and their chemistry make them an early favorite in the region behind Stanford, but their statement victory may have to wait until Presidents' Day Invite, when they'll be playing on their home turf.
California Stumbles but Still Looks Promising
#7 California's 4-0 run on Saturday was tempered by a surprising loss at the hands of an impressive Vermont team during their semifinal match. They then lost their second match of the day to a motivated UCSD squad and finished with a 4-2 record. While their final standing isn't what they hoped for or what we expected, the result isn't shocking considering that Cal added a staggering 13 rookies in 2018, all of whom saw consistent playing time throughout the weekend. Their rookie count is easily the most of any team that cracked the top four at the tournament, and it adds a small asterisk to their losses this weekend.
Cal's roster's inexperience was evident throughout the weekend. Despite retaining their high spirit and athleticism, Cal lacked the fiery cutters that defined their system last season. Cal relied heavily on Anna Wysen, Jackelyne Nguyen, and Allegra Mayer to generate most of their traction on offense, and these three seemed exhausted by the end of the weekend. The team still had moments of brilliance, but it was clear that the downfield has yet to learn, for example, what to do when Wysen gets power position and is ready to jack it. Cal has a history of playing deep into their roster, and if the offense starts clicking, they could be a much stronger—and still young—team later this season.
UCLA and USC Rebuilding Their Strength
There were two notable absences from the bracket on Sunday of Santa Barbara Invite: neither UCLA BLU nor the USC Hellions of Troy qualified. This is the first time UCLA hasn't made the semifinals of Santa Barbara Invite in years. BLU still showcased a remarkable range of zone and person defenses for a January tournament, but on offense the cracks showed in their young offensive core. They lost in prequarters to the University of Victoria Vixens 10-9, and they lost to Arizona twice in the weekend at 12-9.
The USC Hellions had an even rougher weekend. They began the day as the no. 4 seed and the top seed in Pool D, but they'd go on to lose every game on Saturday and miss the bracket entirely. Like UCLA, USC's offensive chemistry missed the rhythm and confidence that took them to the semifinals last year. Captain Alyssa Perez worked hard downfield to generate opportunity for the Hellions, but it wasn't enough to grab hold in their games.
"We have a really young team and we have a lot to learn, and I think we really know that now," said Perez after their final pool play loss. "Offensively I think we really struggled to get that first cut off, and we struggled with our resets. Our handler core is pretty young so we just have to work out some kinks."
Both USC and UCLA will attend Presidents Day Invite as well as Stanford Invite, so they'll have plenty more practice before the series. But their performance this weekend casts doubt on the Southwest getting four bids again this season.
South Central Teams Step Up to the Plate
Both South Central teams that attended the Santa Barbara Invite showed promise this weekend: no. 13 seed Washington University yet again broke seed to place ninth, giving Southwest teams, as well as Colorado State, tough games throughout the weekend. The team includes a strong core of cutters who generate momentum and space for each other, and their handlers don't shy from the chance to boost the disc. Wash U is in a very tough region, and they have a lot of polishing to do before the Series. But this is the best they've played in years, and they could have the chance to duke it out for a third bid.
If that happened, Colorado State University is primed and ready to go to battle. The Hell's Belles played a ferocious weekend of ultimate, even if they ultimately held seed in eighth place. Lead by the mighty Kiera Lindgren, Colorado State hung in during tight games with their run-and-gun offense and their love for the long ball. Junior handler Lindgren is reminiscent of Colorado's Kirstin Johnson in her fiery defense, her squirrelly cuts, and the absolute bombs she ripped downfield again and again. Graduate student Sarah Leichty (Iowa State) was her target of choice. Leichty's reach and skill at reading the disc made her a reliable receiver throughout the weekend, and these two would connect as often on stall one as stall nine.
Don't Sleep on These Teams
UCSB Burning Skirts
The UC Santa Barbara Burning Skirts currently hold the belt as the surprise of the Southwest after this tournament. It remains to be seen whether the weekend was a flash in the pan, but UCSB snuck up on opponents with polished offense and skill. Their only two losses were to teams that made semifinals, and their pool was one of the strongest in retrospect. After a 3-1 run on Saturday, UCSB eventually fell to UCSD in quarters 13-3 as the Burning Skirts fundamentals were picked apart by UCSD's zone. Strong performances from Julia Kwasnick, Nicole Sun, and Kaitlyn Weaver kept them contention all weekend but were not enough to beat a motivated Psychos team. If the Skirts want to earn their own Southwest bid, they'll have to show more than athleticism and well-executed fundamentals. But for now, this no. 11 seed can be proud of a 5th place finish.
BYU CHI
It seems that every year we have to address BYU's inability to play on Sundays. The CHI women earned a chance to play Cal in the quarterfinals but relinquished their spot as they do not compete on Sundays. Before they withdrew, BYU played very close games with both Colorado State and Stanford. Kaylie Caldwell could make an "All Tournament" line and she was supported by a well rounded team. Emily Heller, Kendra Mitchell, and Casstique Williams all played very well for their team and many teams, including Stanford, found it difficult to contain the BYU offense. We can only speculate at how well they could have played on Sunday, but this team hopes nonetheless to play themselves into the rankings this season—and they have the talent to do it.
Cal Poly SLO Motion
While Cal Poly SLO went 3-4 over the weekend, their close losses should worry their fellow Southwest teams. They were one point away from upsetting California in their quarterfinal game, after a remarkable comeback from a 7-4 deficit. Like many Californian teams, SLO Motion loves their away shots, but on Sunday their best points happened when SLO handlers steadied the pace and changed the point of attack. Co-captains and twins Diana and Caroline Swanson commanded the offense from the backfield, relying on Danielle Tran and Chloe Li to make plays downfield. They weren't always efficient, but they showed a lot of potential in an already strong Southwest region.
All Tournament Team
Julia Butterfield (Stanford)
Kaylie Caldwell (BYU)
Danielle Tran (Cal Poly)
Kiera Lindgren (Colorado State)
Anna Wysen (California)
Madison Westfall (Vermont)
Dena Elimelech (UC San Diego)
---