Colorado and Oregon go undefeated; SLO and Cal stun the competition with berths to semifinals. A Back Pages early edition.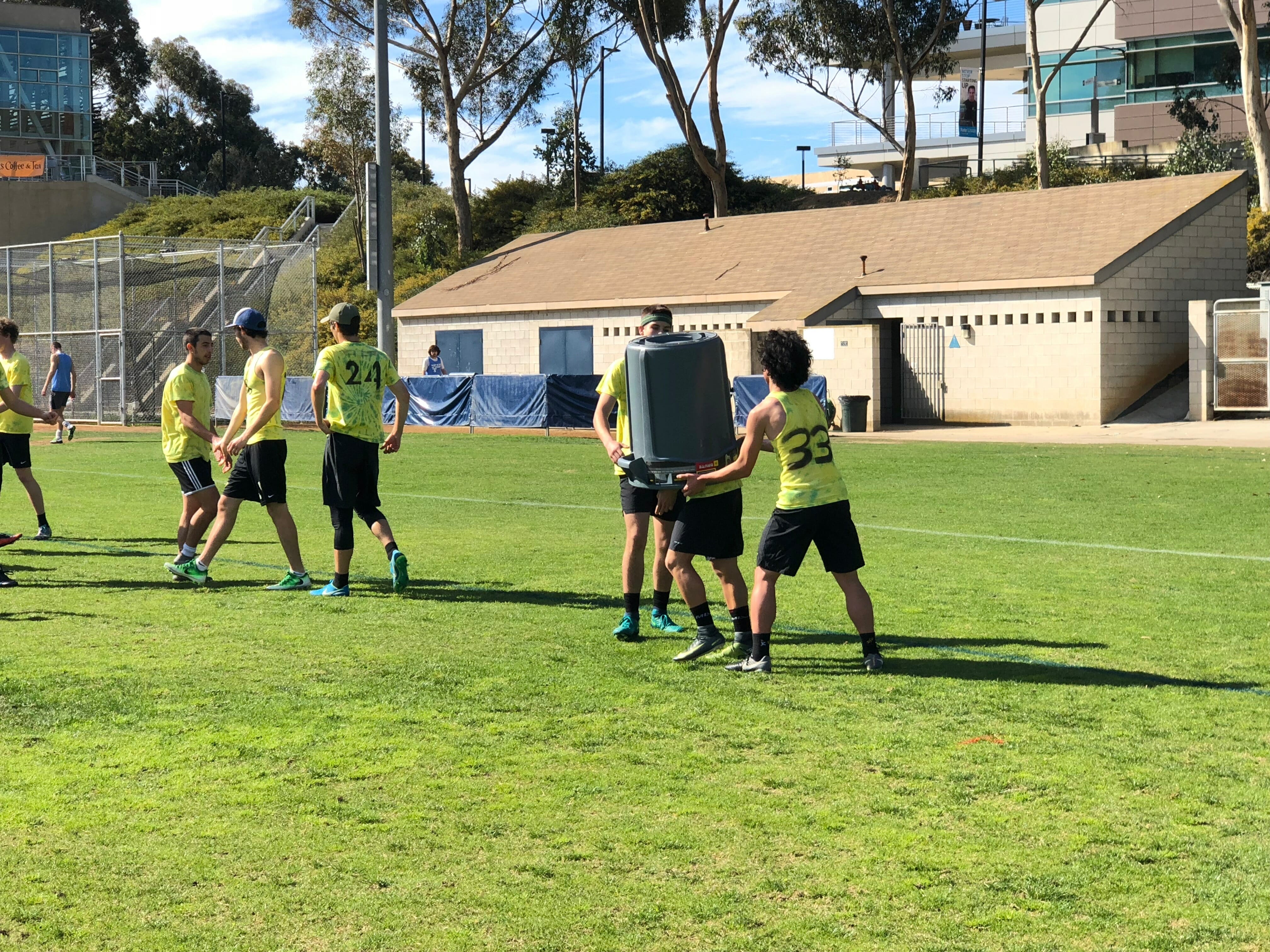 Ultiworld's reporting on the men's division of Presidents' Day Invitational 2018 is presented by Spin Ultimate; all opinions are those of the author. Please support the brands that make Ultiworld possible and shop at Spin Ultimate!
LA JOLLA—A pair of surging Southwest teams made their mark on the weekend in quarterfinals today. While Oregon Ego and Colorado Mamabird both found the finals without taking a loss, Cal Poly SLO CORE and California UGMO both recovered from pockmarked records to stun their quarterfinal opponents and push into the final four. Here's a look at some of the major storylines from the first and second days in the men's division here at the Presidents' Day Invitational.
Cal Poly SLO Core Snags 12-9 Win Over Washington, Upset Of The Tournament
Cal Poly SLO CORE outplayed the previously undefeated Washington Sundodgers to the tune of 12-9 in one of the most impressive games of the weekend so far. With length on the mark and in the air, SLO stifled Washington's blistering pace and took the Seattle favorites out of their rhythm. The Sundodgers took the first loss of their season, despite running top lines down the stretch in search of critical points late in the game.
"D-line including me, especially me, just couldn't put it together that game. I don't think we got a single break. And our O-line fought really hard, but at the end of the day you just need breaks to win a game," said Washington's Derek Mourad. 
SLO's sticky defense was complemented by their best offense of the tournament so far. At 6-5, with the game still close, CORE put star cutter Nate Pettyjohn in isolation, with his teammates banished to a far sideline. Pettyjohn sped across the field from open side to break, catching his under nearly on the backhand side. He dished it back to the center of the field and bolted down the backhand sideline all alone; by the time he checked his shoulder, Dillon Whited's zooming flick was careening back over to the sideline for Pettyjohn to snag. CORE held for 7-5 and never looked back.
"Our offense has a ton of talent on it. Our chemistry is just growing throughout the season and it's only going to get better," said co-captain and handler Jeremy Dolezal-Ng after the game. 
SLO's win was a well-prepared demonstration of what the team can do at full health and with an energized sideline. When they're down on themselves, they can't convert. They've already taken losses to Colorado and Oregon so far this weekend. The team feeds off of positive vibes, and Dolezal-Ng said the team never found the break they needed to stimulate a win earlier in the day against Oregon.
Luckily, SLO's performance today will give them another shot at Colorado—this time full of confidence.1
California Recovers For A Push To Semifinals
What a Sunday for California UGMO. Riding a one-win Saturday—a 15-3 drubbing of Utah State—Cal, took a three seed to start power pools this morning. They finished the day looking like a true contender.
In the morning round, the team from Berkeley blew the doors off a strong Utah Zion Curtain 15-7, befuddling ZCU's backfield-driven offense with their variety of defensive looks. Then, UGMO turned around and played Colorado, engineering three breaks in the first half and making Mamabird pay for their at-times careless offense. They took half 8-5 and defended a lead through to 10-10. With time winding down and the game soft-capped at 12, Colorado ratcheted up their play and blitzed two straight for the win.
The 1-1 performance landed Cal in quarterfinals against Oregon State—another team like Utah relying heavily on a vertical stack offense. Again, UGMO's ability to exploit vert paid off. Cal opened up another first half lead. By halftime, Cal lead 8-4 and had plenty of runway to coast into semis, running away with the quarterfinal 12-9.
Cal is switching effortlessly this weekend between zones that force middle and force sideline; a practiced handler sag; and transitions to person when necessary. Tomorrow, they get the chance to throw those looks at Oregon, a team that is more skilled at every position on the top lines than any Cal opponent yet this weekend.
Oregon And Colorado Improving With Reps
Oregon Ego and Colorado Mamabird are undefeated this weekend, but they've both had their share of errors.
Despite having what looks like the fastest endzone set at the tournament, Ego's O-line has had some flukey drops and miscued throws. The team from Eugene has managed to pull away in every second half, benefitting from the outstanding play of Colby Chuck and Leandro Marx on the D-line. Oregon tried some mixed-look lines on Saturday for pool play and made it to 3-0, but today's lines looked more similar to 2017. In a notable switch, Ted Sither seems to have fully taken over the reset duties alongside Colton Clark, while Braedon Petrus has moved to the D-line.2
Oregon will get an eyeful of creative defense from Cal tomorrow in their late morning semifinal.
Colorado has powered through some real sloppiness this weekend. Their undefeated success so far is a testament to excellent fitness (mental and physical) and some interesting play design. Both O-line and D-line have had trouble stringing passes together without bobbled drops or misfired hucks. Maybe it's because they've got a combination of new players and new looks. Colorado's shown a split, horizontal stack, and vertical stack on offense this weekend. At times against Cal, cutters were shifting the side stack based on the disc's position. The hucks have still come off the sideline rails, often in the same third, but the impressive top speed Mamabird can hit has made up for most of their execution errors.
Tomorrow morning, Colorado has to accomplish one of the toughest tasks in the tournament format in order to make finals: beat the same team twice in a weekend. SLO played their best game of the season against Washington on Sunday and will come back looking to capitalize on each and every Mamabird mistake. Colorado needs the clean offense they were playing late Sunday afternoon to fend off SLO.
The Monday Bracket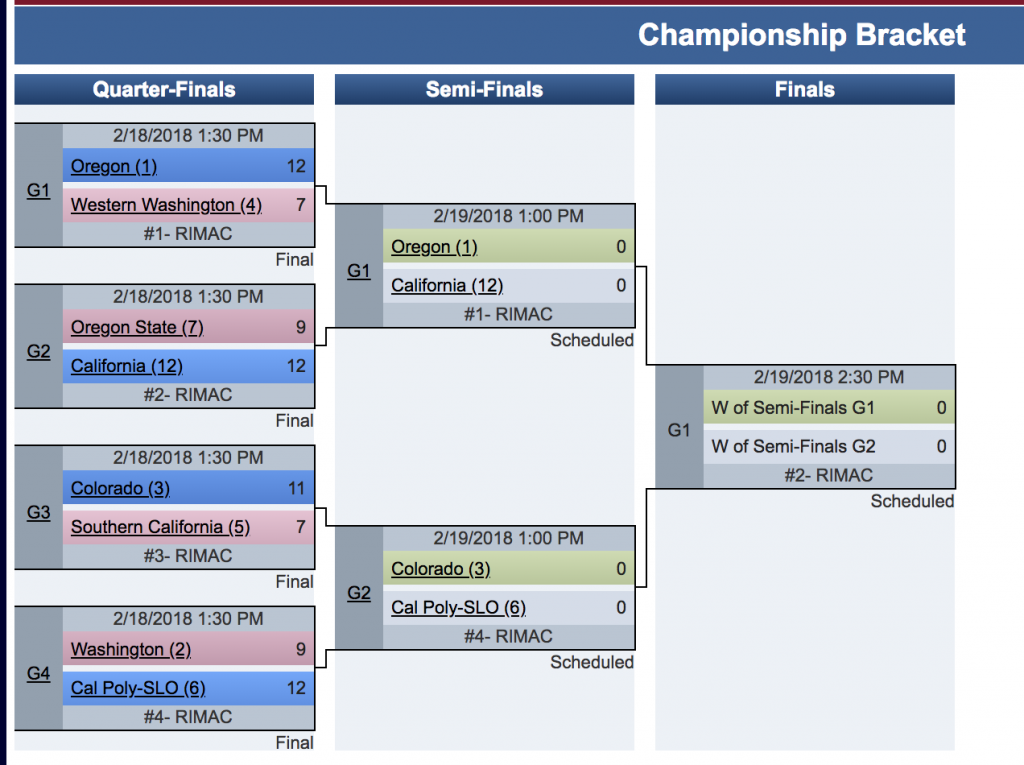 The Back Pages: Presidents' Day Early Edition
Tournament directors, volunteers, and UC San Diego facilities staff have been on point this weekend. During quarterfinals today, an attendant in a red polo busied himself collecting, emptying, and re-bagging field site trash barrels. All business, he walked quickly, bag in hand, to the Oregon Ego sideline. He expertly whipped the fresh liner out and started to tie off the new bag inside the waiting receptacle. An Ego player saw the action develop out of the corner of his eye.
"Oh, hey wait. No, you don't have to do that. That's ours."
The attendant looked up.
"What?"
"Yeah, we brought it with us. It's the Break Bucket. We bring it to tournaments and put our teammates in it when we get breaks."
The Ego player smiled earnestly.
"Uh, okay. I just thought you guys needed a new trash bag."
***
In the midst of an afternoon interview, the SLO player I was talking to cracked a silly smiled and started to giggle as he explained to me some aspects of his team's approach to energy.
"Does 'energy' mean something different to you and team, like an inside joke?" I asked.
"No," he laughed. Then he pointed over my shoulder to his co-captain, standing mirthfully behind me, making faces while sipping from a bottle of cough medicine.
"He drinks Robitussin before every game."
It didn't sound safe at the time. It still doesn't. But SLO pulled off the best game of their season so far with one of their O-line handlers taking swigs of an over-the-counter cold remedy during warm ups, so what do I know?
---
Colorado beat SLO during pool play, 12-10. ↩

At least for now. ↩