Texas Melee recovers in time to push into semifinals; UC Santa Barbara Burning Skirts continue to improve on the season.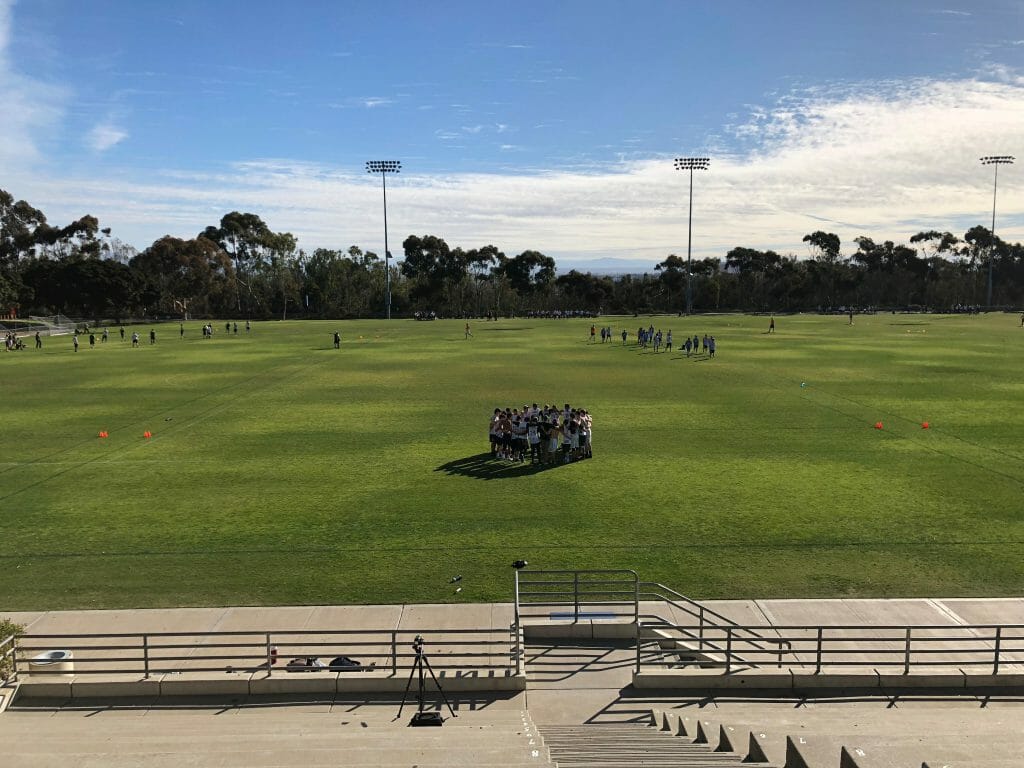 Our coverage of the Presidents' Day Invite is presented by Spin Ultimate and VC Ultimate. Please support the brands that make Ultiworld possible and shop at Spin and VC! 
LA JOLLA—The term upset comes with a large grain of salt this early in the season, especially when a tournament is seeded for regional diversity. Seedings reshuffled across all pools on both days. Yet Presidents' Day Invite serves better as a sorting hat for later tournaments than as a crystal ball. Here's what we saw go down on Saturday and Sunday in the women's division:
Texas Mounts A Sunday Comeback After Faltering In Pool Play
Texas recovered on Sunday from their surprising 2-2 record in Pool B by beating Oregon in the quarterfinal to advance in the bracket. Sunday's late comeback was a much-needed salvation after how Texas began their weekend in La Jolla.
Saturday morning was a rude awakening for #7 Texas Melee. #19 UC Santa Barbara took an early 2-0 lead, and Texas was unable to recover. The UCSB Burning Skirts were hungry for blocks, and they happily converted Texas' unforced errors into breaks. Melee's late surge was too little too late, and UCSB won on double game point, 10-9.
Later, Texas lost again by the same one goal margin (11-10) and in the same manner to the Minnesota Ninjas, who took and held an early lead. From sluggish cutting to simple drops and misfires, Texas didn't look confident with the disc or motivated to grind downfield.
These losses pushed Texas into a stacked power pool with Stanford and Washington. While their rematch against Stanford barely resembled last year's game, Texas rallied when it mattered: their quarterfinal game with Oregon. This time Texas took the early lead, and they kept Oregon at bay despite Fugue generating breaks in both halves. Texas won on double game point 12-11 to advance to the semifinal where they will play their regional neighbor, Colorado.
The win against Oregon was a high note for Texas this weekend, but Melee's uneven play over the past two days casts concern on how high this year's Melee can rise.
Oregon Ousted From The Bracket In Quarterfinals
Teams can throw the most complex zones and run fancy pull plays, but winning the game always boils down to catches and throws. #5 Oregon had played a solid weekend coming into the bracket, but they learned that lesson the hard way in their quarterfinal game with Texas.  Fugue's execution errors gave Texas the chances they needed to maintain lead from the first pull to the final score. Fugue kept themselves in contention with gutsy shots and great defense, yet it wasn't enough.
Oregon's program doesn't shy from turnovers, but there are good and bad turnovers. Shooting deep to a close matchup? That's a turnover Oregon can absorb. Fumbling a short, open pass? Not so great. Oregon has the talent and the speed; their mental game needs a few more reps before the post-season.
Stanford and UCSD Coasting, But Neither Team Looks Bulletproof
#8 UC San Diego and #3 Stanford are the best two teams in the Southwest this season so far, but each seemed to forget it at moments this weekend. The UCSD Psychos and Stanford Superfly are both undefeated, but earning these records didn't look easy.
Stanford started their weekend with two 15-1 wins over Chico State and University of Chicago. Yet in the next game, Colorado College was close to beating Stanford and taking the pool. In the span of two days, Stanford displayed the capacity to coast to easy wins as well as the ability to struggle against lower-seeded teams in sloppy games. Despite commendable performances from Caitlin Go, Michelle McGhee, and Julia Butterfield, Stanford rarely played with the disciplined execution they've shown in the past.
UCSD won Pool D on Saturday with a gritty battle and double game point win against Oregon, but they looked less efficient on Sunday during their power pool games. UCSD struggled to close out their game against Minnesota and only made it to half shortly before the hard cap horn sounded. UCSD's handlers had uncharacteristic miscues and the game devolved into a disc firing range on some points, even while UCSD maintained a safe lead. The Psychos followed a similar pattern in their quarterfinal game against UCLA: they built a tidy lead after 4-4, but they couldn't close out the game cleanly.
UCSD and Stanford will square off in the semifinal tomorrow. In the past, this match was a battle of efficiency. But after Saturday and Sunday's play, that may not be the case tomorrow. These Southwest teams could face a slugfest.
Colorado Taking Care Of Business
#4 Colorado Kali looked very much like the #4 ranked team in the nation during the first two days of President's Day Invite. Though this is the first tournament of their season, Kali marched past their competition without much resistance. Even losing Nhi Nguyen to an injury early on Saturday morning did not stop Colorado from claiming their spot in the semifinals easily. Their closest games were against USC in pool play and Cal in the bracket, each with four goal margins. Colorado's O-line displayed the most efficient offense from the first two days, and breaks against Kali were scarce. 
Some credit goes to coach Christina Mickle, who called smart lines without Nguyen while keeping Kali's best players from being overworked. Veteran handlers Jean Russell, Kelsey Bennett, and Jessica Chesnut handled zone after zone with poise, and they'll get to face Texas' tall cup tomorrow in the semifinal. This will be the third tournament in a row where Texas and Colorado have met in the semifinals (Nationals, Missouri Loves Company, Presidents' Day Invite).
UCSB Tops Their Pool On Saturday And Holds Their Own On Sunday
There are no expectations when you're the underdog. UCSB used this to their advantage on Saturday when they upset Texas, Minnesota, and UC Davis in pool play. Fatigue showed in their last game where they lost to Western Washington, but their hard work and high-risk, high-reward throws won them the Pool B.
The Burning Skirts fell to Oregon during power pool play on Sunday, but they pushed Stanford in the quarterfinal and kept the tournament's no. 1 seed on their toes. Even if they drop to eighth place in their consolation games tomorrow, UCSB will break seed by ten places.
UCSB came into the weekend arguably under-seeded, since they'd won the qualifying tournament, but their big stage wins on Saturday were surprising in their caliber. Feisty hammers from Kaitlyn Weaver, quick movement from graduate student Hani Pajela, defensive fire from Audrey Brown, and all-around excellence from Julia Kwasnick earned UCSB point after point this weekend.
UCSB relies heavily on the top half of their roster, and the cracks showed late on Saturday and whenever they trotted out their second line. But they'll have another chance at the division's best in late March at Northwest Challenge; teams can underestimate UCSB at their own peril.
USC Goes Winless On Saturday And Is Without Loss On Sunday, Again 
Southern California couldn't win during pool play, and then it seemed like they couldn't lose after that. The Hellions started their tournament with a bad loss to Washington and a heartbreaking double game point loss to California. The Hellions tried to end their day on a high note, but they couldn't get past Colorado.
Upon arriving in their consolation pool, USC held off both UC Davis and Chicago to earn a spot in the ninth place playoff against Washington. This rematch went differently from the 14-5 drubbing Washington handed them during pool play and USC gritted out a 9-6 victory over the Northwest team. In doing so, USC followed the same tournament script they crafted at Santa Barbara Invite. This is an interesting pattern for this Southwest team, but not one they'll want to hone this season.
The Monday Bracket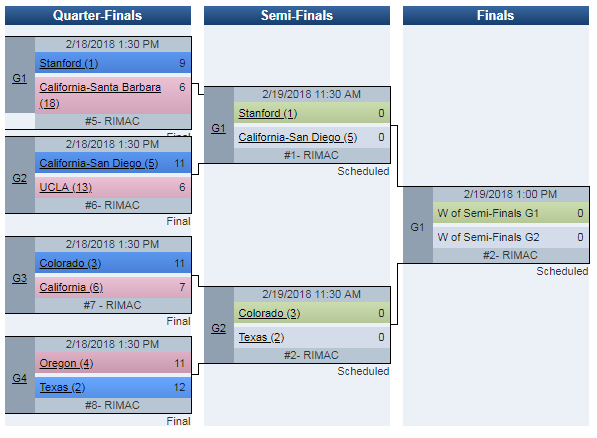 Our Favorite Moments (so far)
When joystick coaching goes wrong:
Kyle shouts "DO IT" and our huck lands on the other field

— UWElement (@UWElement) February 18, 2018
During the UCSB v. Oregon game, a UCSB player threw a wide OI huck that soared out of bounds, but was clearly coming back in. A Utah men's player felt particularly helpful and nabbed the disc from the air instead. Turn. Oregon scores.
A Utah men's player interferes in our game, the sideline isn't even that small. Oregon converts. Pro tip: Stay on your field @ZCU_Ultimate

— Burning Skirts (@BSkirts) February 18, 2018
Ella Hansen's pulls for Oregon. She has the best pulls in the division, no contest. Though we'd really love to watch a contest.
Katiana Hutchinson's defense for Colorado. This Colorado cutter doesn't get as much ink or press as she deserves, but all weekend so far she shut down her matchup or hustled to make the play. Her game exemplifies gritty Colorado defense.
Kaitlyn Weaver's hammers for UCSB. This UCSB handler broke down zone after zone with casual hammers she popped over the cup. Their precision and speed dropped the disc into her receivers' hands with little airtime where defenders could knock them down. According to Weaver, this is the first tournament where she's ever thrown a hammer.
Samiya Ismail's touch flick hucks for Western Washington. Ismail puts so much touch on her forehand hucks, they seem to float in slow motion toward the cutters. They are perfect throws, which is fortunate since Ismail loves slinging the disc early and often.