The South Central impresses while Stanford takes their first loss of the year.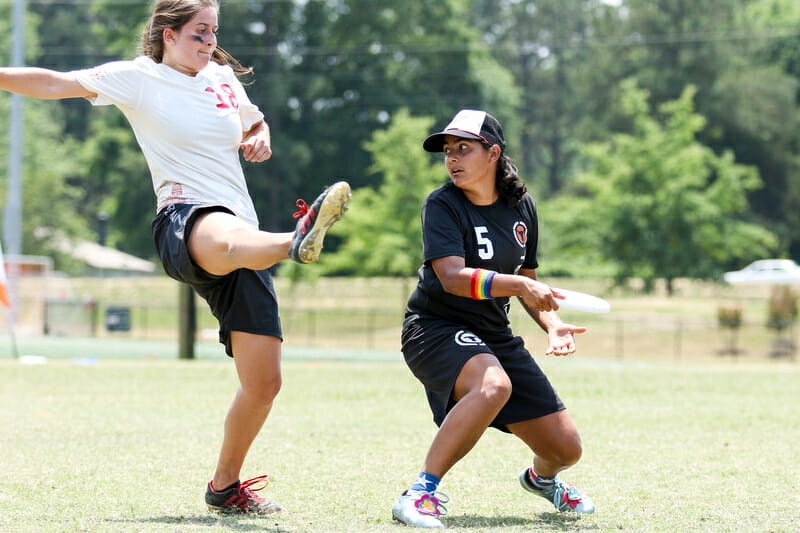 Ultiworld's reporting on Presidents' Day 2017 is presented by VC Ultimate as part of their season-long support of our women's coverage; all opinions are those of the author. Please support the brands that make Ultiworld possible and shop at VC Ultimate!
LA JOLLA, CA — Through torrential rain, short rounds, even shorter fields, and a creative bracket, Presidents' Day 2017 still delivered the most exciting and competitive women's games so far this season. There were upsets, double game points, and showstopping highlights.
Stanford was conquered, South Central teams surged, and the Southwest region continued its battle to earn the bids they sorely need. Meanwhile, Northwest teams are still putting the pieces together. The season is ramping up, and this rainy chapter had a lot to offer.
Stanford's Hype Train Goes Off Track
In a stunning reversal of fate, the nation's reigning champions, #1 Stanford Superfly, were upset by a feisty Texas team on double game point 10-9 in the semifinals. Some teams managed to nab a handful of points early in games before Stanford would take over, but Texas held on; they were able to hold on their offensive points through crafty give-and-go passes, and their defense left Stanford no room to breathe.
"I took a point off and as I walked to the sideline, I heard a [Stanford] player ask, 'What's the score?' and their scorekeeper was like, 'I'm not going to tell you,'" Texas captain Dre Esparza said. "And I thought, 'Oh my god, that means we're in this!' They're asking questions I bet they've never had to ask this year. I thought, 'Holy shit, let's go.'"
#4 Texas Melee stole a few breaks out of half to close their margin, and Stanford's now legendary composure began to crumble. Players threw into crowded lanes. Cutters dropped the disc, and handlers threw out of bounds. They didn't forget how to play, but they lost the laser-like edge that has sliced through every other opponent so far in 2017.
"I went into the game wanting to give them a challenge since they've crushed every team this weekend," said Texas captain Laura Gerencser. "So when we were down, we kept pushing. It was hard, [but] then we realized they started to get nervous, and from there we just sailed."
"We were not ready to play an opponent that tightly, to be frank," said Stanford co-coach Jamie Nuwer after the game. "In the last couple points our offense just mentally did not perform the way that we want to perform in the future."
The mental lapses manifested in two offsides violations from Stanford on top of the drops and miscues. And while it takes an unheard-of level of nerves to play a point with only six players on the line, that's where Stanford's mental game was at 10-8. Sidelines realized late in the point that Superfly only had six women on the field trying to guard Texas in the red zone. Unsurprisingly, Texas scored, 10-9.
The loss isn't a death knell for Stanford. They're still the best team in the division, and they're unlikely to lose again with quite the same flair. But the loss was a wakeup call, and it certainly gave them some mental homework to do.
"This will add fuel to the fire," Nuwer predicted. "[It will get] the kids to perform and work hard before Stanford Invite."
UCLA's Chemistry Earns Them Huge Wins
#16 UCLA BLU was the only undefeated team of the tournament. They took down fellow Top 25 teams Colorado, Western Washington, Oregon, and Texas (twice) through intuitive offense and zone defense.
You don't see the work that goes into UCLA's best offensive points. Junior Caroline McKee centers a pass to senior Han Chen, who throws immediately to the break side, knowing that Camille Wilson will be there. Wilson either resets with ease or hits Sylvia Liang deep, and BLU has scored before the other team can set position in the stack.
Han Chen was the most exciting player to watch this weekend. Southwest teams cheered her from the sidelines, begging for hammers, hucks, or layout blocks. She makes the game look easy. She makes you believe that you too can throw 65-yard backhands, sky piles, and bid for low discs effortlessly. Lesser stars in our sport try to grab the spotlight however they can, often at the expense of their team. But Chen's instincts keep her in a facilitating role for UCLA; she only goes where she's needed.
"I like to have her flexible," UCLA Coach Alex Korb said of Chen. "Taking advantage of her power is helpful… she's just a year better and a year more experienced."
UCLA's core of seniors fill most of the team's stats sheet, but their second line still has the playmaking instinct, and BLU wasn't afraid to cycle their younger players into zone points, with Wilson commanding the deep space.
"[Camille] is just super quick, and a very intuitive defender," said Korb. "Sometimes I'll give her too much correction — and then I'll stop myself and think, no, just play defense."
UCLA is ramping up, and they'll have more chances to challenge the division's best at Stanford Invite and Northwest Challenge later this season.
South Central Brings Ferocious Defense to California
Texas Melee and #8 Colorado Kali did their region proud: both teams suffocated opponents' offense with in-your-shorts person defense that smacked of the South Central. Together they notched wins over five of the Southwest teams present, and Texas upset the tournament's No. 1 and 2 seeds.
Like their trucks and their fountain drinks, Texas Melee went big this weekend. They had a shaky Saturday with an 8-6 loss to UCLA and a narrow win over UC San Diego. Washington's voluntary drop into consolation play kept Melee in the power pools. And, oh boy, did they make up for lost points.
"We started slow, we weren't really playing our game," said Laura Gerencser on Monday. "But we came out Sunday and did what we needed to do, and we came out on a high horse today and couldn't have pushed any harder."
Texas' upset over top seed Stanford will be canonized in Melee lore. Their bloc of veterans finally cashed in on years of playing together. Domenica Sutherland, Shiru Liu, Dre Esparza, Marissa Land, Gabriella Cuina, and Laura Gerencser have been the centerpieces of the Melee offense for several seasons, and it shows on the field.
"We're more in sync [this year]," said Esparza. "Last year was a lot of building chemistry, but since we have such a heavy returner line, it's ridiculous how much we just gel together."
Captain Julia Schmaltz is a recent addition by comparison — last year was her first year with the team — but her height and speed opened the deep space for Texas. Schmaltz made several close grabs over more experienced Oregon defenders during their pool play game on Sunday. Her absence on Monday was sorely felt by her team after she was forced to return to Texas for academic obligations.
Texas will hopefully get a rematch against UCLA in two weeks at Stanford Invite, but in the meantime, they can bask in the glory of having toppled the queens.
Colorado Kali also returns most of their biggest contributors, and their pace and defensive intensity leveled up accordingly. Like their Club counterpart Molly Brown, Kali expects their D-line to do most of the heavy lifting. Their biggest defenders are just as capable after a turn, when Kali will push the pace to score.
Kali Coach Claire Chastain confirmed the team's focus on fast breaks: "We don't want to be in too many situations where we have to stop and pick up the disc to set something up. So we try to use short throws in the beginning and then get some breakaway looks towards the end of the fast break."
5th year Kirstin Johnson still defines Kali's play style, but this weekend players like Leilani Nelson, Katherine Macri, and grad student Megan Chavez (Carleton) made marks on the stats sheet.
This run-and-gun approach meant Colorado had to fight through a lot of long points in the tournament's short rounds, and in several games they paid a price. Hard cap blew as UCLA held out of half to beat Colorado on Saturday, and Oregon surged past Colorado on Monday as the horn blew, despite Colorado's lead for most of the game.
"I think these short rounds are getting to us…" said Chastain. "We seem to be ahead, ahead, ahead… there's a second quarter and a third quarter, and we don't get a fourth quarter to get it back."
Cal Still Building
The #15 California Pie Queens delivered a better weekend than Santa Barbara Invite, even if they didn't reach the final this weekend. They upset Oregon in their first round on Saturday with a sharper offense and all-out defense.
"The girls knew that they were playing Oregon. [They knew] that they were a team that would play fast and [that they were] a team that loves to huck," said California Coach Manisha Daryani after the win. "We came into the game trying to slow down their handlers and that was the main strategy."
The force majeure Anna Wysen played a lot of minutes in the Pie Queen's backfield, and Mackenzie Smith had a breakout defensive tournament. She guarded the skies from Oregon's deep shots several times to regain possession, and her quick passes pushed the pace on turns.
The Pie Queens couldn't survive Texas' defense in the quarterfinal on Monday, but they beat Colorado in the fifth place game, 10-7. They're improving in all the right ways, with one reigning goal: prove that the Southwest is the best region in the country.
Northwest Teams Turn In Mixed Results
Don't count on a revival of the Evil Empire this season. Every Northwest team dropped seed this weekend, and each team — Oregon, University of Washington, and Western Washington — lost games they should have won.
#6 Oregon Fugue, the tournament's No. 2 seed, went 2-5 this weekend. A disconnect between their backfield and the cutters downfield created a lot of turns — particularly on short fields — and even incredible plays from Hayley Wahlroos and Sarafina Angstadt-Leto couldn't save Fugue. Count on Oregon looking much stronger later in the spring as this season's roster continues to calibrate.
#5 Western Washington Chaos improved over the course of the weekend. They narrowly beat USC on Saturday in a DGP game, and they went winless on Sunday against UCLA and California. Western's new vert stack showed its adolescence: the stack usually lined up within the same third as the handler, so the Chaos handlers indulged the impulse to huck downfield in the absence of other options. Tiffany Phan and Maddie Gilbert played a lot of points over the course of three days, and the fatigue began to show on Monday.
Western's goal for the weekend was growth; they don't have to be the team they'll be at Regionals yet. But they have a lot of energy, skill, and potential.
#18 Washington Element had the most interesting truncated bracket on Saturday, when they faced the tournament No. 1 seed Stanford and then the tournament's No. 17 seed, Brown. They went 1-1 and then volunteered to drop into the consolation bracket for Sunday and Monday. They went 3-1 in consolation play against the tournament's lower seeds, but they were upset on Monday by Colorado College Strata in yet another DGP game, 9-8. The choice to drop down in the bracket means we didn't get to see Washington match up against the tournament's bigger fish, but they'll have another chance to challenge them at Stanford Invite in two weeks.
Southwest Hoping For Five Bids
Five bids. That's all the Southwest region wants, and they're trying their damnedest to make their case early this season. While half the teams in the finals bracket were Southwest teams, the real burden falls to Southern California, UC San Diego, and UC Davis to fight in the trenches with out-of-region competitors. Each team broke seed this weekend and made the shorter rounds count in their favor.
#7 Southern California Hellions of Troy went 3-3 this weekend with two losses to Western Washington and one to Colorado. Their win over Washington will likely do the most good bid-wise for USC, and they'll get to cut their teeth against more regions in two weeks at Stanford Invite. Everyone should fear Julia Johnson's throws, and her favorite receivers — Dory Chan and Alyssa Perez — are firecrackers in the midfield.
#24 UC San Diego took Texas, Western Washington, and Carleton College into double game points this weekend, though they weren't able to convert any of those opportunities into big wins. They took teams by surprise with their fast breaks and quick handler movement, with pretty throws from Kelli Iwamoto and downfield work from Maria Zavala.
#25 UC Davis' losses on Saturday destined them for consolation play, where they upset Colorado College twice. Cheryl Hsu is a phenomenal player to watch as their offensive motor. 
Carleton Surprises, Well, Everyone
#23 Carleton Syzygy came into their second pool play game against the California Pie Queens with guns blazing, and they left with an upset on double game point. They poached aggressively in the handling lanes against a reeling Cal, and then they'd fly down field to convert with all the joy and momentum of a young team — which they are. Syzygy gained several freshmen with youth ultimate experience who got a lot of playing time this weekend, and as a result, their entire offense clicked.
"It's given people like Katie Ciaglo, Claire Rostov, and Claire Thallon a break," said Syzygy co-coach Anna Reed. "We had a small roster last year… now we can play O and D lines, which we couldn't do before."
Ciaglo, Rostov, and freshman Maya Powell already play well off each other, and downfield veterans like Caroline Sheffield and Lauren Soter don't have to play hero ball to keep the offense churning. Carleton would only end up breaking seed by one position, but that wasn't the point for Syzygy.
"We came here expecting to prove that we're a team that can hang with any team in the country, and we've done that," the coaches said.
When Carleton says "any team," they have the closest thing to a real case. Syzygy will provide a valuable early season connection between the teams on both coasts, via a 6-1 performance at Queen City Tune-Up. Wins over Cal and UC San Diego, paired with close losses to Texas and Southern California, will probably prove fruitful at this point.