A deep dive on the premier men's tournament in Tampa, FL.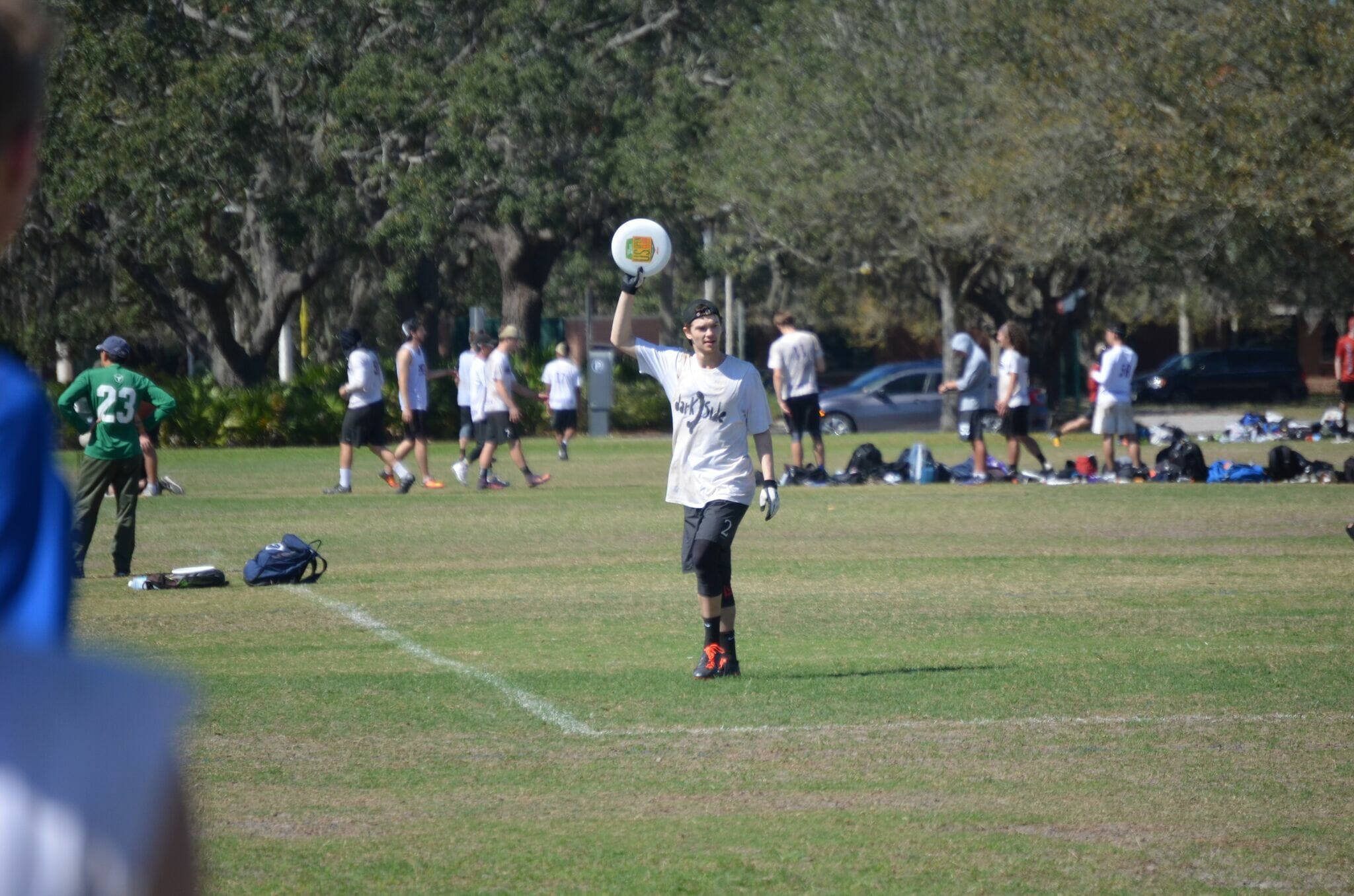 This article is presented by Spin Ultimate; all opinions are those of the author. Please support the brands that make Ultiworld possible and shop at Spin Ultimate! 
Florida Warm Up never disappoints. Three days of Nationals-caliber teams, upsets, and games under the lights make for a rare regular season setting.
This year, four teams established a clear top tier of the Warm Up hierarchy, but there were storylines galore throughout the whole field. Here's an in-depth look of everything that defined this year's edition of one of the premier tournaments of the season.
Headliners
Carleton CUT
A tournament that may have started with a whimper ended with a roar that should terrify the rest of the division, as #1 Carleton toppled #6 Brown 15-10 in the final in Tampa.
It's always tough to predict how CUT will perform in an early season tournament such as this, and their results (even at 5-1 through pool play) bear that out. At times they showed flashes of dominance—for example, forever etching their names into the nightmares of Central Florida with a 13-1 blowout win under the lights—yet also some moments of sluggishness, like a narrow win over a subpar Texas team that would not have covered any projected point spreads.
And of course, two days before they won the most competitive event thus far this season, Carleton had kicked off their 2018 title defense with a double game point loss…to Brown.
This was the final that Warm Up (and CUT) needed to put a bow on the weekend.
***
At 8-0, Brown was the last undefeated team at the tournament and they played like it. The boys from Providence, RI showed no big game jitters and no fear of the 2017 national champions. Brown's cutters tested the force side. Their throwers utilized the break space. On defense, they pressured in-cuts and hit the ground going for layout blocks. This was a team that, let's be honest, no one would have picked to make the final. But now that they were here, they were passing the eye test.
Brown's early play was rewarded with the game's first break. After a pair of turnovers by CUT's offense, Brown's Charlie Holtz placed a beautiful over-the-shoulder flick huck to rookie John Randolph in the end zone for a 5-3 advantage.
On the ensuing Carleton possession, Brown ran zone, which had proven extremely effective in their previous meeting Friday morning. The final, however, was significantly less windy and Carleton was prepared. CUT players spaced the field well, moved the disc quickly, and took no chances.1
Defensively, Carleton's pressure began to wear down the New Englanders. A rotation of defenders like Ethan Bloodworth and Tim Schoch were keeping Brown's ace, Mac Hecht, off of the stat sheet. Throwing windows were getting tighter and resetting the disc was more difficult. At one point, a Brown handler came off the field commenting about the tenacity of Sol Yanuck's defense. We had seen this from CUT in the semifinals against Minnesota, where all of the sudden, Grey Duck just had the yips offensively. Carleton wasn't putting their hands on the disc and getting blocks, but the pressure was enough to make even a star-studded Minnesota backfield see things that weren't there and miscommunicate. That storm seemed to be brewing again in the Warm Up final.
At 6-5 Brown committed their first offensive turnovers of the game and CUT capitalized. With blood in the water and the opportunity to take half, Carleton stacked the D-line with offensive regulars Henry Fisher and Dillon Lanier, and got their third break in a row. Halftime score: 8-6.
Even after a letting up a break run like that, Brown fought hard and hung around throughout the second half. Brown inched back within two at 11-9, after a break on a Solomon Rueschemeyer-Bailey dish to Randolph, but CUT remained in control.
There was another gear altogether that CUT was able to shift to that Brown simply did not have. Carleton broke to win, 15-10, after a muffed Brown dump pass.
***
Carleton looked fine in pool play but they were nothing short of dominant in the bracket. They had that killer instinct you expect to see from a team looking to repeat as National Champions. In quarters they beat a one-loss Florida team by eight points, took down undefeated North Central rival Minnesota handily, and convincingly avenged their only loss of the tournament in the final. CUT's resume from the weekend: 8-1 record, +46 point differential.
Now, further cemented as the top team in the division and headed to Stanford and Easterns, CUT will have to stay mentally prepared to see every team's best game.
"I don't think we're getting overwhelmed by the fact that we're probably a favorite always," head coach Phil Bowen said following the final. "I think we're still okay with falling on our face and hearing it from our teammates and learning from our mistakes… I feel good about the combination of high expectations but also being realistic; it's a long season and there's going to be some lulls."
There were a few lulls at Warm Up. But even Carleton's "lull" game might be too much for some teams to handle.
The factor that ruled the weekend for Carleton was their depth (note that Eric Taylor and Joe White—both U-24 players—were out with injuries this weekend). You think this team has high overall skill? In the final, 9 different CUT players caught goals and 10 different players threw an assist. That's nuts, especially for a season opener.
A lot has been written and discussed over the last few years about Bowen's current senior class, featuring Yanuck, Fisher, Taylor, Alex Olson, and Alex Walker. That's a group packed with contributors, North Central All-Region honors, and Club Championships experience. Most teams at Warm Up didn't have that much talent across their entire roster.
Don't look now, but the sophomore class might be even better.
Guys like Lanier, the rangy Stanley Birdsong, and Chris Padilla are all regulars on the O-line. Defenders like Bloodworth (who had a huge layout block in the final) and Luke Webb take the hard matchups. Two years in and these guys are already pillars of the team, combining for six goals and seven assists in the title game.
"What probably sets them apart from others is that they're polished starting college and they're not anywhere near their ceiling," Bowen said about his second year crop. "You definitely get World Junior caliber kids who, at age 19, are not going to get much better. That is not the case with these guys… these guys are just getting started."
The sophomore class was all over the stat sheet for Carleton, without perhaps it's brightest star in Joe White. 2020 aside… how good could this group be in May of 2018?
Brown Brownian Motion
What a stunning weekend it was for Brown. A year ago at this tournament, Brown went 1-6 in pool play. This year, they went undefeated until the final and gave the number one team in the country their two toughest games of the tournament, including beating them 12-11 in pool play.
Brown's stars shone bright. Mac Hecht may have had the best individual weekend of any player at Warm Up. Brown used him in the backfield to point guard possessions down the field as well as an initiating cutter to get open under and ignite a more quick strike attack. Against Virginia Tech in semis, he dominated Joe Freund the few points they matched up before Tech switched him off to guard other players the rest of the game.
"He's one of the best natural throwers I've ever seen. Especially when he's hot, it's really, really tough to stop him," explained head coach Jake Smart. "We build around our offense around the fact that we know he can execute for us down the stretch. We put a lot of pressure on Mac, and he rewards us."
Hecht wasn't the only Brown star to have a great weekend, either. Eli Motycka was rock steady, most often playing on the team's D-line. John Randolph asserted himself as a favorite for the Rookie Of The Year award with his play on both sides of the disc. But what was surprising about Brown's weekend performance was their depth. In recent years they've had  star power similar to their current top three, but this year they have a strong supporting cast as well.
Sophomores Ken Noh and Solomon Rueschemeyer-Bailey were both solid, consistent playmakers. Freshman Azeez Adeyemi showed explosive athleticism and fellow rookie Dylan Villenueve played with remarkable composure taking some of the toughest matchups on defense. The younger portion of the roster is where Brown really impressed. 14 members of their roster are freshmen and sophomores, and a huge number of them logged significant minutes. It's those young players that have caused Brown's huge leap from where the were one year ago.
"We had a bunch of great freshmen come in last year, and maturity, of course is a problem with young players," said Smart. "We went in to last season trying to build that maturity of the team, and we're seeing the fruits of that labor now."
Coming into the weekend, Brown was a team to keep an eye on. They had a few star players and had the potential to win a handful of games in pool play and possibly make the bracket. But they massively exceeded those expectations and the nature of their performance indicated they have staying power. Brown's weekend at Warm Up will send them skyrocketing up the Power Rankings and has them looking like a contender to make quarterfinals at Nationals, too.
Minnesota Grey Duck
#3 Minnesota was the number one seed after pool play and for good reason. Grey Duck put away opponents like #12 Brigham Young, #23 Auburn, and Michigan with relative ease.
For many of the teams that struggled in Tampa, the biggest factor was an inability to reset the disc. Fortunately for Grey Duck, handler motion is something they have in spades.
Wyatt Mekler, Sam Kaminsky, Tristan Van de Moortele, and Codi Wood regulated disc movement out of danger and into pay dirt all weekend. The chemistry between Mekler, Kaminsky, and Van de Moortele is the tremendous product of the last three years. The addition of Codi Wood has felt almost like a blockbuster free agent signing in professional sports; you're not supposed to get a college ultimate player this refined for one year. It seems unfair.
"Codi Wood is unbelievable. He runs our D-line." junior captain Sam Kaminsky said Saturday evening. "This year we are really lucky to have great handlers on D-line who can swing the disc and keep the disc moving… having Codi back there really opens up a lot of options for us."
Wood can do it all offensively, but his defining contribution to Grey Duck may be his defense. He spent most of the weekend locking up on the opponent's best handler or facilitator, making their life extremely difficult.
Grey Duck kept their approach simple. They ran person defense all weekend and played their rookies. Last year we saw unknown freshmen like Jonah Malenfant, Wystan Duhn, and Cole Jurek get the first quality scratch of their college careers at this tournament. Those guys came back in 2018 and contributed. Lots of first year Ducklings like Cash Barber, Sam Jordan-Wood, and Daniel Meiland (who had a pretty cool "Welcome to the big leagues" moment when he caught bookends for a break in the CUT semi), saw significant action.
So how good is Minnesota? They may have been the second best team in at the tournament. Even though Minnesota was without Van de Moortele all of Sunday with a foot injury, they still would have been hard pressed to beat CUT, who just outclassed everyone in the big money games. Carleton's pressure forced Minnesota to do a lot of silly things they had not done all weekend: throw standstill hucks from the sideline and miss each other on short passes and resets.
But you've really got to like what Grey Duck did in the placement game. After a tough loss to North Central foe, they regrouped to take third over Virginia Tech. That's a great sign for Minnesota fans out there. The knock on this team is that they're not very tall, while VT, on the other hand, is a bunch of Monstars. Minnesota checked a box with that win and put in a full weekend's worth of effort.
Virginia Tech Burn
In real time, it was tough to gauge the caliber of #7 Virginia Tech's 6-0 record through pool play. Tight wins over a shaky Florida State and a solid Harvard bookended their pool schedule. Their win over Michigan is far less valuable than it was expected to be, but their victories over #22 LSU and and Northeastern end up looking like pretty solid victories now.
In quarterfinals, Virginia Tech erased any lingering doubts over the true strength of their weekend. Playing LSU for the second time, Tech out-muscled LSU on their way to a blowout win. Both teams looked to go deep at every opportunity. It was one of the most fun games of the tournament, with both teams launching bombs downfield and dueling in the skies for goals and blocks. In the end, it was Virginia Tech's height that won out over LSU's speed.
Burn was maybe the tallest team at the tournament and that advantage was never more evident than in that LSU game. Joe Freund and Rhys Bergeron were uncontainable and—though he is one of the more undersized players on the team—Tommy Cianciolo was a standout as well. Tech played those three and some others both ways for much of the tournament and through the first seven games that strategy paid off. But after a long weekend of throwing it deep possession after possession, Virginia Tech looked gassed on Sunday. Against Brown in semis, Tech couldn't muster their usual defensive pressure and they didn't attack the deep space with the same ferocity as they had all weekend.
"I think it's hard not to [feel tired.] I think every team's gonna feel that, with the sun beating down this hard. It's definitely a factor, but it was a factor just as much for them as it was for us," said Bergeron after the Brown loss. Bergeron also didn't blame the team's fatigue for their absent long game, either.
"Yeah, I guess we didn't really have those deep shots that we normally do," he posited. "It was mainly that zone, they had that kinda poachy zone so deep looks were kinda shut off. And then when they went man, I guess we probably didn't notice so we kept going. But the unders were working."
It was Virginia Tech's disadvantage in team depth that separated them from the other top four teams on Sunday. The long nature of the tournament seemed to hit them harder than some of their counterparts. But their top end's performance—especially on the defensive side—on Friday and Saturday made them deserved members of the tournament's top tier. They may not have had the legs to to play to their usual strengths on day three, and that's something to improve on for Nationals, if they make it. But Tech exits Warm Up with a strong resume and the look of a Nationals quarterfinals contender.
Secondary Storylines
Beyond the top four teams, there was plenty of action from teams with legitimate Nationals hopes. Some played as well as they realistically could have, others were steady if unspectacular, while others still may wish they'd skipped the tournament altogether.
The Good
Warm Up took a physical toll on #19 Wisconsin. The Hodags already had some injuries heading into the weekend, (like Nick Vogt and 2017 All-Freshman selection Maddox Hill; both traveled but never cleated up), but early in pool play Tommy Gallagher and David Yu also ended up on the sideline. Gallagher and Yu are the team's two captains and the primary handlers on the O and D-lines respectively. Wisconsin was without seven players before the end of pool play.
The situation made it nearly impossible for the Hodags to compete in the way we've come to expect, but there were a few silver linings: they were forced into personnel changes that helped them quantify exactly how deep their roster was and they were still able to win games.
"As much as it's disappointing to not do well at Florida Warm Up, what we did with the guys that we had is pretty impressive, I think," said coach Andrew Brown after Wisconsin was eliminated from contention.
He's right. The Hodags gutted out enough wins to qualify for the bracket, where they stole a game from Central Florida on double game point to advance to the quarterfinals. The bracket schedule was unforgiving on lower seeds. Wisconsin had about three minutes to huddle before they played a fresh Minnesota team, and took a 15-6 loss on the chin. In their run to the bracket, Brown and company got a vivid picture of what the future might be like for the Hodags. And the future is bright.
Southpaw sophomore Ben Pavelka (and his pinpoint around flick) stepped up in Gallagher's absence and got the disc moving while tallying plenty of assists. Ted Schewe, a lanky freshman, was a workhorse in all manner of spaces downfield. In the first point of the quarterfinal, Pavelka hucked it deep to Schewe who boxed out Minnesota's Jonah Malenfant and brought down the goal. North Central fans should be excited to see more skirmishes between those two over the coming seasons.
In consolation, Wisconsin managed wins over LSU and Northeastern (both were 4-2 in pool play) to finished tied for fifth. Credit to Madison for stepping up and salvaging a weekend.
More so than any other squad at the tournament, Wisconsin will be totally different in a few months once they get healthy. They'll need to get those guys back on the field soon because their bedfellows in the North Central are at the top of the division right now and the Hodags will want another bid.
***
#18 Florida tied for fifth place, and continued their history of playing well at Warm Up. Their narrow win over Harvard and loss to Northwestern raised some eyebrows, but both of those results became more flattering as the weekend wore on. Their offense looked stellar against Wisconsin on Friday night as Billy O'Bryan put on a full skills clinic. Hayden Wachob and Josh Layton also had big games to help key Florida to their first marquee win of the season.
They were the first team to suffer the wrath of an actually-trying-hard Carleton and got blown out in quarters. O'Bryan did his best to keep them in the game early, but Florida doesn't have the depth of talent to hang with a team like Carleton when they play that well. Their wins over Northeastern and LSU the next day were a nice cap to the tournament for them, though. It would have been nice to see them play another one of the top tier teams, but Florida passed the eye test pretty well.
Their weekend should keep them in the race for a bid, but they'll likely be frustrated by some of the result their Southeast counterparts put up. Questions will continue to follow Florida until they get back to Nationals and a multi-bid region is their best chance of doing that. The results their Southeast rivals turned in at Warm Up didn't help there. But in the only part of the tournament they could control, Florida minimized their own slip ups and put together a positive weekend.
***
Warm Up was always going to be a litmus test for LSU; it's the biggest tournament the team has ever attended. They were never going to be able to put together a run to win the tournament, but for where LSU is as a program, Warm Up was a success for them. They started 0-2, but played Brown and Virginia Tech in those games. And their resilience to bounce back from that tough start was impressive, going undefeated through the rest of pool play.
They beat Michigan before Magnum had completely self-destructed and their wins over Northeastern and then Harvard in prequarters were both commendable results. But more important than the final scores they posted, LSU looked like they belonged. There's real talent on the roster, and they're a well coached, too. Eric Reviere and freshman Matt Freeburgh were nice anchors in the backfield, while Jeff Oravic made big plays on both sides of the disc downfield. Thomas Echols is the superstar and he had a great weekend, but he's not asked to do everything for them, which is a good sign for the team's development.
LSU didn't blow anyone away with the way they played in Tampa. They didn't get any great wins, but they also beat everyone they realistically could have hoped to. In short, they looked like they belonged. For a team's first trip to a tournament of this caliber, that's certainly respectable. And depending on how many bids the Southeast earns, it may be the type of performance that could see them make it to Nationals.
"We have expectations for ourselves this season. We've got a lot of good young talent," said Echols after the quarterfinal loss. "From the beginning of the season…we decided we wanted to expect more from ourselves. We knew you don't just jump straight to the top. You gotta work your way up, and our goal is for the end of the season, not regular season tournaments. We knew, even if we lose games, it doesn't matter, as long as we're getting better."
***
Northeastern's biggest win doesn't look as impressive as it did in the moment. When they boat raced Michigan in the second half to overcome a 7-4 halftime deficit and win 11-8, it seemed like a huge upset. The quality of that win deteriorated rapidly as Michigan fell apart over the rest of the weekend, but it was still impressive to see Northeastern pull off that sort of comeback.
The Michigan win improved Northeastern to 3-0 after they started with two easy wins against Oklahoma and Florida State. After the start, head coach Dan Hourigan stressed the importance of his team not getting ahead of themselves. "I think it's important for us to realize where we're actually at and where our ceiling is and that we're not close to it. [We need to] continue to perform the way we're performing."
As Northeastern's schedule ramped up in quality, the team wasn't able to keep their level of performance consistent. They bounced back from a loss to a ruthless Virginia Tech with another comeback win against Illinois State, but afterwards went winless. Those games were against LSU, Brown, Florida, and Wisconsin. Having a win in just one of them would have given their weekend the sparkle of a upset.
Overall, Northeastern, is a team that depends on playing fundamentally sound ultimate. They don't have a ton of individual game changers. Mark Karakh and Matthew Cook made some big plays as O-line cutters, and Ben Goossen is a plus defender, but they're not the type of team that's going to win games on the back of individual performances. They're well coached and later in the year will likely be better equipped to give more talented teams a tougher time. Still, Northeastern beat just about everyone they should have, and for that, they should feel good about about their trip to Tampa.
***
In case you were still on the fence, it's official: #12 BYU CHI is good. Going 7-1 at Warm Up (in only two days!) is ridiculously hard to do. This may be CHI's best tournament in program history. Their victories came over Wisconsin, Auburn, and Texas A&M, and their only loss of the weekend came to Minnesota, who was beating everybody on days one and two.
When you watch this team you don't marvel at individual skill or innovative schematics. BYU has a bunch of skinny, tall-ish athletes who do all the little things right. These guys are on their details, and at Warm Up, that started with person-to-person defense.
"We don't have that Nationals pedigree," head coach Bryce Merrill said after a 13-11 win over Texas A&M. "So all we know how to do is some really simple stuff. I think the best thing you can do is play the best person D and that will get you out of a lot of jams."
The thing is, BYU does the "simple stuff" really well. Defense was their strong suit all weekend. Not only on the D-line either; BYU is defensively-minded on all fronts. The games at Fowler fields were distinctly upwind-downwind. Rather than give Texas A&M a short field on a risky break throw or a high stall situation, BYU's O-line would just jack it deep and play defense. They forced opposing D-lines to work long fields and that strategy paid off. CHI allowed no breaks against Northwestern and only one against Texas A&M.
"When it comes down to it," Merrill said of BYU's defense. "We're just going to have to win those battles, so that's where we spend our time in practice and it paid off here."
For as faceless as Merrill's team looks at times you couldn't help but notice Matt Ricks, who was a beast for Brigham Young in Tampa. Ricks was recently moved from playing handler at Santa Barbara to cutter and he is thriving. He gets open to start the offense and has the skill to throw long goals to the next cut.
CHI stands for "Competition, Humility, and Integrity" and these Utahns definitely take that mantra to heart. BYU has a strange team culture when compared to their peers in the men's division. If you spend time on their sideline you will never a player say an ill word (or so much as a frustrated exhale) about a decision, a turnover, a teammate, or an opponent's call. Ever. There's not even any hat throwing after a missed block. They exude constant positivity.
The roster is a little older than their competitors (as Mormons often spend a few years abroad on faith-based missions before returning to school). Maybe that makes all the difference in maturity. To see a program that competes under some very difficult developmental constraints post a 7-1 record at the first elite regular season tournament of the spring—without the toxic ego that can accompany success —is impressive.
So how far could BYU have gone? Merrill's team would have been headed straight to quarterfinals if they were allowed to play on Sunday. If their defense kept clicking and they didn't have to play Carleton or Minnesota… you'd have a tough time picking against them to make the semifinals.
A lot of teams would kill to finish 7-1 at Florida Warm Up. This should be a deservedly memorable Warm Up for CHI.
The Bad
Auburn
#23 Auburn Aetos was considered one of the teams capable of winning the tournament before action started on Friday. They had a nice Queen City Tune Up and brought one of the most talented and experienced rosters to Warm Up. Everything started to plan as they cruised to two easy wins over South Florida and Cincinnati, but Auburn only won a single game rest of the weekend.
Eric Sjostrom missed much of the weekend due to illness and that does place an asterisk next to their results. But Auburn was supposed to be more than a two-man team of Sjostrom and Martin Newman. Their backfield looked outmatched whenever Newman wasn't there. Michael Strobel had a weekend to forget, and none of Auburn's other solid depth players made enough plays for them to garner any impressive victories.
Auburn has always been a postseason team, so there's no reason to push the panic button yet, particularly with Sjostrom's absence. But Aetos has the talent to be a top 10 team when they play well, so their weekend has to go down as a pretty major disappointment.
Texas A&M
This isn't the gun-slinging, nut-meggin', one-guy-throwing-all-the-assists #20 Texas A&M Dozen team of recent memory. Unfortunately, Dozen wasn't its old self in the win-loss column either. A 2-4 pool play record is a bitter pill to swallow for a team that made the semifinals at Warm Up a year ago. But without the transcendent throwers and players of yesteryear, becoming more system-oriented is wise.
"We have, over the last couple of years, started teaching a different style of Frisbee, [rather] than just yank it deep every point," captain Casey Aldridge said with a chuckle after pool play.
Eight players have been promoted from last year's B team, and the Dozen leadership has put some structure in place to help those guys carve out roles. The O and D-lines were strict all weekend, only stacking occasionally when trailing late or in point-for-half situations. Connor Ughetta pulled for the defensive unit (which was a bit of a surprise), with Nico Caesar and Jamie Wall handling for the offense. Their signature win of the weekend was a six point victory over Auburn, though there was a little less shine on that performance as Aetos turned in lackluster results.
A&M is adjusting their strategy to their personnel, but they are very much looking up at Colorado and Colorado State in the South Central, and may need to consider mixing up the lines at Centex to get themselves in bid contention.
Florida State
Yes, Florida State is in a period of transition, but being one of only two teams to fail to record a win in pool play isn't exactly at the top of How To Rebuild A Program manual. They took half over Virginia Tech before losing 13-10 to start their tournament and looked like they might be on the cusp of having a solid tournament. But then they were overrun by Northeastern, scored just six goals against LSU, and lost to Oklahoma, who would go on to finish in last place.
They did show a penchant for gutsy comebacks in a couple of those games and in their final pool game against Michigan, but each time the hole they'd dug themselves was too steep to climb out of. They did grab two wins in consolation play against Illinois State and UConn, and some of their second half performances should give them something to be optimistic about as they build. But after this weekend, Florida State is a long way off from being part of the national picture.
The Ugly
Michigan, Connecticut, and Cincinnati all had brutal weekends.
Michigan
Michigan came into Warm Up as one of the contenders to win the tournament and ranked in the top 10 in the country. Instead they finished 15th at the event. Their best result was probably a 12-9 loss to Minnesota, but even in that game, Michigan needed some garbage time breaks to make the score that respectable.
Their final pool game best represented their tournament as a whole, when they surrendered a 7-2 lead to Florida State and barely survived double game point to win 10-9. Michigan was a mess at Warm Up. They still have a direct path to Nationals in a relatively weak Great Lakes region, but Michigan has a lot of recovering to do before they get back to being considered one of the top teams in the country again.
UConn
The expectations for Connecticut weren't as high as they were for Michigan, but Warm Up was a major stumble for them, too. UConn finished 21st out of 22 teams. Their win over Wisconsin gives them one nice result, but it feels like little more than a random outlier in the context of the rest of their weekend.
UConn seemed to struggle with the warm weather, and their lack of star power to lead the roster meant they didn't have anyone to drag them to wins when the team wasn't at their best. Like Michigan, UConn will remain in the Nationals picture due to their weak region, but there has to be real concern in-house about where the team is trending.
Cincinnati
Cincinnati's resume after pool play: 1-5 with a two point win over South Florida. It feels like Cincy's first round game set the tone for an overall forgettable Warm Up. Leading Harvard 10-7, UC looked poised to start the three day stretch with a win. Then they inexplicably gave up a 6-1 run to lose. That loss was the cherry on top of the news that Keegan North (U-24 Men's US National Team and High Five) would not be returning to school this semester. If Cincy wants to turn their season around they'll need to execute a 180-degree turn before Easterns.
Quick Hits
In a nice bounce back weekend from a rough Queen City Tune Up, Northwestern (6-3, 3-3 in pool play) put together a solid weekend, missing the bracket only by goal differential. Their 13-10 win over Florida on Friday was their most impressive result, and their only losses came to Wisconsin, Central Florida, and BYU. Northwestern doesn't have any true stars, though Kyle Rutledge did make some big plays. They are well coached and do a lot of the little things right. With the disastrous weekend Michigan just had, Northwestern looked like the type of team that could quietly be a contender in the Great Lakes.
Harvard played tight games with just about everyone at Warm Up. Seven of their games were decided by three goals or fewer, including four games decided by one goal. The most exciting of those came against Auburn, when they won the game with a walk off Callahan. Milan Ravenell had a nice weekend, using his quickness to get open both deep and underneath. He also flashed a bit of hucking talent at times. John Rahill was the most consistently impactful player for Harvard, though. Those two aren't the type of duo that can win games on their own, but Harvard is more solid this year at the mid-level of their roster. They could potentially give some of the top seeds at Regionals a scare or two based on how they played this weekend.
It was a mixed bag of a weekend for Central Florida. They bounced back from a poor showing at Carolina Kick Off and beat lower seeded teams in pool play. They would have made it all the way to quarters were it not for a late collapse against Wisconsin, losing 13-12 after leading 11-9. But they also lost 13-1 against Carleton, which is an embarrassing scoreline regardless of how great Carleton was. Their two losses in consolation diminished the shine of their 4-1 start to the weekend. Overall, it was far from a disaster for UCF, but they still let a few moments get away from them that could have made it a much stronger weekend.
Texas had a jarring start to their weekend. They gave away a late lead to Illinois State to kick off an 0-3 start. They were able, however, to avoid a shockingly bad weekend with wins over UConn and FSU in pool play. They added another W over Auburn in consolation play. The schedule was not kind to a Texas team in a state of rebuilding, but they hung tough in most of their games. Texas didn't have the talent at the top end to compete with the elite teams in Tampa, and unless some younger players make big leaps over the course of the season, that isn't a problem they can fix before next year.
Illinois State (2-7, 1-6 in pool play) did not post a great record at Warm Up. But in many of their losses they had runs where they were the better team. They left themselves a bit too much ground to make up against Brown and Northeastern and were unable to replicate their comeback against Texas, who they defeated 12-11 in round one. But against more talented opposition, ISU was consistently a tough out. They were without Jack Shanahan and a couple other of their top players, too, so perhaps those close calls will act as a nice baseline to build their season on. The Great Lakes region isn't exactly the talk of the division. It would've been interesting had they played Michigan, but we'll have to wait to see how those two match up.
All Tournament Team
Mac Hecht (Brown)
Hecht was the straw that stirred the drink for Brown. His game against Joe Freund in their semifinal matchup was virtually perfect and the most impressive individual performance all weekend. If Brown continues to play well this season, Hecht is a serious Player of the Year candidate.
Billy O'Bryan (Florida)
O'Bryan did it all for Florida this weekend: huge hucks, incisive hammers, deep cuts, skies, and big blocks. He was the maestro of Florida's win over Wisconsin on Friday night. O'Bryan is asked to do an awful lot for Florida, but when he's playing well, that usually means Florida is too.
Ethan Bloodworth (Carleton)
CUT starts Bloodworth on defense, but he can beat you on both sides of the disc. He is nearly impossible to shake because of how well he moves laterally and in short bursts. Once his line gets the turn, he has the skill to convert breaks with his arm or with his legs.2
Tim Schoch (Carleton)
Always a great defender and dependable cutter, Schoch showed off an added weapon in Tampa. Over the course of the weekend, he unfurled several forehand and backhand bombs and was even brought over to help right the O-line a couple key moments. Schoch maintained his role as the team's ace defender and a central cutter after turns, but with his expanded offensive role, Schoch was one of the most impressive and complete players in Tampa.
Codi Wood (Minnesota)
It's hard to believe this was his first tournament of the year with Grey Duck considering how well he fit in, but that's probably the hallmark of a great player. Wood kept the other team's best handlers and throwers in check all weekend.
Joe Freund (Virginia Tech)
Freund didn't play out of his mind in Tampa. Really it was pretty standard weekend for him; i.e. he was comfortably one of the best in attendance. He scored goals, he crushed huge hucks, he got blocks, and erased most teams' deep games. Freund did the most for a Tech team that had a great weekend, all without looking like he was really trying all that hard.
Thomas Echols (LSU)
Echols is a rare player in the Southeast, having played ultimate before college. Now in his fifth year, he's trying to help turn LSU into a program that competes at Nationals. His play at Warm Up went a long way in that quest—assisting, scoring, and getting massive layout blocks. He's been one of the top players in the Southeast for a while, but with his team now playing at major tournaments, he's finally getting to show that off on a bigger stage.
---
Food for thought: Chris Padilla and Dillon Lanier—two sophomores—each threw lefty scoobers on this point. Does that underscore the skill of CUT's underclassmen? Their bravado? Or the evolution of the off-hand scoober as a viable throw? ↩

His line from the final against CUT: 2G/2A/1D. ↩