Star performances from Jones, Murphy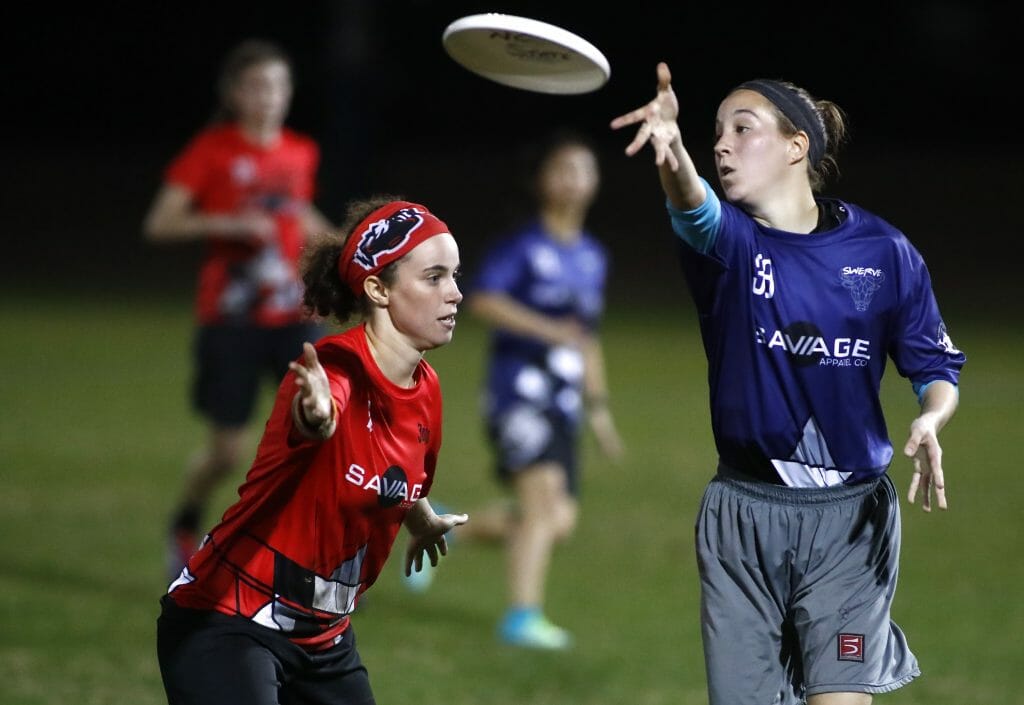 This article was written by Charles Kerr, the NC State assistant coach. He was the head coach from 1991 – 1997. He is also the co-author of the Callahan Rules and the "Callahan Goal," the founder of the Callahan Award, and the primary developer of the JinxCam elevated camera system.
The opening night of the 2018 Atlantic Coast Showcase was played under the best weather ever recorded in Raleigh, NC, for a February 22nd. When the final pass was completed at 9:00 PM, temperatures were still in the mid-60's, certainly an auspicious start for the Showcase.
The opening game of the doubleheader started at 6:00 PM with two bitter Tobacco Road basketball rivals, NC State and Duke, squaring off.
Game one featured the men's club ultimate teams playing in front of several hundred fans. On display were two talented, athletic teams, but it was the performance by NC State junior David "Davey" Jones that really stood out.
Jones was involved with over half of NC State's 15 points, and thanks to his play and strong pulls, he helped State take half 8-3. The game finished with one last Jones assist, this time a lefty backhand, closing out a 15-8 State win.
The nightcap women's game featured another dominant performance by an individual: Duke's Amanda Murphy. Known simply as "The Murph," Murphy has a game similar to recent Oregon standout Jesse Shofner, and she dominated the first half with a series of offensive and defensive plays.
Even with Murphy's outstanding play, both teams played efficient ultimate and halftime found NC State on top, leading 8-7.
In the second half, Murphy started to tire and State's height and core group of experienced handlers proved to be the difference, as State streaked to a 15-9 victory.
Universe Point awarded a pair of cleats for the Play of the Night, and commentators Taylor Pope and Robbye Brooks discussed a number of Murphy plays from the women's game vs. an outstanding sprint and swat defensive play by NC State junior Henry Poe. In the end, Pope and Brooks agreed the award had to go to Murphy for an on-the-run red-zone sky amongst a crowd of State defenders. Murphy is Duke's 2018 Callahan Award candidate, and she'll be one to watch for this season.
Both the men's and women's games can be viewed on the NC State Club Ultimate Facebook page.