Our Friday Five takes a look around what's caught our eye this week, including important topics from Madison's gender equity discussion, the college roster deadline, reminiscing about Stanford Invites-past, and some weird celebrations.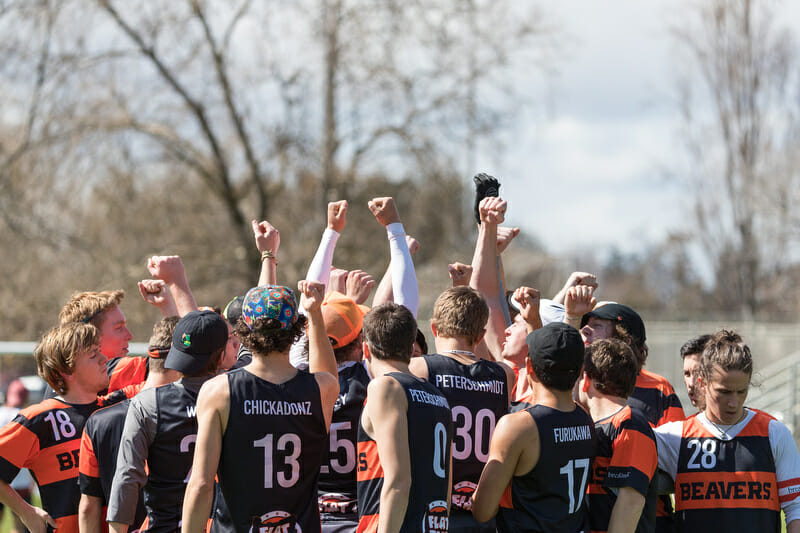 This season, we're trying something a bit different. Every Friday, our team will look at the exciting stories, teams, players, events, quirks, and all the inbetweens, and highlight five that have them hyped for the weekend of ultimate to come. Check out what's caught our eye and let us know what you're looking forward to in the comments.
This Week's Roster
Sam Echevarria, D-III Women's Editor
Mike Ball, D-III Men's Editor
Keith Raynor, College Content Manager
Aidan Shapiro-Leighton, Video Editor
Simon Pollock, Managing Editor
The Five
Sam: Getting Swept Up In The Crosswind Tour
In the inaugural Friday Five Things column I wrote about Madison's (my hometown) AUDL team inviting female-identifying players to try out for the team and putting their combine fees going toward local youth ultimate efforts. With all of the additions and changes to how AUDL teams and cities are addressing gender equity (or not) and the failure of the UUL Kickstarter this past week, the future of non-male players in semi-pro ultimate–arguably one of the most visible and accessible versions of our sport out there for spectators and future ultimate players–is still up in the air. I'm not really sure what will go away and what will persist.
In my life specifically, I know I talked about this and much more with community members at Upwind Ultimate's equity discussion in Madison this week. We discussed allyship and advocacy; microaggressions; personal experiences; intersectionality; and more.
I am lucky enough to have been introduced to much of this while I was in school and since, these topics and aspects of life have begun to hold sincere meaning for me. For others equity discussion attendees, they were probably brand new or just buzzwords they've seen on Twitter. Kudos to everyone who came and shared their perspective; an equally big kudos to everyone who came and listened as well, especially since some of these topics aren't necessarily easy to live with or reconcile within our own lives.
I personally hope the Madison community keeps thinking, talking and acting on what we want ultimate to look like for all players and people here on The Isthmus. To others I recommend you check out the events if Upwind is bringing the Crosswind Tour near you, or check out their digital resources. This conversation isn't going to be over any time soon, and neither is the pursuit for equity in as many facets as possible within ultimate.
Mike: Roster Deadline Brings Big Changes to D-III Men's Division
This week is the most stressful week of the college season. Today is the roster submission deadline, meaning captains all across the country have spent the past week scrambling to pull themselves together and begging their school's registrar office to push their roster through quickly so they don't have to pay for overnight shipping. In a world where everything is going digital, it remains hilarious to me that something as important as USAU roster verification is handled by traditional mail, but that's a different subject for another day.
As the rosters come rolling in and USAU updates their website, I try to keep an eye on out for any surprises in the roster log. Typically this means I'm looking for D-III eligible schools who have historically played D-I, but have decided to make the switch to D-III, continuing to strengthen and grow the division. Unfortunately, this year's big surprise went the other direction: after just one year of competing in D-III, #3 Dartmouth Pain Train has elected to take the D-I path this season.
There are two strong emotions that I feel from this news. On one hand, I'm disappointed. Quality programs like Dartmouth help grow the division, and I'm a firm believer in the cliche, "a rising tide lifts all boats." Dartmouth would have been one of the favorites to bring home the D-III title this season, and I was enjoying covering their pursuit of that goal.
On the other hand, this is a huge opportunity for the rest of the division. A strength bid just went up for grabs and likely a spot in the semifinals of Nationals as well. Who's going to step up to take it? Does this open the door for traditional one-bid regions to snag that long-desired second bid? Will this motivate Bryant to get their ten games in so that the New England region doesn't lose the bid? Will Brandeis or Williams step up to earn the bid back for the NE? We shall see.
Keith: The Cure For The Stanford Invite Blues
Today, it was announced the Stanford Invite was being moved to Stevinson, CA due to field closures following days of rain. It's only fair since the tournament has massacred the Fremont fields in the rain in previous years. I think in the past five years, the tournament has gotten good weather twice. Charlie has some feels about this—you'll find his rant near the end of the episode.
So why do we get excited for this every year? Why get the band back together and drop a pretty penny on cross-country flights and a livestream setup?
When I think of this tournament, I think of the women's final of 2015. Stanford versus Oregon, a clash of two the title contenders. There were tons of stars, but Hayley Wahlroos may have stolen the show with her famous throwing clinic collection of highlights. The game ended on a Shofner layout second effort grab on double game point.
Or a few years prior, Central Florida, led by Sunny Harris and Mariel Hammond, were taking the division by storm, and facing West Coast teams for the first time. They were taking on vaunted Oregon and both teams were throwing haymakers. Harris had a massive two handed layout block to save a score that marks that one as memorable, even though Oregon took home the W.
The men's division has its share of great ones, too. In 2016, Pittsburgh and Wisconsin, probably best known for the timeout that wasn't, was a doozy. For all the laughs we have had at Trent Dillon's expense, don't forget the absolutely filthy bookends he put together in that game. And the stars have come out in men's, too. Jimmy Mickle devastated the fields in Stevinson with big play after big play. Dylan Freechild made an insane sprinting grab on the sideline over his own teammate and a defender on the livestream, adding to his legend. Speaking of Oregon, we also got Harvard upsetting them in quarterfinals. Chris Strub infamously exclaimed they should "never lose to Harvard. Ever." That same Harvard squad knocked them out in prequarters at Nationals. Some narratives build themselves.
The point is, we have been treated to many great moments wrapped in great games that gave us great stories to tell. There's plenty to be sour on about Stanford Invite this year, but if it's anything like years past, there will be lots to talk about afterward beyond the playing conditions. Hopefully, that makes the two hours we will have to drive each way both days1 worthwhile.
Aidan: Weird Stuff Seen From The Crow's Nest
Stanford Invite kicks off tomorrow, giving us a look at top teams in the country going full tilt, fighting for bids, bragging rights, and flexing skill and strategy. This is the most important college tournament of the year so far, and is the first that some semifinals contenders take seriously. Ultiworld is livestreaming, which means I get to shake off the camera operation rust from the winter doldrums to travel to (hopefully) temperate and sunny-rainy Stanford2.
I'm excited to watch incredible skill and athleticism out on the field, see which coaches did their homework, and witness the new pull plays, end zone sets, and junk defenses teams tuned up in the early season. But I'm also excited to capture those little moments on the ultimate field that often get overlooked. You won't see them on highlight reels or the ESPN Top 10. And yet, to me, they are incredibly important.
These little oddities make editing countless hours of early season college games totally worth it.
They are the bizarre moments that arise when you throw a bunch of slightly unhinged teens and twenty-somethings together in a loosely structured environment. They may cause the sideline parent to shake their head but they make me chuckle in my edit suite.
Sometimes it's creatively planning new spikes:
Or less-explainable goal celebrations:
Maybe you'd call this chain flossing?
And a unique way to sustain a head injury.
And, whatever this is:
So to all you hardcore college players out there, keep performing (in all manner of speaking) for all of us.
Simon: Team Effort
Two divisions full of players, tournament staff, observers, and Team Ultiworld are all going to have to think on our feet this weekend as Stanford Invite heads out to the auxiliary field site. Alarms will ring well before sunrise on Saturday and Sunday. We'll all pack into rental cars, sucking down coffee poring over adjusted schedules and field numbers.
Sure, there's plenty to complain about.
There's also so much to feel thankful for. Whether you are playing, coaching, observing, directing, or livestreaming ultimate this weekend, a major shift in plans like this presents a rare opportunity. When we're all forced out of our comfort zones, we can hide, or step up. And when we choose the latter, we're likely to feel the unique thrill that only comes when you succeed while adapting quickly.
Charlie sent a note to the team this morning that we're going to have to think on our feet. And though it'll be a weekend full of challenges, I'm excited to be with our Stanford crew to face them together.
---
Like many teams, Ultiworld's accommodations are far from the backup field site and non refundable ↩

I thought New England to California was supposed to be a weather upgrade! ↩