Daniel Prentice highlights five games he's excited to see in the men's division at this weekend's Tally Classic.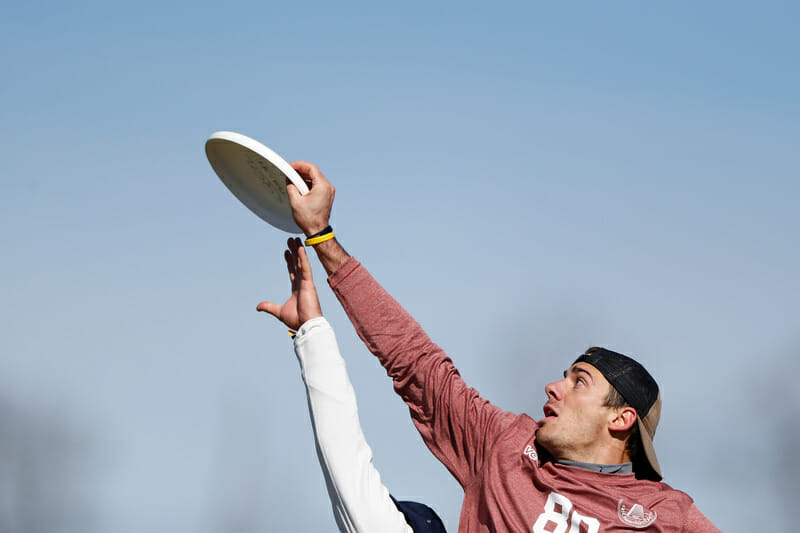 This article is presented by Spin Ultimate; all opinions are those of the author. Please support the brands that make Ultiworld possible and shop at Spin Ultimate!
Ah, Tally Classic: the wonderful spring break tournament that a few years ago actually started getting elite teams to attend. This year #5 UNC Wilmington and #10 Massachusetts are the headliners. Those two will be backed up by a handful of other teams on the fringes of bid-earning territory or in the picture for stealing someone else's come Regionals. The depth of teams at this tournament isn't always stellar, but there are always a handful of games that are worth keeping an eye on as the weekend plays out.
So here they are, the games I'm most looking forward to watching at Tally Classic.
Tournament Profile
Date: March 10-11
Location: Tallahassee, FL
Weather: Lows around 50, highs in the 70s, 10-15 mph wind, AM showers on Sunday
Top 25 teams: 2
The Final (Sunday, 1:00 PM)
It may be a cop out to say I'm excited to see the final, and it also might make me look silly when Wilmington somehow drops a game in pool play for the third year running.1 But the Tally Classic final will almost certainly be played between UNC Wilmington and Massachusetts. There are some solid teams in attendance alongside these two, but they are the clear and heavy favorites to top the tournament.
Wilmington will likely be looking to maintain an undefeated season by the final round on Sunday while UMass will be playing in their first real Sunday action of the year.2 The matchup would also be a battle between two of the last four teams alive at Nationals a season ago. And both teams are staring at some big question marks about getting back there. UMass didn't look elite at QCTU, and even though Wilmington is still undefeated, they don't have a major win to really hang their hat on yet in this campaign.
The road to the final at Tally Classic can be a strange one. Elite teams sleepwalking their way to 13-5 victories have to crank up the intensity for one game on Saturday, and then again for two or three on Sunday. That can be tough for teams. But Wilmington and UMass should both be hungry for a big win, and excited about the prospect of playing in Florida weather, making a potential final between them worth getting excited about.
Georgia vs. Harvard (Pool D, Saturday, 4:00PM)
These two programs have fallen on hard times since their double game point thriller in the quarterfinals of Nationals in 2016. Both missed out on Nationals in 2017 and saw program defining players leave. But in addition to the recent history between the two, this game is intriguing because both teams' seasons are still salvageable.
Harvard had a solid, if unspectacular, performance at Florida Warm Up. They looked like a team that could perhaps knock off a bid-earning team at Regionals. Milan Ravenell and John Rahill will be two of the best players in Tallahassee and their supporting cast is more dependable than it was last year. And Georgia still has some important players from their last Nationals run in Sam Batson and John Langstaff. They've also since added U20 US National Team member Drew Di Francesco.
This game should be a good measuring stick for where they are. Georgia will be looking to move on from a rough Queen City Tune Up, while Harvard will look to build on that Warm Up performance and start winning some of the close games they lost there.
Georgia Tech vs. Florida State (Pool C, Saturday, 10:45 AM)
Georgia Tech has been to this tournament as many times as just about anyone other than Florida State, the tourney's host team. But this is the first time in recent memory where Georgia Tech comes into Tally as the perceived better team.3 In fact Tech is currently the highest ranked team in the Southeast in the USAU bid algorithm, thanks to their 13-2 record to this point.
Florida State had a brutal start to their season at Warm Up, though they did show signs of improvement over the course of the weekend. They'll also be buoyed by the return of Scott Moore, who's coming back from an ACL injury he suffered last season. But these two programs meet at a clear crossroads right now. FSU missed Nationals last year for the first time since 2012, while Georgia Tech hasn't been since 2012. Florida State has seen it's big names graduate, while Georgia Tech has had some notable recruits come in. Now they play each other in what looks to be the most competitive pool in the tournament. With the importance the game will likely in the pool, the history of these two teams at the tournament, and the apparent different directions in which the two programs are heading, this may be the most intriguing pool play game of the whole tournament.
Indiana vs Alabama-Huntsville (Pool B, Saturday, 12:30 PM)
Alabama-Huntsville reached semifinals at the D-III Championships a year ago. They bring back some of the top contributors on that team and add former Auburn star Michael Volz. They're competing at the D-I level this year and have an 8-3 record, including a win over no. 3 Georgia Tech.
Indiana, meanwhile, plays in a region that appears to have no one who wants to win it. And they seem to have a bit of a chip on their shoulder as to their perceived standing within the Great Lakes. They made the semifinals at Easterns Qualifier, but didn't see anyone at the caliber of the top teams in attendance this weekend.
These two squads don't have the type of resume that demands national attention. They did both have surprisingly solid showings at this tournament a year ago and games without a big spotlight can be fun, too. When two teams are trying to make a name for themselves, and fighting for pride or a little more national respect, that can lead to something special in its own right. Truthfully, that's what the season is about for the vast majority of teams, and that's why I'm looking forward to seeing these two programs square off.
Massachusetts vs. Central Florida (Pool A, Saturday, 4:00PM)
I ragged on Wilmington for their history of getting upset in Tallahassee, but if one of the top teams is going to go down, it's much more likely to happen in this game. Central Florida feels pretty heavily underseeded at no. 8, and we still don't have a complete picture of what UMass is this year. Don't get me wrong, this would still be a big surprise and a pretty huge upset, but there's enough of a chance of it happening that it's worth keeping on the radar.
UCF had a pretty solid weekend at Warm Up, which would have been even better if they'd been able to hold on to their late lead against #4 Minnesota. They don't have that dominant handler that can carry them to wins, but UCF is solid from top to bottom.
They don't have the top end to hang with Tannor Johnson and Brett Gramann if both play their best game. But if those guys falter, could UCF pull off the upset? Maybe. Definitely maybe.
---
Losses to: Tulane in 2016 and Emory in 2017 ↩

They played North Carolina in quarters at Queen City Tune Up, but were trailing 6-4 when the game was canceled due to weather. ↩

Though Tech did upset FSU in consolation play in 2016, FSU was the no. 5 seed that year, Georgia Tech no. 7. ↩