There's a lot of uncertainty going into Tally Classic, Here's the five questions we need answered by the weekend's competition.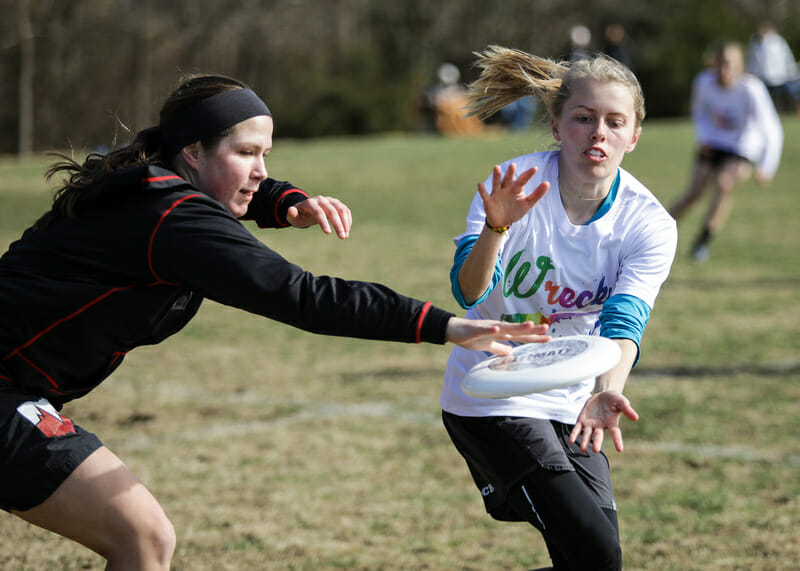 Coverage of the Women's Division at the Tally Classic is presented by VC Ultimate as part of their season-long support of our women's coverage. All opinions are those of the authors. Please support the brands that make Ultiworld possible and shop at VC Ultimate!
Down in the Southeast sun of Tallahassee FL, sixteen women's teams are looking to make midseason statements. While #13 Vermont is the heavy favorite, it's unclear if they will know what to do with such a status or how to handle the target on their back. In fact, there's a ton of uncertainty going into the weekend. The field is loaded with teams with mixed results or who have violated our expectations, for better or for worse. Will the tournament end with Notre Dame as champion, the same way it has the previous four years? They are the no. 1 seed, but they'll need to fend off a field full of potential usurpers.
With so many teams trying to get or keep their season on the right track, we distilled the tournament down to the five most interesting questions we hope to have answered in Tallahassee.
Tournament Profile:
Date: March 10-11
Location: Tallahassee, FL
Weather: Lows around 50, highs in the 70s, 10-15 mph wind, AM showers on Sunday
Top 25 Teams: 2
Can Vermont Play as the Favorite?
#13 Vermont Ruckus surprised by making the final in their lone tournament thus far, Santa Barbara Invite. But some of their wins over their west coast foes look less impressive now than they did at the time. Right now, they do hold a bid for the New England region, but they'll likely need to win the tournament (and avoid many close games) to hold onto it. It's not an enviable position for Vermont, but they do enter as fairly heavy favorites to win the tournament, too. After flying under the radar into Santa Barbara, Vermont will have to now handle the pressure of being expected to win. And the added pressure of needing to blow out some teams will be new as well.
But Vermont is a talented squad. While #23 UCLA and Cal aren't as strong as we thought they were back in January, traveling to the west coast and beating those two isn't nothing either. Madison Westfall and Kyle Weatherhogg will be two of the best players at the tournament and the team as a whole is arguably most experienced in the field, as well.
Some teams thrive in the underdog role. Vermont has already proven they can do that. But it's tough to flip the switch and play as a favorite all of a sudden. Maybe Ruckus will be able to use their no 4. seed to their advantage, but they teams that play them won't be fooled by that. If Vermont is to hold on to that hugely important bid, they'll need to show the versatility to be able to play a new role this weekend.
Is Georgia Tech Really a Top 25 Team?
Currently, #21 Georgia Tech Wreck is the only ranked team in the Southeast, carrying the banner for the region with just a 2-2 record. Their resume is unimpressive due to playing such a brief schedule, part of the cohort of teams whose Sunday was washed out at Queen City Tune Up. But in their Saturday performance, Wreck displayed some serious potential, with a double game point victory over #22 Michigan and an 11-7 loss to #9 Ohio State that looks pretty good now. But they also narrowly defeated Colorado College, 10-9.
With a young team transitioning players into bigger roles has come inconsistency, and that means they are likely to have a big impact on the tournament. Ostensibly in the toughest pool, it wouldn't be surprising to see them win Pool C as the no. 6 seed overall, but struggle to beat LSU. 2017 Rookie of the Year Runner-Up Ollie Peterson will undoubtedly be one of the best players at the tournament, but Tech aims to win with depth and execution. Expect them to come to the tournament with extensive experience in zone defense. It's unclear, however, if they have the team experience to capitalize on the opportunity Tally Classic presents.
Can UNC Wilmington Reclaim Their Form?
UNC Wilmington Seaweed will be looking to use Tally Classic as bounce back from a tough Commonwealth Cup. The competition was kicked up a notch, but their performance definitely represented in a dip in what had been a pretty strong season for them to that point. Seaweed was clobbered by Tufts, while also underperforming against Georgia and Duke. There are fewer elite teams in the field, so this weekend they should feel like they have a good chance at making the final. So can they find the form they showed at Florida Winter Classic and Winta Binta Vinta Fest?
For Wilmington, it's always going to be tough to traverse the ups and downs of a tournament. They have such a small roster that fatigue is always going to be a concern, and when their top players aren't have a great game, they have no one else to turn to, even for a point or two. But they do have some of the most talented players who will take the fields in Tallahassee. Hannah Samuelson can take the top off a defense with her throws and Abby Kent is as solid as they come. They'll need to stay efficient if they want to last as deep into the weekend as their talent says they can, but this weekend presents an excellent opportunity to return to their winning ways and pick up some nice wins in the process.
Is Kennesaw State Ready for the Big Time?
The Kennesaw State Strix hype train was derailed by a paltry showing at Queen City Tune Up. The team went 0-4, blown out by the two ranked teams they faced, with a 9-5 loss to Wisconsin to boot. Their top result was a 10-9 defeat at the hands of #18 NC State. Now the no. 8 seed, what's really noteworthy?
There's still something worth hoping for here. KSU played with a skeleton crew at points during QCTU, short a number of the most experienced players on the roster. Over a month later, if the team has better attendance and has recollected themselves, perhaps they can prove some of the hype justified. Samantha Daugherty is as good as you've heard she is, but Kennesaw has some other players who can make an impact. Grace Clough, Alexis Emanuel, and Mirenli Negron will all take on a lot of touches.
If they have hopes of competing in a wide-open Southeast region, they need to demonstrate some growth this weekend. No. 1 seed Notre Dame will be a real test, lacking skill where Kennesaw has it, but rich with athleticism that KSU could struggle to match. But Notre Dame is beatable if Kennesaw can step their game up. Strix made the final last year, where they lost to Notre Dame, as the tournament's top seed, so perhaps they can find the Tally magic once again.
Who Wants to Win The Southeast?
The dying embers of the Southeast's faint hope for multiple bids are likely to be snuffed out at Tally Classic. The region will be fortunate to avoid the embarrassment of having zero teams–even their autobid winner–within the top 20. Despite the fact that Notre Dame has won the tournament for four straight years, it's been a defining event for the Southeast each year. While Georgia is not in attendance, every other top team in the region is.
Georgia Tech is the top ranked team in the Southeast, while Kennesaw State had the preseason hype, as did reigning champion, Florida FUEL. While GT has barely played, KSU has disappointed, as has Florida, who has fallen a long ways off their preseason #16 ranking. And Auburn Ares, who has been trying to break into the top tier for years, is sitting at no. 7. Don't sleep on Auburn, who still have Kristine Fedorenko slinging for them, along with Madison Boyd and Emily Bugg, and their typically athletic downfield options. Even Florida State is lurking, hoping to crack back into the conversation.
It will be a very telling weekend for the region, not even in regards to in-region bid distribution. If you can be the best SE team at Tally Classic, you can win the region and make Nationals.