Some favorites fall victim to upsets while others further distance themselves from the pack.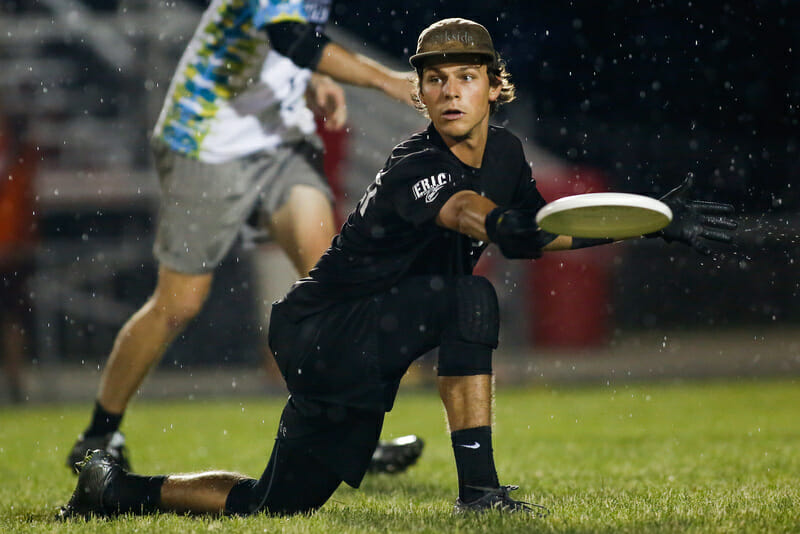 Coverage of the Men's Division at Easterns is presented by Spin Ultimate; all opinions are those of the authors. Please support the brands that make Ultiworld possible and shop at Spin Ultimate!
NORTH MYRTLE BEACH, SC — Easterns has a hard-earned reputation as a battleground for Nationals hopefuls and those attempting to fortify strength bid candidacy in the final weekend of the season. In a day with upsets, close games, and surprise pool finishes, three main storylines emerged.
#1 North Carolina and #2 Carleton Dominate
North Carolina Darkside and Carleton CUT were the clear favorites coming into Easterns, but on a day filled with unpredictable upsets and inconsistent play in the wind, they established themselves as a league of their own.
UNC easily won their first three games against Maryland, #13 Florida, and Michigan by a combined score of 45-19. Meanwhile, #6 Wisconsin showed that their defense had the potential to slow Darkside down in their final matchup of pool play. Despite offensive woes, Wisconsin presented their usual army of athletic defenders. Before that final game began, the Darkside offense against the Hodag defense looked like an exciting matchup.
It wasn't. North Carolina took what was one of the best defensive units at the tournament and exposed it. UNC milked a 10-5 lead to a 15-7 win, making the second best team of the pool look relatively unimpressive. The bracket may test Darkside tomorrow, but they seem destined for a final matchup with the other dominant team of the day.
Carleton had a similar start to their day, beating UC Santa Barbara and then cruising to an early 6-2 lead over Pittsburgh. A comfortable win over Central Florida set them up for a big 2017 National final rematch against #7 UNC-Wilmington. Again, the Wilmington playmakers looked like they might be able to challenge CUT's depth.
They didn't. Stanley Birdsong and Henry Fisher dominated the Wilmington defense in the first half, as they walked their way to an 8-3 lead. The second half was just as impressive, as they beat #7 team in the Ultiworld Power Rankings 15-5.
If the two powerhouses complete their collision course and meet in the final, it's sure to be a treat. Two teams with a lot of history and connected players will clash as the only ones playing even close to each others' level this weekend.
Top Ten Teams Missing The Bracket
A trio of top ten teams whiffed on making the bracket on Saturday. #3 Minnesota, #7 UNC Wilmington, and #9 Virginia Tech finished third in their pools, meaning each was eliminated from contending for an Easterns 2018 title. The tournament lived up to its reputation of testing elite teams and aspiring contenders alike.
Wilmington's shortcomings felt the most excusable. Even though they put up an unflattering scoreline against Carleton, the game that caused them to miss the bracket was a double game point loss to rival #10 Pittsburgh.
#9 Virginia Tech's bracket fate was also determined by a double game point loss. Against Auburn, they fought back from an 11-8 deficit to force sudden death at 13-13. Their true decisive loss came in the final round of the day: a 15-9 defeat at the hands of Brown. But if they'd avoided the upset against Auburn, the Brown loss wouldn't have ended their weekend.
Minnesota's absence from quarterfinals feels the most unforgivable. They started their weekend by getting shellacked by UConn 15-8 in the first round. They committed some inexcusable, cheap turnovers and never ratcheted up any defensive pressure. They righted the ship in the ensuing rounds, beating NC State and LSU, but the UConn loss put them in a must-win situation in the final round against UMass.
Minnesota had an 8-6 lead at halftime in that match but were unable to get a break in the second half. UMass was able to create just enough break chances against Grey Duck's handler-dependent offense to get the win and dislodge Minnesota from contention.
Stunning Upsets
The UConn upset over Minnesota was a shock, but the round one thumping set the tone for a day full of upsets. #12 Cal Poly SLO beat #8 Brown 16-15 in round two, and #19 North Carolina State knocked off #15 UMass 15-9 in the third round. SLO couldn't turn the upset into a meaningful pool play performance, and neither could UConn. But NC State won their pool as the three seed on account of their dominating performance over UMass.
Pittsburgh's dramatic victory over UNC Wilmington and UMass's end-of-day triumph over Minnesota didn't quite feel like true upsets the way the others did, but they too contributed to the upset-happy feeling of the day. In fact, just one pool — Pool A — had the top two seeds both advance to quarterfinals. With other close games involving lower seeds, including some early leads that never fully blossomed into upsets, there was a sense that almost no one was safe.