Three bids are up for grabs in D-III, including the final games of Great Lakes women's.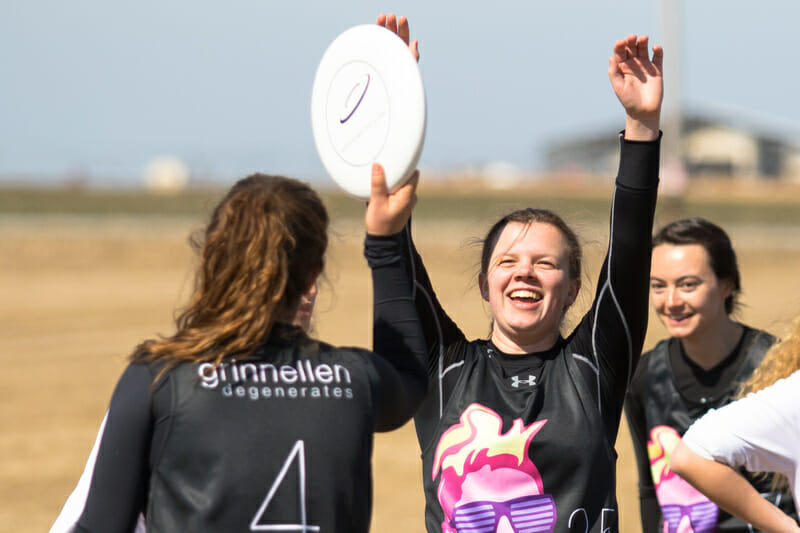 Ultiworld's 2018 college coverage is presented by VC & Spin Ultimate; all opinions are those of the author. Please support the brands that make Ultiworld possible and shop at VC Ultimate and Spin Ultimate!
Another weekend, another chance to play on and earn a bid to the D-III National tournament in the smaller regions of the division. In the women's division, two more bids for two regions are up for the taking, and will determine if we see reigning National Champions Carleton Eclipse return to defend their title. In the men's division, just one bid will be up for grabs from the Southeast.
Below, we preview the second weekend of excitement and heartbreak in the D-III postseason.
Women's
Great Lakes (Bracket Play)
Tournament Profile
Location: TBD
Nationals Bids Available: 1
Top 25 Teams: 1
Weather: TBD
The Great Lakes had the unfortunate experience of having their Sunday bracket play for the single bid of the region cancelled. That bracket play has been rescheduled for this upcoming weekend, with two semifinal games and the final left to determine who will be making the drive to Rockford next month.
One semifinal will pit #18 North Park Allihopa against Kalamazoo Queen Beez; North Park went to seed, defeating all other teams last weekend, including Kalamazoo by a margin of 10-3. Kalamazoo broke seed to finish above Wheaton Mastadonnas, but will have a difficult (to say the least) time trying to unseat Allihopa. The other semifinal will feature Knox Alley Cats, who ended in third after pool play, against Valparaiso Chicks Hucking Discs, the perennial bid earner for the Great Lakes. Valparaiso beat the Alley Cats 9-5 in pool play, and will likely win again barring any major personnel differences between the weekends.
With a final that will likely be North Park against Valparaiso–a matchup that went 11-4 in favor of North Park during pool play–this weekend will be North Park's chance to defiantly sit atop the Great Lakes region, take their first trip to D-III Nationals, and send Valparaiso home empty-handed.
North Central
Tournament Profile
Location: Northfield, MN
Nationals Bids Available: 1
Top 25 Teams: 3
Weather:

High 40's to low 50's; cloudy with some sun
After receiving over two week of snow over Weekend 1 of Conferences, the teams of the North Central are looking forward towards more enjoyable ultimate weather. For the game play itself, the weekend will be absolutely brutal–one bid for a region with three top 25 teams, including the reigning two-time National Champions, and a team sporting one of the best players in the division.
While split up in pool play, the match to watch will be when (not if) #10 Carleton Eclipse and #16 St. Olaf Vortex meet in bracket play. Carleton has had an uneven season, looking less polished by this time of the season than seen in the past and still missing their class of 2017 roster losses. St. Olaf ended the regular season ranked higher but relies heavily on the immense handling and defensive skill of U24 National Team member and Brute Squad player Tulsa Douglas, who's pre-Nationals injury last year hampered the team in the final tournament of the year. With a healthy Douglas, Vortex is ready to shut Eclipse out from even defending their National title, and the result will depend on how deep each team can dig on Sunday on their way to and through the one game that matters.
Beyond the top two teams in the region, there are other squads prepping for a weekend where fates can change with just one win, if they're the ones to make it so. St. Benedict Rapture, Luther Freya, #19 Grinnell Grinnellen Degenerates, and Drake Ibex are all in that conversation.
St. Benedict went 6-1, including wins over Luther and Grinnell at their only non-cancelled tournament of the season back in March. If they've continued to grow the strengths of their deep bench, then they could put a up a serious surprise against other North Central programs. Luther Freya, who previously attended Nationals in 2016, has had a more mixed bag with the aforementioned loss to St. Benedict and facing off against weak programs. While they played more games than Rapture, they're a larger unknown in terms of how successful they might be against their intra-region competition. Grinnell is also itching to get back to Nationals, but they'll need a plan to perform better than they did in their 14-10 loss to St Benedict. Without it, Rapture may also put the stop on their plans to end up in the final match. Drake only has three wins in 2018, but their play at Illinois Invite painted a picture of a young team that, with the standout talents like Mieks Arkema and Grace Mikelson, will be a force to be reckoned with in upcoming years.
Rounding out the tournament are Winona State Bad Monaz, Macalester Pursesnatchers, Cornell College Randy's Angels, and Lawrence VICI. Only Winona State logged sanctioned games during the regular season; all other teams either suffered from the cancellations caused by weather this year or did not participate in regular season events. Winona had a decent showing against the Southeast teams at T-Town Throwdown and may be primed for an upset of the more established North Central squads. The other three are unknowns, which will help make the tournament that much more interesting to watch for over the weekend.
Men's
Southeast
Tournament Profile
Location: Tallahassee, FL
Nationals Bids Available: 1
Top 25 Teams: 1
Weather: Low 60s to High 70s, thunderstorms in Sunday forecast
A region that has never had more than one bid, the teams in the Southeast are familiar with the task ahead of them this weekend. Ten teams will converge on Tallahassee from across the Southeast, competing for just one bid to Rockford. With one team heavily favored to take that bid, a slew of underdogs will be hoping they can pull off the upset to steal the ticket to Nationals. With thunderstorms in the forecast on Sunday, every point will matter as play could be cut short and postponed at any moment.
#12 Georgia College Disconnected enters the weekend as the No. 1 seed and the heavy favorite to win the bid to Rockford. Led by do-it-all star Nathan Vickroy, Disconnected has dominated their Southeast opponents this season, beating Samford and Stetson by a combined score of 26-11. While Vickroy deservedly gets the spotlight, it's Georgia College's depth that sets them apart from the rest of the field. Jacque Perivier and Dakota Wellmaker headline an athletic roster that's shown an ability to get it done without Vickroy, advancing to the final of College Southerns without the help of their star. The 2016 National Champions have their eyes set on returning to the division's premier event, and it will take a monumental upset to keep them from getting there.
The teams trying to upset Disconnected have all shown flashes of exceptional play this season but lack the consistency to sustain a high level of play for an entire tournament. No. 2 Florida Tech, hasn't played a tournament since the beginning of March. Led by handler Jacob Clary, Florida Tech run a force middle person defense that will take some adjusting for less-experienced opponents. However, they rely heavily on the top half of their roster, and that's hard to do over the course of a high-intensity tournament like "Confregionals".1 No. 3 Samford Dogma, boasts one of the best players in the region in Carter Rae. However, Dogma got blown out in their matchup earlier this year against Georgia College, and they only managed one point wins over Union and Berry.
Berry, Union, and North Georgia each have a handful of wins over weaker opposition this season, but none have shown the ability to pull off the upset required to be a serious threat on Sunday. The rest of the field comprises programs in their first few years of existence; for these teams, the weekend isn't about qualifying for Nationals, but rather gaining the experience to continue growing and developing in order to be competitive in years to come.
---
This is the word I'm using for Conference events serving the purpose of Regionals. Feedback in the comment section is welcome. ↩