The first bids to Nationals will be handed out this weekend!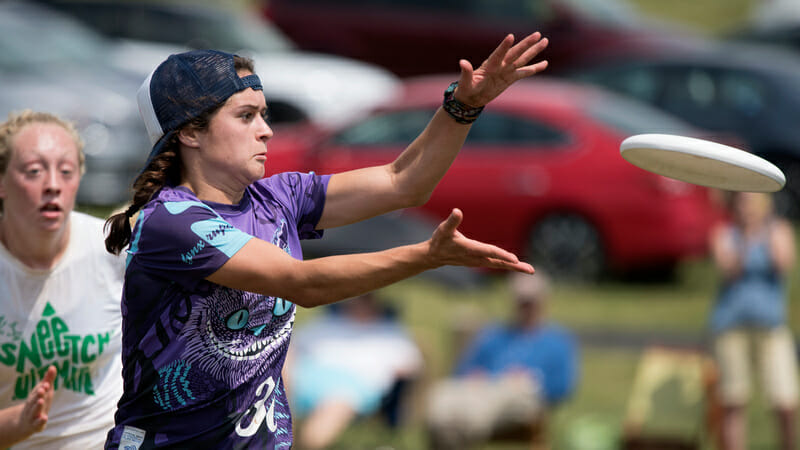 Ultiworld's 2018 college coverage is presented by VC & Spin Ultimate; all opinions are those of the author. Please support the brands that make Ultiworld possible and shop at VC Ultimate and Spin Ultimate!
It's the start of the postseason and for the D-III division, the first weekend of conference championships also means the chance to earn bids to Nationals in regions too small to hold a full-blown regional tournament. In the women's division, one bid has already been decided by rankings and five regions will go square off for six of the bids to Rockford this weekend. In the men's division, three bids are up for grabs in two regions.
Below, we preview the weekend of action and the bids on the line to Rockford this May.
Women's
Atlantic Coast
Tournament Profile
Last year, odds on a favorite team in the Atlantic Coast was a tough ask with how wide open the field was. This year looks to be a bit different, with a clear leader of the pack. While not represented in our Power Rankings, USAU-ranked #29 Richmond Redhots sit atop the pile of teams at the event and will arrive as the clear No. 1 seed. They've earned the target on their back that comes with being in that position: in all head-to-head competition with in-region teams this season, Richmond has not only finished on top, but crushed their opponents. Their closet Atlantic Coast match this spring was against Elon Wild Rumpus, in which they won 12-5. Watch for Adrian Matthews, Alexis Porter, and Mim Tran to drive Richmond to on-field success and possibly a bid to Rockford.
Most likely to go toe-to-toe with Richmond will be Catholic Nun Betta, the reigning Atlantic Coast champion. Similar to Richmond, Nun Betta has had successful showings against their in-region competition in 2018, though the two powerhouses have yet to face off this spring. The question may be if Catholic will be able to make it count when it matters—both Catholic and Richmond have beaten Elon and played Wake Forest to universe during the season, but Nun Betta fell short where Richmond persevered. Watch for seniors Grace Castro and Christine Tomasic to be Catholic's biggest playmakers. Coming off a club season with DC Grit, Castro is ready to welcome opponents to the block clinic she'll be putting on; both players are key pieces in Catholic's abilities to force breaks and own game momentum. The weather this weekend will be tough on these teams, and could make all the difference as the players line up in heat and wind they haven't seen yet this season. Sunday's anticipated cool off, likely to be accompanied by rain, could make it a messy game to determine the Nationals bid.
While the competition for first and second place appears more or less locked up, it's difficult to say how the rest of the region stacks up; the other Atlantic Coast teams have had less successful and less consistent seasons than Richmond and Catholic. North Carolina Asheville Hellbenders and Mary Washington Mary Massacre each faced tough losses this season, but did put up a couple of points against D-I competition in 2018. For UNC Asheville, Kathy Frantz has been a dominant force in place of injured Allison Bashford.
If taking history into account, the days of AC dominance by Elon Wild Rumpus are over—at least for now. The last time they claimed the regional title was in 2016, but they shouldn't be completely written off just yet with their No. 5 seed. Rumpus is a gritty squad that brought a close game to Catholic at Commonwealth Cup going down 11-9, and could be a team that outperforms their tournament seeding and spoils someone' weekend. Rounding out the region, Christopher Newport Airbenders (who we profiled in our Tale of III Teams series this season), Davidson DUFF Women, and Goucher All You Can Eat will also be putting in appearances and getting in on the Conference Championships action for the Atlantic Coast.
Great Lakes
Tournament Profile
Will a fresh face be representing the Great Lakes at Nationals this year, or will the stalwart program of the region return to Rockford? 2018 may just be the year the division sees Valparaiso not make Nationals, a team that has represented the region every year since USAU began holding their version of the event in 2010.
This possibility or a new representative has manifested in the talent and results put forth so far by #18 North Park Allihopa, who notched their first win ever as a program over Valparaiso in the fall. Since then, North Park has had a steady spring, capturing wins over Grinnell, Drake, and others on the way to a second place finish at Illinois Invite. At that tournament, they showed their effective handling in the upwind-downwind conditions, with handlers Maggie Johnson, Erin Staurseth, and Kiera Daniels owning the movement of the disc. Downfield, Kaisa Meyer is a big playmaker for Allihopa, grabbing and reading almost everything thrown her way and using her volleyball height to put on a frightening mark. If North Park can continue the things that led them to an 8-6 regular season record, they just might lock up the trip to Rockford in May.
Valparaiso Chicks Hucking Discs shouldn't be discounted just yet however, as they've had their own spring season gains since last facing North Park head-on. While their roster is on the smaller side—maxing out at 15 players—they have a solid upperclassmen core leading them. Senior and captain Serena Badgley is known for her shutdown defense, as well as ability to read and cut for any disc coming her way. If Badgley, paired with the fearless bidding of Megan Main and tireless offense of Megan Barth, can adjust and react to North Park's play, CHD might make the division think twice about ever counting them out again.
Also in the mix will be Knox Alley Cats, Wheaton Mastadonnas, and Kalamazoo Queen Beez. Knox is a young team that works hard and tries different strategies, but lacking the experience and disc skills of other teams puts them at a serious disadvantage. Watch for the Alley Cats to be led by the commanding presence of senior captain Lily Sronkowski from the handler position, paired with the intense defense-generating force known as junior Meryl Davis. Wheaton has had a mixed bag of a season, with a few solid games against teams like Grinnell, paired with serious thrashings handed out to them by Loyola-Chicago and Air Force. Getting to see them match up against the rest of their region will give a better sense to the quality of their 4-6 record and could make for an interesting event depending on which version of the Mastadonna squad shows up to the tournament. Kalamazoo hasn't logged a sanctioned game in the 2018 season, which leaves them somewhat of a question mark. While wilder things have happened, the Queen Beez are unlikely to be in serious contention for the region's lone bid against the likes of Valparaiso and North Park.
Northwest
Tournament Profile
In one of the stranger tournament formats the division will see this year, five teams will play to take home one of two bids earned by the Northwest this spring.
Almost certain to clinch the first will be #3 Puget Sound Clearcut, the top team in the region looking ahead to May and proving their talent on the national stage. In a season where they went 4-0 against their fellow D-III Northwest teams, and most recently went 6-0 at Northwest Challenge to take the Tier 2 championship title, Puget Sound is absolutely the team to beat.
They may have an uphill battle however, depending on how their first round of pool play shapes up against #14 Pacific Lutheran Reign. With a point differential of -7 over three games in the regular season, Reign has been gunning to take down Clearcut, falling just short of success each time. Thankfully, due in part to the strength and successes of both teams' regular seasons, there will be a second bid to fall back on.
Likely to reach the second game-to-go will be either #25 Lewis & Clark Artemis or Portland UPRoar. Lewis & Clark would have a strong chance at snagging a bid if they were in a different region, but sharing the stage with Puget Sound and Pacific Lutheran makes it less likely. If they're able to bring the energy they showed early in the season and make the coaching adjustments needed, expect to see a fierce game for that second bid. It's also worth not counting out Portland just yet; while the No. 3 seed of the tournament did lose most recently to Lewis & Clark at PLU BBQ, neither squad has been as consistent as needed to truly make a case for the second bid and either could find themselves in the final bid-determining match.
At the bottom of the seeding sits Seattle Throbot, who lost to Pacific Lutheran 13-0. With their tiny roster and difficult regular season, their weekend will likely be one focused more on growth than bid contention.
South Central
Tournament Profile
The story out of the South Central has only grown with intrigue over the course of the 2018 season, in part thanks to the explosion in the sheer number of teams attending the Conference Championships. In 2017, the tournament hosted only three of the teams of the region; this year the number has doubled. With only one bid available, the focus will be on the top three seeds and who has the ability to make their way out of Houston this weekend.
Last year's bid earner, #15 Truman State TSUnami sits in the No. 3 spot after a rough regular season. While benefiting from the coaching of Emilie Willingham, they struggled heavily in the winds of Illinois Invite against Great Lakes teams, and did not bring home as many quality wins as hoped for. They shouldn't be counted out by any means, but there is a chance that TSUnami will not have the firepower to take the bid for the South Central.
Sitting above them in the tournament seedings are a known contender and a newcomer: #7 John Brown Savage Skies and Air Force Kiwi. John Brown has been on the cusp of making Nationals before, coming in second at Conference Championships in 2017 behind Truman State. This could be their year to capitalize on weakened Truman State and Rice programs and grab the bid for themselves. While they've played a small number of teams this season, their consistency in trouncing those teams, plus a not-insignificant win over Carleton Eclipse makes them a serious contender. Watch for the offensive pair of Emily Tumilty and Katelyn Patterson to get Savage Skies on the scoreboard and a South Central force to reckon with.
Right behind John Brown sits Air Force, fielding a team in the women's division for the first time. This season they've been led in part by the dominant disc skills of Rose Bruns and buoyed by the overall athleticism of the roster, while learning and working on getting their team fundamentals in place. While still prone to having their offense fall apart at times, this will be a team to watch in the years to come even if they come up short in 2018.
In the bottom of the seedings we see some familiar programs still rebuilding, as well as younger teams. Rice Torque is the No. 4 seed, still rebuilding since the graduation of their 2016 class that led Torque to three consecutive National finals. They've had a mixed season, with little to no out-of-region competition and nearly all games against D-I teams. Watching them step on the line to play teams like John Brown and Truman State will shed some light on just how well this program has bounced back and if their trajectory is still an upward one. At the No. 5 and No. 6 seeds are Trinity Altitude and Tulsa Coriolis Force, who are likely looking forward to getting experience against the stronger competition in their region.
Southeast
Tournament Profile
The Southeast will be having their first Conference Championships event as a D-III Women's region this season. In previous years, the automatic bid has been allocated to the team with the highest end-of-season ranking, which has been #4 Georgia College Lynx Rufus since the regional redraw in the early 2010s. In 2018, that's still about where the region sits—this bid is truly Georgia College's to lose.
Lynx Rufus has made a solid case for themselves this season that the bid should rightfully be theirs. They've crushed D-III competition from the Southeast and Atlantic Coast regions, with their closest in-division game a 13-6 win over UNC Asheville. In the context of the Southeast Conference Championships, it's worth highlighting their demolishing of North Georgia by nine points at Cola Classic. While these wins aren't coming against the strongest teams of the division, they're still an almost sure sign that Lynx Rufus, with the dynamic powerhouse that is Katherine Yost at the helm, runs away with the Southeast's Nationals bid.
To do so of course, Georgia College will need to win two games against North Georgia and Union Jillz. Union has only notched wins against Alabama-Huntsville this season and is still largely a program intent on developing their talents. Hopefully in a few seasons they'll be able to give Georgia College and the rest of the Southeast a run for their money in games, but 2018 is unlikely to be that season. North Georgia Aurea has had more success—including a 7-4 win over UNC Asheville at Cola Classic—but also simply does not perform at the same level as Lynx Rufus just yet. In the meantime, here's to hopefully the first of many years of seeing the Southeast D-III women's bid played out for in the postseason.
Southwest
Claimed Bid – Claremont Greenshirts
For another year, the Southwest region will not be holding a conference championship event, resulting in the lone bid going to the team that finished highest in the end of season rankings.1 For another year, that team is #23 Claremont Greenshirts, ending the season ranked above Occidental Women's Air Corp, sitting at 90th to Occidental's 159th in overall women's rankings. This weekend Claremont (as well as Occidental) will attend the D-I SoCal Conference Championships to get more playing time for their underclassmen, playing without the pressure of other teams and using the opportunity to refine strategies and prepare for Rockford. If they can avoid any serious injuries, Claremont will be in a better place to prove their talent at Nationals and make the case for being a relevant program worth watching in D-III, even without the chance to prove themselves in-region before May rolls around.
Men's
Northwest
Tournament Profile
Arguably the most exciting region in the country will be among the first to determine who takes their bids to Nationals. The Northwest is one of the most isolated regions, so many of the teams competing this weekend only play regular season tournaments within the region against each other. This leads to familiarity and familiarity breeds rivalry; when it comes to high stakes tournaments like Regionals—Conferences, in this case, but semantics—rivalries make exciting matchups even more thrilling. This is the first time the Northwest has had a strength bid since 2012; there's a clear favorite for the first bid, but several contenders for the second bid will lead to some exciting games on Sunday that could come down to the matchups.
After dropping down from D-I this season, the #2 Whitman Sweets have been not only the best team in the region this year, but one of the best teams in the country. Finishing the regular season at #3 in the USAU rankings and #2 in Ultiworld's Power Rankings, the Sweets have cut their teeth against some of the top competition in the country, traveling to tournaments like the Stanford Open and D-III Midwestern Invite. Their only matchup against regional opposition was a dominant 13-5 win over Lewis & Clark at Stanford Open. A deep roster led by Robbie Farwell should handily win the region and begin setting their sights on making a run at a National Championship.
The second bid is where things really get exciting. #16 Portland Uprise are the second seed and who the region should thank for earning a strength bid. Led by Rhett Larson, Jack Padon, and Daniel Pham, Uprise have a deep roster that gained valuable experience at Nationals last year and has shown they can win the games that matter. Portland is 4-1 this year against regional opposition, which bodes well for how they should perform this weekend.
Portland's one loss is to #15 Pacific Lutheran Reign, who beat Uprise 15-10 at PLU BBQ at the beginning of March. Finishing fifth at Regionals last year, Reign wasn't on anybody's radar coming into this season. However, Reign plays a style of ultimate that grinds opponents down. Players like Bryant Stone and Ben Acord run relentlessly and this wears on teams, particularly late in a tournament. Reign is 3-0 against regional opponents this year, although some of those games are closer than they would have liked.
The rest of the field is filled with teams who can knock off the top three should they have a mental lapse at any point in the tournament. #25 Puget Sound Postmen have played three tournaments within the region this year, going 4-2 with their only losses coming in tight games against Portland. The fifth seed Lewis & Clark Bacchus are 0-8 against regional competition this year, which obviously doesn't bode well for their chances of winning enough games to take a bid this weekend. However, they have a win over #18 Claremont, showing that they're capable of pulling off an upset to ruin someone else's season. The field is rounded out by Whitworth and Seattle. Daniel Gimble of Whitworth will give opponents fits and keep them close in many of their games, but they simply lack the depth to pull off any upsets, and Seattle will be hoping to just keep a few of their games close.
Southwest
Tournament Profile
The smallest region in the country, last year the Southwest was a three team region that decided their bid winner with a single day of round robin competition. However, the addition of a fourth team this season means we'll see bracket play on Sunday. While all four teams making the bracket essentially makes Saturday play meaningless, the addition of bracket play on Sunday will provide us with a little bit of drama to keep our eyes on in California.
The top seed in the tournament is also the host team, the #18 Claremont Braineaters. Missing out on Nationals for the first time since the creation of the division last season, the Braineaters had a little bit of extra motivation this season knowing they could no longer take their Nationals berth for granted. Led by defending All-Region POTY William Balliet, their regular season yielded some mixed results, picking up a big 10-5 win over #25 Puget Sound and a closs 11-12 loss to #5 Carleton GoP, but also suffering a 10-6 loss against a weaker-than-usual Lewis & Clark.
Claremont's most important regular season win, however, was their 11-9 win over Occidental Detox at SoCal Mixer. Coming off a surprise trip to Nationals in 2017, it's been a disappointing season for Detox. They've struggled to land a signature win this year and they've been beaten handily by every D-III opponent they've faced from outside of the region. Despite all of this, they're still the favorite to reach the final—and a two point loss is a small deficit to overturn.
Despite being much improved from last year, Caltech Aftermath is still an incredibly long shot to take the bid to Nationals. Daryl Yee and Bryce Edwards are a formidable duo, but Aftermath's wins this year have only come against developmental and high school teams; a two point loss to Occidental at SoCal Mixer shows some signs of the ability to pull off one upset, but it's hard to see them getting two wins in a row in bracket play on Sunday.
Rounding out the field is Biola Afterdark. We don't know anything about Biola, as this is their first tournament of the season and their first time competing in the Series. Setting objective journalism aside, we'll be hoping to see a strong effort out of Afterdark this weekend that motivates them to continue growing for next season and beyond.
---
Hear us discuss this and more on this week's 7500 Club episode ↩