Texas pushed from the no. 4 seed to a second South Central Regional title.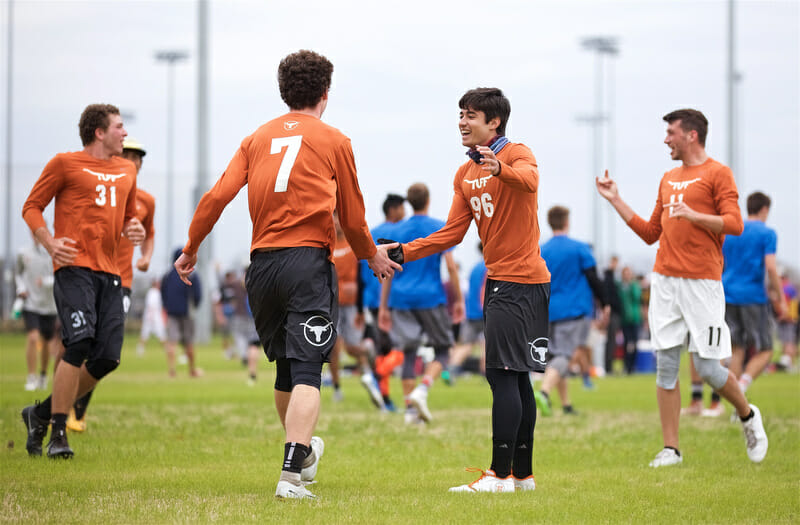 Coverage of D-I men's regionals is presented by Spin Ultimate; all opinions are those of the author. Please support the brands that make Ultiworld possible and shop at Spin Ultimate! 
There was no way for South Central Regionals to meet expectations in the men's division. Consensus expectation would be hard to achieve in a region with far more talent than bids and with no clear and consistent top team. The region, which had never faced the prospect of sending a single team to Nationals,1 was suddenly choked for just a single spot. When the dust settled, it was Texas, the lowest ranked among the most likely winners, to claim the crown with a 14-10 victory over Colorado in the final.
The no. 1 seed, #18 Colorado State, was granted that designation after a 10-9 win over Colorado in their Conference final. While CSU was 3-0 against the other top four teams–#19 Colorado, #25 Texas A&M, and Texas–they had won all of those games by an average of two goals. The entire cohort struggled to obtain top end victories during the regular season.
But it was Colorado State that stumbled out of the gates and shifted the landscape of the tournament. They were felled by no. 8 Kansas on double game point in pool play, which put them on the same side of the bracket as both Colorado and Texas A&M. They went to sudden death again in prequarters against Wash U, requiring a break to win and advance to face Colorado in the quarterfinals. One of the region's favorites was to be eliminated before the semifinals even began.
Meanwhile, Texas was mostly cruising through their competition. A late comeback from Texas State was not to be in a 14-11 Texas victory in pool play. With Kansas as their semifinal draw, Texas was able to advance to the final with 13-9 win while the teams on the other side of the bracket were in the meat grinder. While the Sunday winds backdropped some dramatic games, Texas was mostly avoiding the mess, making it to the South Central final for the first time since 2014.
"We caught a break when Kansas upset Colorado State in pool play," said Texas head coach Calvin Lin. "Not to take anything away from clearly the best Kansas team that we've seen in a while, but beating a really strong Colorado State team in semis and then Colorado in the finals would have been a formidable task."
In their quarterfinal contest, CSU found some early success and went up 3-0 on Colorado. Mamabird, trying to protect their 20-year streak of Nationals qualifications, fought back and made the game a tight affair. But Colorado State's execution suffered late; from a 9-9 tie, Colorado went on a 5-1 run to close out the game, 14-10. It ended a disappointing season for Colorado State, who began the year with Nationals quarterfinalist hype, but ended as a regional quarterfinalist.
"We were outplayed in all four games. We went 3-1 because we had more talent, but I'd say we were outplayed across the board," said Colorado State coach Tim Kefalas. "Drops. Bad decisions. Throwaways. We played poorly."
Kefalas went on to blame the team's execution errors on a poorly chosen offensive system: "The offensive system I put into place this year, in stark contrast to our breakmark, small ball from last year, just never came together…[The players] were playing offense in a system that wasn't putting them in a place to easily play to their strengths."
Colorado took care of business in their semifinal against a solid, but tired, Texas A&M club that narrowly avoided a quarterfinal exit of their own against Texas State. Mamabird took an 8-5 lead into half and only widened it from there in a 14-9 win.
In the final, the game was pretty well contested during its early points. With the wind pushing from one end zone to the other, Texas loaded their upwind lines and let their depth handle the downwind points, according to Lin. Colorado drew the first break on an upwinder, but TUFF flipped the break on the ensuing point and punched in the downwind goal. Receiving at 6-6, Texas scored back to back goals to take half and then added another pair to open the second half.
"We felt that our defenders were respecting their deep game too much, so the only adjustment we made was to take away the unders more aggressively," said Lin.
The adjustment paid off by powering that run. Colorado was never able to get back into it or find rhythm against Texas's zone. An open side backhand that popped over the defender's head into the waiting hands of its target sent Texas back to Nationals.
"Our expectations were to win the region. Of course, we also knew that it wouldn't be easy, because we'd have to play better than we've played yet this season," said Lin.
Texas brought their best when many of their top opponents did not. Timing is everything and Texas lined up theirs successfully. It's the program's second South Central Regional title and they'll end their brief two year hiatus from Nationals when they arrive in Milwaukee, invite in hand.
---
The region was rebranded during the 2011 redraw from South to South Central. ↩