Georgia dominated and Florida State shocked in the always-wild Southeast.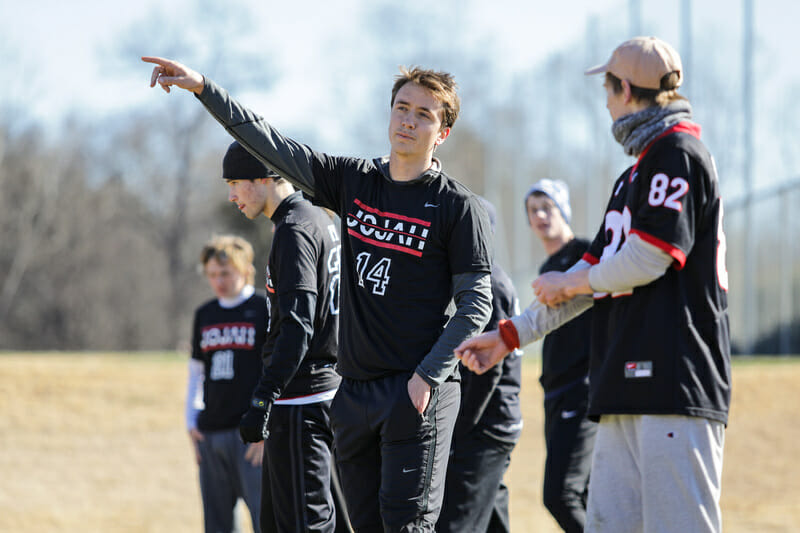 Coverage of D-I men's regionals is presented by Spin Ultimate; all opinions are those of the author. Please support the brands that make Ultiworld possible and shop at Spin Ultimate! 
The Southeast has garnered a reputation for being one of the most exciting and unpredictable regions in the men's division. This year's Regional tournament did nothing to harm that reputation. Georgia, Auburn, and Florida State took the region's three bids to Nationals. Only one of those bids was earned by one of the teams that took them.
#11 Georgia claimed the Southeast Championship after decimating everyone they faced, including a 15-9 win over Florida in the final. Their closest game was a 15-10 win over Florida State in quarters, but no one really ever gave Georgia a challenge late in a game. It was dominant finish to a surprising season for Georgia. After losing Parker Bray and Nathan Haskell a year after failing to make Nationals, it didn't seem like a return to the big dance was in the cards this year. But they better used their depth, had an influx of impressive rookies–two of whom caught Callahans in the final against Florida–and they defended their no. 1 seed with ease.
While it was a surprising season from the outside looking in, the players themselves never doubted they'd get to this spot. That confidence was on display in the way the played throughout Regionals. "We always had a feeling that we were definitely right back in it this year," said captain Jason Jones. "We had that tough loss in the final to Auburn [last year], but it was good to get back and do what we did. Our rookies were really great, too. It's a good feeling."
#13 Auburn, as is customary, stole a bid, but they did so with far less fanfare than usual. They took the second of three bids and mostly avoided any real drama. They did survive a scare against Florida State in second place quarters, breaking to win on double game point, but after that their Nationals clinching journey was really quite mundane. They beat Emory 12-9 in the second place semifinal, and in the second place game, they defeated Florida 14-10. Eric Sjostrom did most of the playmaking for them, while Martin Newman was steady, and their depth players were all dependable. Even without handler Michael Strobel on Sunday, Auburn never looked like they wouldn't make Nationals. The only thing that felt a bit weird was how uneventful it was for them this time around.
Florida State was the shock of the tournament. At Huck Finn they posted a 2-4 record, with losses to Marquette, Penn State, Case Western Reserve, and Purdue. But on their home fields at Regionals, Florida State looked like the Florida State of four years ago. They played hard-nosed, gritty ultimate. They played with pride, and as if they had a chip on their shoulder. It was a quality that defined the team on its rise to national prominence, but something that had been missing from the side for a couple of years. They found it at just the right time.
After the tough, double game point loss to Auburn in second place quarters, they needed a late comeback to beat Kennesaw State 16-15, a result that kept their season alive. They then easily dispatched an undermanned Emory squad in the third place semifinal to set up a game to go matchup with #9 Florida for the third and final bid. Florida, arguably the favorite to win the region, had their backs to the wall after back to back losses in games to go.
The game was neck and neck for the first 20 points. Any time either team grabbed a break in the first half, the other would answer with a hold, then break to get the game right back on serve. In the second half, the teams traded holds until a noticeable increase in intensity. At 10-10, both teams exchanged huge layout blocks, but it was Florida who wound up scoring the point, breaking to take an 11-10 lead.
But just as had been the case in the first half, Florida State answered with a hold, break to retake the lead 12-11. But unlike in the first half, Florida had no answer from that point on. FSU rattled off two more breaks to win the game 14-11, stealing the final bid.
It was a vintage Florida State performance. Veterans like Tim Lootens, Bobby Larsen, and Stephen Muir grinded their way to the victory. Newer players like Craig Anderson and Jack Kern played well, too, and fit in with the team's scrappy persona.
"We lost [that mentality] last year. We knew we lost it," explained first year head coach Kody Cotton. "When I came in to be the head coach, the entire thing that I pushed was all of our old ethos. Nothing new, it was trying to get back to the old DUF. Everything had to be earned this year."
For Florida, the loss was their third straight on the day. After an impressive run through Saturday to get themselves to the final, Florida looked assured of ending their Regionals hex. But they lost in the final, the second place game, and the third place game successively, to miss Nationals for the fourth year in a row.
Of all of Florida's recent Regionals failures, this one felt the most extreme. They looked like a borderline top 10 team in the country for much of the year, were arguably the favorite to win the region, and looked very impressive on Saturday. But Sunday was a different story, and Billy O'Bryan explained the drop off in the team's results from day one to day two. "It's the pressure of this format, I think, mentally," he said. "Getting to the final is a pretty big trap. It's really easy to lose out. You're playing a bunch of good teams back to back, you're coming off real hard games."
For O'Bryan, the weight of the team's recent history wasn't a factor in their Sunday performance. The thought of not making Nationals didn't even cross his mind until the FSU game was coming to a close. "It's not really in the mind," he explained. "It popped into my mind on the last point, the very last point of the whole thing. It's in the back of your head: just 'Holy shit, I'm not gonna make it again.'"
It was obviously a tough loss for O'Bryan, a fifth year senior, but he wasn't surprised by the knockout performance from FSU. "Last night, we were kinda joking around, 'You know we're in the finals, we won't make it [to Nationals,]'" he said after the game. "We were talking about how FSU could reasonably make it. But, yeah, it sucks that they made it against us."