What a performance from Stanford's Callahan nominee.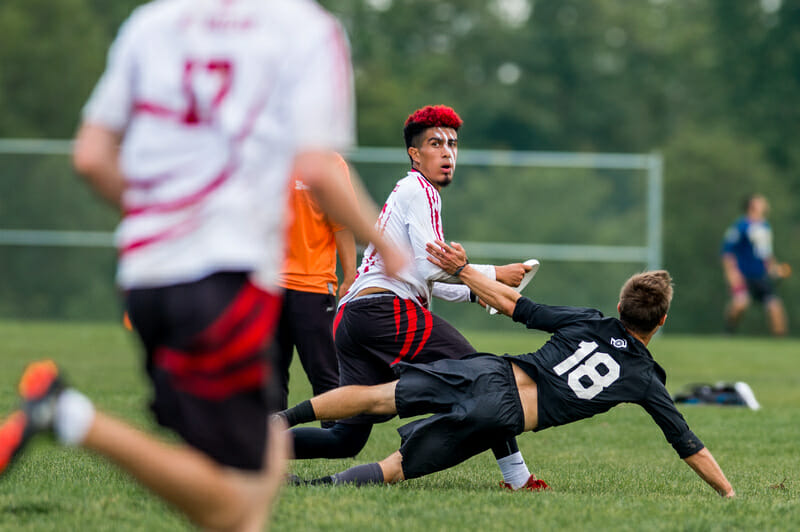 Coverage of D-I men's regionals is presented by Spin Ultimate; all opinions are those of the author. Please support the brands that make Ultiworld possible and shop at Spin Ultimate! 
With the score tied 6-6 in the first half of the Southwest Men's Regional final and #12 Stanford receiving going upwind, Cal Poly SLO's pull was blading in towards the sideline. Stanford's Gabe Hernandez readied himself to catch it before a teammate yelled, "OB!" Hernandez jumped to avoid catching it and landed awkwardly, hyperextending his knee. He came off the field to be assessed by a trainer.
With Hernandez sidelined, #15 Cal Poly SLO got their first break, then added another to take half 8-6 as Dillon Whited got an enormous sky on an upwind huck to get SLO into the red zone. Hernandez returned to the field on an injury substitution after Cal Poly's Sean Liston got a deep block on Drew Mathieson, but it was too little, too late: SLO had taken command of the windy game.
With Hernandez's status in question, it seemed like Stanford's luck may have run out. But he refused to be denied. After checking to make sure his knee was not structurally damaged, he took some ibuprofen and returned for the second half, where he delivered two goals, four assists, two blocks, and just about every ounce of clutch you could ask for as he rallied Stanford back from down 11-8 to score five straight and win 13-11.
"The whole team trusts him with everything," said Stanford coach Ryan Thompson. "Tough upline throw — we'll put it out in front and trust Gabe will get it. High stall throw — we'll just start going to the break side and trust that Gabe will put it out there for us. And hucks, too: upwind hucks. Beautiful backhand and forehand upwind hucks. It makes everything easier for the team. Aside from those last two points at the end of the first half, he played every point."
The first half was very even, with both defenses scrapping to make every pass treacherous. There were eight straight downwind holds to start, though both teams had opportunities to break and the pressure was intense. Stanford finally broke the seal on the upwind end zone after SLO turned over an imprecise swing pass. After a timeout, Hernandez fired a break backhand up the line to Sam Kunz for a 5-4 lead.
SLO broke back twice at the end of the half and then extended their lead to three at 11-8 when Mathieson, looking for Kunz, turned over a huck into traffic. SLO's Hudson Stuck snared a hanging upwind huck in a big pile before catching the assist from Dean Otsuka.
That's the last time Cal Poly would score.
"We had them 11-8," said SLO coach Cody Mills. "I think we panicked."
Hernandez bombed an upwind backhand huck to Michael Becich for a hold. Then, after a SLO turnover, he hit Nick Hirning just shy of the endzone with another backhand bomb before making an enormous possession-saving layout on a swing pass in the red zone. He gathered himself and hit Kevin Tien for the break. He followed that up with another layout — this one into the end zone on a short flick from Hirning to tie the game at 11.
SLO, facing a crucial upwind O point, looked spooked and turned it over multiple times, unable to take advantage of Stanford giving the disc back. Hernandez had three turnovers on the point before going fully horizontal for an underneath block about 10 yards from Stanford's endzone. He found Kunz for the goal and the 12-11 lead.
The final point was the only one of the second half in which Hernandez was not directly involved. David Mondry was the hero on the final play as he tipped the disc before laying out for the second effort score, keeping his toes tucked just inside the endzone.
Stanford stormed the field, celebrating their claim to the lone Nationals bid out of the Southwest. Hernandez delivered a fiery huddle speech after the handshake lines.
"At the end of the day, for me, the motivation is when I look around and see my teammates and everyone just on the sidelines getting hype," said Hernandez. "Obviously I love the sport and I love playing, but that energy, that feeling of getting to share four more weeks with this team, I think, gives you an extra boost to just give everything you have and hopefully it's enough."
It's easy to imagine the game trending in another direction. SLO was without some key contributors, including their star cutter, Nate Pettyjohn, who left the team before Conferences and was not present at Regionals, and Dillon Whited, who got hurt and sat out the large majority of the second half. Hernandez is on crutches this week after the knee injury, and, given how he limped off the field in the first half, it's remarkable he was able to play. Both teams made some enormous plays that seesawed the momentum.
"I think I aged 10 years during that game," said Thompson.
Ultimately, though, Stanford's resilience — and a career game from Hernandez — swung the game in their direction. All weekend, they clamped down on defense late to make comebacks; perhaps that experience gave them belief in the final.
"It's the fourth time this weekend we came back to score a bunch in a row to win the game at the end," said Thompson. "We did against Davis, against [Las Positas], against USC, and against SLO."
Stanford's penchant for close games arose from surprisingly frequent mistakes from their handler core of Nick Hirning and David Mondry. It would be wrong to assume that they played poorly, but at times it seemed as if their composure and calm worked against them. Their lack of urgency early in games often costed Stanford the lead and gave them a bit of an uphill battle. Stanford heads off to Nationals now, hoping to make a splash.
"Stanford kind of gets overlooked. The Southwest kind of gets overlooked," said Hernandez. "But we're looking to make some noise and upset some teams."
Bright Future For SLO
Whether or not Nate Pettyjohn comes back next year, Cal Poly SLO has built a solid foundation for future success. The team is clearly good enough to be at Nationals this year (especially given all of the upsets) and really only missed out because they were shorthanded at Easterns and lost their second bid for the Southwest.
They were really snakebit by injuries and absences this season — and they still had a three point lead late in the second half of the final.
"I saw a lot of player development this year that I'm really stoked on," said Mills. "And I love that we trusted younger people — our O-line was three sophomores and a freshman. I really liked seeing those guys step up and the seniors continue to execute. I'm really proud of how far the team has come, and I'm excited to see them go further."
With promising young players like Jeremy Dolezal-Ng set to take on bigger responsibilities, expect SLO to remain a fixture at the top of the Southwest.
Quick Hits
No. 6 seed Santa Clara had a heck of a weekend, going 5-1 with a loss to Cal Poly in semis and an 11-7 win over USC in the third place game. Taylor Darby, Michael Fodor, and Nicky Farren were impressive on the weekend.
Southern California gave Stanford a legitimate game in the other semifinal. Though they eventually lost 15-12, the score was tight throughout much of the game. Sam Cook was an absolute beast, and if he's back next year, they could be a threat to win the region.
Las Positas got disqualified Sunday morning for playing with two ineligible players on their roster. All of their results were nullified.
All-Tournament Team
Gabe Hernandez (Stanford)
Dillon Whited (Cal Poly SLO)
Sam Cook (Southern California)
Taylor Darby (Santa Clara)
Sam Kunz (Stanford)
Wyatt Paul (Southern California)
Sean Liston (Cal Poly SLO)