Victoria survived injuries and close games to qualify for their first ever College Championships.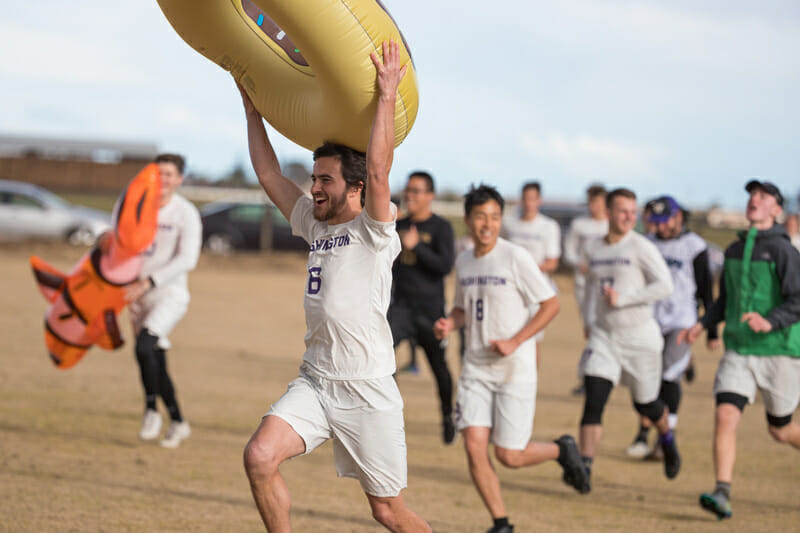 Coverage of D-I men's regionals is presented by Spin Ultimate; all opinions are those of the author. Please support the brands that make Ultiworld possible and shop at Spin Ultimate! 
Victoria Earns Fights Tooth And Nail For First Trip To Nationals
Victoria spent Sunday of 2018 Northwest Men's Regionals with their backs against the wall. Put in a corner in two double game point elimination games, they clawed their way to wins in both, finishing the day with a 14-13 win over a feisty #17 Western Washington Dirt to claim the region's third ticket to Milwaukee.
This is the first Nationals qualification for Victoria in program history. The feat had veteran players on the field and alumnae—some of whom watched the Periscope stream anxiously from a Vancouver Furious George team meeting—in tears.
Bouncy cutter (and proud 2018 Sin The Fields All-Star) Ben Burelle was one of those emotional vets. Burelle has been instrumental in Victoria's success in recent years. He plays with a six sense for space on the field and sports smooth lefty throws that make him one of the most dangerous players in transition on the West Coast. But he spent the qualifying game on the bench, sidelined with a nagging knee injury and pumping his teammates full of as much encouragement as they could take.
Western put the screws to Victoria early, blitzing marks to earn sideline space and using lateral movement to earn hucks from strong positions. At half time, they had a two-break lead that pushed Victoria coach Malcolm Bryson (also an alum who has played for Furious George and will join Burelle this season on Toronto GOAT) to remind the team that they could close the gap.
"Malcolm gave a good speech," said Burelle. "There's no reason to be down. We're only down two points and all we've done all weekend is crawl back. So I think one sick play here or there just gets it back. Everyone on the sideline was helping out, which we never really had before."
Captain and center handler Trevor Knechtel stayed in all game, breaking marks and sticking tightly to his assignments. He didn't miss a point on Sunday in spite of what later turned out to be a fracture in his throwing hand.
Update: Trevor Knechtel, a UVic captain, fractured his throwing hand this weekend and still played every point on Sunday. He's also our centre handler. He's a beast. pic.twitter.com/FpZE8X6PYK

— Ben Burelle (@BenBurelle) April 30, 2018
Knechtel's movement activated cutters Dawson Pasin and Devin Thomson, who each eclipsed the three-goal mark in the game easily, burning their defenders in the deep space. Rookie Sean Bennett was a two-way handful for Western, until he too was sidelined after he attempted a questionable bid on a Dirt in cut.
As the teams started to feel the end of the weekend sapping energy from their legs, Western started doubting their decisions and trying to step up the pace.
"We kind of were trying to force some things to happen to get ourselves in a position to win faster. And when you try to rush things, they end up not working out," said Western fifth-year Josh Kent.
It was Thomson running away with the goal on double game point (at least his fifth of the game), sealing the victory and sending an emotional shockwave through his teammates. Burelle started sobbing.
Bryson called alumnus and Furious George captain Kevin Underhill, who the team credits with laying the foundation for the way the program has run in the last half a dozen seasons or so. Burelle reported that there were also tears in the Furious team meeting.
Victoria still has one of the harder jobs in men's college ultimate. With team travel limited by school regulation to charter buses, they typically play in late January at Santa Barbara Invite and then tough out a two-month gap before Northwest Challenge. They wait almost another month before Conference Championships.
Burelle said the team, who mostly live together, started practicing three times a week every September and running all eight months through the postseason. Usually, they're practicing that early to teach the basics, like throwing a flick.
"This year, we had all the tools we needed," he said. "We just kept saying, 'UVic sticks.' That's what we're all about this year, we stick. We went down in most of our games this weekend, but we were able to crawl back."
Now, with Nationals looming and much of the team inexperienced on a big stage, the task will fall to Burelle, Knechtel, and Bryson (all of whom competed on Team Canada at U24 Worlds in Perth, Australia this past January) to help the team prepare. Burelle was open about his nerves.
"I think that [Nationals is] the most prestigious tournament because you only have five years to make it. And there are some of the best players in the world who have never gone. I'm nervous for it, but I think our goal is show that we can go to Nationals and maybe we won't win, but we'll be able to stick around with the teams that people really talk about. Nobody really talks about Victoria and I think our goal is to make people talk about us."
Oregon And Washington Stay Classy
The best in the Northwest finished their season series against each other at an even 2-2 split of their four games. #3 Oregon shut the door in the weekend's final—after both teams had qualified— with a commanding 15-10 win afternoon. They avenged a 13-10 loss to #4 Washington in the first round of pool play on Saturday.
"Oregon got us scared in the second one. They played almost flawless. They were hungry. They were pissed off from yesterday and they showed it. We came in wanting to compete and wanting to play better, but they punched us in the mouth," said Washington coach Mark Burton.
To the naked eye, the weekend was almost certainly a tale of two different types of energy for Oregon Ego. With the wind steady for almost all of Saturday play, their toe-in sideline magic on the open side failed against Washington. Players bobbled clap catches, missed fingertip grabs, and tried a few push passes over the open side cone instead of sticking to their breakmark end zone offense.
"Maybe we had the energy, but we were just a little jittery, making mistakes like dropping discs and throwing them away and stuff like that added up," said Oregon captain Adam Rees.
Washington looked relatively unfazed in comparison. Though they missed their share of blades in the wind and downwind deep shots, they kept rushing the field with their inflatable pool toys and bringing consistent energy.
The energy for the Sundodgers never slacked. They topped Pool A on Saturday a breezy 4-0 and outclassed Victoria Sunday morning to qualify. For a team that has had at least one weird, mistake-heavy loss in their last three tournaments, Regionals felt like an impressively consistent performance.
And while smoothing over some of those weird mental gaps is worth noting, the strong performance this weekend also underscored the rise of a young core of players who badly want to be counted among the nation's best. Lucas Chen in particular stood out, freeing up yards and yards on his in cuts, which in turn freed up Jacob Steen and Michael Buyco for the offense. Derek Mourad again helped spirit a fundamentally sound D-line.
Washington put up their top-four-in-the-power-rankings season after a notable group of players graduated in 2017 and switching head coaches. They return to Nationals for the third year in a row, this time with a first year college coach in Mark Burton.
"It's incredible, and it's all on them," said Burton. "The joy of coaching is you just watch them play. It's all practices where the coaches put in a lot of the work, and adjustment in games, but it's them putting the pieces together." Burton's arrival brought the installation of a new offense and coincided with the return of D.Y. Chen, this time as defensive coach instead of player.
"I thought it was going to be more of a rebuilding year this year because we lost some players," said Burton. "More and more in practices, we got more familiar with each other. And they bought in. Captains did a great job getting the team together…it just worked out."
Sometime late in the regular season, it started to dawn on the players. Burton recalled a moment where this realization stood out.
"Max Landa came up to me, I think it was first day of Northwest Challenge or second day and he goes, 'Wow, we're actually fucking good.' It was something that I was just like, 'Yeah, we fuckin' are.' But it was just like, you know what, there's more."
The loss that Washington handed Oregon on Saturday might have done Ego some favors. Injuries have continued to shorten Jay Janin's subbing schemes and they needed strong play from a young D-line to finish the rest of pool play 3-0.
Rest seemed to do the Oregon bodies good Saturday night. Ted Sither was back in the lineup Sunday morning as a much-needed backfield presence after missing pool play with a hamstring injury according to Rees. Connor Matthews and Will Lohre were scoring goals with ease. Braedon Petrus was a backfield nightmare for opposing offenses. All was right in Ego's world.
They finished their weekend up to their old tricks, snagging catches on the open side in tight spaces, destroying Washington's marks in the endzone set, and pouring on pressure across positions. Where Saturday the sidelines often walked casually onto the field after a score, almost as if the offense had been broken, Sunday they charged the end zone with their recognizable bravado. Before cruising past Washington, they'd demolished Western Washington 15-6.
Make what you will of who finished first and who finished second in Walla Walla. Regardless of results against each other, these two teams far outmatched all other opponents and both look to be improving on their way to Milwaukee.
Not The End Of The Dirt Road For Western Washington?
#17 Western Washington Dirt, marred by injuries and inconsistencies, couldn't put Victoria away on Sunday. They relinquished their lead late in the game to go and couldn't break back when it counted. The tough loss marked the final sanctioned college game for a number of strong Dirt veterans, not the least of whom was expert handler Dennis Casio.
If Casio was instrumental in making the disc move for Western in 2016 and 2017, he was maestro in 2018. In spite of his diminutive stature, Casio was a quiet monster out of the backfield all season long, even moving over to D-line and handing the O-line keys to up and comer Morgan Higgins.
Casio stuck like glue to larger marks and zoomed sideline to sideline point after point for Western in Walla Walla. Frequently, coaches and players would wander over to a Western game on Sunday and to marvel and quietly laud Casio, as he dumped nitrous oxide into the engine of Dirt's D-line offense.
The double game point loss to end a career was a tough way to go and Casio, ever the gritty veteran, handled the moment calmly.
"It's been about the journey, not about the destination. Obviously the destination is Nationals and that's where we wanted to go, but the friendship, the relationships, the people on this team has been about playing for Dirt," he said.
Western graduates a handful of other key players this year, including stalwart defender Adam Choi and tall lefty cutter Josh Kent. In spite of the loss, Kent was proud of his team.
"We came back today and we put on two tough games to begin the day," he said. "We trusted ourselves to play up to Gonzaga's level and then we came back and…one of the coaches told me that the hardest thing to do at a tournament is beat a team twice. And so we wanted to prove that, we wanted to take it to UBC, and I think it was awesome how we came back from adversity, a couple of breaks down, and really put it to them."
Western finished the weekend 4-3, with Higgins, who tore his ACL, and Daniel Mah (who re-injured his knee at Conferences and again in the game against Victoria) on the sidelines. Expect those two to be a part of the next generation of top-notch players coming out of Bellingham, WA.
Casio was confident about leaving the team.
"Oh yeah I think we definitely paved the way for these youngbloods. I hope they use this as motivation moving forward to make it to Nationals in upcoming years."
All-Tournament Team
Braedon Petrus (Oregon)
Will Lohre (Oregon)
Nick Roberts (Washington)
Lucas Chen (Washington)
Devon Thomson (Victoria)
Trevor Knechtel (Victoria)
Dennis Casio (Western Washington)