No region provided more fireworks than the upset-filled Atlantic Coast, where three teams that earned bids failed to advance to Nationals.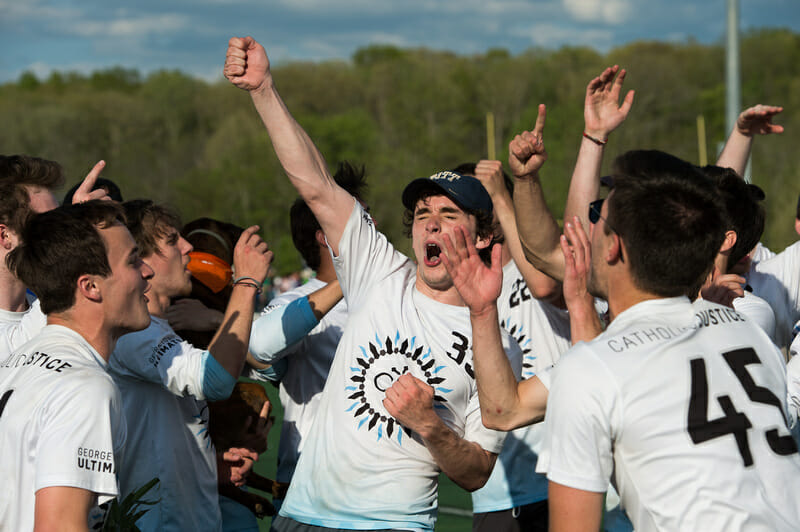 Coverage of D-I men's regionals is presented by Spin Ultimate; all opinions are those of the author. Please support the brands that make Ultiworld possible and shop at Spin Ultimate! 
It was the region that was supposed to go to chalk. That's what we were told and that's what we believed. Our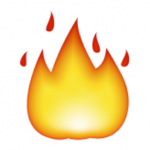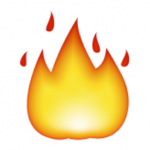 Excitement Level rating proved inaccurate. Before this weekend, the bid earners in the Atlantic Coast looked like bid winners elect. The wild two days of Atlantic Coast Regionals will probably go down as some of the craziest in college ultimate history. When all was said and done, #2 North Carolina was predictably the Atlantic Coast king, while Georgetown, William & Mary, and Maryland all bidnapped spots at Nationals.
The Road to the Second Bid, Paved with Favorites
There were signs before the tournament that indicated potential April anarchy. William & Mary upset Virginia Tech twice at Conferences, while UNC Wilmington had shown signs of weakness getting their offense to work throughout the season. Factor in injuries for NC State and a format that sent pool winners straight into the first place semifinals, and you had the perfect recipe for underdogs with nothing to lose to play their best ultimate.
The upset that started it all came in the first round of pool play when Virginia beat #20 NC State. Coming out of the game, State's players looked visibly shaken while Virginia was fired up and ready to take on the rest of their pool. Virginia Tech lost to #21 William & Mary  yet again in their final pool play game, sending two lower sides into the backdoor brackets.
Meanwhile, #14 UNC Wilmington ran into trouble against Georgetown, who were well prepared for Wilmington's aggressive offense. UNCW held into half 7-6, before Georgetown put up a 4-0 run to take a 10-7 lead. UNCW closed the lead and briefly got back on serve, but Georgetown warded off a comeback and took the game on double game point with their now legendary greatest. Chaos reigned as Georgetown stormed the field into the semifinals and into the annals of great Regionals upsets. There would be no stopping Catholic Justice as they plowed their way to a 13-10 win in the first place semis over UVA in the late afternoon. Players embraced each other, howled the phrase "Why not us?" in triumph and struck up Drake's God's Plan.
"This is the greatest thing that has ever happened to Georgetown ultimate," said head coach Mike Malloy.
Georgetown played with a chip on their shoulder. The team's energy was impossible to dampen after they won their pool in epic fashion. It's worth noting that Christian Boxley, who attempted the greatest, has been on SportsCenter before. Boxley had also completed a greatest at Regionals before. Malloy was just as in awe as any player or spectator.
"We knew UNCW was going to be a challenge and we were going to need to work hard. I did not know we'd need a greatest to a tip to a guy on the ground catching [the disc] on universe! This is something dreams are made of."
More Upsets in Third Place Bracket
For NC State, UNCW, and Virginia Tech, the frustration of Saturday was just the beginning. Wilmington and State matched up with each other in the play in game for the third place bracket Saturday evening. No love was lost in a contentious low-scoring game that ended with Wilmington inching past NC State. Sunday morning, however, the third place bracket would belong to a different team.
William & Mary preserved their legs in their first place semifinal versus UNC to prepare to face all comers in the third place bracket. In quarters Sunday morning, they smashed UNCW 13-9 before matching up against #22 Virginia Tech for the fourth time this postseason. It was a matchup William and Mary owned to the end. Virginia Tech fell again 13-9 as William & Mary advanced to play Georgetown for seeding in the 2nd place final. That locked W&M up for their first trip to Nationals since 2004. Georgetown took the second spot in a 15-13 win.
The Fight for the Final Bid
Three of the four bid earners in the Atlantic Coast were consigned to the 4th place bracket. None would advance to Nationals. Instead, it was Maryland, behind the coaching of Darryl Stanley, who would steadily pull teams apart on Sunday. Maryland game planned well for the windy conditions on Sunday and put on a complete performance with pure tactical dominance.
Their games against NC State, Virginia, and UNC Wilmington were all blowouts. Against Wilmington, Maryland employed great handler defense while matching up on upwind points against Wilmington's top receivers.
The showdown for the fourth and final bid was a true test of skill and nerve for Maryland. It was an upwind/downwind game in which Virginia Tech employed a four person cup. Maryland was confident despite the conditions and found success over the top. Tech smartly adjusted to a three person cup to stick another defender downfield, and while that briefly abated Maryland's advancement, the underdog eventually opened up an 11-8 lead. VT wasn't done yet, as Joe Freund secured the necessary layout block to claw the game back to 11-11. Soft cap sounded. The first team to score 13 would clear the bar, while the other would have their season abruptly ended.
Maryland almost gave away a vital break when a scoober over Burn's cup fell to the turf, but Tech gave the disc right back on an ill advised upwind push pass ten yards short of the end zone. Maryland held on, breaking through the middle of Burn's cup and hucking for the 12-11 goal. A downwind turn from VT gave Maryland the chance they needed for a break. After a timeout, two upline strikes were all it took to get for the Space Bastards to secure a spot at the College Championships. It's the program's second trip to Nationals and it went through every team that earned a strength bid for the Atlantic Coast.
"We thought we had a two year plan," reflected head coach Darryl Stanley. "I told these guys early [this season] in a team meeting 'cut that out, stop thinking we're Nationals ready' and they humbled themselves and worked very hard."
Stanley, looking back at the season, believed that getting to Easterns was particularly important for Maryland to build to Sunday at Regionals. While they took losses to top teams, it exposed Maryland to the level they would ultimately need to play at if the team's two year vision of getting to Nationals was going to be expedited.
"We realized that elite teams were more optimized and said 'hey, we can do that too.' I don't want us to be a team that's satisfied just making Nationals. We do have two wins this season over UConn so we won't be seeded 20th!"
Additional reporting from Patrick Stegemoeller.