There's no more powerful region in the men's division of D-III, but there's only so many spots to Nationals to go around.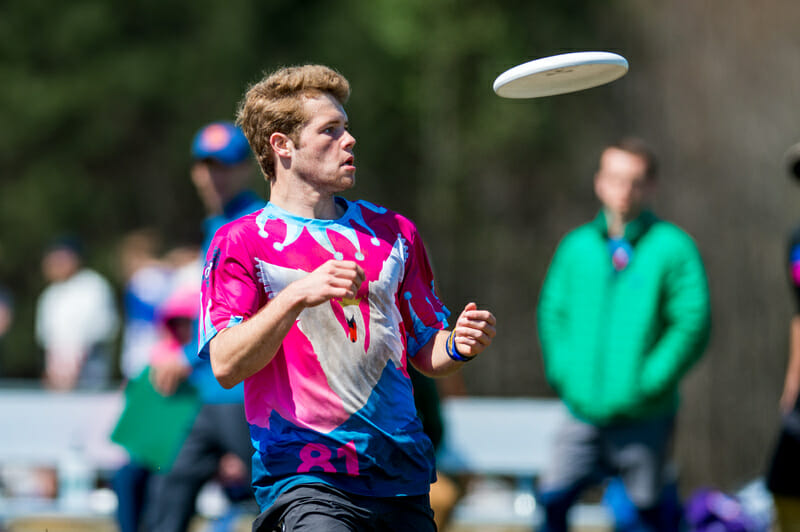 Coverage of D-I men's regionals is presented by Spin Ultimate; all opinions are those of the author. Please support the brands that make Ultiworld possible and shop at Spin Ultimate!
My favorite new piece that we've done this season here at Ultiworld is the weekly Friday Five. It's a smart, unique, and succinct way to bring a variety of storylines from multiple tournaments together into one piece. New England D-III Regionals is annually one of the most eventful tournaments in the division. Always boasting an incredible amount of talent and multiple bids to Nationals, this year's event should be as exciting as ever. I'm going to borrow the Friday Five format to discuss the five biggest stories to keep an eye on in Smithfield.
New England (3 Bids)
Score Reporter
Location: Smithfield, RI
Top 25 Teams: 6
Weather: Low 60s to mid 70s and 10-15 mph winds on Saturday, 60s and light wind with chances of rain on Sunday
Excitement Level: ?????
All-Region Discussion Thread
Will Bryant's Dominance of the Region Continue?
#2 Bryant Craze has had a dominant hold on the region for the last two years. In 2016, they won the region by going 6-0 and finishing with a +36 point differential. Craze was even more oppressive in 2017, winning the region with a 7-0 record and never giving up more than seven points in a single game. At Conferences three weeks ago, Bryant won all three of their pool play games 13-1. Will they be so untouchable this weekend at Regionals?
In my best Lee Corso voice: "Not so fast, my friend." While Bryant should rightfully be the favorites to win in Smithfield this weekend, the gap has been narrowed between Craze and the rest of the region. Their two games this season against opponents they could see this weekend, Bowdoin and Williams, were decided by one and two points, respectively. Craze also graduated one of the strongest senior classes in the country last year, headlined by 2017 Defensive POTY Jacob Garfinkel; it'd be unfair to expect a repeat of last year's dominance after graduating such a strong group.
Don't get me wrong: this Bryant team is the no. 1 seed for a reason. Alex Kenworthy and Cameron Jack form one of the best duos on any team in the division, let alone the region. Conditions will also be prime for Bryant's zone to be effective, with the wind on Saturday and the rain on Sunday making patient offense more difficult. Though they might not dominate like in years past, Bryant is still rightfully the favorite to win the region for the third straight season.
Can Middlebury Get Back to Nationals?
It's been a rough few years for the #3 Middlebury Pranksters. After winning the 2013 National Championship, the Pranksters have only qualified for Nationals one other time, a disappointing showing in 2015. After finishing the regular season second overall in the USAU rankings, 2017 looked like a return to the top of division for Middlebury. However, an upset loss to Amherst in pool play of Regionals put Middlebury on the same side of the bracket as Bryant, and the Pranksters couldn't recover from a blowout loss to Craze, losing consecutive games to see their season end short once again.
Despite graduating ten seniors from last year's group, including four players from their starting O-line, the 2018 iteration of the Pranksters looks stronger and deeper. Dylan Salzman and Kai DeLorenzo still run the show, but the key to Middlebury returning to Nationals lies in their depth. WJUC tryout invitee Josh Sims-Speyer has stepped into a big role in his first year on the team, and junior Asher Lantz will be using his height and athleticism to limit the playmakers on other teams. If Sims-Speyer, Lantz, and the rest of the roster can give Salzman and DeLorenzo adequate support, look for the Pranksters to retain their ticket to Rockford.
What Will the Real Amherst Look Like?
It's been a strange season for #9 Amherst Army of Darkness. Their first tournament, Oak Creek Challenge back in February, was played with a shorthanded roster of just 12 players. Despite being undermanned, AOD managed a 5-2 record on the weekend, giving cause for optimism heading into the rest of their season. However, their second tournament, Layout Pigout, was canceled due to weather. In order to get their 10 games in, Amherst participated in a round robin with some regional rivals, where they went 3-1 with some confusing results. Their results at Conferences were up-and-down; an 11-8 win over Williams looks good, but a 14-13 win over Worcester Polytech is concerning. So what will Amherst look like this weekend?
The potential is there for the Army of Darkness to march their way to a Nationals appearance. Amherst is a senior-heavy team, and their seniors picked up valuable experience in Lexington last year that has prepared them to play at the highest level. Although numbers typically dictate that their lines be fluid, look for Zack Stern and Fawzi Itani to do most of the work on defense, with Jonathan Che and Borun Sun doing the heavy lifting on offense. Amherst peaked at Regionals last year; with an inconsistent season up to this point, their seniors will need to peak again for Amherst to return to Nationals.
Bates vs. Bowdoin
#13 Bates Orange Whip and #14 Bowdoin Clown have battled back and forth all season. Bowdoin currently has a 2-1 lead in the season series, but the teams split their results at their Conference Championships, with Bowdoin winning by one and Bates winning by two. All three results were decided by three points or less, and both teams are playing at a high level going into Regionals.
Finding themselves in opposite pools, these two programs won't run into each other until bracket play, which makes the fourth installment in this season's series even more exciting. With the more impressive resume on the season, Matt Goldberg and Bates would enter the matchup as the favorites, despite being down in the season series. The familiarity between these two teams should create another epic matchup. With the stakes of a chance at Nationals on the line, it has the potential to be a classic.
Can Brandeis or Williams Beat a Bid Earner?
It's been a season of fighting to get over the proverbial hump for #23 Williams WUFO and Brandeis TRON. Both programs have had solid, yet unspectacular seasons; they beat all of the teams who are ranked below them but struggled to pull off the big upset when facing superior opposition. Both programs will need to win multiple upsets in order to earn a spot in Rockford; is either capable of doing it?
Williams is probably the most battle-tested team in the region; unfortunately, they've just come out on the losing end of many of those battles. WUFO traveled to three tournaments this regular season (and would have been to four, had Layout Pigout not been canceled), accumulating an 11-9 record in the process. A lot of those games are against solid opposition, but WUFO lacks a signature win: their best win is a 14-9 victory over Villanova, who finished the regular season ranked 113th. Kees Knight is extremely talented and paces WUFO, but in a region this strong, one elite player likely won't be enough.
Two years removed from their second place finish at Nationals, Brandeis has continued to show that they've built the program to achieve a moderate level of success every year. However, TRON simply lacks the top end talent to compete at the national level, and it's shown in their results this season. This weekend for TRON will likely be more about building towards their future. While Donovan nominee Ben Rosenfeld is talented, especially on the defensive side of the disc, TRON's player with the highest ceiling is freshman Connor Chin. The depth of solid ultimate players on the roster means Brandeis could pull off an upset in the backdoor bracket on Sunday, but the realistic outcome for the weekend is TRON falling short of Nationals and starting to look ahead towards next season.