In their loss to Pittsburgh, the nation's #1 came apart at the seams.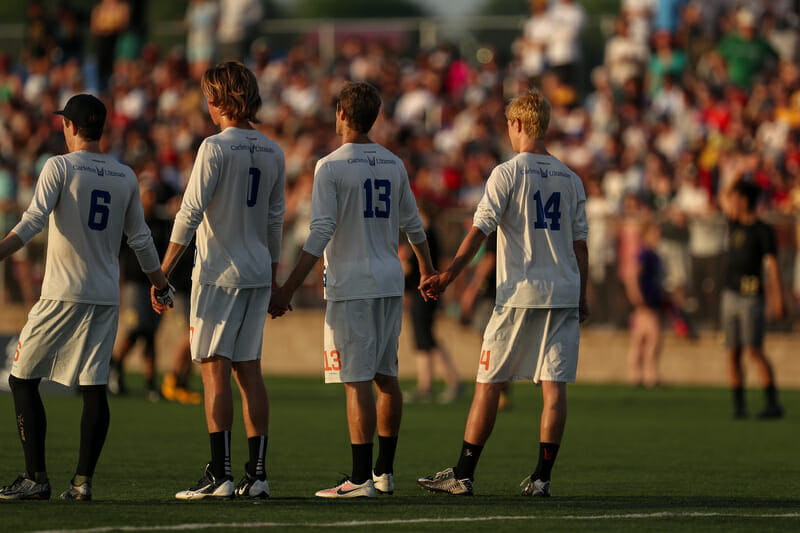 Coverage of the men's division at the 2018 D-I College Championships is presented by Spin Ultimate; all opinions are those of the author. Please support the brands that make Ultiworld possible and shop at Spin Ultimate! 
MILWAUKEE—Carleton CUT took the field for their evening semifinal against Pittsburgh En Sabah Nur with a commanding 33-2 record in their 2018 season. They were the defending champions, who sat atop the Ultiworld Power Rankings for 11 out of 15 weeks.1
Pittsburgh were the upstarts, slowly and consistently accelerating after a rough start back in early February until smashing through Wisconsin into the semifinal. Though they'd kept speeding up throughout the weekend, no one thought the sum of Pittburgh's parts would be enough to dethrone Carleton.
You know the result now.
It was Carleton who came apart at the seams, not Pitt, unraveling as Mike Ing and Noah Robinson dunked on CUT's deep defense.
CUT's unbelievable cache of talent has long headlined this division. The thing is—at this level, under the lights, with the crowd roaring and booing—a team needs more than talent to win. They need drive. They need the right mindset.
"It's tough man. It's tough because it's so loud," said Carleton senior and co-captain Sol Yanuck. "The sidelines are so far away. It's not the usual feeling of frisbee tournaments with lots of noise. And everyone's voice is gone already. And also it's tough to get momentum when the other team just keeps skying you on jump balls."
The Pitt game plan was aggressive. Shoot early. Shoot often. Get Carleton rattled with driving energy and exciting scores. Take them out of their smooth, easygoing headspace. It sent CUT to a space where each player took it on himself to be the hero.
"I think some times when you get a lot of club guys who are alpha types, [they] try to do a lot and sometimes doesn't go the way you want," said Yanuck's co-captain and fellow senior Eric Taylor.
Taylor knew he tried to get too cute with some of his throws. Yanuck felt the pressure mounting.
"Yeah, we were desperate—we were down three breaks on game point," said Yanuck. While Pitt was feeling the noice and excitement, Yanuck and his team may have been longing for the familiar feel of an ultimate tournament in the middle of nowhere, with CUT parents and alumni mobbing the sidelines, the customary tent setup just a jog away stocked full of homemade goodies, and a few camcorders set up in opposite end zones instead of production trucks and professional broadcasters.
"We're not a big public school emotional team. We're better when we're strategic, when we're playing together, and playing the way we know how to play. Going crazy and getting Callahans on the centering pass isn't our M.O. So it's tough not to have that to fall back on," said Yanuck.
Getting Callahans on the centering pass is impressive, but the players that get them have to be hungry. It's a different mindset to push the envelope—trying to beat the pull down the field on every defensive point and yearning for the roar of the crowd. It might've been the instinct CUT had in 2017, maybe.
"This is the thing that I spent the last 11 months worrying about, that [that instinct is] absent in a defending champion. Not sure if it was that or just Pitt making the right plays at the right times," said Yanuck.
Pittsburgh definitely made the right plays. And they also had the instinct. The stuff that—when balanced correctly with adherence to a good game plan—can spur on breaks and can make a team believe that they can and should be getting the win. Pitt took half 8-6 and CUT looked rattled when they retook the field. When Pittsburgh's Dylan Tranquillo got a block and helped push the lead to 11-8, Carleton got the cold sweats in the warm Milwaukee air.
Suddenly, it was 14-10, and the season was on the line. Yanuck emptied the tank, scored up the line, and took off running with the disc in the air as the observing crew confirmed the goal. It was as much a pump-up celebration as it was a distress signal.
Both Yanuck and Taylor confirmed that Carleton's joy comes from playing with each other. That's what Nationals is about. That's what each season thrives on. And in that moment, Yanuck sensed the end of CUT's impressive 2018 season arriving a little less than 24 hours early.
"I think it was less intentional and more my subconscious. I'm usually pretty level…generally. And in those moments it was my subconscious telling me, 'Hey it's 13-10 and you might not get many more points.' And stuff just came out me that doesn't usually come out of me. That was less intentional than me reacting in the moment and being in the moment," he said.
The recipe for winning a national title changes from year to year—it takes a special set of seasonal ingredients that's never quite the same. In 2018, Carleton CUT was fully stocked for a repeat. But last night, Pittsburgh broke in and left the cupboard bare.
---
UNC stepped in for four weeks between the Stanford Invite and Easterns. ↩