Dartmouth completed the nigh-perfect season, capping off a dominant 2018 with a second straight Championship, defeating a tough Colorado team.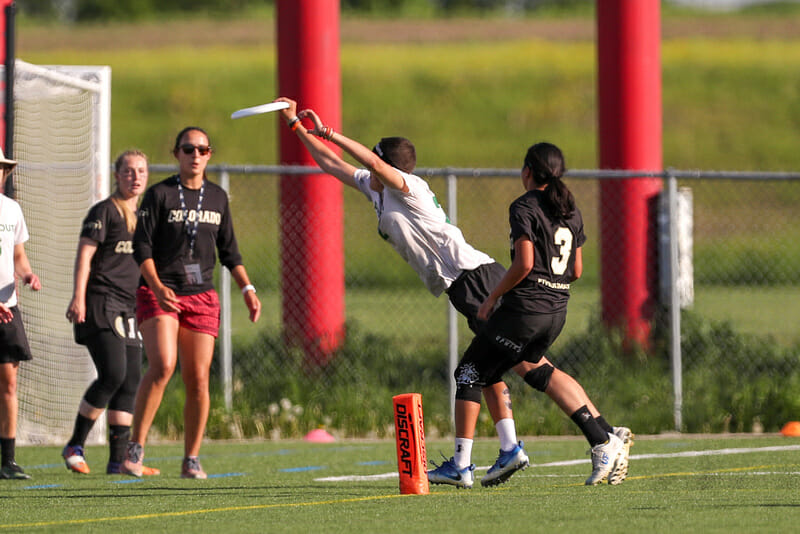 Coverage of the Women's Division of the 2018 D-I College Championships is presented by VC Ultimate as part of their season-long support of our women's coverage. All opinions are those of the authors. Please support the brands that make Ultiworld possible and shop at VC Ultimate!
MILWAUKEE, WI– Dartmouth clinched their second straight National Championship with a 15-9 win over Colorado. It was surprising how evenly Colorado played, especially in the opening stages of the game. But they made too many unforced errors to hang with the top team in the country in the latter half of the game. Caitlyn Lee was Dartmouth's most dangerous player offensively, scoring a staggering eight goals, while Claire Trop was a two-way wrecking ball, posting game highs in blocks and assists, with four and five, respectively.
Despite the individual brilliance from Dartmouth's stars though, the game was much more tightly contested in the early goings than anticipated. In fact, Colorado looked like the better team through the game's first nine points.
Both offenses were crisp through the first four points, neither side turning the disc over. But it was the underdog who got the first break chance of the game, at 2-2. They also got the third and fourth break chances of the game at 4-4. Three of the first four chances to claim the first big swing of the game belonged to Colorado, but they came up short on all of them.
Colorado got those early turnovers playing the best matchup defense Dartmouth faced all weekend. Grad student rookie Rachel Wilmoth matched up with Jaclyn Verzuh and held her own, while the rest of Colorado's D-line managed to give Dartmouth's offense, as a whole, some serious problems. The ninth point of the game was an impressive five-minute standoff where the Colorado defense was its most impressive, but they just couldn't take advantage of their resolute defensive work by turning it into the first break.
Colorado's O-line production in the opening points, however, could not be questioned. Just one of their first four O-points had a turnovers, and the other three all took less than a minute to get the hold. Colorado's lack of D-line execution caught up with the team when the offense was broken for a 6-4 Dartmouth lead. Some redzone turnovers crept into the team's play, and improved defensive pressure gave Dartmouth five break chances on the point. They eventually capitalized and Colorado's time as the controlling team was over.
Dartmouth broke again to take half up 8-5, and then scored four of their first five defensive points of the second half. Dartmouth may have been led statistically by Lee and Trop throughout the game, but it was the team's biggest stars, Verzuh and Julianna Werffeli, who did the heaviest lifting during the game's most critical stretch. In the stretch of the game in which Dartmouth turned a 5-4 lead into a 13-6 lead, the two combined for three assists, four goals, five secondary assists1, and one block.
In addition to the dominant stretch, Dartmouth ramped up the defensive pressure in that middle stage of the game, and Colorado's offensive execution faltered as a result. "We were just trying to adjust to their looks," said Verzuh. "We talked before the game about our marks and I think just the whole game tightened the screws on defense. I think we would have liked to have started a little tighter on defense, but that's why a game is 15 points long. You have to be the team that makes the right adjustments and can continue to bring that pressure."
Part of that adjustment was switching to zone defense for parts of the second half, something Dartmouth rarely does. But the tactic slowed Colorado's offense down, taking away the quick holds they were getting in the first half.
The Dartmouth offense also looked more like its high powered self as the game wore on, and Werffeli explained that the team had to grow into the game a little bit. "We were not really working our system as well as we should have. We weren't looking at our resets soon enough, we weren't hitting those," she said. "I think it was jitters and nerves. It's the finals, it feels different than any other game. We were able to just kind of work through that and the second half pulled away. The first half was still tight even at half time, but we were able to loosen up a bit and get breaks in the second half."
Once Dartmouth got rolling, Colorado couldn't do much to stop them, as has been the case for really every opponent of Dartmouth's all season. Kali did get one break late in the second half at 14-8, but they couldn't cope with onslaught out of the half. Even still, they surprised a lot of people by even putting nine on the board against Dartmouth, the most goals the champions conceded all tournament.
Nhi Nguyen went head-to-head with Verzuh and genuinely won the matchup on several points, something not many opponents of Verzuh's can say. Wilmoth, as noted before, had a nice game defensively, and Kelsey Bennett, one the tournament's biggest stars, was solid in the Colorado backfield. But Colorado's run to the final came largely on the back of their impressive depth, and that depth couldn't quite equal Dartmouth's cadre of household names.
Nguyen was pleased with the team's effort though, especially in those first several points when they really did give Dartmouth a test, and again when they broke late in the game to keep the game alive.  "The focus was to relish every point and every moment with this team. We knew that this was going to be our last game no matter what. We tried to give it our all," said the fifth year senior. "Dartmouth capitalized on some errors that we had, and we slipped a little bit, but I think at the very end there, we showed the world what Kali's all about."
She explained that it was Kali's depth that earned them their early foothold in the game. "We've said this for years and years, that Kali is the deepest team in the nation. We had our D-line grinding every single point, they generated some blocks and it was tough to punch in some of those breaks, but we knew that Dartmouth, who's a less deep team, they got tired and they started to make mistakes," she said. "It just didn't go our way today, but that's okay."
Where Colorado fell short of knocking off the top team in the division, Dartmouth officially started a dynasty. They became the first team to win back to back titles since Stanford won three in a row from 2005-2007. After the victory, Werffeli said that this title felt different than their championship in 2017. "This one was harder to get. It's hard winning once, but it's even harder winning twice," she explained. "Every team is out to get us. Once you get win it's like you've got the target on your back. We like to embrace the underdog mentality, that was tough to maintain."
The relative ease with which Dartmouth won this title was probably a pretty big part of why it was tough to maintain an underdog mentality. Their only loss on the season was an 8-6  result to Ohio State at Queen City Tune Up that was cut short by bad weather. They only allowed double digit scores to two teams all year.
Dartmouth was the best team in the division all year, and they capped it off with a comfortable win in the final that typified their season. Even with Colorado surprising in how well they started, and with how well they managed to battle with some of Dartmouth's superstars, Dartmouth was simply too much for anyone to handle and claimed their second straight National Championship as a result.
---
The offensive pass preceding the assist during the same possession the assist occurred ↩