What a collection!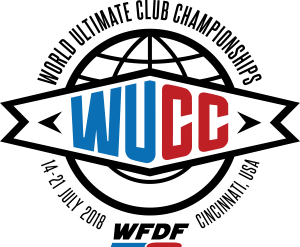 The full 128-team participant list for the WFDF 2018 World Ultimate Club Championships is now available on the WUCC website. Representing 36 countries and regions from six continents, the teams will compete in three divisions: Men's, Mixed, and Women's.
Below are the team logos and countries, followed by a searchable table with every team.
Next Thursday, Ultiworld will announce the competition pools, so stay tuned!



| Men's | Mixed | Women's |
| --- | --- | --- |
| Bad Skid (GER) | AMP (USA) | 6ixers (CAN) |
| Chevron Action Flash (GBR) | Anchor (CAN) | Aerosoul (COL) |
| Clapham Ultimate (GBR) | Argentina Ultimate Club (ARG) | Ozone (USA) |
| Colony (AUS) | Banana Cutters (CAN) | Atletico (FIN) |
| Comunidad El Oso (COL) | Battleship (CAN) | Bamboo (COL) |
| Crackerjacks (SGP) | BFG (USA) | Brute Squad (USA) |
| CUSB (ITA) | Black Eagles (GBR) | Brilliance (RUS) |
| Daione Kumay (TPE) | Black Sheep (NZL) | ChCh Chicks (NZL) |
| Devon (GBR) | BOOM! (KOR) | CUSB Shout (ITA) |
| Doublewide (USA) | Cafe de Luida (JPN) | Daione Kumay (TPE) |
| Euforia (COL) | Charrúa (URU) | Ellipsis (AUS) |
| Family Ultimate (GER) | Chuckies (SGP) | FABulous (SUI) |
| Fenix Ultimate (MEX) | Colorado (GER) | Fury (USA) |
| Flying Angels Bern (SUI) | Cóndor Ultimate (MEX) | Fusion (CAN) |
| Freespeed (SUI) | Crash (CAN) | Gentle Ladies (BEL) |
| Freezzz Beezzz (BEL) | Disco Sour (CHI) | HAVOC (SGP) |
| FWD>> (AUT) | Disctèrics (ESP) | Helsinki Ultimate (FIN) |
| General Strike (CAN) | Flying Rabbits Ultimate Club (BEL) | HUCK (JPN) |
| GOAT (CAN) | Freakshow Singapore (SGP) | Iceni (GBR) |
| Heat Haze (JPN) | Friskee (AUS) | Iris (CAN) |
| Hot Chilly (AUS) | Glasgow Ultimate (GBR) | Kaos (AUS) |
| IZNOGOOD (FRA) | GRUT (NED) | KFUM Örebro Frisbee (SWE) |
| Juggernaut (AUS) | Hässliche Erdferkel (GER) | Mainzelmädchen (GER) |
| KFUM Örebro Frisbee (SWE) | Hong Kong Neon (HKG) | Malafama (MEX) |
| Long Donkeys (RSA) | IKU (JPN) | Mantis (AUT) |
| Mooncatchers (BEL) | Kisumu Frisbee Club (KEN) | Molly Brown (USA) |
| Nomadic Tribe (JPN) | Macondo (COL) | MUD (JPN) |
| OTSO (FIN) | Marvellous DC (NZL) | Nice Bristols (GBR) |
| PELT Ultimate (IRL) | Mubidisk (ESP) | Rampage (SGP) |
| Ragnarok (DEN) | Mulatto Pilipinas (PHI) | Revolution (COL) |
| Ranelagh (IRL) | Panthers Bern (SUI) | Seagulls (GER) |
| Relámpagos (DOM) | Pie Wagon (AUS) | Riot (USA) |
| Revolver (USA) | Reading Ultimate (GBR) | Sirens (CHN) |
| Ring of Fire (USA) | RusMixed (RUS) | Swampybarg (JPN) |
| Shanghai Chuchai (CHN) | Seattle Mixtape (USA) | SYC (GBR) |
| Sokol (RUS) | Sesquidistus (FRA) | Traffic (CAN) |
| TCHAC (FRA) | Shinshu Loose (JPN) | Troubles (POL) |
| thebigEZ (AUT) | Slow White (USA) | UNO (JPN) |
| Warao Ultimate Club (VEN) | SMOG (GBR) | Yaka (FRA) |
| Wildcats (NZL) | Stall7 (IND) | ZUF (SUI) |
| - | Sugar Mix (GER) | - |
| - | UCT Flying Tigers (RSA) | - |
| - | Urosoul (COL) | - |
| - | Vanguard (AUS) | - |
| - | Voltaje (COL) | - |
| - | Wild Card (USA) | - |
| - | Wizards (SUI) | - |
| - | Yanomami (VEN) | - |