What a tournament!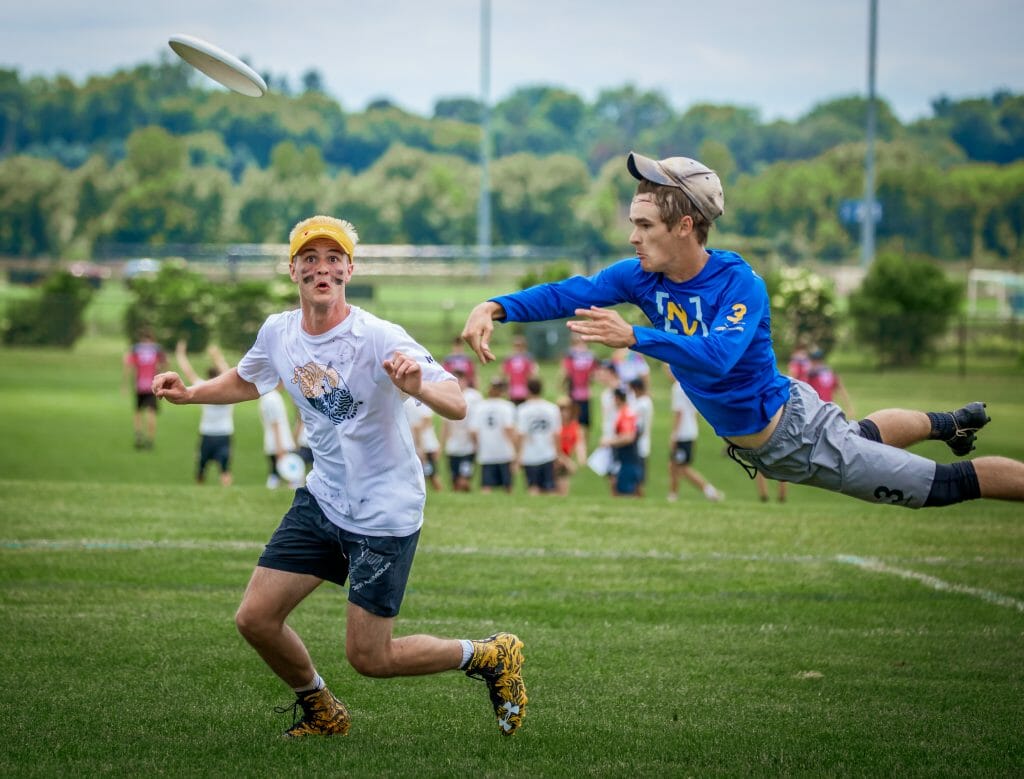 Our coverage of the 2018 High School National Invite is presented by Universe Point cleats.
ROCKFORD, Ill. — There was a lot of anticipation leading up to the second annual High School National Invite. The teams delivered the tournament justified the hooplah. Teams from all over the country butted heads in intense and spirited matchups. In the end, Grady was in great form as they took down the competition, including No. 1 seed Nathan Hale in a hotly contested final. Here are some of the stories at defined the weekend (and don't miss the final recap and the day one recap).
STEM Gives Pi a Scare in Quarters
Throughout the weekend, Knoxville STEM Academy (TN) used a stifling zone defense to slow teams down. Nearly every team struggled to counter it. In quarterfinals, STEM found themselves matched up with Pi (KY), a team that rolled through games on Saturday and felt comfortable with a zone of their own. Both settled in for a lengthy game that Pi won, 10-8.
But their zone defenses were not the only similarity of the two squads, particularly in comparison to the rest of the HSNI boys' field. Both teams featured a cast of young women who had spent the weekend competing against male players, but both rosters suddenly found themselves in de facto high school mixed game. On top of that, neither had seen much significant national buzz before this year, making the chance to advance to call themselves semifinalists a tantalizing prize.
The teams were not unfamiliar with one another, having built a relationship over the past few years. When a senior from STEM passed away in a tragic motorcycle accident, members of Pi showed up at the wake after the teams had competed. "They embody spirit of the game, because they play really hard, they're really competitive, and they're nice to be around," said STEM coaches Ted Parker and Joe Norriskov. "We consider them friends of ours."
The game was back and forth, although it was STEM who earned the first break, even though Pi's zone offense had been the superior unit to begin the game. The Lexington throwers showed off confident scoobers and high releases, giving them extra time to read the field. Most of their scores in the first half with smooth possessions, including their break to bring the game back on serve at 5-4. With remarkable red zone patience and zone defense that excelled at spying which pass to jump on to force a turnover, Pi built a significant lead at the half.
But STEM battled back with admirable grit. Led by handler Joseph Fugate, they earned their way back into it late in the second half. The Pi lead and their firm offense would not succumb to the comeback, and they advanced to the semifinals.
"You step up or you go home," said the STEM coaches after Saturday play.
Nathan Hale & Grady Roll to the Final
Nathan Hale (WA) and Grady (GA) rolled to the tournament championship without much struggle. Undefeated through pool play, and with their closest bracket play games being four-point wins, it was truly a meeting of dominant forces in the championship.
Nathan Hale relied on their size and athleticism throughout the tournament. They reached the final on an aggregate score of 65-31 prior to the championship game. Dempsey Hope-Wight and Tony Venneri were a duo that was tough for anyone to match up with. Throughout the weekend, Nathan Hale proved themselves as a team that loved the deep ball, making them an exciting team to watch.
It was particularly impressive considering Hale was out of season, having wrapped up in the fall, so the team took some time to find their rhythm. "The rust was there," said Chen. "It was great to get the guys back together and have practices, ramping up."
Grady's standout junior, Aidan Downey, caught fire early in the bracket and helped the team roll to the championship. Throughout quarters and semis, Downey made big play after big play, fueling the Grady offense. His combination of size, athleticism, and throwing ability made him just about unguardable. Along with a stable of athletes built around Grady's junior class, the team made efficient work of the defenses they faced on Sunday.
"The sidelines were up and alive and awake," said Grady coach Sheryar Ali. "It started in the beginning of the day and we rode it all the way to Nathan Hale."
Their dominance throughout the weekend set the stage for what was an entertaining championship matchup.
Pi Puts Together a Compelling Performance
Pi, the homeschool team from central Kentucky, had perhaps the most impressive and unique weekend of anyone in attendance. Their team boasts a combination of high school boys, high school girls, and middle schoolers. The team used their top-tier talent to roll through most of the weekend, but still relied on playing their female players and middle schoolers throughout much of the tournament.
Even when the competition got stiff, Pi continued to rely on their system, playing boys, girls, and middle schoolers. It was not uncommon to see the team sending out lines that included two girls. Coach David Wu is a coach that believes in empowering his players, and he certainly did so by continuing to play everyone, no matter the game.
The top-tier talent that Pi brought was undeniable. Caleb Montgomery and Josh Wu proved themselves as two elite players. Pi's biggest asset, though, seemed to be trust. Throughout the weekend, they continued to trust their system, and the players that they have used all year. They never wavered from their playing style, no matter how tough the competition was.
While Edina Succeeds, Other Second Seeds Struggle
Of the tournament's second row on the pool play board, only one qualified for the quarterfinals: Edina (MN). The No. 8 seed finished 5th overall, one of the tournament's best performances by seed. The team deployed a wealth of sizable athletes, such as AJ Larson and Calvin Kruse, in a zone to clog up lanes and let Josh Felton run the show as a handler after the turn. They earned wins over Woodrow Wilson (DC), HB Woodlawn (VA), Lexington (MA), and Columbia (NJ).
"Credit our legs, credit our conditioning, and our depth, everyone stepping up and contributing today," said Edina coach Nate Wohl after prequarters.
No. 6 seed Neuqua Valley (IL) failed to record a single win on Saturday. After strong mid-season play, Neuqua struggled in the late season, failing to get many wins at either the Paideia Cup or High School National Invite.
Perhaps that also speaks to the growing competitiveness of the high school division. Almost any team at the tournament was able to put up a competitive match against any other team when they played their best ultimate.
Quick Hits
Woodrow Wilson had one of the most impressive offenses at the tournament, utilizing a split stack and sharp break throws to move the disc efficiently. With a large and talented junior class returning next season, they could be one of the nation's top teams.
3rd place finisher Center Grove had a very strong weekend, losing only to the eventual champion, Grady. A blistering Saturday performance gave way to a tight match with Edina in quarters. Center Grove's calling card — their athleticism — was simply outmatched by Grady in the semis.
Consolation play was pushed indoors due to water-logged fields and the persistent threat of thunderstorms on Sunday. Teams were still playing with tons of energy in 5v5 play on smaller turf fields. Lexington won the 9th place bracket with close victories over Garfield (15-12), North Allegheny (11-9), and HB Woodlawn (9-8).
There is tons of game footage from the tournament up on our YouTube channel!
All-Tournament Team
Alex Henderson (Center Grove) – A high work rate and willingness to sacrifice to make the play complements Henderson's skill and poise to make him one of the most effective and well-rounded players in the division.
Aidan Downey (Grady) – An unstoppable force with the disc in his hand, Downey was a maestro as a thrower, controlling the game and the disc with skill beyond his years.
Tony Venneri (Nathan Hale) – A Sockeye practice player this season, Venneri showcases fitness that is something to behold; he's a tireless and explosive defender capable of running opponents into the ground and generating highlight reel blocks.
Alex Nelson (Garfield) – A freshman, Alex Nelson is already gifted with size and athleticism. He put on an astounding performance against Center Grove on Saturday, notching all eight of the Garfield goals.
Caleb Montgomery (Pi) – Effective in all aspects of the game, Montgomery was one of the backbones to Pi's great performance.
Josh Wu (Pi) – The quickness possessed by Wu was constantly on display, whether it be his releases as a thrower, movement as a cutter, or ability to pounce on potential turnovers in the Pi zone defense.
Jacques Nissen (Woodrow Wilson) – The rangy junior handler proved to have some of the most well-developed throwing skills at the tournament, and the instinct and size to beat even the best defenses with them.