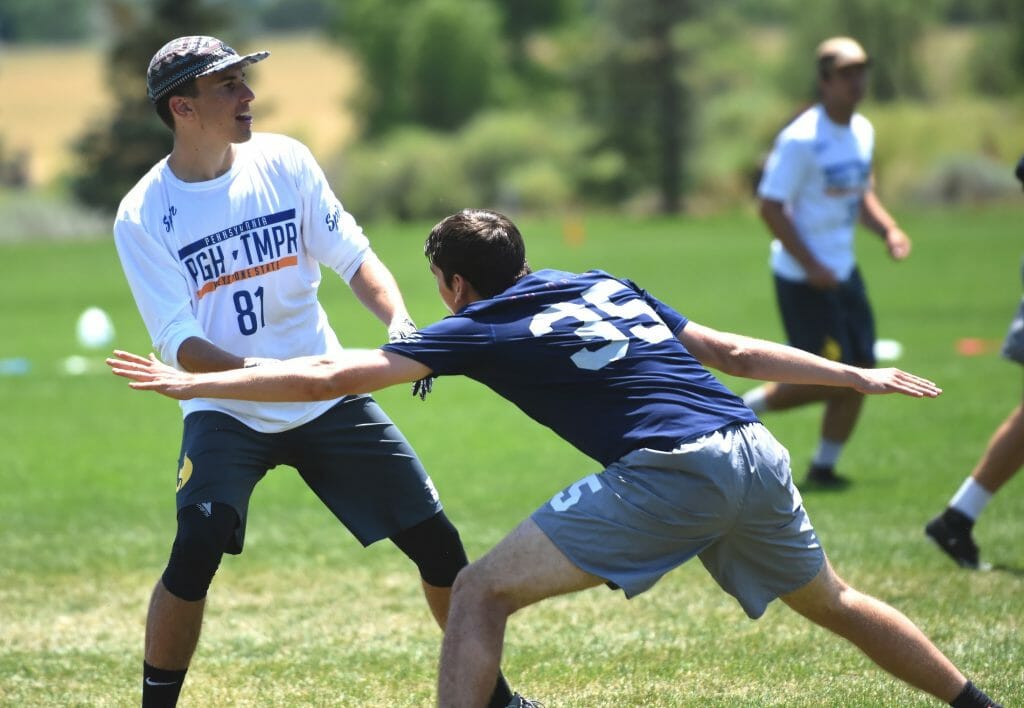 BROOMFIELD, Colo. — Intense heat and altitude served up quite the early-season test at the 2018 Pro-Elite Challenge. Denver Johnny Bravo, the hometown team, may have had their hands on the answer key in advance. They hucked and hammered their way to a title, dispatching an upstart Pittsburgh Temper 13-11 in Sunday's final.
Here are some takeaways about the various contenders sweating it out last weekend a mile above sea-level.
Bravo's Offense Thrives At Altitude
Picture Denver Johnny Bravo's coach Jim Schoettler like a submarine captain, but instead of standing at the periscope, wielding the boat's PA system yelling, "FIRE!" on the torpedo in Tube One, he's standing on the sideline tense, one scream of "HAMMER" away from going ballistic.
Luckily for Schoettler and his young, 2018 iteration of Denver's elite men's team, his throwers launched hammers at will this past weekend. So while Schoettler was without his customary football, he was able to sit back and watch Bravo go to work.
Whether it was the O-line tossing long, downfield looks to Denny Bechis and Stanley Peterson, or young bucks on the D-line diving for goals on the breakside, the willingness to attack paid off for Bravo. They dropped one game to Boston DiG 13-10 (the final and hottest game of Saturday) on their way to winning the Pro-Elite Challenge and otherwise looked sterling amongst a field of opponents in search of early-season polish.
"Honestly, it feels like we did exactly what we came here to do. We knew our O-line was going to be solid all weekend and that's kind of what carried us," said captain Elliott Erickson. "And we were able to put enough defensive pressure on to start getting breaks. And when our O-line's only getting broken once or twice a game, that's a pretty good place to be for cruising through."
The vertical attack principles look similar, but the power is getting generated in different places this year. All weekend long, throwers released after resets to the open side and charged the break side lane for deep opportunities. With the thin air allowing for extra yards on the deep looks, Bechis and Peterson caught an absurd number of throws on the goal line or in the end zone. The consistent success deep forced defenses to flood the lane to bracket and poach the open side—then Lohre and Josh Crane could go to work breaking the mark and hitting unders.
"We lost a lot of throwers last year. What that's made us do is adjust downfield, really dive into our system and really trust all seven people on the line to get a job done," said Erickson.
Erickson explained the O-line is set already and that's big for an early July tournament.
"We have some of the best cutters in the world in Stanley [Peterson], Matty [Jackson], and Ben Lohre—once those guys get rolling, it's a really hard train to stop," he said.
This was particularly clear in quarterfinals, when the aerial bombardment was clicking so well that it beat the tall, experienced defenders of Austin Doublewide 13-10. The Texans couldn't get a handle on Denver's deep cuts, despite the teams being well-matched athletically. With flying bids for blocks and opponents misjudging throws and catches in the altitude, Erickson, Mark Rauls, Erik Hotaling, and Quinn Finer were able to get the few breaks they needed each game to win out.
Expect this youthful and fresh-faced Bravo D-line to improve—there were moments when the greenlight to huck hampered their break efficiency and others when teams, especially Pittsburgh Temper in the final, got position on unders and were able to catch deep defenders a step off for easy holds. And there were fluke successes, like when Erickson got away with two different double-jump plays in the final: one for a second effort block and another for a second effort catch on a huck, where he first peaked at full speed, misread the disc, and then beat his defender to the ground to make the play.
"I'm a good ol' southern boy who still can't read in the altitude. So things just stay up there longer than I think they will," said Erickson, smiling.
Maybe it was the altitude, or maybe it was Schoettler's diligence in coaching his team into tougher, chancier throws. Either way, the early tournament win is a significant one for a team that can no longer be doubted because of turnover. Denver Johnny Bravo will prove to be a tough out for the duration of the season.
Pittsburgh's Untempered Expectations Lead To A Program-Defining Weekend
Rankings at early season tournaments are based off of the previous season's performance. Pittsburgh Temper didn't make it to Sarasota in October 2017 after losing in both the final and the game to go at Mid-Atlantic Regionals, so they were awarded the sixteenth and final seed coming into the weekend.
"I actually was really happy when I saw that we were seeded dead last. A little surprised, but happy," said Temper captain Pat Earles after his team lost 13-11 to Denver Johnny Bravo in Sunday's final.
The lefty throwing artist wasn't happy for the seed because his team couldn't fall lower. "It already seemed like people were counting us out or maybe they thought it was just hype. And I was excited for the opportunity to make them realize that this team is the real deal this year," he said.
Earles, his co-captain Max Thorne, and their elite receiver Tyler DeGirolamo haven't been healthy much in recent years. Combine their health this weekend with battle-tested veterans motivated by game-to-go losses in previous season with an influx of Pittsburgh En Sabah Nur's best (including Best himself—Dylan—and notable additions of Pitt alums Mike Ing and Thomas Edmonds) and the result was a team that was unflappable all weekend.
Pittsburgh's only loss on the weekend was in the final. They battled through heat and deficits on Saturday to take Pool D 3-0 and earn the bye to quarterfinals. Getting that bye is normally a blessing, but Temper benefitted from double happiness Sunday morning when they skipped the unenviable position of restarting a prequarter game at 7:45 AM local time.
The success of the day and promise of potential set in Saturday night, according to Earles.
"[Saturday] at dinner maybe is when it kicked in," he said. "The fact that we got the bye straight to quarters. Last time Temper was here, we didn't win a single game. That was rough one."
That weekend in 2016 was the first time in Earles's career that his team went winless.
"That was a big spoonful of humility," he said.
Save not pulling out the final, in which they briefly held a lead taking half 7-6, Temper should be thrilled with their performance. They were fearless after the turn—an important quality for any team trying to build confidence for the long club-season haul. They stuck to their stack systems, trusted their marks, and made the best of it. Breaks didn't exactly flow easily outside of their 13-7 dubbing of Michigan High Five on the 100-plus degree heat on the Broomfield facility's turf field Saturday afternoon.
Instead, Temper needed to be clinical as often as possible. It put them in a position to get a program-defining win, a double game point thriller, 13-12 over Seattle Sockeye.
https://twitter.com/Ultiworld/status/1016018780844056577
That final, winning point may have been the most important one of the weekend. Sockeye had just put together a furious multi-break run to tie the game at 12-12. Temper put their heads down and gutted out the win with another beautiful long shot to the backline.
"To win on universe at a program against that opponent, that pedigree…I mean that's a program I grew up watching," said Earles. "I used to go to Club Nationals when I was in high school and I used to watch Mike Caldwell—all those guys, [Alex] Nord—just crush it. It's cool that I'm now playing against them and even better that we got the win."
The trip to the 2018 Pro-Elite final capped the best performance for Pittsburgh Temper since their appearance at Nationals in 2014, the first year the program was formed and the year before their merger with rival club Pittsburgh Dire Wolf.
Philadelphia Patrol and Washington D.C. Truck Stop, the two Mid-Atlantic rivals who have foiled Temper's attempts to return to Nationals the past three seasons, are both rebuilding this year. And while Patrol appears to be a lot better than expected and Truck faced some serious growing pains, Temper established themselves as a team far improved in 2018. They may not be the Mid-Atlantic frontrunner forever, but they earned that distinction for the first time in program history this past weekend.
Sockeye's Offense Needs Work, But They Are Still Very Good
"Anyone who wants to watch that game is going to see we beat ourselves. We misfired on about five hucks. Hats off to them. They played a great game."
That's what Seattle Sockeye captain Dylan Freechild said about his team's 13-12 double game point loss to Pittsburgh Temper in their semifinal meeting.
Freechild, speeding around the field mostly for Seattle's O-line, was otherwise pleased with his team's 5-1 performance on the weekend. He said that Sockeye arrived in Colorado focused on bringing energy to every point and that, when the team had done that, it paid dividends.
There were two moments that illustrated Freechild's observations. In their headline Pool A matchup against Austin Doublewide on Saturday, Sockeye sent out an unconventional O-line at 9-9, in service of running a more flexible group of offensive personal. Freechild said the line was three typical offensive players, with four additions.
They immediately gave Austin the disc and a break opportunity, but they battled back to get a block in the end zone set and run back the length of the field for a 10-9 lead.
"Those are the kinds of holds you have to cherish," said Freechild.
The hitch was that the offense struggled to connect with each other all weekend and that let opponents hang tough for longer periods of time. The O-line missed almost half a dozen hucks in the early goings of their semifinal against Temper, and Pittsburgh diligently converted those mistakes for a 4-1 lead. Seattle timeout.
Then they put a three-goal run together to tie the game at 4-4.
"I think specifically that run came because when we went down three and called a timeout our only focus was, 'We have to show that we're up, regardless, right?' Because we had a great day [Saturday] and of course we're all having fun, so you have to get into a pattern where that is the case. You can't fall into the trap of not having energy when you're down at your first tournament," said Freechild.
When the energy was up, Sockeye looked like the most dangerous team in the field. With Freechild finishing plays and running misdirections off the pull, Jacob Janin and Matt Rehder were clinical out of the stack and hitting continuation throws for goals. Christian Foster and Derek Mourad teamed up to pull for the D-line with both players dialing up throws that pinned opponents deep in their own endzones. Duncan Linn slowed down Kurt Gibson. Xander Cuizon Tice and John Randolph added scores with excellent downfield movement to get on the end of Janin's throws. Their 3-0 Saturday made the most sense of any results the field offered up.
Turnovers happen this early in the season, and most teams play early July tournaments expecting hiccups. And while Sockeye will spend yet another season contending with high expectations as well as the field, they are more youthful than ever and ready to win big.
Sockeye notably played the weekend without Camden Allison-Hall, who was slated for a return to elite ultimate after a long absence. Unfortunately, Allison-Hall was on the sideline this weekend, tending to an injury he sustained at tryouts. Even without his credentials, Sockeye looked strong in spite of their mistakes.
Doublewide Would Give Anything For Some Consistent Practice Time
Captain Dalton Smith walked away from his team's quarterfinal loss frustrated. The veteran handler has improved every year since his 2012 debut with Kurt Gibson's Doublewide. This weekend, it was he who spirited the Austin offense and combined with Gibson for a deadly two-man game in the end zone set.
But that chemistry wasn't enough for Austin this weekend. Chase Cunningham and Chris LaRocque owning their matchups wasn't enough either.
Arriving as the No. 1 seed, Doublewide left 3-4, with the wins coming against Minneapolis Sub Zero, Baltimore Medicine Men, and Philadelphia Patrol. When Austin came up against club teams with legacy and practice-time already logged, they struggled.
"It's frustrating when we're not on the same page," said Smith. "We kind of expected it coming in. We haven't had a lot of practices and we've been trying to work on the AUDL schedule with two teams, so it's difficult."
Given how important practice time is for many club teams, Smith's observation lands as a bit of an understatement. With the squad mostly split between Dallas and Austin's two AUDL franchises, they've had time for exactly two mini-camp weekends—the ones where those two franchises have also had games scheduled against each other. LaRocque, who flies in from Denver to compete with the Roughnecks and has only made one camp, was just one of the many Doublewide players from around the region who could benefit from more reps with his team on a club field.
With players missing on both days due to AUDL obligations and injuries, Doublewide spent the weekend short-handed. The lack of depth left them vulnerable, and opponents made them pay in the deep space. In spite of Austin's known height-advantage and 2017 finalist pedigree, the lack of role clarity left them grasping for adjustments. It started going down big to Madison Club in the first game of the weekend and was emphasized by their inability to hang with Bravo's offense in quarters.
"Yeah, definitely didn't expect that," said Smith about the 13-10 loss to Bravo. "They honestly just out-worked us. They were honest the entire game. They seemed really ready to play—not that we weren't, they just had a different intensity level than us and that's on the [Doublewide] leadership to bring that out on the team."
The gang will be all together at Worlds next week, which should come as sweet relief for a team that just needs more time on the field together before they can be expected to return to the National final in 2018.
Three Teams To Be Afraid Of
Inconsistnet isn't an apt descriptor for Chicago Machine, ever. They quietly out-worked Pool B to take a bye to quarters, despite a hot slog of a double game point loss to Truck Stop on the turf late Saturday afternoon. The clinical pull plays, notable athleticism, big throws, and junky defenses are all still there. And they made quarterfinals largely without the help of Pawel Janas (AUDL commitments with the Chicago Wildfire on Saturday) and Kurt Gibson (see Doublewide, all weekend). The floor for this team is high and more experience is only going to make them harder to beat. It took a fluky drop to give High Five the break chance they needed in quarterfinals—that's not one late-season Machine will cough up.
Philadelphia Patrol got a regional monkey off their back with their second-round win over Truck Stop (their first in program history) Saturday and sometimes that's all a team needs to play beyond their own expectations.1 Coach Charlie Hoppes was thrilled with his many new additions, a large number of which made Patrol this year after playing with the program's developmental team Citywide Special in previous seasons. Billy Sickles is as talented is ever, but it's the Monstar-like size of Vincent Reydams (who Hoppes said is yet to be beaten in the air this season) and Connor Russell that helped put points on the board in the way that only bigs can this weekend. This team still has a lot to learn and it appears they've adapted nicely to the steep curve. "We're really really young, we're really inexperienced, and we're really talented," said Hoppes. 
This year is different for Michigan High Five. Captain Sam Greenwood said it best. "We're all together. We know why we're being successful, which I think is different [from] past years where we just did shit and were like, 'Yeah!' or 'Aw.'" High Five spent the weekend like Sockeye, trying to focus on staying involved in the game at all times, on the field and from the sidelines. They overcame a 9-5 deficit in their prequarter against Madison Club to win and converted a Machine drop into the critical break that sent them to the semifinal. There's more work to do, like defensive communication, but High Five showed nice patience both in endzone offense and defense this weekend that kept them in games.
Give Boston DiG Time To Figure It Out
Boston DiG, newly minted as the only elite men's team out of Beantown, needs time for their new pieces to figure out how to play offense together. While Tannor Johnson was absent, it was clear that DiG stalwarts like Ben "Londish" Sadok and Ben Tseytlin need time to figure it out with longtime Ironside stalwart Josh "Cricket" Markette and Mac Hecht. The offense got broken this weekend, a lot.
Captain Noah Backer admitted that the team still has a lot to figure out. But the defense was quite good at times. DiG flew back east the only team to have beaten eventual champs Johnny Bravo, a quality 13-10 win. Had they held once more to make the win margin four or better, they would've secured a bye to quarters and might not have faced the weird task of restarting and barely eking out a win against Oakland Guerilla.
Quick Hits
Wondering what happened to Truck Stop and PoNY? Check out the Day One recap. Sunday wasn't much better. Both teams managed 2-4 weekends, perhaps with just the right wins to keep them hanging around bid territory. Truck will be happy later in the season that they scrapped into their late-Saturday win over Machine—as much as it was redemptive in the moment, it may help quite in a bit in the rankings department. PoNY put away Medicine Men and Guerrilla, both wins that are good enough for right now, given that the team was missing such a large contingent of players this weekend (Chris Kocher, Jimmy Mickle, and Ben Jagt among them) and playing with roughly 16 healthy bodies.
Madison Club, Portland Rhino Slam, and Oakland Guerrilla are all frisky teams that should not be treated lightly. All three made prequarters and have solid talent bases to build around. They should be considered ready to steal wins from any team ready to look past them. That said, they have their ceilings. All were susceptible to opponents refocusing and coming back for wins.
Did I mention it was hot this weekend? Between the challenging heat, the large field complex, and the pesky lightning and thunder delays that eventually suspended Saturday afternoon play, the local tournament volunteers and USAU staff turned in a notable weekend. Trainers were centrally available at all three field groups, water was easily accessible at all times, and adjustments were largely communicated quickly and clearly. And kudos are due to the large observing crew that toughed out the heat all weekend with the players and turned in smooth games.
Top Tweets
https://twitter.com/PhillyWhirlers/status/1015363574712107014
https://twitter.com/PhillyPatrol/status/1015630307083485185
https://twitter.com/PrideofNY/status/1015754034773413888
https://twitter.com/BravoUltimate/status/1015569986084003842
https://twitter.com/BravoUltimate/status/1015748310731124737
https://twitter.com/TruckStopUlti/status/1015621182626848770
https://twitter.com/ThomasEdmonds8/status/1016072207393525760
---
This was the first of two primates now gone from Patrol's shoulders—they also put points on the board against Chicago Machine after their dismal scoreless effort last October. ↩